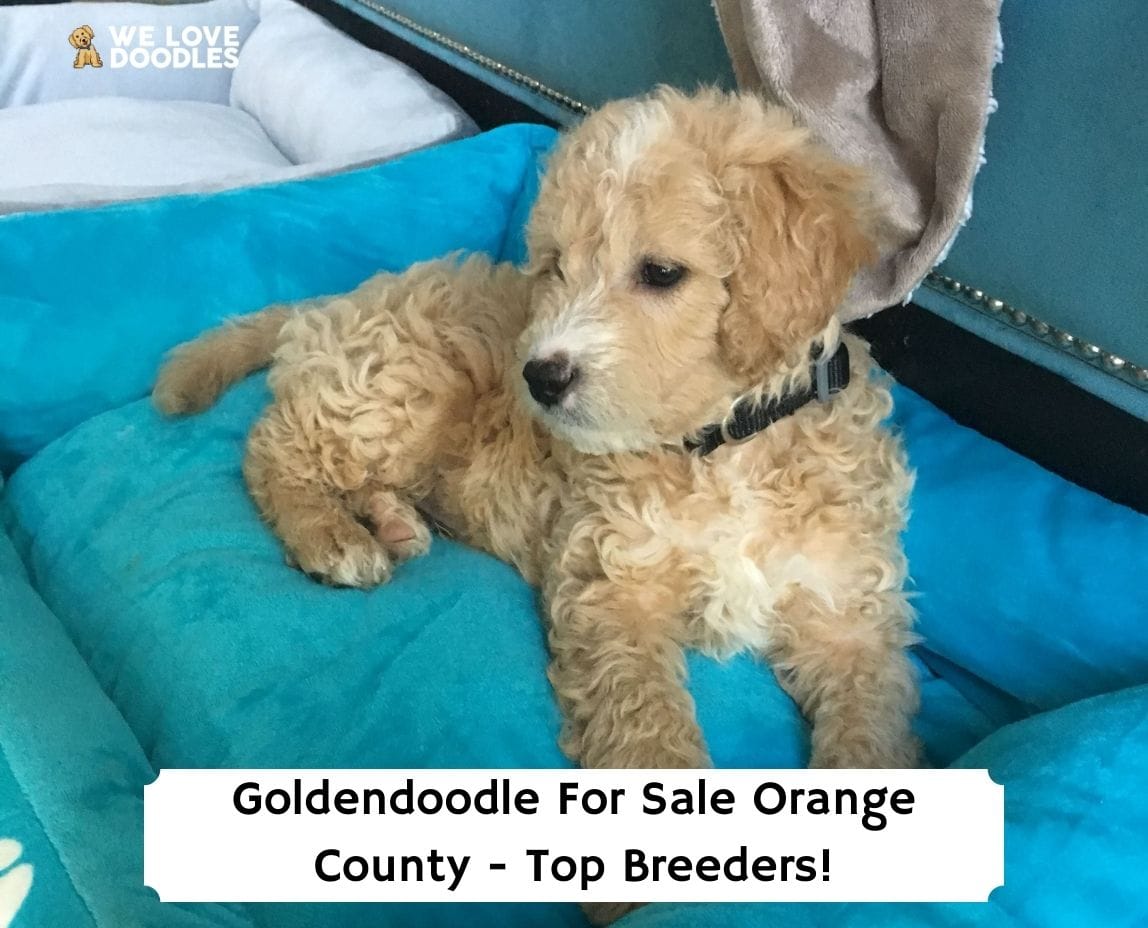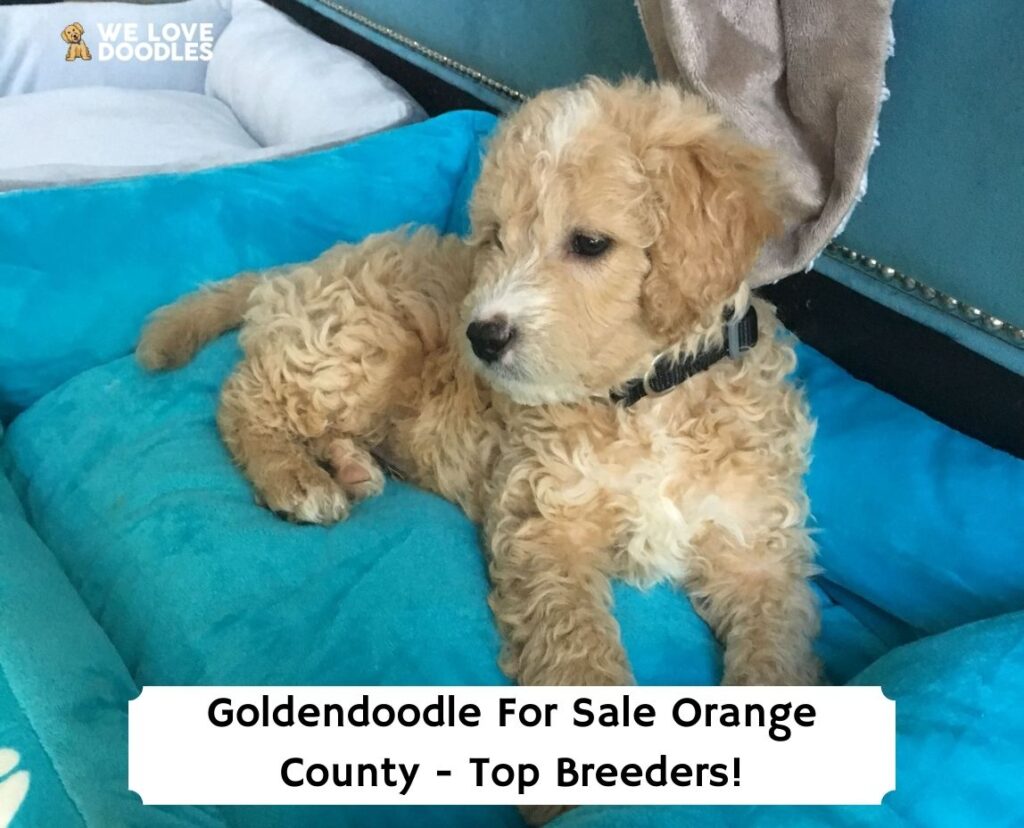 Are you in the Orange County area and have been dreaming of owning a Goldendoodle for as long as you can remember? We totally get it— Goldendoodles are some of the smartest, sweetest, and snuggliest puppies around! While you may be sure that you want to add a Goldendoodle to your family, you might be a bit confused about how to find a breeder and how to know if a breeder is trustworthy.
In this article, we compiled a list of our very favorite Goldendoodle breeders in Orange County and all of Southern California. We only considered ethical breeders who emphasize the caring treatment of their dogs and puppies, and we didn't even consider breeders we thought might have questionable morals. That being said, we didn't have space to include everyone on our list, and there are absolutely some fabulous doodle breeders out there that we left off of our list.
If you're talking to a breeder that we haven't vetted, you can usually tell the good from the bad in a few simple ways. For the most part, quality breeders will be very concerned that their Goldendoodle puppies go to good and loving homes. They will likely ask you about your tendencies, how much free time you have, your experience with pets, and your financial situation.
For the most part, bad Goldendoodle breeders in Orange County are only interested in making a profit and don't care who their puppies go to. While they may sell for lower prices than the good breeders, their puppies will be similarly lower quality in terms of health issues, behavior problems, or even the breed identity (many bad breeders will tell you whatever you want to hear to sell you their puppies).
Other articles you would like: Labradoodle Breeders in Orange County and Goldendoodle Breeders in California.
Goldendoodles Puppies in Orange County
Goldendoodles are super popular "designer dog" hybrids that mix a Poodle with a purebred Golden Retriever. These dogs have been around for a long time, but have had a surge in popularity over the last few decades.
Goldendoodle puppies are well known for being incredibly affectionate and intelligent, and as a huge bonus, they barely shed at all, making them about as hypoallergenic as a dog can be. Additionally, Goldendoodle puppies are great dogs for new dog owners but also are the perfect companions for experienced owners too, they really are just all-around the best!
These puppies are super affectionate and playful, and they love kids and other dogs. Although they're very loyal and loving towards their family, they probably wouldn't make great guard dogs because they love strangers, too. Doodles are easy to care for and groom and can come in a range of sizes from mini to standard, so you can find the perfect size for your space.
They're known for being easy to train, way too smart for their own good, and very high energy and playful. These dogs need lots of walks and playtime, so be sure you can give them this sort of attention if you plan to adopt one for yourself.
Goldendoodles typically weigh between 50 to 90 pounds and have a life span of 10-15 years. However, you can get miniature and medium-sized Goldendoodle puppies in Orange County that weigh significantly less.
1. Riverdoodles Bernedoodle & Goldendoodles

First on our list of Goldendoodle breeders in Orange County is River Doodles. River Doodles is an excellent breeder in southern California that prides itself on being a home breeder— meaning they raise all of their puppies by hand in their own home, just like you would your very own pet. We applaud the high standards that this breeder holds themselves to for genetic testing and ethical breeding, as well as raising and handling their dogs and puppies.
They expose all of their puppies to social and environmental stimuli that they will likely encounter in your home, which helps prepare the puppies for their long and happy life with you. River Doodles specializes in Goldendoodles and Bernedoodles, and all of their puppies are top tier and super cute.
Goldendoodle Breeder Information:
2. Sunkissed Doodles Orange County

Sunkissed Doodles is another small, in-home family breeder located in Orange County that genuinely loves what they do and animals of all kinds. They are highly educated in the best breeding practices and operate their business with the utmost patience and care for the puppies they breed. One of their top priorities is the health of their dogs and puppies, which is one of the things that sets them apart from many of the money-driven breeders out there.
They have a very professional staff devoted to helping new puppy families learn the best techniques for integrating their new puppies into their lives, as well as tips for training and caring for them. They pride themselves on their extensive screening process to find the right families for their Goldendoodle puppies for sale and do many temperament checks on the puppies to find the right personality match for your family.
Goldendoodle Breeder Information:
For more check out: F2 Goldendoodles for Sale! and Goldendoodles for Sale in Houston!
3. Gail's Doodles OC

Gail's Doodles is a doodle breeder made up of Gail Ferrell and her son, Kevin. This mother-so duo is incredibly caring and passionate about what they do, and they operate at only the highest standards. While other members of their family love helping out, the mother and son team are co-owners of the business with plans for Kevin to take over operations when Gail semi-retires.
This sweet family has been breeding doodles since 2004 and they specialize in Goldendoodles and Bernedoodles of many different sizes.
Goldendoodle Breeder Information:
4. Golden Liberty Doodles

Golden Liberty Doodles is another of our favorite breeders in the SoCal area. This small breeder is GANA certified and a Blue Ribbon Goldendoodle breeder that diligently adheres to GANA health testing standards.
This breeder is well known for their great raising practices— they provide early neurological and social stimulation for all of their puppies, as well as behavioral training and exposure to environmental stimuli. They treat all of their dogs and puppies like parts of their family and are passionate about making sure that each beloved puppy is placed in the perfect home.
Their website has a ton of helpful resources to help you get ready for your new puppy and to help you through the adoption process. They are located very close to Orange County. If you're looking for a GANA Goldendoodle breeder near Orange County, this should be your top pick.
Goldendoodle Breeder Information:
Adopt Goldendoodle Puppies
We know it can be tempting to head straight for a breeder if you're looking for a new Goldendoodle puppy for your family in Orange County, but we strongly urge you to consider adopting a puppy from a local animal shelter instead. There are countless dogs and cats that are currently sitting in animal shelters around the country, and many of these will be euthanized if they aren't adopted soon.
If you have your heart set on a specific breed like the Goldendoodle, you may be surprised to learn that these coveted puppies aren't that difficult to find in local shelters, and they come at a fraction of the cost. You can even use a few search engines to locate the breed you're interested in shelters around the country, or even join social media groups dedicated to rehoming surrendered dogs of certain breeds.
There is no shame in buying from a breeder, of course— especially one of the caring breeders on this list, but we urge you to at least visit the shelter first to see if you find the perfect dog for your family.
Whether you decide to go the shelter or breeder route, just make sure you never purchase puppies from pet stores or off of craigslist. Many such places source their puppies from abusive places like puppy mills, and purchasing from them only reinforces the ability for such places to exist.
Goldendoodle Puppies Are A Lot of Work
You should also take some time to consider whether you are ready to own a dog right now. Hey, dogs are a ton of work, and there's no shame in holding off until your life is less crazy! Dogs need a ton of attention, time, and money to stay healthy and happy.
In addition to all of the food and toys your furry friend needs, they will also need regular visits to the vet and routine medications like heartworm and flea and tick medicine.
Many shelter dogs were surrendered after their owners realized they didn't have the ability to properly care for them, so it's best to be honest with yourself about whether you really can care for a dog in the way that they need. Surrendering your sweet puppy would be traumatizing for both of you, after all!
Conclusion For Goldendoodles For Sale Orange County
Goldendoodle puppies in Orange County are some of the sweetest dogs around, and there really is no better companion for you and your family. If you are looking into breeders, we hope that this article was helpful for you— all of the breeders on our list are fantastic!
Again, however, there are plenty that we didn't have space to include, so if none of these breeders are right for you, the right one is certainly out there. Alternatively, you could always look for your new furry pal at a local animal shelter.
You will also like: