Golden Retrievers are just great dogs with many breeders who breed them with care and love. However, you need to do a ton of research before buying a Golden Retriever puppy in Idaho since not all breeders are the same. You also need to be ready for a dog before you get one because this breed needs a lot of attention and care. A dog is a companion and friend for life, and the Golden Retriever embodies all of that in one.
If you are on the search for Golden Retriever puppies for sale in Idaho, then look no further. Here's a list of some of the top Golden Retriever breeders in Idaho. In general, before putting down your deposit for a puppy, we encourage to visit the breeder and take notes of the parent dogs. We also highly suggest you ask about health checks, conformation of the breed standard, health guarantees, as well certifications.
Other dog breeds you might like: Goldendoodle Breeders in Idaho and Labradoodle Breeders in Idaho.
Golden Retriever Puppies in Idaho
If the Golden Retriever breed is right for your lifestyle, you will need a trusted breeder to adopt a healthy puppy. Make sure you also do some research about the dog breed to make sure it's the right fit for your lifestyle. In general, you will need a backyard for a Golden Retriever as well as live an active lifestyle since they have a high amount of energy. If they are the right fit for you, the next step is to find the perfect breeder.
1. Power Creams Golden Retrievers
Power Creams has been in business since 2012. They are family breeder with two locations: one near Pittsburgh, Pennsylvania and one near Boise, Idaho. They breed high quality AKC English Golden Retriever puppies. They specialize in blocky, white, breed standard dogs with mellow temperaments and beautiful breed standard builds.
Their dogs are from imported champion lines which means they are the intuitive, great at therapy and companionship. Additionally, they use high socialization standards, including ENS and Puppy Culture. They also use temperament testing to give you the best idea of each puppy available. If you're looking for a cream Golden Retriever puppy in Idaho, we highly recommend that you check out Power Creams.
Golden Retriever Breeder Information
2. Silver Butte Golden Retrievers Idaho
Silver Butte Golden Retrievers are a kennel that works closely to provide a better life for their dogs. Their program focuses on nutrition, veterinary care, exercise, wellness, and lots of socializing and attention. Even though they don't have the best hands yet, they put in a lot of effort to get it done right. Breeding is something we know should not be done lightly, and this kennel is always working to improve its breeding program with each litter of Golden Retriever puppies.
Mark and Jessica Beaus own the Silver Butte and have been working on it to improve the quality of their breeds. They put forth a lot of effort to keep up with breakthroughs in nutrition sciences, health research, and testing. SB Kennels ensures that each dog in their care enjoys a long, happy, and healthy life.
Getting a Golden Retriever breed will make a great addition to your family, and the puppies we have are very eager to meet you. We think that they are a great Golden Retriever breeder located in Kuna, Idaho.
Golden Retriever Breeder Information
3. Golden Retrievers of Idaho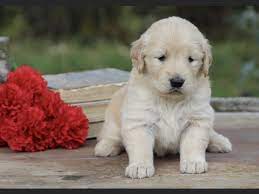 It so happens that all of the Golden Retriever puppies that they have are AKC registered. At 6 – 7 weeks of age, all of their Golden Retriever puppies for sale in Idaho are inspected by a professional veterinarian.
The veterinarian does a general health check, which includes an inspection of the dog's eyes, heart, and mouth. The puppy receives immunizations as well as deworming medication from the doctor. The puppies' dewclaws have also been removed.
They socialize their Golden puppies early on with various experiences such as water, wind, varied textures such as grass, sand, solid surfaces, outdoor and indoor plays. Going on vehicle trips, playing with toys and balls. Getting them to interact with various farm animals such as cats, chickens, miniature horses, and so on. Introducing them to various sights, sounds, and scents from an early age to further develop into independent dogs.
Having four kids to play with their puppies will build a lot of affection in the dogs. You can get look them up and their show gallery to see some of the puppies they have.
Golden Retriever Breeder Information
4. Farmhouse Goldens Retriever Puppies ID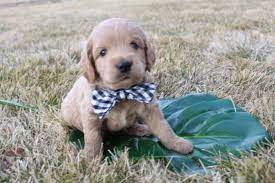 Farmhouse Goldens are a tiny family-owned hobby breeder of English Cream Golden Retrievers and Golden-doodles! The best temperaments and beauty standards are brought out in all their dogs. Dogs' personalities can be formed and molded for the better. Therefore they give the puppies, puppy moms, and fathers the greatest love and care with the support of their six children ranging in age from two months to eleven years!
All their Golden Retriever puppies for sale in Idaho have been lavished in love and devotion since the day they were born! Every day, the puppies are cleaned and nurtured, even their surroundings. They adore these dogs why they are pleased to raise Golden Retrievers and Golden doodles. They start litter box training the second month after birth and exposure to new sounds and smells. Paw Print Genetics is used to cleanse their pets of breed-specific disorders!
Head over to get a puppy just for you, they have a gallery where some of their dogs are shown. You can take a look and contact them personally.
Golden Retriever Breeder Information
5. Tamarack Goldens ID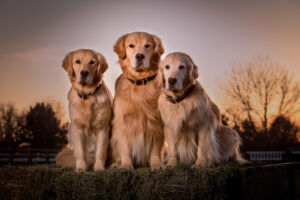 Situated in the lovely town of Eagle, Idaho (near Boise). Though these Goldens have a stellar track record to show dogs, they are first and foremost good friends. When breeding, they always prioritize quality above quantity. They are honoured by their affection from these dogs, and they are proud of their dogs.
Kathy Whipple is the owner of Tamarack Goldens. Cosmo, who was her first Golden Retriever, that she got from Debbie Berry of Sunshine Goldens. She runs around and exercises a lot. This helps them to stay healthy and happy at all times.
They adhere to a stringent Breeders Code of Ethics as members of the Golden Retriever Club of America. Their objective is to raise healthy dogs in mind and body, have outstanding temperament, intellect, and beauty, and are true to type as defined in the breed standard.
The Orthopaedic Foundation of Animals has confirmed that all of my dogs in my breeding program have normal hip and elbow dysplasia. A Board Certified Cardiologist screens us for Sub valvular Aortic Stenosis and other cardiac issues, and they also have yearly eye clearances done by a Board Certified Ophthalmologist.
These dogs have a lot of strong genes and were brought up to get the best qualities in them, so you better get a  puppy that's right for your family from them. You can check out their website for more info.
Golden Retriever Breeder Information
6. Forever Loyal Goldens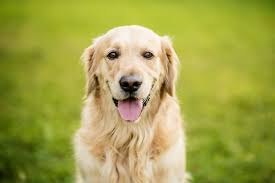 Forever Loyal Goldens is a hobby breeder of Golden Retrievers in Blackfoot, Idaho. The program began in 2016 when they earned their first Golden. They are growing the program and working hard to improve the breed to deliver the best addition to your family.
They treat their goldens as if they had been family. They are reared in their house or the home of one of their guardians and are pampered. They continue to educate themselves and endeavor to be ethical breeders so that upcoming Golden owners may enjoy their new dogs.
Golden Retrievers are an ideal breed for anyone looking for a new family member, a service dog, or a comfort companion. They are simple to train and intelligent. They take pleasure in being one of Idaho's best Golden Retriever breeders. They would be delighted to present you with one of their lovely and great puppies to round out your family!
By going through their litters' page, you can find that cute, little, innocent puppy that you might take a liking to. Feel free to contact them for more info.
Golden Retriever Breeder Information
7. Majestic Golden Retrievers
Majestic Golden Retrievers was created on a long-held love of the breed, a desire to develop well-bred quality dogs, and the aim of producing Service and Medical Alert potential. When their daughter was diagnosed with Type 1, they immediately discovered few viable options for her to have a Medical Alert dog.
They recognized that Service and Medical Alert candidates had to be extremely tolerant, environmentally benign, patient, and friendly canines who could bear the rigors and stress of their work. Not every dog is eligible to be a Service or Medical alert dog. They have three certified puppies and two puppies in the potential stage. It took them years to find high-quality Goldens for their program.
Their Golden Retriever puppies in Idaho have had their initial vet exam and dewclaws trimmed in the first week of life. Their second formal vet exam is done when they receive their first series of vaccinations/worming. The veterinarian helps clear them of hernias, eye difficulties, or other physical anomalies. Paw Print Genetics is used to cleanse their pets of breed-specific disorders!
Golden Retriever Breeder Information
8. Eagle Ridge Goldens Idaho
Eagle Ridge Goldens would like to extend a warm welcome to you. We are a tiny, home-based hobby breeder in lovely Coeur d'Alene, Idaho, 35 miles from Spokane, Washington. Since 1995, we have had and adored Golden Retrievers. As a tiny enterprise, their two girls are like family to us and are part of their everyday routine.
Our objective is to breed dark-colored, multi-purpose Golden Retrievers structurally strong, healthy, and self-assured. Our Goldens have peaceful dispositions that make them excellent hunting partners and family companions. The Golden Retrievers live with us, and their puppies are birthed in the laundry room, not in a kennel.
They go to great lengths to raise litter from healthy, attractive, and athletic parents. This has made them ideal additions to your family for many years. We take pleasure in offering daily socialization for each puppy, including people, children, and other canines.
We understand that owning a dog is a significant investment of time, money, and emotion. At Eagle Ridge Goldens, we believe that buying a puppy from parents who have proved themselves at home and in the field, as well as having the necessary health clearances, is the finest investment you can make for your puppy's future!
Golden Retriever Breeder Information
Conclusion for Golden Retriever Breeders in Idaho
Golden Retrievers are some of the best dogs you can get for your home, and there are many great breeders you can choose from in Idaho. You can look at the list and match it up with the values you want to see in your dog. Affection and love are the top priority when searching for a puppy, as it is needed for your dog to thrive in a home.
Other articles you would like:
Garrett loves animals and is a huge advocate for all Doodle dog breeds. He owns his own Goldendoodle named Kona. In addition, he volunteers at the Humane Society of Silicon Valley, where he fosters dogs and helps animals. Garrett enjoys writing about Doodles and believes that dogs can teach humans more about how to live than humans can teach a dog.
Why Trust We Love Doodles?
At We Love Doodles, we're a team of writers, veterinarians, and puppy trainers that love dogs. Our team of qualified experts researches and provides reliable information on a wide range of dog topics. Our reviews are based on customer feedback, hands-on testing, and in-depth analysis. We are fully transparent and honest to our community of dog owners and future owners.