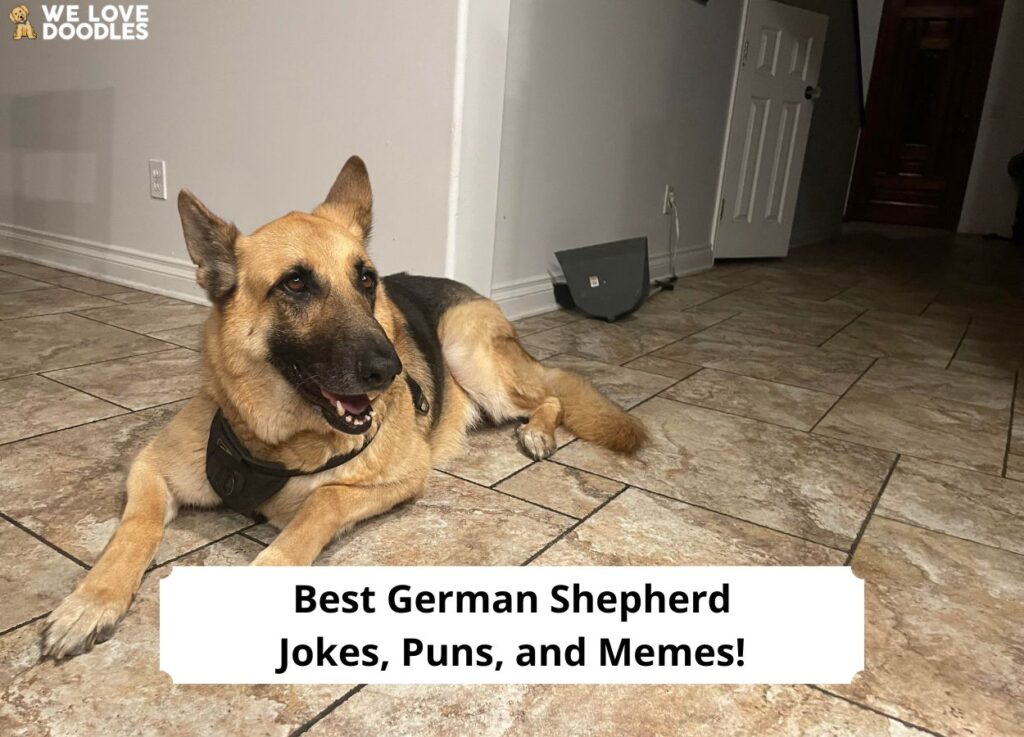 German Shepherds are known for their fierce loyalty, agility, and intelligence. They're used in police and military work, and they're excellent watchdogs. That's why there are so many German Shepherd jokes, puns, and memes. After all, we can't all be serious all the time, right?
We've collected some of the funniest quotes, stories, and memes about German Shepherds so you can have a good laugh, too! Check these out, then pass them along to a friend who shares your sense of humor.
Before you read this list of German Shepherd jokes, puns, and memes, check out: 13 Walter the Dog Memes! (2023) and 22 Funny Smiling Dog Memes! (2023).
The Best German Shepherd Jokes on the Internet!
We've put together the best little jokes about German Shepherds on the world wide web and shared them here so you can giggle right along with us!
Question: How do you greet a German Shepherd?
Answer: Guten Dog!
Question: What do you get when you cross a German Shepherd with a Chihuahua?
Answer: A que-nein!
Question: What do they call pastors in Germany?
Answer: German Shepherds!
Question: What does a German Shepherd and a comedian have in common?
Answer: They both always come back with the same schtick!
Question: What should you do if you're attacked by a German Shepherd?
Answer: Take his crook!
Question: What do you get if you cross a German Shepherd with a hyena?
Answer: I dunno, but if it laughs, I'm laughing too!
Question: What kind of German Shepherd eats with its ears?
Answer: All of them! Dogs can't take off their ears!
Question: Why don't German Shepherds bark at their feet?
Answer: Because it's rude to talk back to your paw!
Question: Who's a German Shepherd's favorite comedian?
Answer: Growl-cho Marx!
Question: What's a German Shepherd's favorite musical instrument?
Answer: The dinner bell!
German Shepherd Dad Jokes, Puns, and One-Liners
Make sure you "herd" your family together before you tell these jokes. We like long road trips, as nothing beats a captive audience.
I've been having trouble with a German Shepherd pooping on my lawn. And yesterday he even brought his dog with him!
My German Shepherd asked me to play fetch. At least that's what I think he said. I don't speak German.
I bought a German Shepherd puppy and I named him Lord. Now I can truly say the Lord is my shepherd!
I had to go to the hospital because a German Shepherd bit me! He caught me trying to steal one of his sheep.
My German Shepherd does not like the Yorkie next door. He's terrier-ified of him!
I named my German Shepherd puppies Rolex and Timex. They're my watchdogs.
My German Shepherd and I were kicked out of the flea market because he stole all the merchandise.
I brought my German Shepherd to the vet because he had a tummy ache. The vet told me my dog was overweight! When I asked for a second option, the vet told me, "Well, he's also pretty cute!"
I had several German Shepherds, but I kept waking up every morning to a pen full of Germans in my backyard.
The Best Funny German Shepherd Stories
These little stories are also well-suited for long road trips, you can tell your friends these German Shepherd stories anywhere! Some may be a little "ruff" around the edges, but hey, aren't we all?
Doggy Breakup
A German Shepherd and a Yorkie went out on a date, and the Yorkie said she wanted to break up.
"What's wrong? Was it something I said?" asked the German Shepherd.
"You're too controlling," answered the Yorkie.
"What?!" asked the German Shepherd in disbelief.
The Yorkie replied, "You herd me."
Oops
I found my German Shepherd with my neighbor's pet rabbit in its mouth. I panicked, so I washed the rabbit, blow-dried its fur, and carefully placed it back in its cage, hoping they would think the rabbit died of natural causes.
A few days later, the neighbor asked me, "Did you hear that our pet rabbit died?"
I said, "Oh… no, I hadn't heard. What happened?"
To which my neighbor replied, "He died in his cage, so we buried him. But some weirdo dug him up, gave him a bath, and put him back in his cage. How bizarre is that?"
Bad Manners
At a royal dinner, a German Shepherd passed gas.
"How dare you pass gas before me?!" exclaimed the King.
"Oh I'm so sorry, Your Majesty!" replied the German Shepherd. "I didn't realize it was your turn!"
Just a Short Swim?
Two German Shepherds were sitting on opposite sides of a lake.
One German Shepherd shouted across to the other, "Hey! How do I get to the other side of the lake?!"
The other Shepherd shouted back, "You are on the other side of the lake!"
German Shepherd Memes to Save and Share
What's better than a picture of a beautiful German Shepherd? A picture of a beautiful German Shepherd with funny captions! Here are the best German Shepherd memes to save and share.
We're not saying German Shepherds are arrogant, but they sure are pretty! What do you think your Shepherd says when he sees his reflection?
From: German Shepherd Shop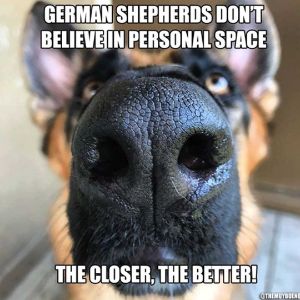 If you know, you know. Those little wet noses are always welcome, in our opinion.
From: Gsd Colony
TFW your Shepherd gets left behind. They don't understand that we make the same face when we have to leave them at home! Poor babies.
From: Facebook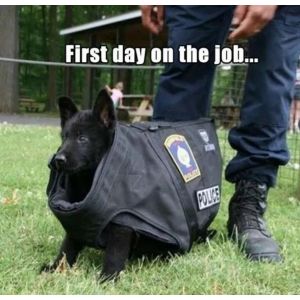 German Shepherds are fierce, tough, and loyal! They're used in police work and in the military. But they gotta start somewhere, right? Just look at that boopable nose!
From: The Good Vibe Gsd
German Shepherds need a lot — and we do mean a lot of stimulation to keep them out of trouble. Exercise your pup daily to prevent mishaps like this.
From: Cheezburger
Your German Shepherd loves road trippin' … except going to that one place. We think they may learn how to spell v-e-t after just a few trips.
From: Dogs Addict
So who, exactly, is doing the training? These dogs are sharp as a tack… but are they smarter than we are?
From: Pin Img
Okay, so we'll admit that this isn't necessarily unique to German Shepherds. There are a lot of "watchdogs" that seem impervious to threats and are more interested in snackies.
From: German Shepherd Shop
It's a bird! It's a plane! No, it's a GSD with zoomies coming in for a hug!
From: Know Your Meme
German Shepherds need a lot of outdoor exercise, so they also need a lot of bathtime. They'll tolerate it, but you can expect a few faces like this one!
From: The Good Vibe Gsd
Frequently Asked Questions
Do German Shepherds bark a lot?
German Shepherds are typically moderate barkers, but they may bark a lot if they are protecting or guarding their territory from strangers.
Are German Shepherds easy to keep?
In terms of health-related costs and care requirements, German Shepherds are not easy dogs to keep. They will do their best in a home with experienced, dedicated owners.
How often do German Shepherds need to go out?
You should aim to give your German Shepherd between 90 minutes and two hours of exercise each day. This high-energy breed needs a lot of stimulation to be healthy and happy.
Conclusion for "Best German Shepherd Jokes, Puns, and Memes"
There are zillions of German Shepherd jokes, puns, and German Shepherd memes on the internet, and we've hunted down the best of the best for you to enjoy. We hope we've brightened your day just a little, and made you smile almost as much as your German Shepherd can!
If you enjoyed these German Shepherd jokes, puns, and memes, check out:
You might also enjoy "Funny Dog Memes & Best Funny Dogs Meme Videos Compilation #32" down below:
Garrett loves animals and is a huge advocate for all Doodle dog breeds. He owns his own Goldendoodle named Kona. In addition, he volunteers at the Humane Society of Silicon Valley, where he fosters dogs and helps animals. Garrett enjoys writing about Doodles and believes that dogs can teach humans more about how to live than humans can teach a dog.
Why Trust We Love Doodles?
At We Love Doodles, we're a team of writers, veterinarians, and puppy trainers that love dogs. Our team of qualified experts researches and provides reliable information on a wide range of dog topics. Our reviews are based on customer feedback, hands-on testing, and in-depth analysis. We are fully transparent and honest to our community of dog owners and future owners.