If you're searching for French Bulldog rescues in Oregon, then here's what you need to know. Are you trying to make up your mind about a pet? However, is your routine extremely hectic, and so you are worried that you won't be able to keep up with your selected pet? Worry not because we have the right choice for you.
French Bulldogs are extremely cute dogs with big eyes and wide ears. They also have a rather short, fine, smooth coat. And a usually wrinkly, adorable face makes them all the more enchanting. But what makes them great is their mild temperaments.
They make for amazing pets because they are loyal and cuddly and are not known to make a fuss. They aren't energy balls; instead, they exhibit mediocre energy, which will work for you if you have a busy routine and don't want a difficult pet to maintain. They are smart enough to understand commands but choose to follow when it suits them.
Before scrolling down this list of French Bulldog rescues in Oregon, you can check out these other recommendations from our team at We Love Doodles: Best Corgi Rescues in Oregon and Best Dog Rescues in Oregon.
Find a French Bulldog Rescue Near Me in Oregon
Does the French Bulldog seem like the type of dog you'd want? Here are some of the few best rescue centers to adopt your dog from if you live in Oregon.
French Bulldog Product Recommendations: Best Baby Strollers with a Dog Compartment and Best Dog Nail Grinders.
1. Pacific Northwest Bulldog Rescue
The Pacific Northwest Bulldog Rescue is on a mission to rescue french bulldogs with an organization that comprises whole-hearted volunteers who are driven towards the same goal. They rescue dogs from commercial kennel breeders, owners who'd like to give up their pet because of personal issues, and even pick french bulldogs from the occasional private rescue groups.
Along with rescuing dogs that are not needed anywhere, they rehabilitate dogs that need love, care, and proper attention. They also allow for foster care, and their entire organization is a non-profit organization that works on donations. And once they have raised their puppies to social standards, they rehome them to suitable and willing people to adopt these enchanting creatures.
Their goal is to rescue and train their dogs to the very best of their abilities and relocate them to places that best suit the dog's temperament. Their website displays the list of dogs and their details for adoption and foster care. So if you're someone who also shares similar, loving sentiments for these enchanting pets, contact this rescue center and adopt a loyal and adorable companion.
Pacific Northwest Bulldog Rescue Details
2. French Bulldog Village
The French Bulldog Village Rescue operates all over the United States with a mission to rescue and rehabilitate the maximum number of French Bulldogs in the country. And as a part of their goal, they are dedicated to providing awareness about the proper proprietorship of the French Bulldog. They also work hand in hand with private rescue groups that share the common sentiment of saving and rescuing French Bulldogs.
Additionally, the French Bulldog Village Rescue also takes it upon itself to help dogs with behavioral tendencies, medical problems, and even ones that are handicapped and require greater facilitative care. They work with simple criteria; as long as the Frenchie needs a new home, their volunteers accept them. Always willing to train them and provide the best available care for them. Their adoption process is quite thorough, with an extensive application process that is quite detailed.
The more information you provide on the form, the more chances that the foster home will choose you for adoption. All of their available French Bulldogs are spayed or neutered and updated on vaccinations. They try their best to ensure that the dogs are in excellent health conditions; however, they inform the adopting applicant in case of any particular persisting health issue.
French Bulldog Village Details
3. NorCal French Bulldog Rescue
An entirely non-profit organization, the NorCal French Bulldog Rescue is united internally through its love for this endearing species of dogs. Run completely by volunteers who empathize with French Bulldogs who need new homes, the organization is devoted to rehoming approximately 25 French Bulldogs each year. In addition to rehoming and rescuing, the organization also works to provide medical care, training, and proper nutrition to the dogs under their care.
They also provide a better functioning shelter and allow foster care until the dogs are adopted. Additionally, they help the people adopting their dogs by teaching them how to cater to their pet's needs. They also provide basic education to the new owners to have a better understanding of the tasks that might ensue in the future. They provide a detailed list of the available dogs for adoption on their website, along with enlisted information.
And though they are focused on providing only reliable homes with credible owners to their dogs, they have a pretty simple adoption process. However, they are strict about certain conditions about the applicant's house. It includes having a fenced yard and a fenced pool- if they have a pool. NorCal is, therefore, quite serious about its mission and vision to rescue endangered, malnutrition, and mistreated dogs and provide them with better opportunities and options.
So if you're someone looking to adopt a French Bulldog through an entirely straightforward process, consider the NorCal French Bulldog Rescue Facility for their exceptional, one-of-a-kind services. Contact NorCal's website or phone number for citizens in Oregon to learn about their adoption policies for people residing in Oregon.
NorCal French Bulldog Rescue Details
How to Take Care of Your French Bulldog in Oregon
Have you adopted a French Bulldog from one of the rescues we listed? Or are you interested in adopting one in the future but are concerned about whether you'll be able to cater to their needs? Here are a few prerequisites and tips that you can follow to maintain optimal care for your pet.
Genetic Concerns: Knowing your

French Bulldog

will allow you to take certain preventive measures to protect him from developing a disease. However, most of the diseases found in them are usually genetically predisposed and are more often due to the breeding process, so you should look at your pet's breeding history before considering adopting them.
Feeding Schedule: The

French Bulldog

is quite prone to obesity, leading to weak joints or metabolic-related disorders. To prevent that from happening, do not feed your dog treats randomly or when she demands. Instead, work up a schedule with the veterinarian.
Parasites and worms: Dogs are very easily susceptible to fleas and ticks and parasites like hookworm, which result in extreme pain. You must have your pet tested for parasites regularly to keep them healthy.
A healthy routine: To ensure that your pet has a healthy and long life, supervise your Bulldog's routine. The importance of a proper diet and regular exercise cannot, in any case, be underestimated. Even though the

French Bulldog

is low maintenance and needs its coat brushed once a week, it still would maintain its temperament if you give it the required attention. It'll also need to have its teeth brushed at least three times every week and its ears cleaned at least once a week. Ensure that the droopy skin on her face and wrinkles hasn't collected dust. A daily walk will go a long way to keep her active.
French Bulldogs often exhibit minor signs that can develop into major diseases. To prevent any mishap, things must be diagnosed at an early stage. For that, you need to watch out for:
Unnecessary scratching
Ears that are often tender or unusual ear discharge
Redness involving the eyes
Low stamina during exercise or excessively loud breathing sounds
Drags the hind limbs
Any unusual behavior like reluctance to sit or stand
Stiffness in the legs
Contact the dog's recommended veterinarian as soon as you observe such signs.
Related: Best Pet Insurances For French Bulldogs.
Conclusion For The "Best French Bulldog Rescues in Oregon"
This article includes everything you'll need to know about French Bulldogs, their required care, and the rescues that work for their welfare in your area. So if you're planning to adopt a French Bulldog soon, this article will facilitate you.
For more guides similar to this list of French Bulldog rescues in Oregon, you can check out:
Before you adopt a French Bulldog companion from a rescue shelter in Oregon, you can learn more about this dog breed by watching "French Bulldog – Top 10 Facts" down below: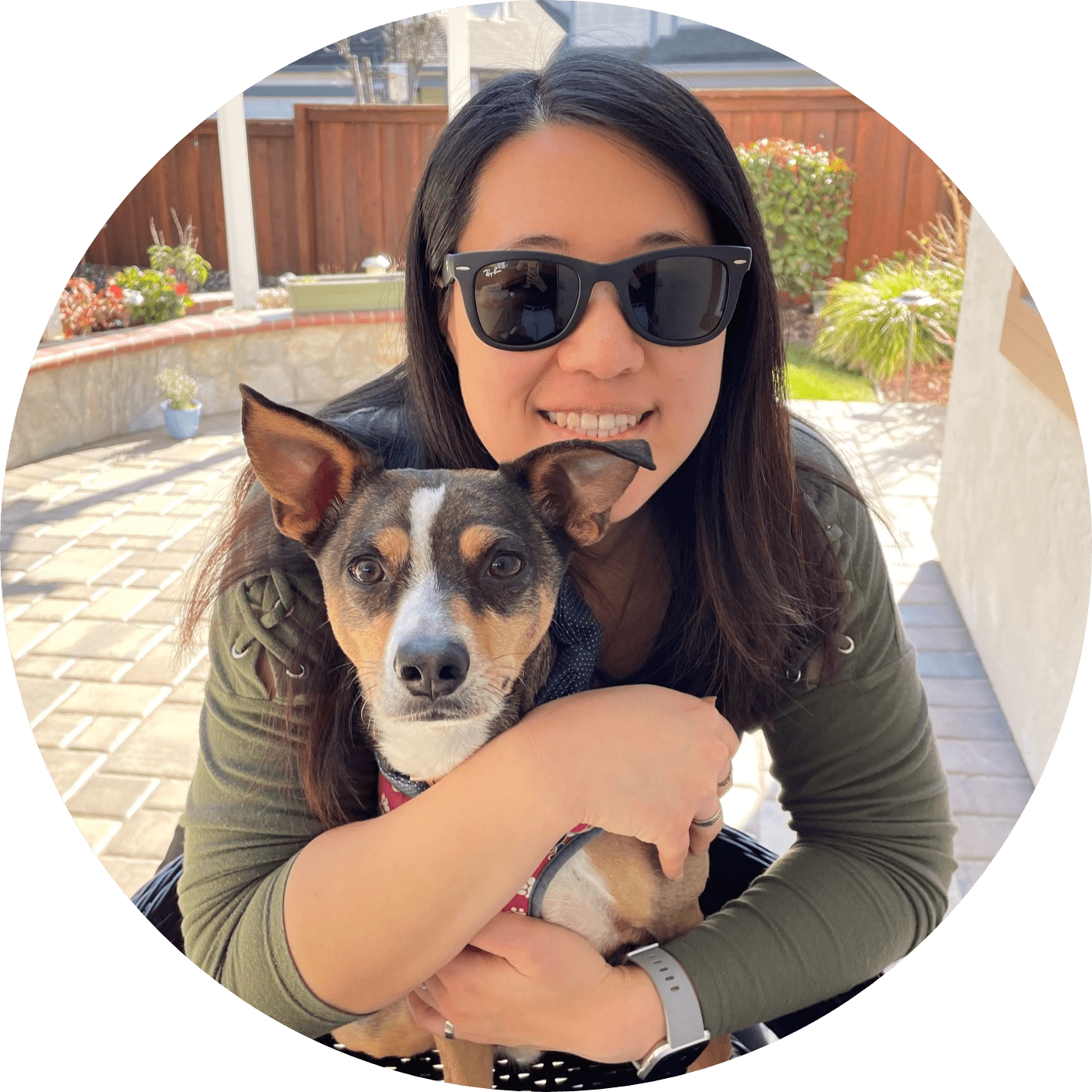 Dr. Sabrina Kong graduated from the Royal Veterinary College in England in 2016 and has been working at a small animal clinic in Northern California since then. She grew up in the Bay Area and got her bachelor's degree from Cal Poly San Luis Obispo. She also became a Certified Canine Rehabilitation Practitioner through a program at the University of Tennessee.
When she isn't in the clinic taking care of her four-legged patients, she enjoys traveling and trying new foods with her friends and her three-legged dog, Apollo. She adopted Apollo from her clinic when he was a puppy with numerous health issues. Dr. Kong truly cares about taking care of animals.