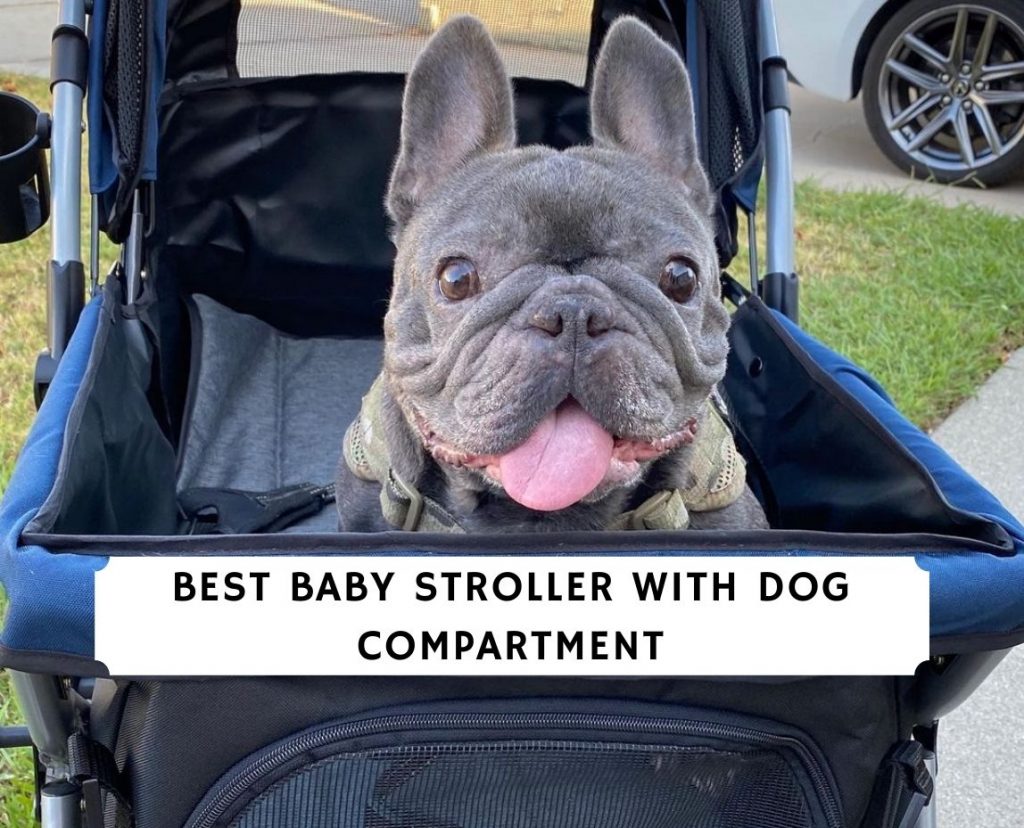 Your dog is not just your pet, but a valued member of your family. Fiercely loyal, energetic, and protective, your dog brings color into your life with their personality. Like any member of your family, they also depend on you to look after them and never want to leave your side. From feeding them to giving them time in the sun, your dog will demand your attention. If you like to frequently walk outside with your puppy, you'll want to find the best baby stroller with a dog compartment.
A stroller for your dog can make spending time with them more convenient and prevent separation anxiety. If your dog has short legs, mobility issues, or is too old for long walks, a stroller will help you move your furry friend around without much hassle.
A dog and baby combo stroller is similar to a simple stroller, but it can carry the added weight of a pet. A dog baby stroller is typically sturdier and has an extra-large bottom compartment.
From collapsible to two-seaters, an overwhelming variety of dog and baby strollers is available in the market. It can become quite hectic to pick the one best suited for your needs. There are certain things to consider when buying a baby and dog stroller. The main features you want to look for are:
Comfort: Your dog and baby should be snug and ventilated in their compartments.
Mobility: You should be able to easily maneuver your stroller.
Durability: The stroller should be able to withstand the bumps and cracks of your path.
Keeping in mind these factors, we have assembled a list of the best baby and dog combo strollers to make your decision easier.
In a rush? Check out our top picks!
Product
Best Overall
HPZ Pet Rover Premium
Runner Up
Pet Gear Dog Stroller
Budget Pick
HPZ Pet Stroller Lite
Ibiyaya Stroller for Dogs
Image
Small and light-weight, the HPZ Pet Rover Lite gives functionality a whole new meaning to this pet stroller. The foldable stroller was made to make traveling easier for both pets and parents. Its light design makes it convenient to carry and store easily inside of your house.
The upper and floor compartments can be expanded from the front and back to fit dogs of varying sizes. If you plan on carrying your baby in the top compartment and the dog in the bottom one, it is also doable if you have a smaller-sized dog. The stroller is very ergonomic as well, with its retractable handle to facilitate comfortable posture while using the product.
The dog baby stroller comes with a retractable pet bowl holder to feed your dog on the go. It also has straps to make sure your pet stays in place. Additionally, the top compartment also has a flap to allow your pet to exit the vehicle effortlessly.
This stroller is extremely convenient to use with no assembly required, and multiple features to make your walks a breeze.
Features
Compact when folded
Expandable compartments
Zipper-free canopy with three stops
Large under basket
Durable and sturdy aluminum frame
Retractable handle and pet food bowl
Cupholder
Three pockets
Shock suspension wheels
Weight capacity: 75lbs
This HPZ stroller has a strong build capable of withstanding daily use. It has an oval aluminum frame and stainless-steel tubes which provides the stroller with tons of durability. Due to its strength, you can safely use this for large dogs. There's even enough room on the top compartment if your baby is comfortable sitting with a small dog.
The canopy is water-resistant with a mesh window to stop bugs and provide a view of the cabin. It is zipper-less and is secured by two clasps instead. The upper stroller compartment can be extended from the rear to allow for more space for your precious cargo.
They come with shock absorbers and brakes to provide a comfortable and safe ride. Another safety feature is the 15-inch tethers which keep your pet in place. Additionally, the pet stroller is easy to fold and unfold. All you must do is utilize the lever on the side and will collapse or take shape within seconds.
Features
Foldable
Zipper free canopy
Waterproof and made to last
Canopy has three stops, made from UV reflective material
Roomy undercarriage basket
Shock absorbent wheels
Reversible handlebar
Cupholder
Stepping board/food tray
Weight capacity: 75lbs
Pet Gear's Jogger Stroller is great for off-road terrain because of its sturdy build and design. It features 12-inch gel-filled Air Ride tires, great for a smooth ride on any topography.
The frame of the dog and baby stroller is thick and made from a strong and durable material. The canopy is made from nylon and is water-resistant. In addition, it is also zip-free and closes with the help of latches, removing the hassles of a zipper. The front and center mesh windows provide a view to your pet along with ventilation.
The dog stroller folds to save space, through a mechanism located on the handlebar. All you must do is glide, drive, and twist the apparatus, and it will collapse with ease. Just below the handlebar is a space to hold three bottles or cups. There is also a bottom compartment for more storage.
Features
Zip-free entry and lock system
Water-resistant material
Double mesh ventilation
Braking system
Shock-absorbing rear wheels
Foldable
Elevated paw rest
Removable and washable liner included
Floor compartment
Weight capacity: 70lbs
The Happy Trails Stroller by Pet Gear was designed to provided comfort and security to your dog during your travels. With a durable frame and water-resistant canopy, it does just that. Additionally, it is light-weight and easy to carry and maneuver. The stroller is easily foldable, requiring only one hand to accomplish the task.
The zip-less canopy has three positions and can be closed easily with a clasp. It has a panoramic mesh window, providing ample ventilation and a great view.
The canine stroller has 6-inch EVA tires attached to it, which can withstand wear and tear. The downside of this dog and baby stroller is that it was not built for off-road terrain.
Features
No-zip entry and lock
Elevated paw rest
Easy folding mechanism
Water-resistant material
Rear-wheel brakes
Front-wheel shock absorbers
Removable and washable liner pad
Panoramic mesh windows
Weight capacity: 30lbs
If you have multiple small dogs or one small and one medium dog, this stroller is for you. It can also easily fit a small dog and baby. Made with a light aluminum frame, the Ibiyaya stroller is durable and sturdy.
The canopy opens four ways to easily access your pet. You can lift the canopy of this stroller from both the front and rear or close it from one end or completely. The mesh window at the front provides ventilation.
The pet stroller has light-weight EVA-type wheels, large at the rear and small at the front, which can withstand daily use. The rear wheels have a braking system to provide safety. Additionally, the front swivel can be locked in place to increase stability.
The spacious compartment is well padded and includes two leashes to make sure your pets or baby don't wander off or jump out.
Features
Collapsible
Adjustable handle
Braking system
Convertible canopy
Mesh window
Removable and washable padding
Velcro lock
Floor storage compartment
Weight capacity: 77lbs
The HPZ Premium Heavy-Duty Stroller lives up to its name, with its aluminum gold build providing strength and durability. This stroller's pet cabin can fully expand to 35 inches in length, ideal for your large or multiple small dogs. It is easily collapsible, only requiring one hand to operate the mechanism.
It comes with maintenance-free rubber tires, large at the rear and small at the front, with smooth 360-degree rotation. The shock-absorbent mechanism of the wheels allows for a comfortable journey even on rough terrain.
The canopy has three-stop openings for easy access to your pet. The reversible handlebar allows for the convenience of access and handling to the user.
For storage, a large floor compartment is available, along with three pockets and a bottle holder. This dog and baby stroller has a premium price point but is definitely one of our favorites if you're looking to fit a baby and dog in one compartment.
Features
Foldable
270-degree mesh window
Expandable front and rear
Reversible handlebar
Rubber wheels
Rear entry
Three pockets
Bottle holder
Weight capacity: 75lbs
This no-zip stroller is built for heavy lifting as it can easily carry your larger-than-average dog. Like other models, Pet Gear Excursion Stroller has EVA Air Ride tires, which can ride smoothly on multiple terrains. The rear wheels have a braking system to ensure safe walking.
The canine stroller provides two entryways; a large one at the back and one through the canopy. The canopy is made from durable fabric and includes mesh openings at the front and sides. Additionally, the canopy can be fully put down to give your pet an open experience. When pushing the stroller, the handle can be positioned according to the user's comfort.
Features
No-zip entry
Foldable
Rear and front entry
Adjustable handle
Interior fleece pad
Weight capacity: 150lbs
How To Choose a Baby Stroller With Dog Compartment
Choosing a stroller for your baby and dog can be straightforward if you know what you need and where to look. We have provided some top-notch options for you to review, but here are some features you should consider when looking elsewhere.
Size
If you have a small dog, buy a stroller of the appropriate size. You don't want your small dog to feel isolated in a large space. If you have a large dog, buy a stroller that can comfortably accommodate it, even if it is on the bulky side. If you're looking to fit a baby and a small dog in one compartment, you'll need a larger stroller. In addition, on some baby strollers, you can put your dog in the bottom compartment.
Quality
A stroller is an investment. It is better to buy a good quality stroller once than going through several cheap ones. The latter situation will be more costly for you. Try tried to include several high-quality strollers that will last a lifetime.
Conclusion Best Baby Stroller with a Dog Compartment
A dog is a man's best friend and deserves to be treated with care and comfort. A stroller that can carry your baby and pet is ideal for parents struggling to juggle their responsibilities. If you are solely a pet owner, you will find that taking walks on your stroller will prove beneficial for your pet, especially if they are old or suffering from some ailment. We hope the information we have provided helps you to find the ideal product.
Other articles you will like:
Garrett loves animals and is a huge advocate for all Doodle dog breeds. He owns his own Goldendoodle named Kona. In addition, he volunteers at the Humane Society of Silicon Valley, where he fosters dogs and helps animals. Garrett enjoys writing about Doodles and believes that dogs can teach humans more about how to live than humans can teach a dog.
Why Trust We Love Doodles?
At We Love Doodles, we're a team of writers, veterinarians, and puppy trainers that love dogs. Our team of qualified experts researches and provides reliable information on a wide range of dog topics. Our reviews are based on customer feedback, hands-on testing, and in-depth analysis. We are fully transparent and honest to our community of dog owners and future owners.