Walking across the street, you must have noticed a dog that reminded you of a tiger. Did it spike your curiosity and make you want to know how many dogs look like the one you saw?
This article lists the most common dogs that look like tigers, what they're called, and why they have tiger-like stripes.
Before scrolling down this list of dogs that look like Tigers, you can check out these other guides from our team at We Love Doodles: Dog Breeds That Look Like Rats and Dog Breeds That Look Like Ewoks.
Which Breed of Dogs Look Like a Tiger?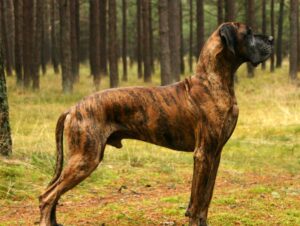 There's no specific breed of dog that looks exactly like a tiger in all aspects. The tiger-stripes present in the coats of many dogs is just a color pattern across different species. These dogs with tiger-like stripes are categorized as brindle dogs.
They fall across different breeds, including Dachshunds, Boxers, Greyhounds, and more. What makes brindles is their unique coat color patterns. These dogs come in fawn or red coats with darker brown, red, or black stripes. The fur's skin can take any color pattern, including these hues:
Fawn
Red
Brown
Silver
Black
Blue
Brindles fall into various categories, depending on their color patterns. This feature makes them have a unique appearance among all the animals.
Are you wondering what to call that dog that looks like a tiger? It can fall among different kinds and breeds. Here are some of the most common types of dogs with tiger stripes.
1. Tora Inu (Kai Ken)
The Tora Inu is a medium-sized rare Japanese native dog. It comes at the top of this list since it's the only breed that's often referred to as the tiger dog. It has a wedge-shaped head and comes in a dark-striped coat that looks like that of a tiger.
Kai Ken dogs are pretty intelligent, great swimmers, quick learners, fantastic guardians, and devoted pets. They're incredible climbers and have no problem climbing even trees. Also, Kai Kens are active, loyal, friendly, and can effectively live in apartments.
The Tora Inu dog was bred for a mountainous lifestyle. Thus, it comes with well-developed hocks and limbs, depicting the picture of a tough, sturdy statue. This dog breed is typically massive, with heights between 17 and 22 inches (the females are shorter than males).
2. Brazilian Mastiff (Fila Brasileiro)
The Brazilian Mastiff comes into the minds of many whenever you mention a dog that looks like a tiger. This European dog has thick skin, a massive body structure, a large head, and a tiger-striped coat to give it a unique and beautiful look.
The Brazilian Mastiff comes in four natural colors, but the brindled type is the most common. Thanks to its big bones and loose skin, this dog breed comes in huge sizes and is significantly stronger than other dogs. They can grow as tall as 25.5 to 29.5 inches, with weights going as high as 90 pounds.
The Fila Brasileiro is quite protective of its people and has a significantly high prey drive. As a result, this dog is best as a guardian dog. This breed is also illegal to keep as pets in some countries and isn't the best to leave in the company of small pets, especially unattended.
Brazilian Mastiff isn't your best bet, especially for city or town dwellers. They're not children, pets, or stranger friendly. Also, they're more challenging to train and control. But, you can try your luck with them if you have ample open space and training experience.
3. Whippet
Whippets look much like the Greyhound, except that they're smaller. Like Greyhounds, Whippets come in an inverted S-shaped structure and a trim waist. They have more hues of tiger-stripe colors than Greyhounds and are more vibrant.
They rarely bark, making them an excellent choice for apartment pets, but they aren't watchdogs. Also, Whippets are playful, affectionate, and calm.
They are a great choice of pet for the countryside lifestyle and city apartments. Be ready to share your couch or bed with your dog because they love relaxing with their owners.
4. Chihuahua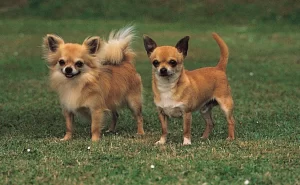 Your love for a dog that looks like a tiger doesn't mean you have to get a giant canine, even if you can manage them. Chihuahuas are a great alternative if you love the tiger stripes in an elegant, sassy, and charming little breed.
Most Chihuahuas don't have tiger stripes. But, those lucky to have the feature often give a beautiful impression of a baby tiger. Still, the chances of getting a tiger-striped Chihuahua are pretty thin. Even with a brindle and a solid-colored parent, the chances of getting a brindle Chihuahua is low.
5. Treeing Tennessee
is among the few dog breeds that naturally have brindle coats. They're lovely dogs with relatively high energy levels. There are a lot of traits to love in a Treeing Tennessee. For instance, these dogs are loyal, friendly, intelligent, alert, brave, sturdy, courageous, and healthy.
Also, these dogs are easy to groom and affectionate to their owners.
Are you thinking of getting a Treeing Tennessee for yourself? Be ready to escort them out for intense exercises. That's the best way to tame them and reap their affection.
6. Great Dane
Great Danes are a great deal if you want a dog that looks like a tiger in almost all aspects. Their giant size (growing up to 32 inches tall and weighing up to 175 pounds) qualifies them as one of the world's biggest dog species.
They come in various color patterns, ranging from fawn and brindle to black and white.
Great Danes are relatively gentle, sociable, friendly, and dependable, unlike other giant dog breeds. They're also very great with small kids. Due to their huge size, courageous, and protective nature, Great Danes make the best watchdogs.
7. Boxer Dog
Boxers are some of the most popular dog alternatives that look like tigers with unique brindle markings. They're a loyal, active, fun-loving, and intelligent dog breed you would want to keep at home. Being affectionate, patient, and protective makes them safe around kids.
Also, Boxers are quick learners and easy to train. Due to their numerous features, Boxer dogs are common across homes and serve several purposes, including police, cattle, guide, or watchdogs.
However, these dogs can sometimes be stubborn. Being brachycephalic also means they're susceptible to heatstroke.
8. Plott Hound
The Plott Hound was named after the man who first bred them, Johannes Plott. They're descended from German Hanover Hounds and were bred and trained to hunt bigger animals like wild boars and bears.
The Plott Hound comes in various brindle color patterns, including:
Brown
Blue
Gray
Brown
Black
They're energetic, loyal, alert, intelligent, and the official state dogs in North Carolina. The Plott Hound weighs between 40 and 70 pounds.
9. Bull Terrier
The Bull Terrier has been the favorite breed among stylish gentlemen in Britain since the mid-1800s. They're still popular, with their egg-shaped heads being one of the most outstanding features in the dogs that resemble a tiger.
The Bull Terriers have short, coarse coats with glossy sheens. Their coats come in various shades and color patterns, including black and white brindles with spots.
Also, these dogs have stronger bones and muscles. They make good watchdogs, mainly due to their suspicious nature around strangers. While they're calm, affectionate, and friendly, Bull Terriers can also be stubborn.
10. Akita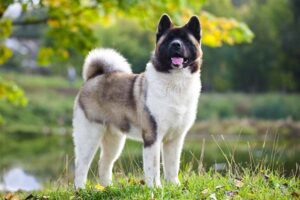 The Akita or Akita Inu is a Japanese descent dog breed that comes in multiple color patterns, such as fawn and brown brindles. They are "working dogs" and were initially trained to be guardians.
The Akitas are strong-willed, muscular, courageous, and protective. They love being the only pets in the compound and can be highly aggressive to strangers. They're overly protective of their human friends and can exceed limits to protect those they love.
While their tiger stripes enhance their unique looks, you'll need to have grooming sessions to keep their double coats clean and neat. Also, the earlier you train the dog to socialize, the better.
11. American Staffordshire Terrier
The American Staffordshire Terrier gives you many options when looking for a dog that looks like a tiger. They come in a wide range of coat color patterns, including brown, red, fawn, black, blue, and liver brindles. The blue fawn brindle is a good alternative if you love a color combination.
These dogs are confident, playful, tolerant, gentle, and trainable. While AmStaffs were initially bull-baiting dogs, these dogs today make fantastic companions at home and on a farm.
12. French Bulldog
If you want a beautiful, lovable, intelligent, and playful dog that looks like a tiger, opt for the French Bulldog. These dogs are small and attractive, with their tiger stripes increasing their charm and beauty.
French Bulldogs are also friendly and adaptable, making them the best choice for city dwellers. They typically weigh below 28 pounds and are lap dogs who enjoy idling alongside their owners.
They have varying color patterns, ranging from the bolds and brindles of white and fawn. They are also brachycephalic and can easily suffer from heatstroke.
13. Greyhound
A greyhound is an exciting family dog to keep at home. It's the world's fastest dog breed, has a sweet temperament, and is generally gentle. If you socialize them early, greyhounds are patient with family and strangers and are friendly towards other pets and kids.
While Greyhounds were initially bred for racing and hunting, these dogs aren't the most active type. They don't like high-energy activities and would rather nap on the couch for the better part of the day. A few minutes of daily walks and runs in an enclosed fence is enough for them.
While most Greyhounds come in bold shades, some types have color patterns ranging from blue, black, and red brindles.
These dogs weigh up to 70 pounds and are perfect for families due to their gentle and independent nature.
14. English Mastiff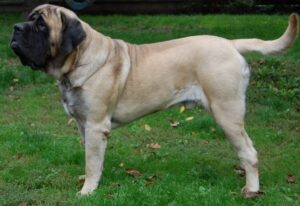 Whether English or American, Mastiffs typically carry the gene for tiger-like stripes. The English Mastiff's colossal size and brindles qualify them as a dog that looks like a tiger.
Despite their giant stature, these dogs are typically gentle. Most people think of them as slow. But that's far from the truth. These Mastiffs are intelligent and enjoy taking advantage of their human companions. They're just very stubborn.
English Mastiffs aren't the best breed to adopt, especially if you're keeping a dog for the first time. They're stubborn and challenging to train. Thus, they're better off in the hands of firm owners.
15. Dachshund
come in short and long coat lengths. They have a small statue with a fantastic personality. Also, these dogs are curious, intelligent, active, fearless, bold, and independent.
While most Dachshunds have traditional cream, black, or chocolate coats, a good number also comes with tiger stripes. They're popular worldwide, all thanks to their beautiful looks and personality.
Conclusion For "Dogs That Look Like a Tiger"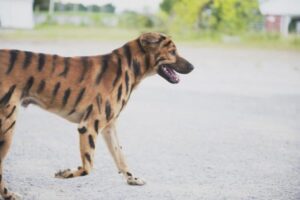 Now you have a list of dogs that look like a tiger. From the list, you can tell that these dogs come from several breeds. Thus, there's no specific way to care for them. Adhere to the specifications in each species while making grooming and affection a top priority.
For more guides similar to this list of dog breeds that look like a Tiger, you can check out:
You can learn more about what dogs look alike by watching "The Top 10 Look-Alike Dog Breeds" down below:
Garrett loves animals and is a huge advocate for all Doodle dog breeds. He owns his own Goldendoodle named Kona. In addition, he volunteers at the Humane Society of Silicon Valley, where he fosters dogs and helps animals. Garrett enjoys writing about Doodles and believes that dogs can teach humans more about how to live than humans can teach a dog.
Why Trust We Love Doodles?
At We Love Doodles, we're a team of writers, veterinarians, and puppy trainers that love dogs. Our team of qualified experts researches and provides reliable information on a wide range of dog topics. Our reviews are based on customer feedback, hands-on testing, and in-depth analysis. We are fully transparent and honest to our community of dog owners and future owners.