Dogs can be peculiar creatures, and there's no denying that fact. Especially when potty training a puppy or a dog, understanding their behavior and how to address their habits is crucial. One common question many new dog owners ask is whether a dog should pee after eating.
The answer is yes. In most cases, healthy dogs will indeed urinate after having a meal. However, the timing of when they will need to relieve themselves can vary based on several factors, such as their size, age, and breed.
A dog failing to urinate after eating could indicate an underlying issue or problem needing attention.
Before reading this guide, "Does My Dog Pee After Eating," check out: Why Does My Dog Roll Around After Eating? 8 Reasons! (2023) and Why Is My Dog Shaking After Eating? Common Causes and Treatments! (2023).
Why Do Dogs Pee After Eating?
Dogs urinate after every meal due to two primary factors:
The water they consume before, during, or after a meal. Dogs often drink water alongside their meals, and this fluid intake contributes to the need to urinate.
The moisture or water content in their food. The water content also plays a role. Dry dog food typically contains about 10% water, while wet canned food can have a water content of up to 80%.
It's important to note that water in dog food doesn't necessarily mean that the company is adding water to increase the price. Instead, the natural ingredients used in the food naturally contain water.
How Long After Eating Should a Dog Pee?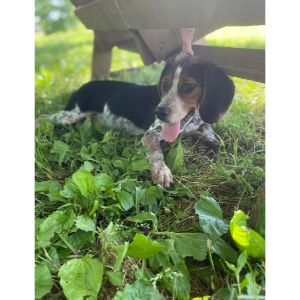 The timing of a dog's need to urinate after eating depends on several factors, including:
Age of the Dog
Puppies may need to relieve themselves within two to five minutes of eating, while older dogs might also urinate sooner due to a weaker bladder.
Breed of the Dog
Smaller or toy breeds may need to urinate earlier than larger breeds, as their muscles may not be as strong, and they have smaller bladders.
The Dog's Health
If a dog is not in optimal health, their muscles may not have the strength to hold urine for long, resulting in a need to urinate sooner than dogs of the same age and breed.
Previous Habits of the Dog
Dogs that were strays or those who have spent their lives in puppy mills may not have the training to hold their bladder, leading them to urinate earlier after eating.
These factors contribute to individual variations in the timing of a dog's need to urinate after a meal.
Is it Normal for a Dog to Pee After Eating?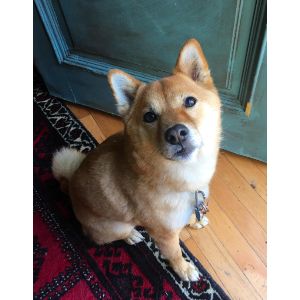 If the dog is just a few weeks old, it's normal for them to pee immediately after eating. However, it's generally not normal for older dogs to urinate right after a meal. In this context, "immediately" refers to within a minute of eating.
Typically, it can take five to 30 minutes for a dog to urinate after eating. Each dog develops their pattern over time, which you will notice with observation.
If a dog constantly pees immediately after eating, there could be several reasons for this behavior:
Their bladder was already full due to water intake before the meal.
They may have a weak bladder or a urinary tract infection (UTI).
They might not be great at holding their bladder.
In any case, it is essential to take note of this behavior if the dog urinates right after eating.
To address this, ensure the following:
Establish a fixed schedule for their meals and drinking.
Provide timely potty breaks for the dog.
Ensure their bladder health is in good condition.
If the dog continues to urinate immediately after eating, a helpful approach is to pick them up as soon as they finish eating and carry them outside to urinate.
Over time, the dog will learn to associate going out with the need to urinate after a meal. By the age of seven to nine months, when they are fully potty trained, they will either hold it or go on their own.
When Should You Worry?
It is usual for a dog to urinate within five to 30 minutes after consuming its meal. Occasional variations in behavior are generally acceptable, but the following situations warrant attention:
Your dog is urinating while eating.
Your dog is urinating in areas where it eats and sleeps.
Your dog is constantly urinating in small amounts throughout the day.
There are noticeable changes in the smell and color of the urine.
Your dog begins to urinate in its food and water bowls.
In such cases, it is advisable to make note of these behaviors and take appropriate action.
Frequently Asked Questions
Do dogs always need to pee after eating?
No, dogs do not always need to pee immediately after eating. While some may feel the urge to urinate after a meal, it is not a universal rule that applies to all dogs. The need to urinate can vary depending on several factors, including the dog's age, size, overall health, and bladder capacity.

The timing and amount of food consumed can also affect when a dog needs to relieve itself. It is important to note that puppies and senior dogs typically have a higher frequency of urination due to their smaller bladder sizes or age-related conditions.

As a responsible dog owner, it is essential to provide regular opportunities for your dog to go outside for bathroom breaks, regardless of their mealtime.
Why does my dog pee after wet food?
If your dog constantly urinates after eating wet food, it could be due to a few reasons:

Increased water content

Wet food generally has a higher water content than dry kibble. Consuming wet food can lead to increased hydration, which may result in your dog needing to urinate more frequently.

Increased volume

Wet food tends to have a higher volume than dry kibble. Larger food intake can stimulate the bladder, causing your dog to feel the need to urinate.

Individual metabolism

Every dog is unique, and their metabolism and digestive system can vary. Some dogs may experience a quicker digestion process after eating wet food, leading to the need for a bathroom break shortly after eating.

Learned behavior

Dogs are creatures of habit and can develop routines over time. If your dog has learned that they are typically taken outside for a bathroom break after eating wet food, they may associate the two and automatically feel the urge to urinate.

If you're concerned about your dog's urinary habits or notice any significant changes, it's always a good idea to consult your veterinarian. They can provide personalized advice based on your dog's health history and conduct necessary examinations.
Can I walk my dog 30 minutes after eating?
It's generally best to wait at least 30 minutes to an hour after your dog eats before engaging in vigorous exercise or taking them for a long walk. That is particularly important for larger breeds or dogs prone to certain health conditions such as bloat or gastric torsion.

These conditions can be more likely to occur when a dog exercises vigorously or engages in physical activity immediately after eating.

Allowing a short rest period after meals helps digestion and reduces the risk of complications. Walking your dog 30 minutes after eating is generally safe, but it's essential to consider the size and breed of your dog and any specific health conditions it may have.

Consulting with your veterinarian is always a good idea if you need more time to walk your dog after meals. They can provide guidance based on your dog's individual needs and health factors.
Conclusion for "Does My Dog Pee After Eating"
Understanding the reasons behind a dog's urge to urinate after eating can help dog owners address their needs better. Dogs typically urinate after a meal due to the water they consume alongside their food and the moisture content in their feeds.
The timing of a dog's need to relieve itself can vary based on age, breed, health, and previous habits. While it is normal for puppies to urinate immediately after eating, it is generally not considered normal for older dogs.
Consistently urinating right after eating may indicate underlying issues such as a full bladder, weak bladder muscles, or improper training. Dog owners should establish a fixed schedule for meals and potty breaks, ensure bladder health, and consider picking up the dog immediately after eating to associate going outside with urination.
However, it's important to note that not all dogs need to urinate after eating, as individual factors play a role. If dog owners have concerns about their dog's urinary habits, consulting a veterinarian is always recommended.
Additionally, it is generally advisable to wait at least 30 minutes to an hour before engaging in vigorous exercise or long walks after a dog has eaten to promote proper digestion and reduce the risk of complications.
Ultimately, observing and understanding a dog's patterns and needs will help create a healthy and comfortable environment for the dog and its owner.
If you find this guide, "Does My Dog Pee After Eating" helpful, check out:
Learn more by watching "Why Does My Dog ​​Urinate Where He Eats?" down below:
Garrett loves animals and is a huge advocate for all Doodle dog breeds. He owns his own Goldendoodle named Kona. In addition, he volunteers at the Humane Society of Silicon Valley, where he fosters dogs and helps animals. Garrett enjoys writing about Doodles and believes that dogs can teach humans more about how to live than humans can teach a dog.
Why Trust We Love Doodles?
At We Love Doodles, we're a team of writers, veterinarians, and puppy trainers that love dogs. Our team of qualified experts researches and provides reliable information on a wide range of dog topics. Our reviews are based on customer feedback, hands-on testing, and in-depth analysis. We are fully transparent and honest to our community of dog owners and future owners.