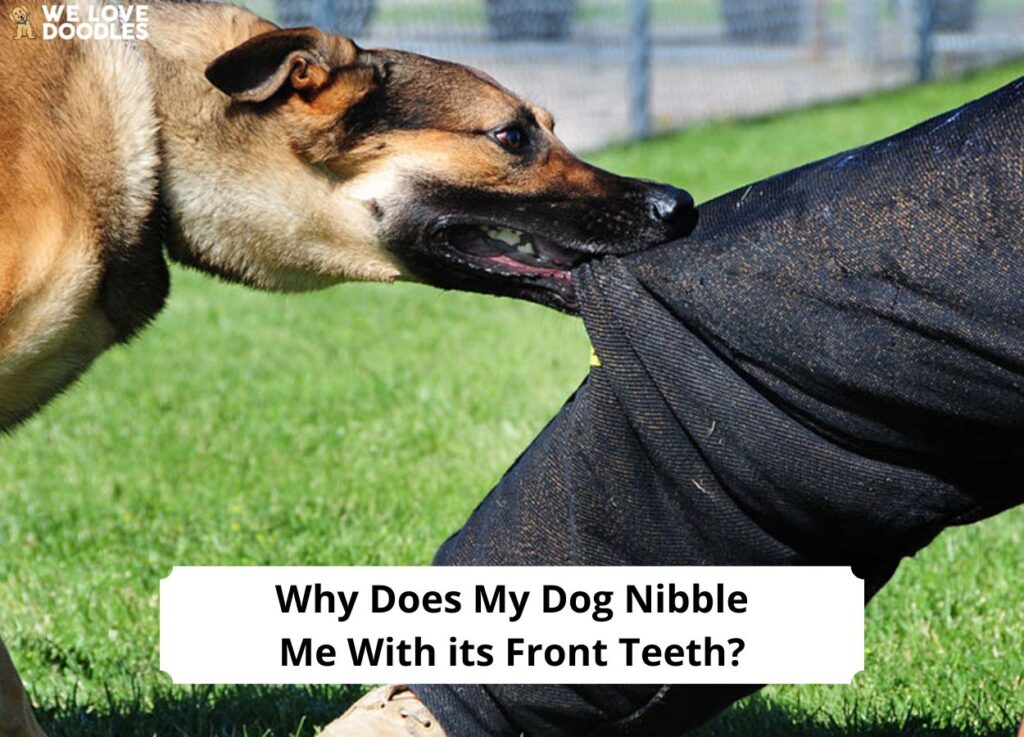 When a dog uses its front teeth to bite, it's called nibbling or cobbing. In some cases this behavior is harmless, but it can become serious and even aggressive. There are many reasons why a dog may nibble you with its front teeth and several ways you can put a stop to it before the behavior gets out of control.
Before you scroll down this guide, "Why Does My Dog Nibble Me With Its Front Teeth," check out: Why Does My Dog Bite My Feet? 7 Reasons. (2023) and Why Does My Dog Bite My Cat's Neck? 5 Reasons! (2023).
Why Does My Dog Nibble Me With Its Front Teeth?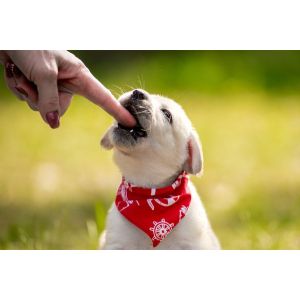 Sometimes, a dog nibbling with its front teeth is a gesture of affection, a way to bond with you, or simply a playful behavior. Often the dogs chew with their front teeth like they're eating corn on a cob, which is why some owners call it cobbing.
Here are some of the reasons your dog could be demonstrating this behavior.
Playful Behavior
A dog may nibble to communicate with its owner or other dogs. It can be an expression of affection or an attempt to initiate play. It's common for dogs to nibble during play. As a result, they can interact with their owners or other dogs and express their playful side.
In order to establish social bonds with their owners or other dogs, dogs nibble. Communicating and building trust can be achieved through it. When dogs explore their environment and learn new things, they nibble or mouth objects. New toys are often nibbled with their front teeth before their other teeth are used to chew on them.
Wants Attention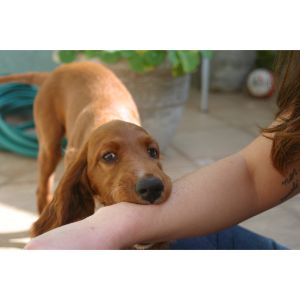 As a way to get attention or engage their owner, dogs may nibble on their owner's hands or clothing. When dogs want their owners' attention, they nibble at them. That's all there is to it.
There are dogs that bark at you, and there are dogs that will nibble at you while you're on the sofa relaxing. Even though there are several reasons for obsessive nibbling, you still shouldn't tolerate it, since your dog will eventually learn that this is an effective approach to getting you to comply.
Teething
As puppies explore the world with their mouths and experience teething discomfort, they may nibble. In order to relieve the discomfort associated with teething, puppies may chew on anything they can find.
Household items can include clothing, furniture, and shoes. The teething process may cause some bleeding or inflammation of the gums. This can make puppies less active during teething, but they are also more clingy and may nibble more.
Communication
When dogs nibble, they may indicate that they need or want something from their owners, such as leaving the house or wanting a treat. They also understand that it can be used to symbolize their desire since it gets attention.
What Does It Mean When Your Dog Nibbles on You?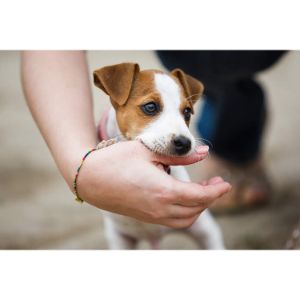 As with children, dogs find new behavior to exhibit when bored to keep them entertained. The act of nibbling on you is just one of them. There may not be much else going on at that time and so your dog continues to nibble because it enjoys your reaction to their behavior.
It's rare for your puppy's playful nibbling to cause any damage unless its teeth are extremely sharp. Nibbling can also be caused by aggressive behavior. Dogs know biting is aggressive, so they use nibbling behavior to get out their aggression.
Young puppies are often taught bite inhibition by their owners. Bite inhibition refers to biting that leads to no damage. These behaviors can prevent young dogs from exhibiting their instinctive behavior more aggressively. A dog can learn bite inhibition by putting a hand up to its mouth but not letting it bite or nibble.
There is nothing more loving than a dog, and they are very demanding of attention. They use nibbling to show affection in order to get the attention they crave. When pet parents pet or scratch their dog, they often stop nibbling. Giving your dog attention before it nibbles can help prevent the behavior.
Should I Let My Dog Nibble Me?
You may not mind your dog nibbling you gently at specific times if it only occurs at certain times. Many owners don't even mind it since it's not painful.
There is no dominance behavior associated with nibbling. Dogs usually show dominance based on access to something. As nibbling you doesn't really have anything to do with acquiring resources, dominance is largely irrelevant.
Dogs may seem to be nibbling gently, but that could change easily or it could tell them that you think it's okay and they can press harder with their teeth or be more aggressive.
Despite the fact that it doesn't break the skin, it could be giving you a warning bite. You should seek help if you believe your dog is actually warning you about its discomfort rather than playing with you rudely.
Why Does My Dog Nibble My Blanket With Her Front Teeth?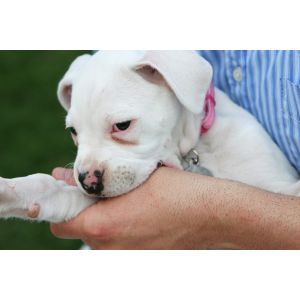 It is common for dogs to nibble blankets for a number of reasons. A blanket's scent may appeal to them, or they may be bored, or they may want attention. Repetitive behaviors such as licking the paws, chewing on toys, or biting blankets are often used by dogs as a way to deal with anxiety or boredom.
There are a few things you can look for to determine whether your dog is biting its blanket out of anxiety or boredom.
If your dog bites a blanket due to boredom, it might do it constantly and without any rhyme or reason. Besides chewing on objects, they may also excessively lick themselves. The dog may only bite blankets when they're stressed, anxious, or restless if they're suffering from anxiety.
Getting help from a veterinary or behaviorist will help you determine the root cause of your dog's blanket-biting and provide treatment if you don't know which one is causing the problem. You may need to resolve both issues for your dog's overall well-being if there is a combination of boredom and anxiety at play.
How to Stop a Dog From Nibbling
If your dog is nibbling often then you should put a stop to it. It can get out of hand and it won't be good for you or your puppy if reaches that point. The sooner you put a stop to the behavior, the easier it will be to break it. There are different things you can try to get your dog to stop nibbling and it can be helpful to know the root cause of the behavior.
Offer a New Toy
Introduce something your dog can chew to stop them from nibbling. The instinct to chew and explore with their mouths is natural for puppies, so removing it can be challenging.
Any pet store will sell chew toys, so no matter what you're looking for, you're bound to find something your dog will enjoy!
Keep the toy handy so that your dog can quickly grab it when it feels the urge to nibble. The new toy will probably distract your dog just enough for him to forget about your hand.
Find a Distraction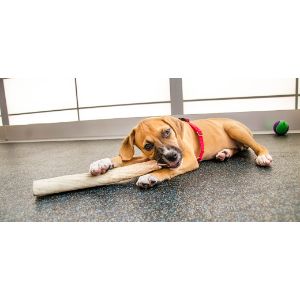 Consider some ways you and your dog can interact without nibbling if your dog is biting you out of boredom or to get your attention. Keeping your dog engaged in specific activities will increase its chances of eradicating nibbling over time.
Prevent Boredom
Boredom will drive your dog to find something to occupy its time. Alternatively, a tired dog is a good dog, so give them plenty of exercise and mental stimulation. Based on their age, health, and breed characteristics, they should receive the appropriate amount of exercise.
Walking your dog every day and spending time outdoors is essential to their well-being, but letting them sniff is more enriching than power walking two miles without stopping. Doggy daycare is an excellent option for high-energy puppies who enjoy the company of other dogs.
Use Positive Reinforcement
Teaching your dog the power of calm is one of the best ways to permanently change their behavior. This can be done by rewarding good behavior and ignoring bad behavior through positive reinforcement techniques.
Use a Deterrent
Don't let your dog consume items that are unpleasant to him. In order to make furniture and other items unappealing, taste deterrents can be applied. When trying these deterrents for the first time, keep your dog under your supervision.
Chewing an object coated with a taste deterrent will not stop some dogs. To maintain the effectiveness of some of these deterrents, you must reapply them periodically.
Use Your Voice
Your high-pitched yelp should be given the moment your dog touches you with its teeth. You should then walk away from him as soon as possible. Give him between 30 and 60 seconds to ignore you.
Leaving the room for 30 to 60 seconds will stop your dog from following you and biting and nipping at you. If you leave your dog alone in the room, make sure it is "dog-proof," so it cannot destroy things or be hurt by them. After the brief time-out, calmly return to the room and resume your activities.
Let Your Dog Socialize
Give your dog plenty of opportunity to play with friendly, vaccinated dogs. As a result, it is less likely to play roughly with you since it can expend a lot of energy with them. When dogs nibble each other, they sometimes learn it's not okay.
A dog that was separated from its littermates too soon or did not grow up with other animals may not have learned how to socialize.
Frequently Asked Questions
What is it called when dogs nibble with their front teeth?
Gentle nibbling is known as "dog cobbing."
Do dogs nibble to show affection?
There are a few reasons why a dog, especially a puppy, might nibble, and one of them is to show affection.
Why does my dog smile at me with teeth?
Dogs don't smile the same way as humans, but showing their teeth can be a sign of submission or happiness.
Conclusion for "Why Does My Dog Nibble Me With Its Front Teeth"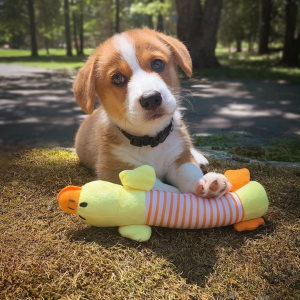 You might want to turn your back on your dog or leave the room if it nibbles your hand. You can reward them with a treat if they don't nibble (or if they don't nibble the cool toy you got them). The message will gradually sink in over time. As a result, they'll be compelled to focus more on the things that will reward them and less on the things that will annoy them.
If you find this guide, "Why Does My Dog Nibble Me With Its Front Teeth," helpful, check out:
Learn more by watching "Why Does My Dog Nibble With His Front Teeth?" down below:
Garrett loves animals and is a huge advocate for all Doodle dog breeds. He owns his own Goldendoodle named Kona. In addition, he volunteers at the Humane Society of Silicon Valley, where he fosters dogs and helps animals. Garrett enjoys writing about Doodles and believes that dogs can teach humans more about how to live than humans can teach a dog.
Why Trust We Love Doodles?
At We Love Doodles, we're a team of writers, veterinarians, and puppy trainers that love dogs. Our team of qualified experts researches and provides reliable information on a wide range of dog topics. Our reviews are based on customer feedback, hands-on testing, and in-depth analysis. We are fully transparent and honest to our community of dog owners and future owners.