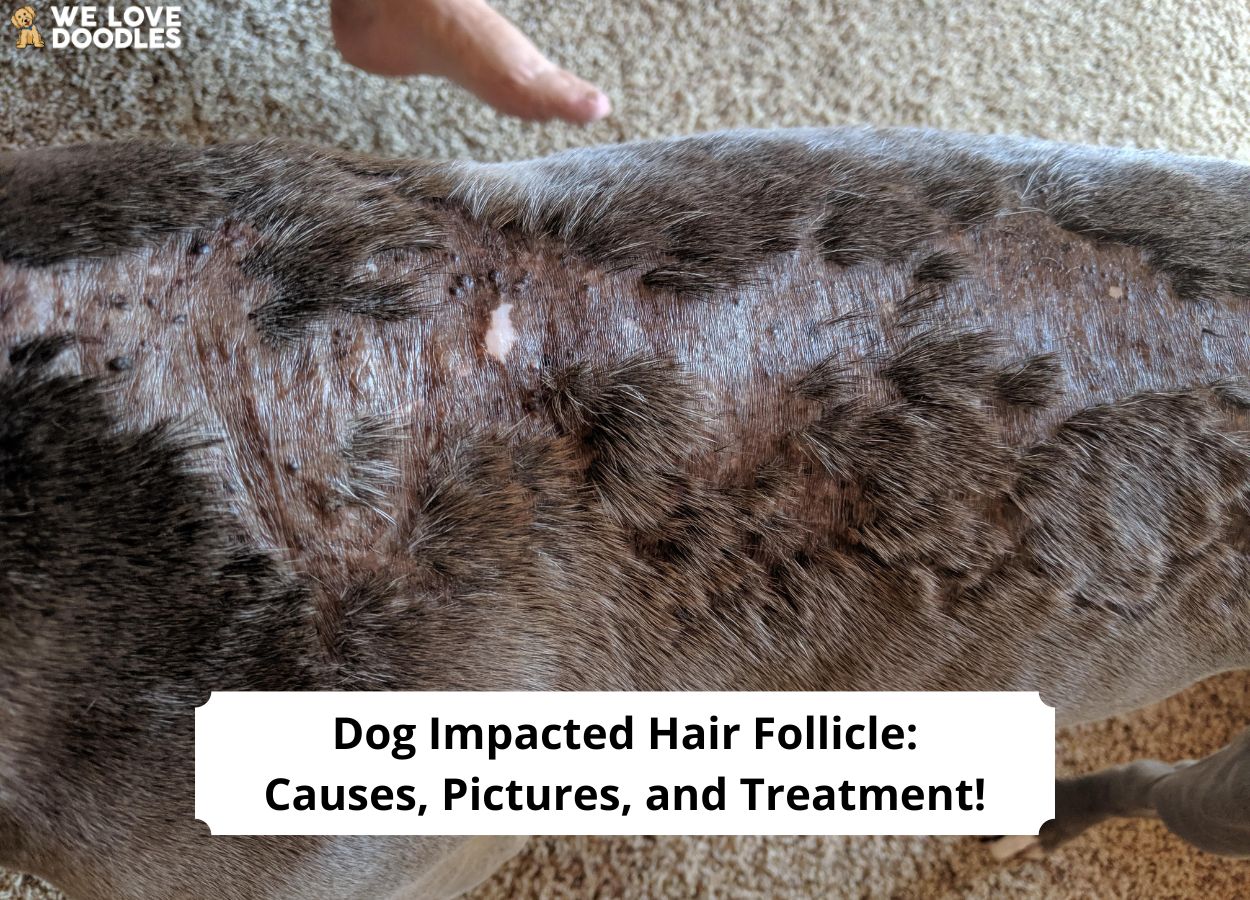 Impacted dog hair follicles happen when a follicle becomes inflamed or infected. It can cause pain and itchiness for the dog. The condition is also called folliculitis and requires treatment from a veterinarian.
For more impacted dog hair follicle details and advice, follow our guide below.
Before you read this guide, "Dog Impacted Hair Follicle: Causes, Pictures, and Treatment," check out: How Fast Does Dog Hair Grow? (2023) and Can Dogs Get Ingrown Hairs? (A Complete Guide) (2023).
How Do You Get Rid of Impacted Hair Follicles in Dogs?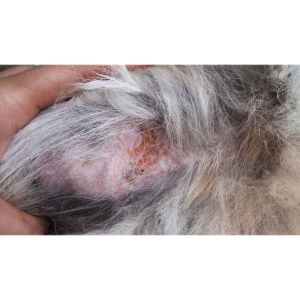 If your dog has an impacted hair follicle, you should treat it as soon as possible. It's best if you let your veterinarian diagnose and treat the problem but you can also treat it at home with these methods.
Topical Medications
Folliculitis can be treated effectively with topical medication. The infection can be treated with topical medications such as antibiotics or antifungal creams. When applied directly to affected areas, these drugs can help.
Parasite Control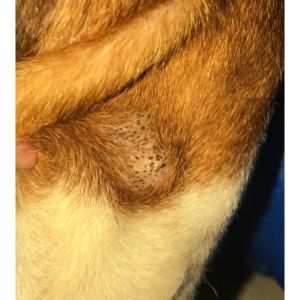 Treatment for parasite infection can include tick and oral flea medications if the diagnosis indicates certain types of parasites.
Allergy Management
A diet change, elimination of potential environmental allergens, and allergen medications can be used to manage folliculitis caused by allergies.
Surgery
If an infected or inflamed tissue is found in the affected area, your veterinarian may also recommend surgery to remove those tissues.
What Causes Impacted Hair Follicles in Dogs?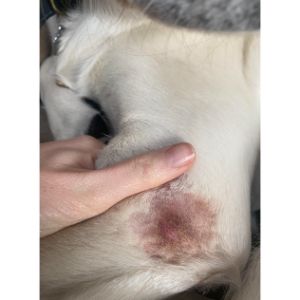 There are several different things that can cause a dog's hair follicles to be impacted and understanding the cause can help you seek the right type of treatment.
External Parasites
Dogs most commonly suffer from flea infestations, resulting in severe itching. As well as ear mites, scabies, and microscopic parasites, there are other external parasites capable of irritating skin.
Allergies
Allergic reactions are caused by an overactive immune system in dogs. An allergy can be triggered by food, grass, or fleas. Your dog might experience symptoms such as itching, coughing, sneezing, runny eyes, and nose, vomiting, and diarrhea if it has an allergic reaction causing folliculitis.
Interdigital Cysts
These painful lesions are located in between the dog's toes. They appear as sores, welts, or hairless bumps between dogs' toes. An allergy, excess weight, bad foot conformation, a mite infestation, ingrown hairs, another foreign body, or yeast infection can cause them.
Callus Dermatitis
When a dog scratches or bites a wound, cracks can form in the skin which provides a warm, dark, and moist environment for bacteria to flourish. It is most common for calluses to form on their feet, however, they can also form on their chests, elbows, and hocks due to constant irritation.
Despite calluses, hair follicles can develop small cysts around the calluses that can become irritated and cause bumps, blackheads, holes, or discharge around the calluses.
Canine Acne
A condition typical of adolescents, usually showing up between the ages of five to eight months, that resembles acne in humans. Younger dogs may develop these growths on their faces that may become infected and fill with pus, causing them to itch, and also increasing susceptibility to bacterial infections.
How Do You Know If Your Dog Has Impacted Hair Follicles?
It's best if you let your veterinarian diagnose your dog so you can be sure you are dealing with impacted hair follicles and not any other skin problems. Here's how a vet will diagnose your dog.
Physical Examination
It is recommended that you consult a veterinarian for assistance in identifying redness, swelling, bumps, or pustules on your dog's skin. It is also possible that they will ask about the dog's medical history and lifestyle in order to determine whether or not it has any health problems.
Skin Scraping
A skin scraping can be done if you suspect that parasites, such as mites or fleas, are causing the folliculitis. An infection can be detected by microscopy by taking a small skin sample from the affected area.
Allergy Testing
In the event that you suspect folliculitis is caused by allergies, your vet might test your dog for allergic reactions. An intradermal skin test can detect specific allergens in your dog's bloodstream.
Skin Culture
To detect the cause of an infection, a skin culture involves taking a swab of the affected area and sending it to a lab for testing.
Biopsy
In cases of more serious conditions, such as autoimmune diseases, your dog can also be subjected to a biopsy. A small sample of the dog's skin tissue will be taken and examined under a microscope by the vet to determine whether there are any abnormalities or other signs of inflammation.
Should You Remove an Impacted Hair Follicle Dog?
Dogs with burs should have them removed from their fur immediately as they can irritate their skin and lead to infections. Your veterinarian may recommend regular baths using medicated shampoo.
Additionally, steroids, antibiotics, or antifungal agents may be prescribed as sprays, creams, or ointments. The most common treatment for bacterial folliculitis is an oral antibiotic.
An inflamed hair follicle is made more susceptible to infection by bacteria.
How Do You Treat Impacted Hair Follicles in Dogs?
Fortunately, dogs are able to recover from folliculitis. Due to the lack of a clear cause, it can be tricky to determine what causes folliculitis, but the root concern will determine the best treatment.
There are antibacterial shampoos, mousses, creams, gels, and ointments that can be used to get rid of the infection.
Fungal Folliculitis
Yeast infections of the hair follicles are treated with topical (and sometimes oral) antifungal medications.
Parasite-Induced Folliculitis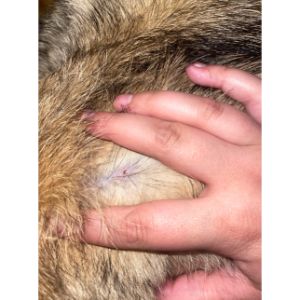 It's essential to target parasites first when they are responsible for a problem, such as fleas and ticks. Usually, these cases of folliculitis are treated with broad-spectrum antiparasitic medications.
Allergy or Hormonal-Related Folliculitis
With allergies or hormone imbalances, the vet must address the underlying medical issue first and foremost. There may be a long-term approach to allergy treatment or hormone imbalance treatment.
Symptoms of folliculitis won't disappear overnight, and treatment can take several months. Even so, consulting with a vet on a treatment plan is a good first step when it comes to battling folliculitis.
The recovery time can vary based on the severity of the condition and the treatment given. It may take several weeks or longer for more severe cases of folliculitis to heal completely, whereas mild cases can be treated within a few days to a week with proper care.
Do Impacted Hair Follicles Hurt Dogs?
Itching, swelling, redness, itching, pain, and other skin defects are caused by irritation of a hair follicle. Dogs with allergies are more prone to developing folliculitis, even though there is no breed genetically predisposed to it.
What Does an Infected Hair Follicle Look Like?
Folliculitis is most commonly characterized by annoying itchiness and intense swelling in dogs.
In addition, there is a wide range of clinical presentations depending on the underlying causes. As a general rule, however, dogs suffering from folliculitis will display these signs and symptoms:
Erosions of the skin on the surface
Ulcerations on the skin
Bumpy, pustulous, and pimple-like skin
Scaling of the skin
Inflammation
Darkening of the skin
Loss of hair in excess
Can You Prevent Folliculitis in Dogs?
Because folliculitis often stems from underlying conditions, it cannot be completely prevented.
Allergies tend to cause skin conditions in some dog breeds. There are some things you can do to reduce your dog's chances of developing this disorder.
Make sure your dog's skin is clean and dry.
Keep your dog's skin free of harsh chemicals and shampoos.
Make sure you treat underlying health conditions right away.
Take preventative measures against fleas and ticks.
Also, make sure your dog is not over-groomed.
Make sure your dog gets flea and tick prevention year-round. Dogs are more susceptible to folliculitis because fleas and ticks cause trauma to their skin.
Ensure your dog receives a bath when necessary and that the shampoo you use is suitable. It would be best if you researched breed requirements so you give your dog enough baths — but not too many.
Make sure that your puppy's skin does not become dry. You should follow the advice of your veterinarian if they recommend that you use a medicated shampoo.
Is Folliculitis Dangerous for Dogs?
Dogs are often affected by folliculitis, a common skin condition that if left untreated can be detrimental.
If you treat your dog's persistent itch with specially formulated shampoos and medications, you'll not only relieve the itch, but you'll also prevent harmful skin infections from spreading or intensifying.
Is Folliculitis Contagious in Dogs?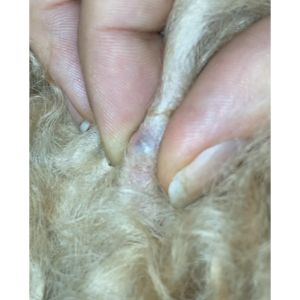 Canine folliculitis is not contagious.
There are a few highly contagious conditions, such as sarcoptic mange and ringworm infestations. In contrast, staphylococci are capable of being transmitted between dogs and humans.
To prevent recurrence, it is important to identify and treat the cause of dog folliculitis as soon as possible. Do not hesitate to consult your veterinarian to keep your dog's coat healthy.
Frequently Asked Questions
What does a clogged hair follicle look like on a dog?
Your dog may appear to have raised bumps or circles surrounding their folliculitis.
Is matted hair painful for dogs?
While extreme matting is painful for dogs, even light matting can result in harmful sores.
Can apple cider vinegar help a dog's folliculitis?
Most veterinarians will advise against using apple cider vinegar on a dog's folliculitis, so don't use it without consulting them first.
Conclusion for "Dog Impacted Hair Follicle: Causes, Pictures, and Treatment"
While not an immediate emergency, it's always a good idea to treat your dog's impacted hair follicles.
Dogs can suffer from impacted hair for several reasons, some of which are elusive root causes. In any case, your veterinarian will give you the medication and treatment options to quickly help your dog.
If you find this guide, "Dog Impacted Hair Follicle: Causes, Pictures, and Treatment," helpful, check out:
Learn more by watching "Impacted Hair Removal" down below:
Garrett loves animals and is a huge advocate for all Doodle dog breeds. He owns his own Goldendoodle named Kona. In addition, he volunteers at the Humane Society of Silicon Valley, where he fosters dogs and helps animals. Garrett enjoys writing about Doodles and believes that dogs can teach humans more about how to live than humans can teach a dog.
Why Trust We Love Doodles?
At We Love Doodles, we're a team of writers, veterinarians, and puppy trainers that love dogs. Our team of qualified experts researches and provides reliable information on a wide range of dog topics. Our reviews are based on customer feedback, hands-on testing, and in-depth analysis. We are fully transparent and honest to our community of dog owners and future owners.