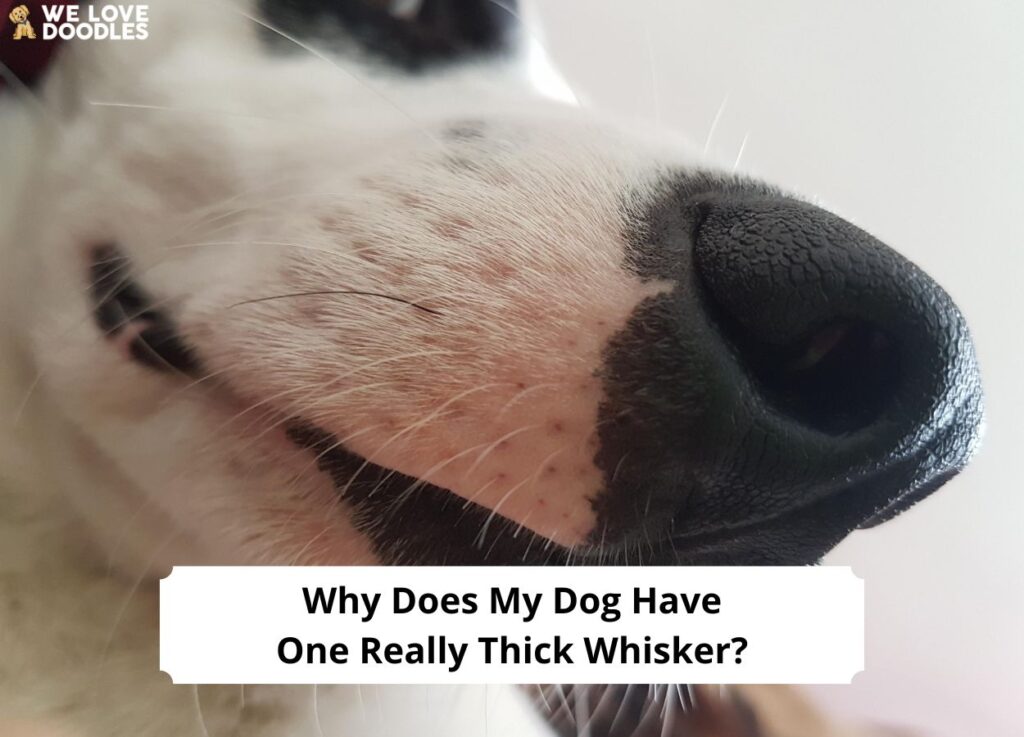 Dogs exhibit a fascinating array of weird and wonderful varieties, with some showcasing unique features. Among these distinctive traits are their whiskers, which may occasionally appear peculiar. It's not unusual for dogs to possess one or even a few remarkably thick whiskers. So, why would a dog have one really thick whisker?
A dog has many reasons to have one whisker that's thicker than the rest. These include injury, genetics, hormonal imbalance, malnutrition, and infection. It's best to consult a vet in this scenario.
However, there is always a chance that your dog is perfectly healthy with an unusually thick whisker, but it is better to be safe than sorry.
Before reading this guide, "Why Does My Dog Have One Really Thick Whisker," check out: How to Trim a Goldendoodle's Face (2023) and How to Avoid Cutting Dog Whiskers? Tips and Tricks! (2023).
Types of Dog Whiskers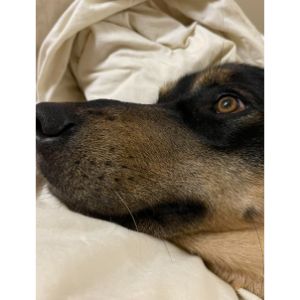 Dog whiskers are distributed across different areas of the head, each serving specific functions.
Eyebrow Whiskers (Superciliary/Supraorbital Whiskers)
These detect potential eye threats. When these whiskers sense air currents or other external stimuli, they prompt the brain to trigger the blink reflex, protecting the eyes by closing the eyelids.
Muzzle Whiskers (Mystacial Whiskers)
These whiskers aid in detecting nearby surfaces by proximity. Additionally, they play a role in finding food, water, and gauging distances in dogs.
Cheek Whiskers (Genal Whiskers)
These whiskers help dogs move through cramped spaces and maintain their head's upright position while swimming, functioning as navigational aids.
Chin Whiskers (Interramal Whiskers)
These whiskers are associated with clusters of cells that provide sensory and tactile information to the brain, growing from a mole beneath a dog's chin. They assist in detecting objects outside the standard field of vision.
Purpose of Whiskers
Foremost, whiskers serve as radar detectors, enabling dogs to "sense" objects and stimuli they might not otherwise perceive.
The primary purposes of whiskers encompass the following:
Judging the Environment
Touch-sensitive neurons located at the base of whiskers play a crucial role in transmitting vital information to the dog's brain concerning its environment.
In conjunction with similar neurons present on the sides of the muzzle and cheeks, whiskers enable dogs to:
Assess the size of the space around them, aiding in determining whether they can fit into a particular spot.
Create a mental picture of what lies beneath them, compensating for their limited ability to see beyond their snout.
Locate their favorite chew toy, bed, or food bowl even in the darkness by using their whiskers to feel out and gather sensory information.
Safety and Protection
When your dog approaches an object, the movement stirs air that bounces back from the surface, gently bending its whiskers. That is an early warning system, informing them of the object's proximity before making physical contact, effectively preventing collisions with walls and other obstacles.
Moreover, the supraorbital whiskers, positioned above the eyes, play a protective role. They protect against potential irritants or hazards that could harm the eyes. For instance, dust or dirt particles get trapped in the whiskers before entering your dog's sensitive eyes, providing an added layer of defense.
Communicating About Health and Mood
Whiskers play a role in allowing your dog to communicate with others. For instance, when your dog feels unsafe and needs to appear more threatening, it may flare out and shift its mystacial whiskers on either side of the muzzle to face the approaching threat.
Conversely, when your dog feels happy and excited, it may raise its supraorbital whiskers above the eyes.
Additionally, whiskers can provide valuable insights into your dog's overall health. Drooping, brittle, or split-ended whiskers may indicate potential health issues that require attention.
Hunting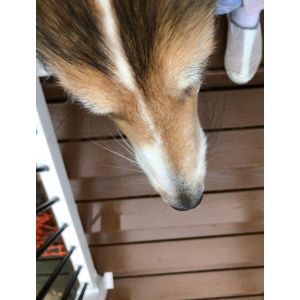 Because dog whiskers can detect information about the size and speed of nearby objects, they become valuable aids in tracking prey.
Whiskers are adept at sensing subtle changes in air currents. When prey is moving, your dog can detect the particles in the air.
Why Does Your Dog Have One Thick Whisker?
Certain dogs may possess one thick whisker, as we might occasionally have unusually long hair in a random area.
There are several reasons why some dogs may have one thick whisker than others, including:
Injury
If your dog has recently experienced an injury near the location of the whisker, it might have led to an abnormal regrowth of the whisker. Damage to the hair follicle can cause changes in thickness, color, and texture or even hinder new hair growth.
Natural Genetics
Genetics can significantly determine the shape and size of a dog's whiskers. Some dogs may naturally have a single whisker larger than others due to specific genes controlling hair growth and certain mutations.
Hormonal Issues
Hormones profoundly impact various bodily functions, including hair growth — imbalances in hormone levels, whether overproduction or underproduction, can influence hair development, including whiskers.
Infection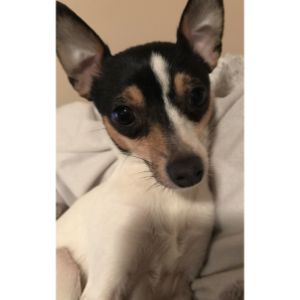 Infections in the hair follicles can lead to damage and inflammation, potentially causing the whisker to grow back thicker after the infection has cleared.
Lack of Nutrition
Hair growth depends on essential vitamins, minerals, and proteins. If your dog's diet lacks these necessary nutrients, it can affect the development of their hair, including the way whiskers grow.
These factors can contribute to the variability in whisker thickness observed in some dogs.
Caring for Your Dog's Whiskers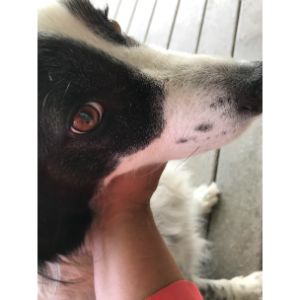 Caring for your dog's whiskers is relatively straightforward, and the best approach is to leave them alone.
If your dog's whiskers get muddy, you can gently clean their face using a damp cloth followed by a dry one. For their head and muzzle, you can use a dog-friendly shampoo, being cautious to avoid contact with the ears and eyes.
As a general rule, dog experts emphasize that there is no medical necessity to trim your dog's whiskers. Cutting them, even for aesthetic reasons, can compromise their functionality. If you prefer to keep your dog's whiskers intact, it's essential to inform your groomer not to trim them at all.
Frequently Asked Questions
What does an infected whisker on a dog look like?
An infected whisker, also known as a "whisker folliculitis," on a dog might exhibit the following characteristics:

Redness and Swelling
The area around the infected whisker may appear red and swollen. That is the body's natural response to inflammation caused by the infection.

Pus or Discharge
There might be pus or a discharge around the infected whisker. Pus is a thick, yellowish, or greenish fluid, indicating the body is trying to fight the infection.

Pain and Sensitivity
Your dog may be sensitive or react when you touch the affected area. The infection could cause discomfort or pain.

Itching or Scratching
Dogs may try to alleviate the discomfort by scratching or rubbing the area, which can worsen the infection and lead to further irritation.

Broken or Damaged Whisker
The whisker may be broken or damaged due to the infection.

If you notice any signs of an infected whisker or any other skin issue on your dog, it's essential to seek veterinary attention promptly. A veterinarian can accurately diagnose the problem and recommend appropriate treatment, including antibiotics or other medications to clear the infection and alleviate discomfort.
Should I pluck my dog's whiskers?
No, it would be best if you did not pluck your dog's whiskers. Whiskers, also known as vibrissae, serve an essential sensory function for dogs. They are susceptible hairs with specialized nerve endings that help dogs navigate and gather information about the world around them.

Whiskers provide valuable sensory input, allowing dogs to sense changes in air currents, detect nearby objects, and determine the size and shape of things they encounter.

Plucking a dog's whiskers can cause discomfort and even pain. It can disrupt their natural sensory abilities and may lead to confusion and disorientation. Additionally, removing whiskers can be stressful for dogs and negatively affect their well-being.
Why is one of my dog's whiskers black?
The color of a dog's whiskers can vary depending on the individual dog's coat color and genetics. It's not unusual for a dog to have whiskers that are a different color than their fur. Black whiskers are often quite common in dogs with darker coat colors.

Whiskers, or vibrissae, are specialized hairs more deeply embedded in a dog's skin than regular fur. These hairs are richly supplied with nerves and blood vessels, making them highly sensitive and capable of detecting even subtle environmental changes, such as air movements and vibrations.

The color of a dog's whiskers depends on the melanin pigments responsible for coat coloration. Dogs with black or darker coat colors often have black whiskers as well. Conversely, dogs with lighter coat colors may have whiskers that match their fur color or are lighter in color.

It's essential to note that whisker coloration is typically harmless and is just a natural variation in a dog's appearance. As long as your dog's whiskers are not showing any signs of damage, inflammation, or infection, there's usually no need to be concerned.
What does an ingrown whisker look like?
This condition can cause irritation and discomfort to the dog. Here are some signs of an ingrown whisker:

The area around the ingrown whisker may appear red and swollen. Inflammation can occur due to the trapped hair in the follicle.

The dog may exhibit discomfort when the affected whisker is touched or manipulated. They may avoid contact with the affected area.

In some cases, the ingrown whisker can lead to a localized infection, resulting in pus formation or a discharge.

Dogs may try to scratch or rub the area to relieve the discomfort caused by the ingrown whisker.

The dog might show signs of irritation or restlessness, especially if the ingrown whisker is causing persistent discomfort.

If you suspect that your dog has an ingrown whisker or is experiencing any skin issues, it's essential to have them examined by a veterinarian.
Why does my dog have a bent whisker?
A bent whisker in dogs is not uncommon and is usually nothing to worry about. Whiskers, or vibrissae, are susceptible and flexible hairs crucial to a dog's sensory perception. They are deeply rooted in the skin and have specialized nerve endings that provide valuable sensory information to the dog.

There are a few reasons why your dog may have a bent whisker:

Normal Wear and Tear
Whiskers, like any hair, can undergo regular wear and tear. Dogs use their whiskers to navigate and explore their surroundings, and they may occasionally become bent or broken during their daily activities.

Accidental Damage
Dogs can be curious and may get their whiskers caught in objects or during play. That can lead to bending or even breaking of the whiskers.

Genetics
Some dogs naturally have more flexible whiskers than others. It could be a trait influenced by their genetics.

Age
As dogs age, their whiskers may become more brittle or prone to bending.

In most cases, a bent whisker is not a cause for concern. Your dog's whiskers will continue to serve their sensory purpose even if slightly bent. However, if you notice any signs of discomfort or if the whiskers appear to be causing pain, it's a good idea to have your dog examined by a veterinarian to rule out any underlying issues.
Conclusion for "Why Does My Dog Have One Really Thick Whisker

"
Dogs possess a fascinating array of whiskers distributed across different areas of their head, each serving specific functions. Whiskers act as radar detectors, helping dogs sense their environment, judge spaces, and navigate various activities.
These specialized hairs also provide safety and protection by working as early warning systems and shielding the eyes from potential irritants. Moreover, dog whiskers serve as communication tools, conveying their mood and health status to other dogs.
The occasional thicker whisker in certain dogs can be due to genetics, injury, hormonal issues, infections, or nutritional deficiencies. Your dog's whiskers must be cared for by leaving them undisturbed and avoiding any trimming that might compromise their functionality.
Overall, dog whiskers' diverse functions and peculiarities continue to be a subject of intrigue and wonder in the world of canine sensory perception.
If you find this guide, "Why Does My Dog Have One Really Thick Whisker" helpful, check out:
Learn more by watching "Why Do Dogs Have Whiskers? 3 Things You Didn't Know Whiskers Do!" down below:
Garrett loves animals and is a huge advocate for all Doodle dog breeds. He owns his own Goldendoodle named Kona. In addition, he volunteers at the Humane Society of Silicon Valley, where he fosters dogs and helps animals. Garrett enjoys writing about Doodles and believes that dogs can teach humans more about how to live than humans can teach a dog.
Why Trust We Love Doodles?
At We Love Doodles, we're a team of writers, veterinarians, and puppy trainers that love dogs. Our team of qualified experts researches and provides reliable information on a wide range of dog topics. Our reviews are based on customer feedback, hands-on testing, and in-depth analysis. We are fully transparent and honest to our community of dog owners and future owners.