Are you searching for dog breeders in Maine? Choosing a dog breeder can be a daunting task, especially if unfamiliar with the process. Many factors to consider, from finding a reputable breeder to carefully vetting your potential new puppy's parents.
In addition, you'll have to navigate the crazy world of puppy mills and unethical backyard breeders, all posing as responsible, ethical breeders. You don't want to buy a puppy from a puppy mill. Not only will you be supporting an unethical, often abusive business, but you'll also potentially run into a multitude of health and behavior problems down the road.
Before scrolling down this list of dog breeders in Maine, you can check out these other recommendations from our team from We Love Doodles: Best German Shepherd Breeders in Maine and Best Cockapoo Breeders in Maine.
Puppies For Sale in Maine
If you are looking for a solid, ethical breeder in Maine, we're here to help. Here are our favorites.
Dog Product Recommendations: Best E-Collars For Aggressive Dogs and Best Odor Resistant Dog Beds.
1. CuddlyDoodes
CuddlyDoodes is a one-of-a-kind dog breeder run by a great family. Based at the CuddlyDoode ranch in Jay, Maine, the small town is the perfect environment for raising puppies. They breed three Doodle mixes – Labradoodles, Goldendoodles, and Aussiedoodles. That's a lot of happy Doodles.
These Doodle hybrids are healthy, well-behaved, and thoroughly socialized when they are ready for their forever homes. Hand-raised at home and not in a kennel, their puppies grow into adaptable, loving, and respectful dogs. CuddlyDoodes utilizes the puppy culture program and does early neurological stimulation, with some scent introduction.
They mainly focus on socializing their puppies early, exposing them to car rides, other animals, children, and strangers. Healthy puppies are the number one priority of CuddlyDoodes. All their puppies are kept up-to-date on their vaccination schedules and dewormed every two weeks. Only top-quality and nutritious food is provided to the growing puppies, which all come microchipped with the Advanced Pro ID minim.
CuddlyDoodes Details
2. aTender1's Puppies
aTender1's Puppies is owned by passionate animal lover Renee Banovich who has been breeding dogs since 1999. This breeder specializes in breeding Maltipoos and Morkies, but they occasionally have Maltese and Toy Poodles. Maltipoos are a hybrid cross between a Maltese and a Toy Poodle, and a Morkie is a cross between a Maltese and a Yorkshire Terrier.
aTender1 focuses on breeding dogs that are easily trained, full of personality, and have low-shedding coats. Their puppies are in high demand, with a waiting list of up to 2 years for their litters. Raised with love and care, their puppies live in homes, not kennels.
They enjoy air conditioning on hot days, 24-radio for ambient sounds, full attention, and early socialization. A little doggy door allows them out into a safely fenced area, and all of them are kept up-to-date on their vaccinations. aTender1's Puppies is located on Harrison Road, Norway, Maine, a town full of natural beauty. This breeder has been inspected and licensed by the state of Maine (#F702).
aTender1's Puppies Details
3. Serious Black German Shepherds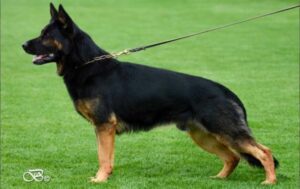 Located in the Sebago Lakes Region of Maine, this breeder has been breeding working pure black German Shepherds for over 50 years over two generations. Their dogs are from old Czech Border Patrol lines and the top best Sch/IPO competition lines, specializing in obedience and protection work.
They are focused on breeding driven dogs that are courageous, loyal, intelligent, and obedient. While they breed primarily working dogs, they often have puppies whose temperaments will fit nicely into a family environment. Their kennel and breeding facility are inspected and certified by the state of Maine.
Serious Black German Shepherds Details
4. Log Cabin Labradoodles
Located in Dover-Foxcroft, Log Cabin Labradoodles occupies 29 acres of land in Maine. The family-run breeder was founded in 2003 to breed Australian Labradoodles, obtaining their breeding pairs from Rutland Manor and Tegan Park in Australia.
Its mission is to respect, protect, and preserve the authentic Australian Labradoodle, producing loving, sweet, and affectionate puppies that also are low-shedding and considered hypoallergenic. Adult dogs and puppies live in their homes and receive optimal care and attention.
All their puppies come with vaccinations, deworming medications, and microchips before heading to their forever homes. There is a two-year health guarantee for genetic faults, and Log Cabin is an inspected breeder in Maine and has the (#F1420) license. It has also been a member of the Australian Labradoodle Club since 2014.
Log Cabin Labradoodles Details
5. Goldiva Goldens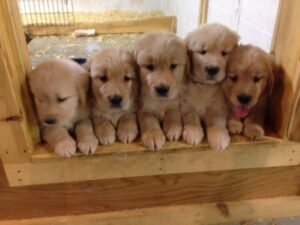 Goldiva Goldens, just as the name implies, breed Golden Retrievers. Since 1984, they have been awarded several titles by the AKC in conformation and obedience competitions. They pride themselves in raising gentle, intelligent, and kind puppies that make excellent family pets, especially in homes with very young children or seniors.
Puppies have to be eight weeks before they go to their new homes, and they all come examined thoroughly by the folks at Falmouth Veterinarians. In addition to their vaccinations and deworming, all puppies also have health clearance from the OFA.
Their sales contract includes an obedience class clause, which means you'll have to attend puppy training school with your new addition. Goldiva Goldens complies with the American Kennel Standards (AKC) and does not allow UKC registrations for exhibitions.
Goldiva Goldens Details
6. Daisy-Hill Dachshunds
The ever-popular sausage, or wiener dog. Short, stubby-legged, and long-bodied, Dachshunds are among the most popular breeds in the US. If you ever want one of these adorable puppies, check out Daisy-Hill Dachshunds. The small family breeder is situated in Maine, New England.
They offer healthy AKC-registered Miniature Dachshunds, both smooth and long-haired. Their puppies come in various colors and patterns, such as black, piebald cream, dapple red, and chocolate – there's something for everyone. Daisy-HIll also offers adult Dachshunds occasionally.
All their dogs receive full attention and love and are thoroughly socialized. Their puppies stay in their home or their well-designed indoor and outdoor kennels. Puppies wait until eight weeks to go to their forever homes, and the purchase process involves a thorough health check, deworming, microchipping with AKC Reunite, vaccinations, and necessary paperwork.
In addition, all their puppies and adult dogs undergo testing for Progressive Retinal Atrophy (PRA) and Neuronal Ceroid Lipofuscinosis (NCL), genetic disorders that bring about blindness and seizures.
Daisy-Hill Dachshunds Details
7. Tatnicland Shih Tzu
The name says it all. Tatnicland is a small family-run breeder of Shih Tzus, a toy dog breed originating from Asia known for its affectionate, outgoing personality. The cute round eyes, long coat, and short snout make them popular dogs for those that want a small breed with relatively modest maintenance requirements.
Tatnicland Shih Tzu primarily breeds hard-to-find colors like blues, chocolates, livers, and oranges. All their puppies live at home with the family members on a 7-acre piece of land together with mini pigs, horses, and other dogs. Puppies interact with the larger animals and learn valuable socialization skills, skyrocketing their exposure by leaps and bounds.
This family keeps and raises all their dogs in their home, not kennels, as a valuable part of their family. They focus on socializing their puppies early to get a headstart in life. Their detailed sales contract comes with a spay or neuter clause, and all their puppies come with up-to-date vaccinations, health checks, and a one-year health guarantee.
For the icing on the cake, the contract has a solid return-to-breeder clause, stipulating that if you ever had to give up your puppy, it must first go back to them. This ensures that their litters never end up homeless or in shelters.
Tatnicland Shih Tzu Details
8. Haven Cavaliers
Located in Whitefield, Maine, Haven Cavaliers, a Cavalier King Charles Spaniel breeder, has been in operation since 2001. Here, adult Cavaliers and their puppies are showered with love and attention. Their puppies are bred focusing on health, temperament, socialization skills, and conformation to AKC breed standards. These top-quality puppies must undergo a health check every year by an approved veterinarian.
They must undergo an examination by a canine cardiologist for the heart, an ophthalmologist for their eyes, and a Patella specialist. These thorough checks ensure that the Cavalier bloodlines are free from any disorder, and their puppies come with a two-year health guarantee against genetic defects.
Haven Cavaliers Details
9. Ballpark Bullies
Ballpark Bullies is a true gem located in the vibrant town of Sabattus, Southern Maine, contentedly breeding Olde English Bulldogges and French Bulldogs. They are a small, family-owned breeder that strives to produce Bullies with sound structure and excellent temperaments and health. Their puppies receive great socialization from being handled daily, often by the children.
They seek to maintain relationships with all their past customers long after their puppies leave. They are always happy to help answer any questions about the breed or their puppies throughout the puppy's entire lifespan. Their puppies come with a thorough vet examination, all required vaccinations, and deworming medications.
Ballpark Bullies Details
Choosing a Dog Breeder in Maine
Selecting a breeder is a daunting task. First, you'll have to navigate the minefield of over 10,000 puppy mills in the United States that try their darndest to masquerade as ethical breeders. You'll also have to make sure that the breeder complies with all local and state regulations and any ethical guidelines or best practices set out by organizations such as the ASPCA or PETA.
Take it step-by-step. First, make a shortlist of potential breeders from whom you might want to get your new puppy. Here are some initial screening questions you can ask to weed out the unethical breeders quickly.
Do you have DNA test results for the parents and grandparents?
Can you provide AKC and OFA papers for the parents?
How many litters do you have a year?
How long is your waiting list?
If I have to give my new puppy up, what then?
What is your health guarantee, and what conditions are there?
When can I take my new puppy home?
Do you have a sales contract, and can I see it?
Can I visit the puppies?
Some warning bells should go off in your head. Although there are exceptions to every rule, here is how to spot a puppy miller.
They sell their dogs with no screening process on sites like eBay and Craigslist.
There is no health guarantee.
They don't bother asking you any screening questions or don't seem to care where their puppies are going.
They sell puppies younger than eight weeks.
They don't allow home or facility visits. This is a GIANT red alert.
They cannot answer more detailed questions about their dogs' health, temperaments, and history.
They don't provide DNA, OFA, and other relevant health records of their adult dogs.
Related: Ways to Find Hypoallergenic Dog Rescues.
Conclusion For The "Best Dog Breeders in Maine"
However, it all comes down to trusting your instincts and doing your research. As long as you approach the decision with careful consideration and proceed with caution at every step, there is no reason why you shouldn't be able to find a trustworthy and reliable dog breeder.
Picking the right breed will make the difference in getting a well-balanced, socialized dog with minimal risk of genetic problems. Going the wrong way might result in disastrous consequences and potential heartbreak. So take your time, do your homework, and never hesitate to ask questions. After all, your dog will be part of your family for a long time.
For more guides similar to this list of dog breeders in Maine, you can check out:
Before you bring home a puppy from a breeder in Maine, you can learn more about the costs of raising a companion dog by watching "What's The Real Cost of Owning a Pet (Lifetime Cost of Dogs)" down below: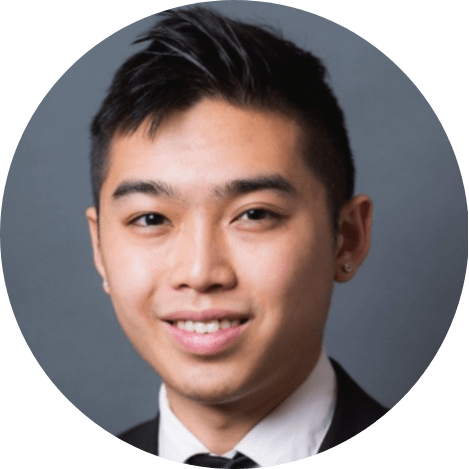 Andy is a full-time animal rescuer and owner of a toy doodle. When he's not saving dogs, Andy is one of our core writers and editors. He has been writing about dogs for over a decade. Andy joined our team because he believes that words are powerful tools that can change a dog's life for the better.
Why Trust We Love Doodles?
At We Love Doodles, we're a team of writers, veterinarians, and puppy trainers that love dogs. Our team of qualified experts researches and provides reliable information on a wide range of dog topics. Our reviews are based on customer feedback, hands-on testing, and in-depth analysis. We are fully transparent and honest to our community of dog owners and future owners.