Dogs are like toddlers — they get into everything! Whether it's the shoes you left by the front door or the dryer sheet that fell after folding clothes, your pup is always looking for new "toys" to play with. So if your dog ate a dryer sheet, you're probably wondering what comes next.
If your dog ate a dryer sheet, he may be at risk. We'll talk a little more about the reasons why and the next steps to take in this guide. For now, if your dog ate your dryer sheet it's a good idea to call your vet to ask for her advice, then read this article while you wait for your appointment.
Before reading an in-depth answer to this question, check out: Dog Ate A Sponge: What Do I Do? (2023) and My Dog Ate Deodorant. What Should I Do? (2023).
Are Dryer Sheets Dangerous to Dogs?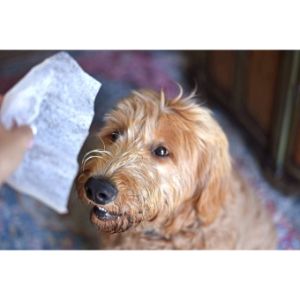 In a word, yes. If your dog ate a dryer sheet he may be in immediate danger for two reasons.
First, your dryer sheet is loaded with chemicals that are harmful to dogs. Both liquid fabric softener and fabric softener sheets contain carcinogens, endocrine disruptors, and other nasty chemicals — they're not safe for human or animal consumption.
Secondly, a dryer sheet will not be easily digested or passed by your dog. This can lead to obstruction, a very dangerous condition! In severe cases, this can lead to death, and in many instances, the obstruction must be cleared with surgery.
It goes without saying that you should strive to keep your dryer sheets — and other chemical products — out of your dog's reach. If you've made a mistake, though, you'll want to know what comes next.
Call your vet, then read the following information.
What Happens When a Dog Eats Dryer Sheets?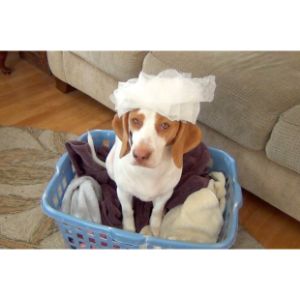 The first thing you'll want to do if your dog ate a dryer sheet is determine how much was ingested. If your dog only chewed off the corner, your next course of action may be nothing at all. This is particularly true if the dryer sheet was used — most of the chemicals may have been eliminated in the dryer.
If your dog has ingested an entire dryer sheet or a portion of a sheet that was unused, you'll want to keep a close watch over your dog. Symptoms that your dog is in trouble include:
Vomiting and diarrhea
Collapse or muscle weakness
A loss of appetite
Excessive drooling
Seizures
A distended (swollen) belly
Burns around or in his mouth
Should you notice any of these symptoms in your dog, bring him to an emergency vet right away. These signs of poisoning and gastrointestinal blockage are very problematic.
If your dog does not show these symptoms, he may not be in trouble at all. Observe your dog over time, and examine stool to determine whether he passes the dryer sheet.
Will I Find a Dryer Sheet in My Dog's Poop?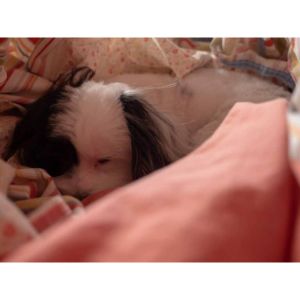 In many cases, your dog will pass a dryer sheet with no issue. You'll find a dryer sheet — sometimes fully intact — in your dog's poop within a day or so of his mistake.
Keep a very close eye on your dog and take a close look at his poop. Don't worry — you usually won't have to dig around too much. The dryer sheet will be visible in his bowel movement and you can pick it up just like you would any other poop.
While you wait for your dog to pass his dryer sheet, keep an eye out for symptoms that your dog is in distress. If you notice any of the signs above, call your vet or an emergency clinic.
Should you not discover a dryer sheet in your dog's fecal matter, it's time to be concerned. Bring your dog to the vet to determine whether the sheet is causing an obstruction in its digestive system.
My Dog Ate a Dryer Sheet: Step-by-Step Guide
If you've found that your dog has consumed all or a part of a dryer sheet, here's what you need to do.
Call Animal Poison Control at 888-426-4435. Volunteers for the American Society for the Prevention of Cruelty to Animals will guide you on the phone.
It's not recommended that you induce vomiting in your dog before you've spoken with a volunteer. The chemicals in the dryer sheet can burn coming up as much as they can burn going down. Furthermore, the sheet itself can cause obstruction on the way back up.
Make a call to your vet. Once you've dealt with the immediate threat of poisoning with the ASPCA Poison Control, it's time to call your dog's veterinarian. He or she will guide you through additional symptoms to look for, and your vet can speak specifically to your dog's unique needs.
Ask your vet if your dog should eat. If your veterinarian clears your dog for food, try giving him a bowl of chicken, rice, potatoes, or another bland food that is more easily digested.
Observe your dog in the hours and days following the dryer sheet incident! Should you notice behavioral changes or any other signs of trouble, bring your dog to the vet right away for surgery.
Frequently Asked Questions
If your dog ate a dryer sheet, it's natural to panic. Contact your vet, of course, and read through some of the most frequently asked questions to ease your mind.
Do dryer sheets repel animals?
Many people opt to place dryer sheets in their gardens to help prevent rodents, slugs, and other undesired pests from causing damage. There are more effective and safer alternatives. Look online for pest repellants, including electric models that simply plug into your wall.
Can dogs pass pieces of fabric?
Dogs can't ingest fabric, so there are three directions it can go. First, your dog may pass the fabric in its entirety within a day or so. Second, your pup may vomit the fabric up. This is especially likely in larger dogs. If your dog is gagging as if he's about to throw up, monitor for choking.

Finally, the dryer sheet may cause an obstruction in his gastrointestinal tract. This is a serious issue, and you should call your vet immediately.
What dryer sheets are safe for dogs?
To put it simply, no dryer sheet is completely safe for dogs. Chemical-laden fabric softener sheets are problematic, of course, but even "natural" dryer sheets can be harmful if swallowed.

If you're set on fabric softener, look at alternatives to dryer sheets. Baking soda will leave materials feeling soft and fluffy — plus, there are no residuals that will make your towels less absorbent. Vinegar and glycerin have the same effect.

There are all-natural products on the market, but you'll want to check the ingredients list. Remember that natural doesn't always mean safe. Even some plant-based additives can be toxic to dogs.
Why does my dog like dryer sheets?
Your dog likes dryer sheets for the same reason you do — they smell delightful! Dryer sheets are fun, too. When they've passed through the dry cycle, dryer sheets become light and fluffy. They'll float in the air and your dog can hear a satisfying "rip" when he plays with them.
How can I keep my dog from eating dryer sheets?
The easiest way to prevent complications from dryer sheets is to refrain from purchasing dryer sheets in the first place. There are plenty of safer alternatives you can use.

If you insist on using these products, keep them out of reach of your pet. Make a note of how many sheets you've used for each load, and also be sure you've discarded the same number.
Conclusion for "Dog Ate a Dryer Sheet: What to Do and What to Expect"
If your dog gets ahold of your dryer sheets, it may be cause to sound the alarm. Dryer sheets contain toxic chemicals that can harm your dog. Additionally, these scented products can't be digested. This means your dog may experience an obstruction, which can be deadly.
If you've discovered your dog has eaten a dryer sheet, call your vet right away. Monitor your dog for signs of trouble while you wait for your veterinary appointment.
In a perfect world, we'd replace chemically enhanced dryer sheets with more natural alternatives like vinegar and baking soda. Above all, though, be sure to keep them out of your dog's reach.
If you find this guide, "Dog Ate a Dryer Sheet: What to Do and What to Expect," helpful, check out:
Learn more by watching "My Dog Ate a Foreign Body! Now What?" down below:
Garrett loves animals and is a huge advocate for all Doodle dog breeds. He owns his own Goldendoodle named Kona. In addition, he volunteers at the Humane Society of Silicon Valley, where he fosters dogs and helps animals. Garrett enjoys writing about Doodles and believes that dogs can teach humans more about how to live than humans can teach a dog.
Why Trust We Love Doodles?
At We Love Doodles, we're a team of writers, veterinarians, and puppy trainers that love dogs. Our team of qualified experts researches and provides reliable information on a wide range of dog topics. Our reviews are based on customer feedback, hands-on testing, and in-depth analysis. We are fully transparent and honest to our community of dog owners and future owners.