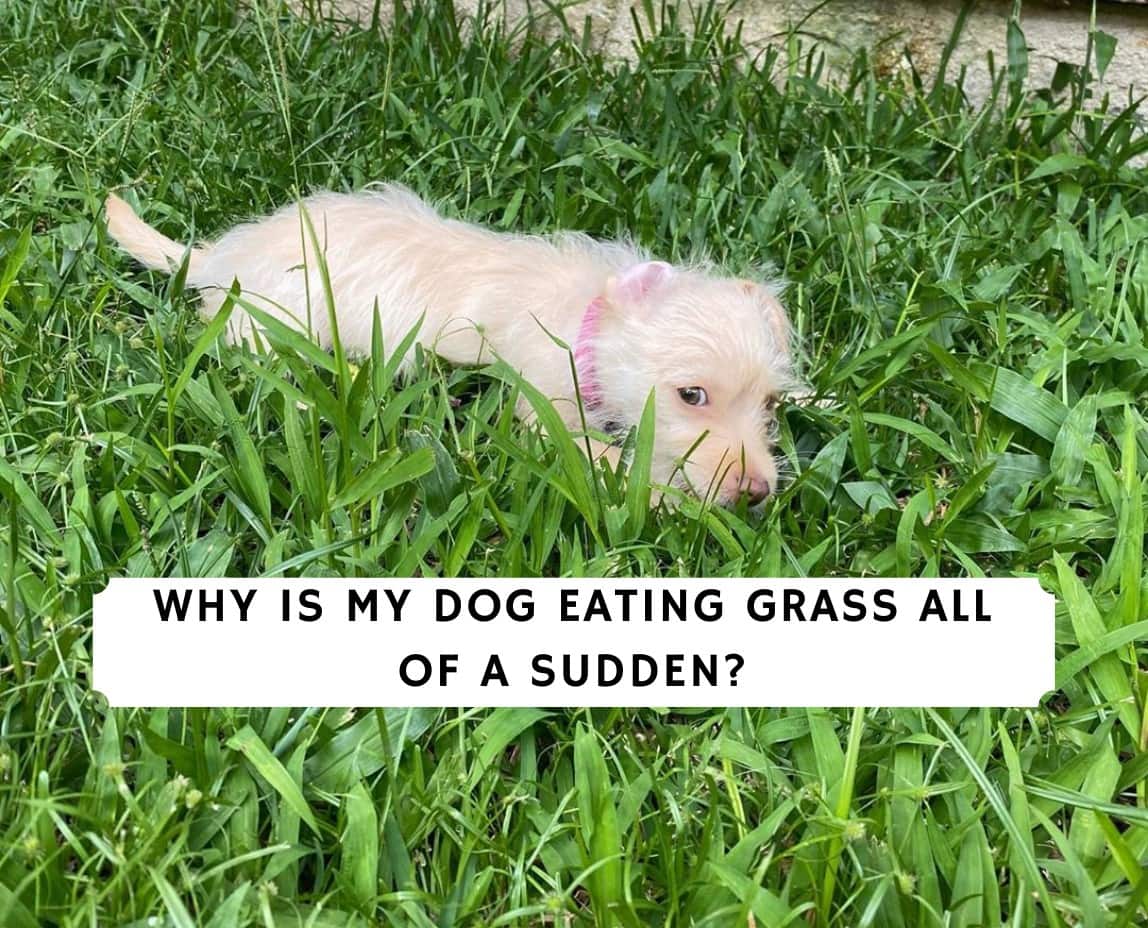 Does your dog suddenly start nibbling on grass every time you take them for a walk? Does your dog eat grass after getting zoomies and running around lots? If your dog eats grass every time they go outside there's a chance they are experiencing an instinctive need to consume grass or water.
The technical term for this behavior is called pica and it's when dogs consume non-food items. Typically, this is a sign there's a lack of minerals, vitamins, or nutrients in their diet. However, if your dog eats a complete and balanced diet and still eats grass, there is a chance they like may like the taste or be thirsty.
Continue reading to find an answer to the question: "Why is my dog eating grass all of the sudden?"
Why do dogs eat grass?
There are a variety of reasons dogs eat grass and it's often difficult to pinpoint at first. One of the main reasons dogs eat grass is to improve their digestive system. When dogs have an upset stomach or feel discomfort after eating, it's their natural instinct to eat grass to aid digestion. 
It's difficult to know if your dog has intestinal worms but your dog might sense they are experiencing something unusual in their body which urges them to solve the problem by eating grass. This natural instinct to heal the body comes from your dog's ancestors who lived in the wild and ate grass as a form of healing. 
Alternatively, if you noticed that your dog is running around a lot and then suddenly eating or pulling up grass, there is a good chance they are thirsty. Grass is typically cool and moist which causes your dog to stop suddenly and start eating the grass.
Dog Eating Grass and Vomiting
Studies have revealed that most dogs vomit after eating grass. In a way, the vomiting solves the digestive issue and eliminates the discomfort. Instead, of pushing digestion through the body, it removes the food causing the upset stomach through vomiting. Similar to the way the human body vomits to remove bad food from the digestive system when you eat something bad. 
Dogs that eat grass often vomit the food that is disturbing their digestion but sometimes yellow bile comes up as well. The yellow bile sits in the stomach and expels with the food or alone. This is a natural process but if your dog is vomiting yellow vile excessively a visit to the veterinarian or local animal hospital is recommended. 
Is My Dog Poisoned from Eating Grass? 
Pet parents who observe their dog eating grass then vomiting afterward often think their pet has been poisoned. Chemically treated grass can make an ordinary upset stomach turn into an emergency visit to the animal hospital.  Pesticides and other chemicals used to treat grass get consumed into your dog's digestive system and bloodstream which causes more vomiting and a variety of other health issues. 
If you suspect your dog has been poisoned from eating chemically treated grass contact a veterinarian immediately for urgent care instructions. However, if your dog is eating normal-looking grass that isn't treated with chemicals chances are they are going to be ok.
Symptoms that your Dog is Poisoned from Eating Grass:
Lethargic
Not eating
Continuous vomiting
Diarrhea
Agitation and not normal behavior
How to Stop Your Dog from Eating Grass
Fiber Deficiency
As mentioned earlier grass-eating or grazing is often a sign your dog is experiencing a nutritional deficiency. The first thing you need to do is improve your dog's diet and make sure they are eating a balanced and complete diet. Sometimes a healthy diet includes supplements that contain healthy fatty acids, fiber, vitamins, and other nutritional needs. 
Typically, a high fiber diet supports a healthy digestive system which naturally stops your dog from wanting to eat grass. However, some dogs might not have a nutrition problem at all and they are just eating grass because they are bored. 
Boredom or Lack of Exercise
If you already provide a balanced and healthy diet for your dog and they don't have a lack of nutrition, there's a chance your dog is bored when they are outside. Chances are they want to go on a walk with you so they can have all your attention but if you are preoccupied talking on the phone while taking your dog for a walk, your dog might feel bored and stand around nibbling on grass. 
This bored behavior is also a result of not experiencing enough exercise daily. A brief walk a few times a day is great for your dog but what about playtime? Do you play a game of fetch with your dog or other games that allow you to interact with your dog? 
Providing exercise for your dog might mean more than just taking them on walks. An excellent way to involve your dog in your life and provide exercise is to take them along when you jog, run, swim, hike and do other forms of exercise that let you breathe fresh air. 
Other Nutritional Deficiencies
Most dogs stop eating grass on their own once their digestive system is feeling better. However, it's wise to consult with a dog nutritionist to ensure you are providing the right amount of nutrition for your dog's age and size. An easy way to accomplish this task without involving a doctor is to read the helpful labels printed on the dog food bags. 
Most dog food bags provide nutritional information as well as a chart for the right serving size for dogs of specific weights, sizes, and ages. Some highly nutritious dog foods are specially formulated to provide nutrition throughout all life stages.
Avoid Yelling at Your Dog 
One thing you should avoid is yelling at your dog to stop eating grass. Dogs love attention from their owners and if they are eating grass to get your attention, you are playing right into their sneaky little hands or in this case their paws. 
Dogs accept attention from their pet parents whether it's good or bad. So if your dog is grazing on the grass to get your attention yelling at them is actually rewarding them for their behavior which encourages them to eat more grass every time they want your attention. 
This behavior might sound odd, but it's the same thing as a young child getting their parent's attention by pretending to fall off their bicycle.
The attention the child gets isn't necessarily good but they do enjoy having their parent's attention in any form. Well, the same thing goes for dogs. Yelling at them still fulfills their desire to get your attention and they will continue the behavior as long as they get your attention. So in the case of your dog, ignore their behavior when they are eating grass and just encourage them to keep walking. 
Play in New Areas
An effective way to spice up an ordinary walk and prevent your dog from eating grass is to switch up the direction and area on your daily walks. 
For example, if you walk in the same direction every time you leave the house, walk in the other direction, or cross the street. The goal is to show your dog new environments for them to explore while walking along. Your dog will be preoccupied with discovering new things and won't think about eating grass. Alternatively, you can just go to another area with artificial grass or no grass.
What To Do If Your Dog Won't Stop Eating Grass

Once you improve your dog's diet, take them for walks in new places, and give them plenty of attention the grass eating behavior should stop. 
Dogs that continue eating grass after you have implemented positive changes into their lifestyle might be telling you something is not quite right in their body. At this point, it's important that you take this situation seriously and discuss the issue with a veterinarian. 
A great way to help the veterinarian pinpoint the cause of the grass eating is to keep a journal of your dog's daily routine and behavior. Note their mealtimes, type of dog food and treats, how much water they drink per day, and the specific situation that is going on right before your dog starts eating grass. 
This information will help you and the veterinarian notice if there are any connections or repetitive behavior when it comes to grass eating. 
You should also be prepared to answer the following questions: 
Does your dog eat grass while alone in the yard?
Does your dog eat grass when taking walks? 
Does your dog vomit after eating grass? 
Is there yellow bile in the vomit? 
Is there blood in the vomit? 
How long has your dog been eating grass? 
What type or brand of dog food do you feed your dog? 
Do you feed your dog people food? 
Do you hear noises coming from your dog's stomach? 
Does your dog refuse to eat or drink? 
Are there pesticides or any chemicals on your lawn? 
How frequently does your dog eat grass? 
The answers to these questions will help pinpoint the cause and provide insight into your dog's lifestyle. The veterinarian will offer a course of prevention and treatment such as feeding your dog an improved diet, adding supplements to the diet, providing fresh water and exercise, and using natural lawn care. If the cause of your dog eating grass turns out to be boredom, the doctor will recommend filling your dog's day with interactive toys and recommend ways to give your dog more attention. 
Generally, vomiting stops within 24 hours or less of eating grass but if it progresses or continues for longer a visit to the animal hospital is recommended. 
Conclusion for Why Is My Dog Eating Grass All Of A Sudden?
There are several reasons why your dog is eating grass of a sudden. Some of the most common reasons are due to a nutritional deficiency like fiber, they are thirsty, or your dog is bored. Get your dog started on the right track by feeding them a healthy, complete, and well-balanced diet. Also, try walking them or playing with them in new areas as a way to distract their attention from eating the grass.
Garrett loves animals and is a huge advocate for all Doodle dog breeds. He owns his own Goldendoodle named Kona. In addition, he volunteers at the Humane Society of Silicon Valley, where he fosters dogs and helps animals. Garrett enjoys writing about Doodles and believes that dogs can teach humans more about how to live than humans can teach a dog.
Why Trust We Love Doodles?
At We Love Doodles, we're a team of writers, veterinarians, and puppy trainers that love dogs. Our team of qualified experts researches and provides reliable information on a wide range of dog topics. Our reviews are based on customer feedback, hands-on testing, and in-depth analysis. We are fully transparent and honest to our community of dog owners and future owners.