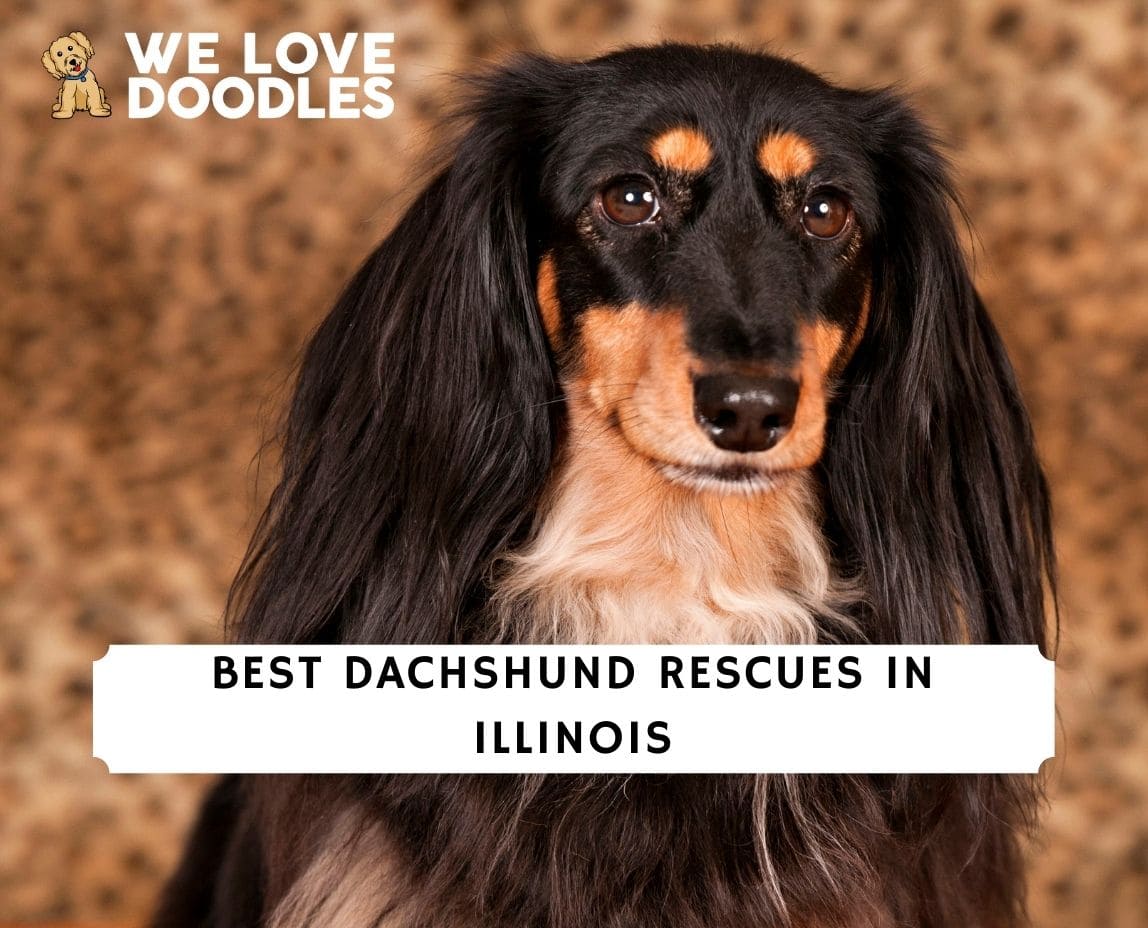 Are you having trouble finding the best dachshund rescues in Illinois? We've got you covered! There are oodles of small dog rescues and breed-specific shelters in the Prairie State, so you can take your pick! However, it may be hard to choose, so we've curated a list of our favorites.
The shelters on this list are committed to the safe care of the dachshunds, dogs, and other animals in their care. They will tend to your pup's social, emotional, and medical needs while you wait to bring him home. Ready to find your new dog? Let's take a look!
Before scrolling down this list of Dachshund rescues in Illinois, you can check out these other recommendations from our team at We Love Doodles: Best Corgi Rescues in Illinois and Best Doodle Rescues in Illinois.
Find a Dachshund Rescue Near Me in Illinois
Take your time and browse around as you search for the perfect dachshund rescues in Illinois. There's a very high probability that your lifetime companion is housed in one of the shelters below!
Dachshund Product Recommendations: Best Dog Training Shock Collars and Best Medicated Dog Shampoos.
1. Anderson Humane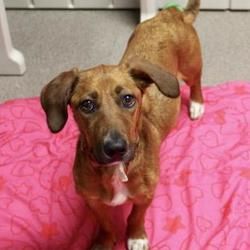 Anderson Humane has housed thousands of rescued animals since they were founded in 1964. Need proof? By the year 2021, this rescue fostered 1,905 animals, rehabilitated 5,080 wildlife, and assisted in the adoption of 4,371 animals into their forever homes!
You can help Anderson Human increase this number by adopting one of their beautiful dachshunds today. First, you'll be asked to fill out an adoption application. The volunteer-run non-profit will want to know about your family, existing pets, schedule, lifestyle, and physical home. If everything checks out, you may be asked to participate in a home visit. Otherwise, you can simply visit the shelter and meet your dog during one of their adoption events.
The adoption fee you pay may be tax-deductible, so be sure to check with a tax professional for more information! Your dog will be spayed or neutered and vaccinated before going home with you. The fee also includes a free vet exam, so ask the shelter for details! Adoption fees are set based on the dog's breed, age, and other criteria but is typically around $325.
Anderson Humane Contact Details
2. Little Giants Dog Rescue
Next on our list of dachshund rescues in Illinois is Little Giants Dog Rescue. Established in 2019, Little Giants Dog Rescue operates as a 501(c)3 non-profit, and they rely heavily on volunteers and on donations from the community. Each dollar and hour donated directly helps dachshunds and other dogs and puppies in Illinois as they're matched with forever families.
Apply to adopt online. Then, once your app has been reviewed and approved, speak with the volunteers about scheduling a meet-and-greet. Little Giants wants to adopt their babies out as quickly as possible, but they also want to make sure your home is safe for their dogs! For that reason, they may ask for vet references and you may be asked to schedule a home visit with the shelter volunteers.
Adoption fees are typically set at $300, though the breed and demand for the dogs may affect this. Puppies are priced a bit higher, and seniors cost a bit less. Please feel free to reach out to Little Giants to learn whether senior, military, law enforcement, or other discounts are available.
Little Giants Dog Rescue Contact Details
3. Randy's Rescue Ranch
Randy's Rescue Ranch is located in O'Fallon, Illinois, and they're situated on 20 beautiful acres where your adopted dog can explore and play. The dachshund rescue in Illinois is a not-for-profit group that's run by volunteers and just a few employees. Randy, the rescue owner, has committed to saving dogs as well as other ranch animals! You'll find horses, pigs, cows, cats, and other at-risk critters on the ranch when you visit to pick up your dog.
To adopt your new friend, you'll first need to check whether there are dogs available! In some cases, horses, pigs and other livestock make up the majority of the list of adoptable animals. Once you find a pup you love, contact Randy and the team to begin the adoption process. You'll need to apply, of course, and once you're approved to adopt you'll be asked to pay an adoption fee.
All dogs are altered (spayed or neutered) and vaccinated. Heartworm medication, flea and tick meds, and other treatments are provided as well. Not sure you're ready to adopt, or can't find the species you're interested in? That's okay! Why not consider sponsoring the care of an animal while he or she is housed at Randy's?
Randy's Rescue Ranch Contact Details
4. Hopeful Tails Animal Rescue
Hopeful Tails Animal Rescue is next on our list of the top dachshund rescues in Illinois. The shelter is yet another non-profit, so your assistance and donations really make a difference! If you're not ready to adopt, or you haven't foudn the perfect pup just yet, consider choosing a gift from the shelter's wish list.
If you've found the dog that's a good fit for you, great! You can begin the adoption process by filling out an application! Email the shelter to receive the app, and let them know all about your experience with dogs, your veterinary references, your home, and your lifestyle. You'll be matched with a pup that's perfect for you, but you can absolutely express interest in a dachshund you love. The shelter team will do their best to determine whether you and the dog are compatible based on your application.
As with most rescues, Hopeful Tails will spay or neuter your dog. He or she will also be vaccinated, wormed, and microchipped for safety. Because each dog has a slightly different background, you'll want to ask the shelter team about your pup's training. Some dogs will be potty- and obedience-trained, while others may need a bit of extra TLC from you and your family.
If you'd like the opportunity to meet the team and the adoptable pups, check out the Hopeful Tails calendar! The shelter frequently holds adoption events, and the public are welcome to attend.
Hopeful Tails Animal Rescue Contact Details
5. Helping Paws Animal Shelter
Last on our list of the best dachshund rescues in Illinois is Helping Paws Animal Shelter. The non-profit was established in 1969 as a foster program and has since evolved to become a network of over 300 volunteers! A few dedicated employees work with the shelter, too, so you're likely to hear a familiar voice each time you contact Helping Paws about your adoption.
Helping Paws is, in a word, huge! They own a 10,000 square foot facility in Harding Lane, allowing them the privilege of providing shelter and love to over 800 animals each year.  They're a no-kill shelter, and they take pride in the rehabilitation efforts they extend to each animal that comes through their system. At present, the physical shelter can accommodate 45 dogs and 125 cats at any given time. Of course, the goal is to empty the shelter, and you can help!
To adopt a dog from Helping Paws Animal Shelter, you will need to visit their rescue facility in person. Chat with the team and answer questions about your home, lifestyle, and experience. Let them know what type of adoptable animal you're looking for and the team will do everything they can to find a dog that meets your criteria! Take some time to get to know the other animals at the shelter while you visit. It may just be that your perfect pup isn't a dachshund at all!
Helping Paws Animal Shelter's adoption fees ranges from $450 for puppies under six months of age to $250 for senior dogs that are eight years or older. Your dog will be nose-to-tail vet-checked, vaccinated, dewormed, microchipped, and altered before joining your household.
Helping Paws Animal Shelter Contact Details
Frequently Asked Questions
We've put together a list of the most frequently asked questions by visitors to our site. Whether you're new to dogs or an old pro, check out our answers below!
How should I choose from dachshund rescues in Illinois?
First of all, it makes sense to adopt from a shelter that's local to you. You'll be able to easily pick up your pup, and you can easily comply with any home visit requirements the shelter has in place. A quick Google search will pull up nearby rescues if you can't find one on our list!
Once you've found a few shelters you're interested in, run them through a program like CharityWatch. This third-party organization will help you determine whether your shelter is legitimate. It also may help you determine whether your adoption fee is tax-deductible.
Speaking of adoption fees, you'll want to choose a shelter with fees that fit your budget. Some shelters charge hundreds of dollars, while others may charge just a nominal rehoming fee.
Finally, use your judgment! Trust your instinct when you visit a shelter. Is it clean? Are the volunteers friendly? Does staff treat the animals with respect? Don't ignore any gut feelings you may get as you experience the sights, sounds, and even smells of your dachshund rescue.
Does owning a dachshund have disadvantages?
Sure! All dog breeds have their pros and cons. Dachshunds can be susceptible to certain illnesses like back problems and joint issues. The dogs can bark a lot. They can latch on to one family member and ignore everyone else. Your dog may be difficult to train because he's so stubborn.
We think, however, that dachshund ownership's benefits outweigh the disadvantages. Speak with your team of volunteers to learn more about the breed and about your specific dachshund's personality traits. Together you can decide whether a dachshund is right for you.
What is the average lifespan of a dachshund?
Dachshunds are long-living little animals, with a lifespan averaging between 12 and 16 years. If you adopt a puppy, you can be relatively certain that you're adopting a lifetime companion.
However, it's important to remember that senior dachshunds need love, too! Seniors enter the shelter system frequently, and typically through no fault of their own. Maybe their owner died, or maybe the dog has medical needs that the previous owner couldn't afford. Whatever the case, it may be worth your time to look into senior dogs.
Many dachshund rescues in Florida offer seniors-for-seniors programs. These programs allow senior citizen humans to adopt senior citizen canines at a very low cost, or for free! Keep in mind that some of these pups have special needs, so take the extra required TLC under consideration as you decide whether to adopt an older dog.
Are dachshunds good with children?
Kind of. This depends upon the age of your child and his or her experience with dogs. See, dachshunds have to be picked up horizontally – their long, wiener-dog shape makes them a little more susceptible to injury. Should a young child pick your pup up incorrectly, you risk harming the animal.
With that in mind, older children and dachshunds make wonderful companions for one another! Your dachshund may "choose" your child as "his person" and your kid will be tickled by all the extra attention! A potty trained dachshund may even decide he wants to share a bedroom with your kiddo.
More Information About Dachshund Rescues in Illinois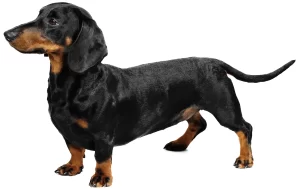 Finding a credible, trustworthy and reliable rescue in your area can be hard, but the best dachshund rescues in Illinois are dedicated to helping you. These shelters are usually run by volunteers who will take their time to match you with the right companion for you. Be sure you fill out those applications honestly for the best success!
There are dozens of rescues throughout the state – choose the one that resounds most with your goals and begin the adoption process. A reputable organization will have staff on hand who will help you along the path to dog ownership!
Related: Best Dog Car Seats For Dachshunds.
Conclusion For The "Best Dachshund Rescues in Illinois"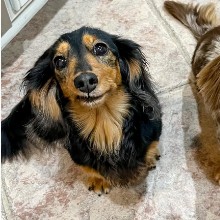 Dachshund rescues in Illinois are dedicated to helping you find the most compatible companion. Trust the process – even if you're not matched with the dog you initially had your eye on. Volunteers know the dogs in their shelters well, from personality to history. Take your time in selecting a rescue dog for the best chance of bringing home a pup that's perfect for you.
For more guides similar to this list of Dachshund rescues in Illinois, you can check out:
Before you bring home a Dachshund companion from a rescue shelter in Illinois, you can learn more about this dog breed by watching "Dachshund Pros and Cons" down below: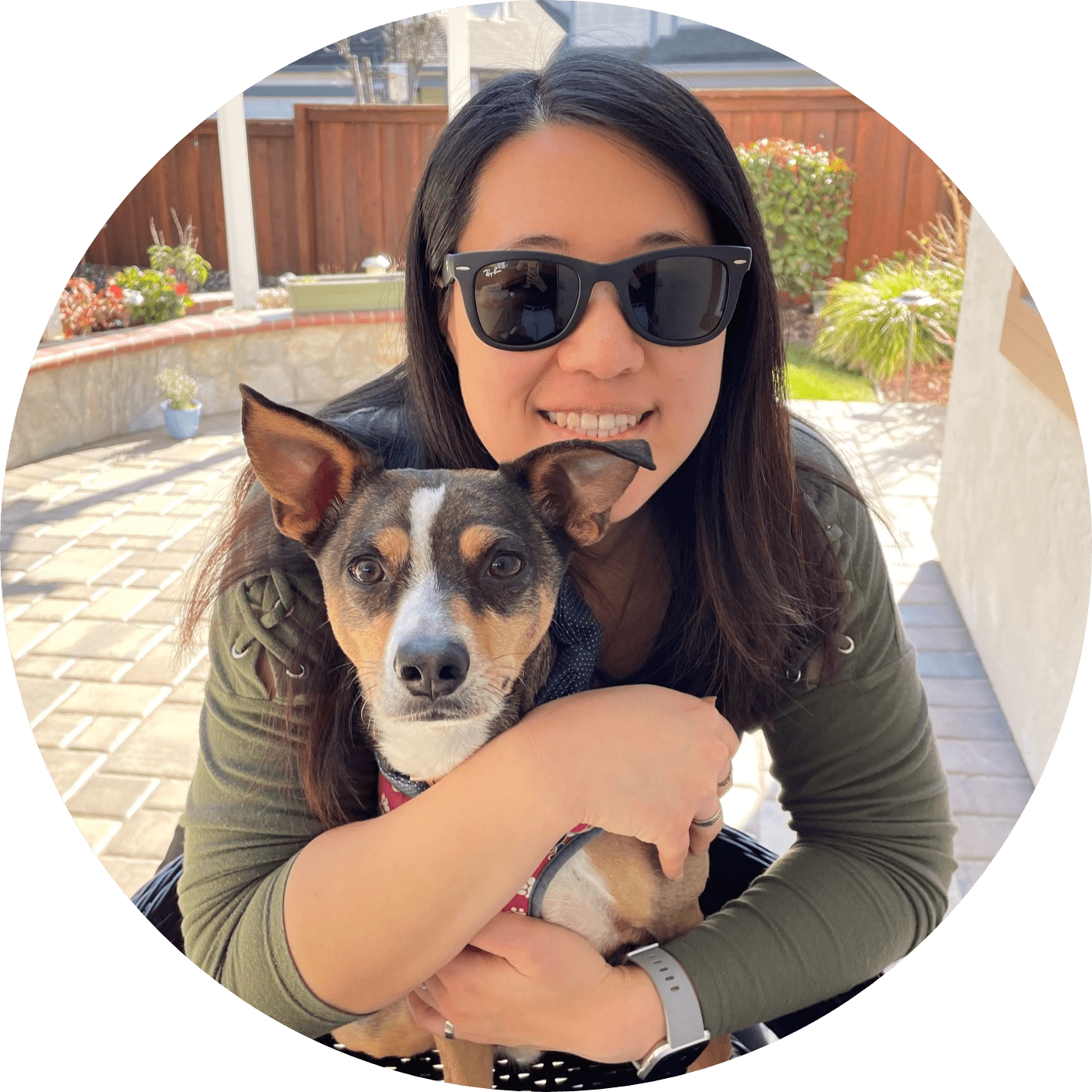 Dr. Sabrina Kong graduated from the Royal Veterinary College in England in 2016 and has been working at a small animal clinic in Northern California since then. She grew up in the Bay Area and got her bachelor's degree from Cal Poly San Luis Obispo. She also became a Certified Canine Rehabilitation Practitioner through a program at the University of Tennessee.
When she isn't in the clinic taking care of her four-legged patients, she enjoys traveling and trying new foods with her friends and her three-legged dog, Apollo. She adopted Apollo from her clinic when he was a puppy with numerous health issues. Dr. Kong truly cares about taking care of animals.