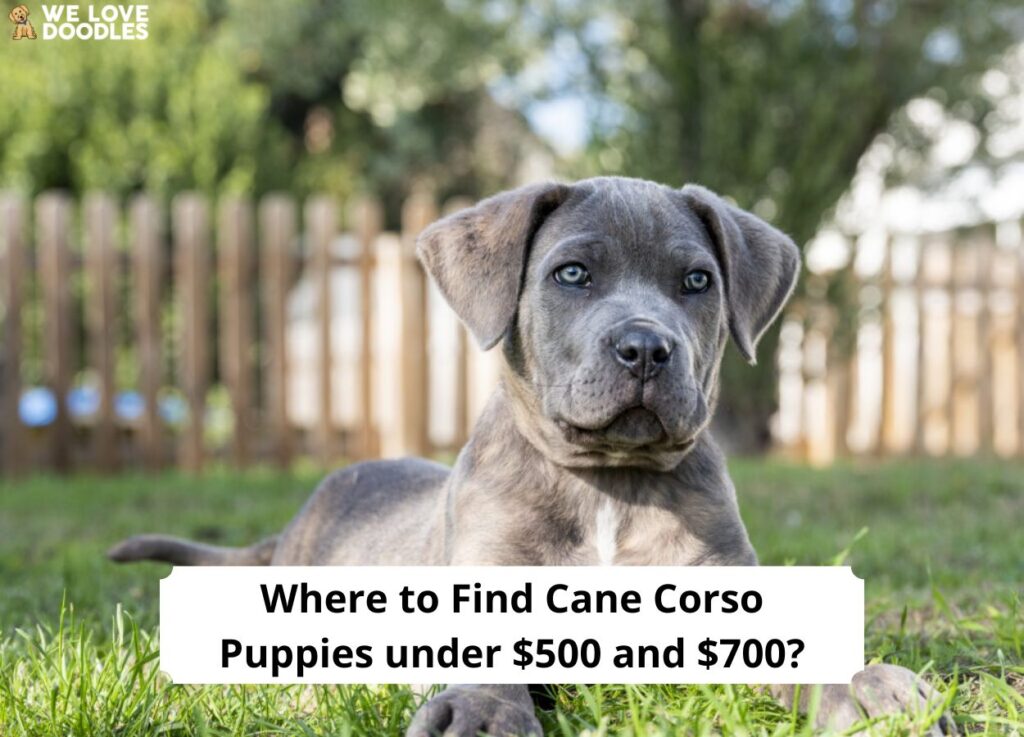 The Cane Corso is a loving, sometimes lazy, and fiercely loyal breed with a personality as big as they are. When fully grown, they will weigh well over 100 pounds, and responsible breeding of these large dogs is critical. We've compiled the best places to find Cane Corso puppies under $500 and $700, depending on what you're looking for.
Purebred dogs can be pricey, but you can still find Cane Corso puppies for under $700, and in some cases, they may even be under $500 if the dog was rescued or is a mixed breed.
If you're looking for a puppy to call your own, take a look at this list! The breeders and organizations listed below will help you get started on your search to find a puppy to become a beloved member of your family.
Before you scroll down this guide, "Where to Find Cane Corso Puppies Under $500 and $700," check out: Where Can You Get Free Westie Puppies? (2023) and Where Can You Get Free Dachshund Puppies? (2023).
1. Good Dog
Good Dog is a nationwide marketplace that allows breeders, individuals, and shelters to list puppies for sale. You'll find plenty of Cane Corso puppies under $700 on the site, but you may have to do a little searching! While rescues and individuals may only sell puppies to locals, many breeders will ship or deliver across the country.
To begin your search for a Cane Corso, first, select the breed. If you'd like to search nationwide, pick your preferred delivery options to the left of the breeder list. Want to keep your search local? Enter your zip code to narrow down the search radius.
Once you've filtered your search in a way that suits you, it's time to explore your options. Click each breeder to view available puppies, prices, pedigree, and other information about the dogs.
Each breeder or shelter will have different policies regarding purchases. For instance, some breeders may require that you purchase breeding rights, while others may require that you spay or neuter your dog.
Some puppies may come with a health guarantee while others may not. Interview the individual to get a better feel for how your puppy was raised, and whether he or she will be a good fit for your family.
Good Dog Details:
2. Gennaro Corsos Home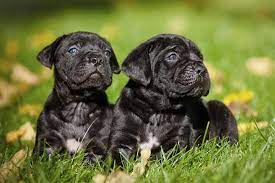 Genaro Corsos Home delivers Cane Corso puppies by air to families across the United States. They're a relatively small-scale breeder that raises puppies in their home as members of the family. Puppies are well-loved and socialized in the formative weeks leading up to their adoption into your family, and they come with a one-year health guarantee.
Gennaro Corsos will generally cost around $650 to purchase, though prices vary due to the puppy's individual characteristics and other factors. Shipping, of course, will cost an additional fee so be sure you factor this into your budget.
You can view the available puppies for sale directly on the Gennaro website. In most cases, your dog will be AKC-registered, and you'll receive the complete veterinary records upon delivery of your dog. Your puppy will be current on appropriate vaccinations, wormers, and any other necessary treatments.
Breeding rights may be available; speak with the breeder directly for more information.
Gennaro Corsos Home Details:
3. AKC Marketplace
If you're in search of an AKC-registered Cane Corso puppy under $500, check out the AKC Marketplace. This is a nationwide platform, and puppies are located across the United States. All breeders on this site are members of the American Kennel Club and must uphold strict standards in caring for and breeding dogs.
As with Good Dog, you'll need to do a bit of legwork to find your puppy on the AKC Marketplace, for several reasons. First, not all Cane Corso puppies are under $500, much less $700. You'll have to contact breeders individually to determine the cost. Secondly, some breeders will ship. You can search locally for a breeder, but you may have greater success expanding your search to be nationwide.
Most puppies sold by AKC-registered breeders come with a health guarantee. If you're not married to the idea of adopting a puppy, you can also reach out to kennels to find out whether adult, retired dogs are available. Dams and sires are raised as family members in most cases and will be well-socialized, healthy, and ready to join your home in retirement.
AKC Marketplace Details:
4. Greenfield Puppies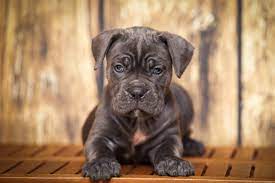 Greenfield Puppies is located in Pennsylvania, but they offer delivery of puppies nationwide. You can view information about shipping and delivery on the Greenfield website or contact the team directly to discover your options. Alternatively, you can pick up your dog locally from his or her foster family in Pennsylvania or the surrounding states.
The prices of pups vary when you shop through Greenfield, but it's not uncommon to find Cane Corso puppies for under $700. To find your dog, select the breed then scroll through the available puppies. Pictures, locations, and prices are all listed on the search results page, which makes it easy to find what you're looking for.
All puppies sold in Pennsylvania come with at least a 30-day health guarantee; check with your state to determine what's required by law in your area. You may be required to sign a spay or neuter agreement, so if breeding your dog is your goal, this won't be the best option for you.
While you're shopping for Cane Corso puppies at Greenfield, be sure to check out the resources available to new puppy owners. You can read about the breed, check out reviews from Cane Corso owners, and learn general information about appropriate care and training for your dog.
Greenfield Puppies Details:
5. Cane Corso Rescue, Inc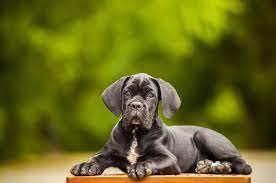 Cane Corso Rescue, Inc is a nationwide rescue organization that specializes in the breed. They were granted 501(c)3 status in 2013, and have rescued over a thousand puppies and dogs since their founding.
If you're looking for a Cane Corso puppy for sale under $700, consider this rescue! While not all dogs are young, each has been placed in shelter care through no fault of its own, and regardless of age, your future dog is in desperate need of a home like yours. Pups from this rescue come from all walks of life, so be sure to speak with the CCR team to get all the information about your dog's history.
If you're not sure that a Cane Corso puppy is right for you, you can opt to foster a dog. By fostering, you'll be providing shelter, food, socialization, and love to a deserving dog on a temporary basis. The pup will be rehomed when a forever family is found, but in the interim, you can get to know the breed a bit better.
You can view the available dogs by selecting the appropriate link, then check out more information about the pup's temperament. The adoption fee for your Cane Corso ranges from $250 to $600 depending upon the age of the dog.
Cane Corso Rescue, Inc Details:
6. Facebook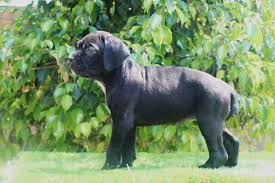 Facebook Marketplace does not permit the buying or selling of dogs. However, you can still find Cane Corso puppies for under $700. There are a number of ways to go about doing so, but we recommend that you search for Cane Corso enthusiast groups in your area as a first step.
Once you join a group, you'll be introduced to fellow mastiff fans across the United States. Facebook groups offer a wonderful platform to exchange information, share tips, and ask questions. Of course, you can show off your photos, too! Often, you'll find that small-scale breeders opt to use Facebook pages to advertise healthy, quality puppies.
If you're not interested in joining a group, you can simply conduct a search for Cane Corso breeders. Many breeders don't have the time, knowledge, or interest required to maintain their own websites. Facebook offers a simple way for these reputable breeders to get the word out about their dogs and match them with families like yours.
When possible, visit the breeder in person. This will help you get an idea of how your puppy has been raised and treated. Bring a trusted friend for your safety, and don't be afraid to pick up your puppy in a public location if you're more comfortable doing so.
Facebook Details:
Frequently Asked Questions
How much is a Cane Corso puppy worth?
Reputable breeders can charge anywhere from $1,500 to $2,000 for a healthy Cane Corso puppy.
How long will a Cane Corso live?
The life expectancy of a Cane Corso is nine to 12 years.
Can you trust a Cane Corso?
As an owner, you can trust your Cane Corso as a protector, but these dogs may not show the same level of affection to people they don't know very well.
Conclusion for "Where to Find Cane Corso Puppies Under $500 and $700"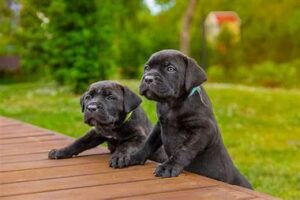 If your family is considering adding a Cane Corso to the household, you may be concerned about the high cost of puppies. Don't worry, though! It's possible to find Cane Corso puppies for sale for under $700, and some are even more affordable, priced under $500!
AKC-registered purebreds, home-raised puppies, and rescued dogs are available across the United States. No matter where you live, you can use our guide to assist you in finding a Cane Corso puppy that will be a permanent addition to your family.
If you enjoyed this guide, "Where to Find Cane Corso Puppies Under $500 and $700," try:
Before you begin your search for cheap Cane Corso puppies, learn more by watching "11 Facts You Need to Know Before Buying a Cane Corso" down below: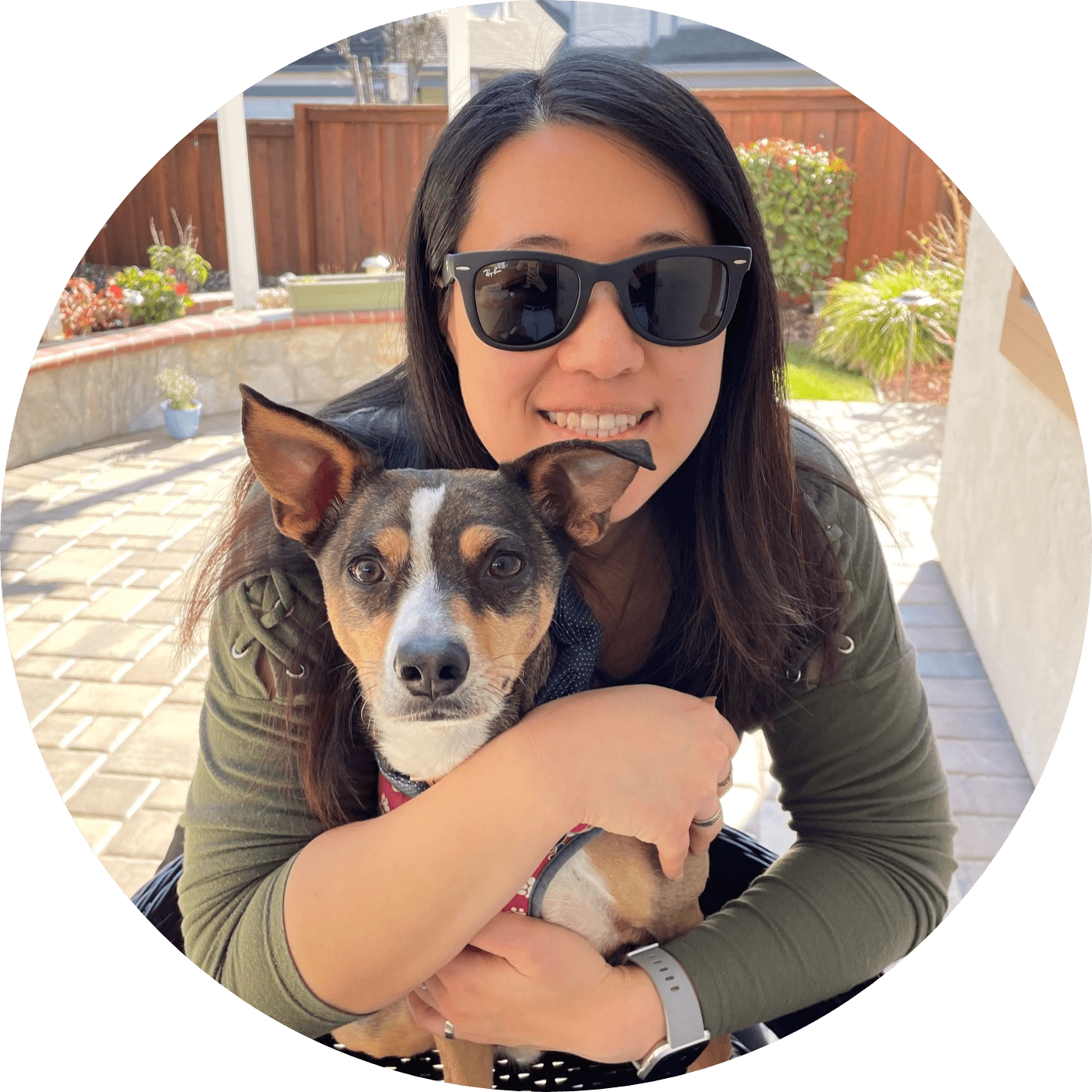 Dr. Sabrina Kong graduated from the Royal Veterinary College in England in 2016 and has been working at a small animal clinic in Northern California since then. She grew up in the Bay Area and got her bachelor's degree from Cal Poly San Luis Obispo. She also became a Certified Canine Rehabilitation Practitioner through a program at the University of Tennessee.
When she isn't in the clinic taking care of her four-legged patients, she enjoys traveling and trying new foods with her friends and her three-legged dog, Apollo. She adopted Apollo from her clinic when he was a puppy with numerous health issues. Dr. Kong truly cares about taking care of animals.