Can dogs chew on baseballs? Of course, just like they can chew on all kinds of things. But should a dog chew on a baseball? Definitely not.
A baseball is among the worst things a dog can eat. Along with rat poison, rocks, sugarless gum, moldy compost, glue, pennies, batteries, antifreeze, and the worst of all––toxic mushrooms––canine consumption of baseballs can cause serious health problems.
Before scrolling down this article "Can a Dog Chew on a Baseball," these guides could help answer your other questions: Can Dogs Eat Canned Chicken? (2023) and Can Dogs Take Mucinex? (2023).
Why Your Dog Shouldn't Chew on a Baseball
Any gnawed-off baseball parts that make it into a dog's digestive or respiratory tracts pose the same risks any other foreign object would, from choking to stomach upset. That said, a baseball's interior can be especially deadly.
Beneath a baseball's leather exterior, layers of rubber and cork alternate with layers of tightly-wound string that, if ingested, can unwind in the dog's intestines.
According to surgeon John Berg, DVM of Tufts University Cummings School of Veterinary Medicine, string is especially dangerous for dogs to swallow because one end of the string often gets stuck in the stomach while the rest of it moves into the intestine.
If the string is anchored further back in the digestive tract, the intestine can't pass it, and the taut wire that results can perforate the digestive tract, sometimes literally sawing through the intestines.
Even if a baseball's string manages to make it through your dog's digestive tract without incident, pieces of rubber, cork, and leather can still cause problems. If any baseball parts make it past your pup's stomach and lodge in their bowel, obstructions like these can become fatal in a matter of days.
Signs of Bowel Obstructions in Dogs
Vomiting, loss of appetite, bloating, lethargy, or an abdomen sensitive to touch can indicate a canine bowel obstruction. It can be easy to dismiss behavior like this as a simple upset stomach, but it's crucial to take your dog to a vet as soon as possible if you observe any of these signs.
If You Suspect a Baseball Blockage
Seek medical treatment. Delaying care increases the odds of a poor outcome. Withhold food until a vet gives you the okay. If you spot any baseball parts sticking out of your dog's anus, do not pull on them — doing so can cause additional injuries.
What to Expect at a Vet Visit
Your vet will do a physical examination of your dog's abdomen and may also do an ultrasound, X-ray, or endoscopy. If the vet spots anything, they may be able to remove it during the procedure.
However, if any baseball parts have become stuck in the bowels, an endoscope will not be able to reach the obstruction. In this case, surgery may be the only option.
Safe Alternatives for Your Dog to Chew
If your dog is fond of chewing baseballs and you're looking for a safer replacement, consider both edible and non-edible alternatives. Regardless of what you go with, never give a dog anything to chew on small enough to fit in their mouth, and take broken pieces away if your dog gnaws them into small hazardous fragments.
Edible Alternatives
Tough and chewy snacks like Tibetan yak cheese chews and bully sticks (beef muscle chews also known as pizzle sticks) are digestible, so they pose less of an obstruction hazard than a baseball or chew toy, but a hazard nonetheless. If your dog chews off large pieces or chunks, they face the same risks they would ingesting any other foreign objects.
Tibetan yak cheese chews are tough and could cause broken teeth. If this is a concern, consider bully sticks, which soften as a dog chews on them and double as a canine toothbrush. For especially aggressive chewers who might bite straight through the stick, creating pieces small enough to choke on, bully stick holders might be a solution. These devices prevent dogs from breaking off dangerous chunks.
Chew Toys
Finding a suitable chew toy to match your dog's chewing style may take some trial and error.
If a toy is too soft, it's destroyed quickly. If it's too tough of a challenge, your dog may give up or break a tooth. Either way, at best, playtime gets cut short. At worse, you end up at the vet with a canine dental problem.
Vets recommend your dog's playthings pass one of these chew toy "tests."
The Knee Test: If you tap the toy on your knee and it hurts, it's too hard.
The Nail Test: A chew toy should dent when you press a fingernail into its surface. If it doesn't, it's hard enough to break teeth.
The Other Nail Test: If you can use a chew toy to hammer a nail into a piece of wood, the toy is unsafe.
As you search for the best dog chew toy, consider these widely available options instead of a baseball.
Rubber Chew Toys
If your pup is an aggressive chewer partial to round objects, a donut-shaped toy might work as a safer replacement. As your dog gnaws and paws the ring, it moves around, preventing your pup from chewing the same spot repeatedly, which lengthens the toy's life. These toys also come with an added safety feature. If your dog chews through the toy, its bright red center signals it's time for a replacement.
For chewers who like interesting textures, like those a baseball's stitching creates, The Humane Society recommends rubber toys made by Kong. The Kong Extreme's hollow interior is designed to hold tasty snacks!
Nylon Chew Toys
The dog world is divided when it comes to nylon. If you're looking for something to mimic a baseball's texture, a Nylabone product might be the answer. In fact, the Humane Society recommends them for texture-seeking chewers, but other dog health professionals caution that they splinter into hazardous, bristly shards.
Rawhide
If the leathery feel of a baseball is what your chewer craves, try offering your dog a rawhide chew toy. These are intended for chewing, but the risks are similar to those baseball leather poses.
While small bits of rawhide or baseball leather will make it safely through your dog's digestive tract, bigger pieces could cause choking or bowel obstruction. If you choose rawhide, make sure to discard any parts of the toy your dog gnaws off.
A Bone to Pick
Giving a dog a bone to gnaw on may sound like an obvious choice, but keeping your table scraps out of paw's reach is safest.
An FDA warning goes beyond leftovers, warning against commercially available "bone treats." Products labeled "Ham Bones," "Pork Femur Bones," "Rib Bones," and "Smokey Knuckle Bones" pose the same risks as baseballs and worse: sharp bone fragments can cut a dog's mouth or perforate the stomach or intestines. No bones about it.
Frequently Asked Questions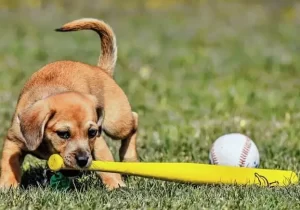 Still curious? Here are a few answers to the most commonly asked questions.
What happens if a dog eats a baseball?
Small baseball bits will probably make it through your dog's digestive tract without a major problem. Still, larger pieces can cause choking or bowel obstruction, and the string inside a baseball can cause serious harm to a dog's intestines.
Can dogs digest baseball leather?
Baseball leather is not digestible but generally not toxic. If the ingested pieces are small enough to pass through your dog's digestive tract, this probably won't be a cause for concern.

On the other hand, eating a lot of leather, for example, pieces the size of a baseball's outer covering, can lead to a bowel obstruction the same way consuming other parts of a baseball can.
Can dogs choke on baseballs?
An entire baseball would likely be too big to fit into most dogs' windpipes, but gnawed-off pieces can certainly pose a choking hazard.

Retching, pacing back and forth, or pawing at the mouth are signs your pup's airway may be blocked. However, a completely obstructed windpipe makes it impossible for a dog to make any noise at all.

If you think your dog is choking, remove the obstruction if possible. If it's unreachable or if your dog is still choking, perform the Heimlich Maneuver.
What can I give my dog to chew on?
Edible chew toys like yak cheese sticks and bully sticks are options. Non-edible chew products made of rubber, nylon, or rawhide also might be appropriate. Chewing on anything comes with risks, however, so always observe your dog when it's chew time and take broken pieces away as soon as your dog creates them.
If you find this guide, "Can a Dog Chew on a Baseball," helpful, check out our other guides:
You can learn more about dog chewing by watching "How to stop my dog from chewing things – simple solutions" down below:
Garrett loves animals and is a huge advocate for all Doodle dog breeds. He owns his own Goldendoodle named Kona. In addition, he volunteers at the Humane Society of Silicon Valley, where he fosters dogs and helps animals. Garrett enjoys writing about Doodles and believes that dogs can teach humans more about how to live than humans can teach a dog.
Why Trust We Love Doodles?
At We Love Doodles, we're a team of writers, veterinarians, and puppy trainers that love dogs. Our team of qualified experts researches and provides reliable information on a wide range of dog topics. Our reviews are based on customer feedback, hands-on testing, and in-depth analysis. We are fully transparent and honest to our community of dog owners and future owners.