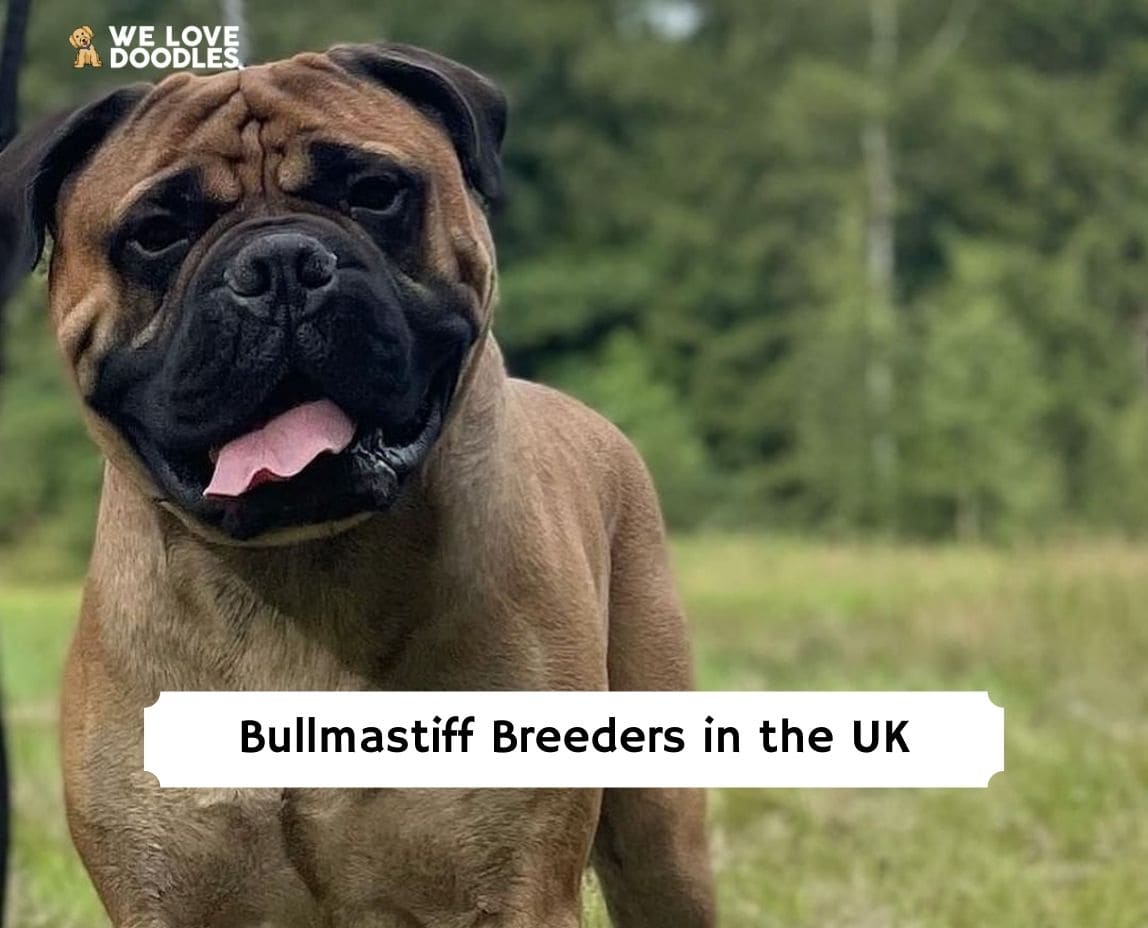 As a family guardian, Bullmastiff puppies are firm and fearless. Despite being standoffish toward strangers, their hearts pour out to their loved ones and owners.
This breed is known as a "silent watchdog," but they're so mellow that they make excellent apartment dogs. Their short coats are easy to maintain, but beware: these dogs drool a lot. You'll find a friendly, loving companion if you can get past a little slobber, as long as you have a couch for them afterward.
Bullmastiff puppies are quite difficult to find throughout the United Kingdom, but our team found some of the best breeders to help you find the perfect companion for your home.
Other articles you would like: Goldendoodle Breeders in the UK and Sheepadoodle Breeders in the UK.
1. Flintstock Bullmastiffs
Many of Flintstock Bullmastiff puppies live in their home in Essex, United Kingdom. They consider them their furry family members above all else. When it comes to settling puppies into their new homes, sound stimulation is provided with people visiting, telephones, vacuum cleaners, and all modern gadgets. They are also taught to respect smaller dogs and not treat them like toys!
The importance of socializing and manners cannot be overstated. In fact, large unruly dogs aren't just a pain for the breed but also for the breeders! From a young age, they take their Bullmastiff puppies around different towns and markets. They also encourage potential buyers to visit.
Additionally, the dogs must undergo regular 'social' trips to the vet to become well-socialized members of society.
All of their Bullmastiff puppies for sale receive registrations and will align with the breed standards. When considering breeding their dog, you should be aware of certain restrictions. When it comes to exporting their dogs, they are very cautious, and there may be certain circumstances or situations when they will not allow it; however, you can contact them to discuss your individual requirements if interested in exporting a puppy abroad.
Bullmastiffs Breeder Details:
Location: Essex, United Kingdom
Telephone: 01268 561720
2. Puppy Choices
Puppy Choice is a reliable choice if you are looking for Bullmastiff breeders in the UK. Puppy Choices is not an individual Bullmastiff breeder, but rather a dog breed marketplace dedicated to a variety of dog breeds. Don't worry if you are still undecided about getting a Bullmastiff puppy. There are many similar dog breeds.
The Bullmastiff breeders on this platform have all been rigorously screened so you can browse them right from the comfort of your home in the UK. Check out the link below before continuing your search for a Bullmastiff puppy in the UK.
Bullmastiffs Breeder Details:
Location: London, London N12 0DR
Telephone: 07973 370650
Website: https://puppychoices.co.uk/
Email:info@puppychoices.co.uk
Instagram: @puppies_uk
3. Cathaljay Bullmastiffs Puppies
The puppies at CATHALJAY Bullmastiffs are microchipped in case they ever stray, so you can be sure your puppy will be safe and secure after leaving. Considering a Bullmastiff's strength, this could be an imperative part of the preparation for puppy adoption. They require a fenced-in yard and socialization during the puppy phase. They send puppies to their forever families with a blanket that smells just like mom, so the pups are less anxious about being away from her.
In addition, they recommend a raw food diet that has never been linked to death or recalled. CATHALJAY mastiffs can be shown, but their AKC papers still list the breeder's name so the dogs do not end up in a dangerous situation. CATHALJAY will accept your Bullmastiff puppy back if for some reason your family is unable to keep it.
Breeders such as CATHALJAY who are reputable will never sell their Bullmastiff puppies to pet shops. If you're planning to spend a lot of money on a dog, you should find a breeder who respects each of their puppies, which means performing temperament tests on them and requiring prospective adoptive parents to complete extensive applications so they can get a better idea of what the family is like so they can match the puppy with the right home.
Bullmastiffs Breeder Details:
Location: Derbyshire, UK
Telephone: 01283 217890
Email: cath@british-bullmastiffs.co.uk
Instagram: @bullmastiff.dog
Bullmastiff Puppies in the UK
Although they are low-energy dogs, Bullmastiffs are best suited to houses with fences in the UK because of their size.
Bullmastiffs are protected from cars and roaming by fencing. It also keeps them from extending their territory beyond the yard, which could lead to them defending themselves against people and other dogs.
Bullmastiffs are susceptible to heat exhaustion and heat stroke due in part to their short muzzles. Stay indoors when it is hot or humid in the UK, and don't work out in the afternoons. Keep them hydrated and shaded at all times when they are outside.
Immediately after bringing your Bullmastiff puppy home, begin training it. To get your puppy used to being around people and other dogs, enroll them in puppy socialization classes in the UK. If a Bullmastiff is not properly trained, it may become aggressive toward other pets and people they don't know.
If you are taking your Bullmastiff to daycare or obedience lessons, do not forget to take him to the dog park, the mall, and other places where he can get accustomed to fresh sights, sounds, and experiences.
Despite their desire to please, Bullmastiffs are independent thinkers and need a strong trainer. Be consistent and firm with your instructions, but use positive reinforcement instead of physical punishment. Train your Bullmastiff in a variety of ways so they won't get bored and start doing their own thing.
Don't stop at puppyhood. Don't let a 20-pound Bullmastiff on your furniture if you do not want him on it when he weighs 135 pounds. Habits are hard to break.
Providing a routine and plenty of opportunities for your dog to go potty outside shouldn't pose any problems for housetraining. Crate training helps you to housetrain your puppy and keep it from chewing on things it shouldn't.
How to Choose a Bullmastiff Breeder in the UK?
There are a few things you should know if you want a Bullmastiff as your next pet. You should ask the following three questions before purchasing a Bullmastiff puppy.
1. How is the parents' health?
It's imperative to know how the puppy's parents and other relatives are doing. Both parents should be checked. It should be possible for the breeder to tell you which health conditions run in the family, such as mothers, fathers, siblings, etc. Request to see any health awards the breeder holds for the lineage. To make sure the puppies and their parents are healthy, you should review their medical records. Ensure that the necessary tests and screenings were performed and that the results of those tests and screenings were recorded in the records.
2. What is the age of the dam?
When buying a puppy, it is important to know the mother's age. During a dam's lifetime, she should only be bred at certain time. If you know the dam's breeding history, you will be able to gauge how responsible the breeder has been. Find out the age of the dam and if she has been bred before. Mastiff dogs should not be bred before their 22nd month and they should not be bred again after their 7th year. Moreover, they should never be bred within a month of each other. In some cases, there are exceptions to the rule, and if it happened with the breeder's dam, you should know why the breeding cycles were close.
3. The purpose of breeding
Whenever a breeder produces puppies, there should be a reason for doing so, and it should not be simply to sell puppies. Typically, breeders breed their Mastiffs so that they can maintain certain traits or improve on certain characteristics. Find out why the breeder breeds their Mastiffs. You should be able to ask them what characteristics of the lineage they are trying to carry forward and what ones they are trying to improve. They shouldn't hesitate to explain their breeding reasons and should be able to explain in detail the breeding history of their dam and sire.
Where do you find a Bullmastiff breeder?
Word of mouth is the easiest way to find a reliable breeder; going to a dog show and talking with the exhibitors is the best way to find a trustworthy breeder. While they are entering the ring, it's best not to talk to them! You will probably not find well-bred puppies advertised on well-known commercial websites, so it's best to look for dogs at dog shows that interest you and ask how they got them. After finding the Kennel Name online, you can contact the breeder to get on the waiting list. While you may have to wait quite a while for a good puppy, it is 100% worth the wait in the long run.
Conclusion for Bullmastiff Breeders in the UK
Exactly what is a bullmastiff? A mix between a bulldog and a mastiff, it has the most desirable qualities of both breeds. It's the dog for you if you are in the market for a well-trained, muscular guardian who also loves you and your kids and shows no fear of belly rubs, ear scratches, or full-body hugs. Bullmastiffs can't hide their love, since 130 pounds of love heading your way can't be missed!
However, to ensure the health and quality of your puppy, make sure to purchase it from a reputable breeder.
Other articles would like: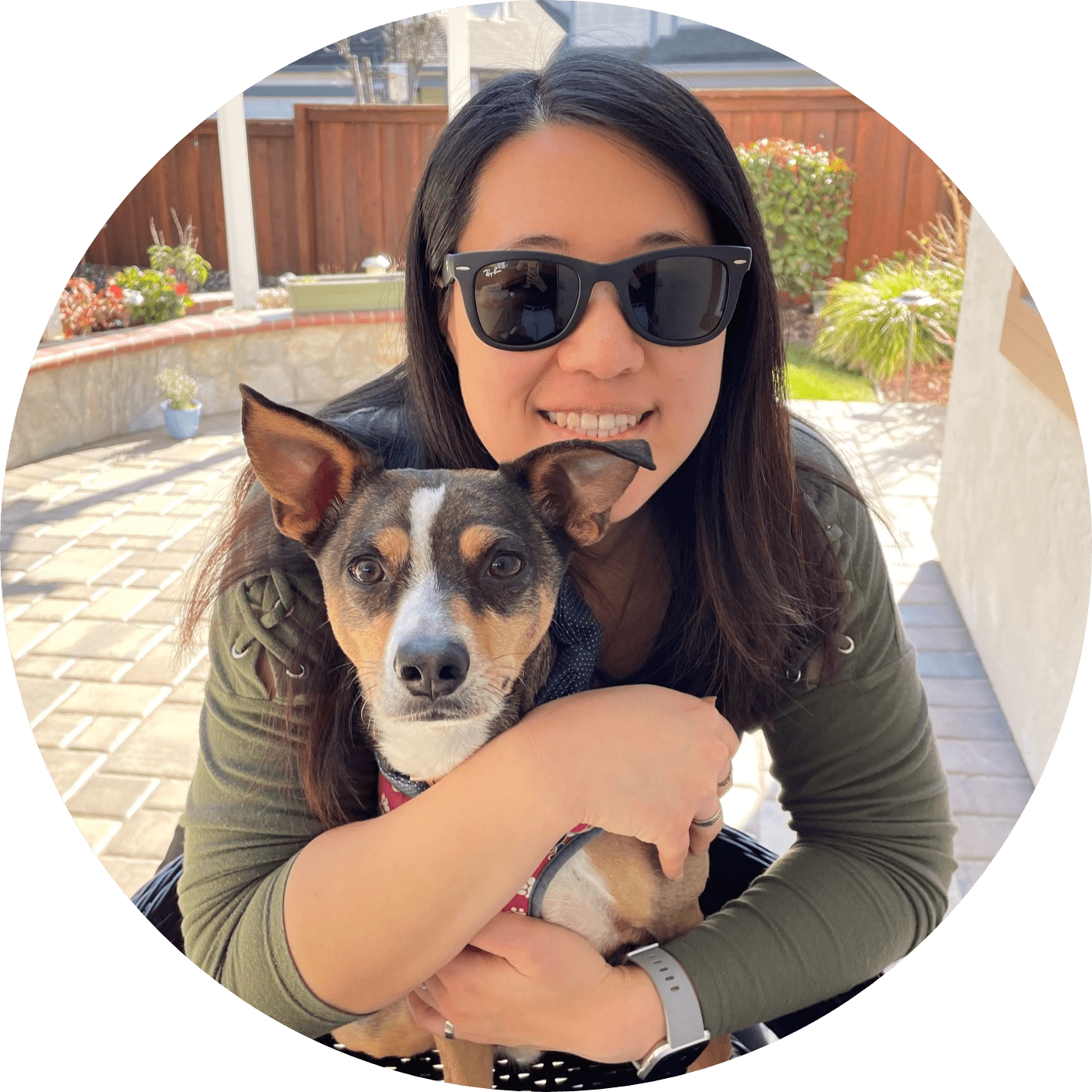 Dr. Sabrina Kong graduated from the Royal Veterinary College in England in 2016 and has been working at a small animal clinic in Northern California since then. She grew up in the Bay Area and got her bachelor's degree from Cal Poly San Luis Obispo. She also became a Certified Canine Rehabilitation Practitioner through a program at the University of Tennessee.
When she isn't in the clinic taking care of her four-legged patients, she enjoys traveling and trying new foods with her friends and her three-legged dog, Apollo. She adopted Apollo from her clinic when he was a puppy with numerous health issues. Dr. Kong truly cares about taking care of animals.