If you're in the market for a Bernedoodle puppy, you've got to check out some of the Bernedoodle breeders in Quebec. Bernedoodles are sweet and friendly, making them a popular choice among pet owners. It's a crossbreed of a Bernese Mountain Dog and a Poodle, and it's sure to bring years of joy to your home!
If you're searching for a Bernedoodle in Quebec, you're in luck! Not only is the Bernedoodle ideal because of its gentle nature, but it's also highly intelligent – making it readily trainable. Many dedicated Bernedoodle breeders in Quebec work hard to produce these amazing puppies and place them with loving families.
We've put all these fantastic breeders into a list of the best Bernedoodle breeders in Quebec. Read on to learn more!
Before scrolling down this list of Bernedoodle breeders in Quebec, check out these other dog-related guides from our team at We Love Doodles: Best Dog Breeders in Quebec and Best Dog Rescues in Quebec.
1. The Bernedoodle Family
The Bernedoodle Family breeds and raises their dogs in the picturesque Laurentian Mountains. This small family of Bernedoodle breeders has devoted themselves to breeding and caring for only the healthiest and most extraordinary Bernedoodle pups.
The puppies at The Bernedoodle Family live and develop in a warm home full of love and quality care. Every Bernedoodle pup begins socialization at an early age, interacting with family members and other animals. They also receive the best nutrition available.
The Bernedoodle family routinely posts updates to their social media pages to inform people when they have a litter available. You also don't have to live in Canada to adopt from them! They can also transport their puppies across the border to the United States.
If you are searching for a Bernedoodle puppy in Quebec or anywhere else in Canada, this breeder should be at the top of your list. With their intelligence, loyalty, and lovable nature – their Bernedoodle pups make the best companions!
The Bernedoodle Family Details:
2. SwissRidge Kennels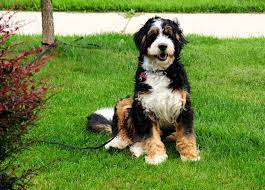 SwissRidge Kennels, whose owner Sherry Rupke pioneered the Poodle-Bernese crossbreed to create Bernedoodles, is a household name. They are well known for their cutting-edge practices that revolutionize dog ownership and have been breeding and training puppies since 2002.
SwissRidge's litters have provided hundreds of families with joy and companionship for almost two decades. This breeder aims to place their puppies in loving homes where they can live long and healthy lives.
SwissRidge is proud of the exceptional health and vitality of its puppies and parents. You can confidently purchase a puppy knowing it's free from genetic issues. SwissRidge is also working hard on introducing more breeds like the Goldendoodle and Golden Mountain Doodle.
SwissRidge Kennels Details:
3. Canadian Chocolate Labradoodles and Bernedoodles
Located in Ontario, Canadian Chocolate Labradoodles and Bernedoodles (CCL&B) is a reputable home-based breeding company devoted to breeding all Doodle-dog breeds.
Their puppies and dogs socialize from birth, spending time with their foster family doing everyday activities. This helps to ensure that you get an extremely well-socialized puppy that will get along well with others.
CCL&B specializes in F1 Bernedoodles, meaning the puppies' parents are a Standard Poodle and a Bernese Mountain Dog (rather than two Bernedoodles). You'll find puppies that are well-tempered, healthy, and achingly adorable! They provide the perfect addition to any family.
Canadian Chocolate Labradoodles and Bernedoodles Details:
4. Willow Brooke Bernedoodles
Willow Brooke Bernedoodles is one of Canada's leading breeders. This family-owned breeder dedicates most of their time to breeding puppies. They are masters in cultivating healthy and attractive Bernedoodles. Their 25-acre property is perfect for socializing puppies from birth and raising them in a loving atmosphere.
At Willow Brooke, there are no shortcuts when it comes to the health of puppies. They guarantee each pup's well-being with a two-year warranty. Furthermore, they perform extensive health tests on both parents and pups before sending them to their new homes. Every puppy is vaccinated and microchipped, too – meaning you can take comfort in knowing your fur baby has the best possible start in life!
If you're searching for the perfect Bernedoodle puppy close to Quebec, Willow Brooke has exactly what you need! With an excellent selection of pups, they have everything necessary to bring the perfect furry family member home today.
Willow Brooke delivers puppies to Canadian customers but can also ship to the United States, Hong Kong, and other countries!
Willow Brooke Bernedoodles Details:
5. Big Doodles
Big Doodles has been a giant in New Brunswick's breeding industry for years due to their exquisite Bernedoodle and Newfiedoodle puppies. Their home-based kennel is also renowned for producing happy and joyful furry friends.
Big Doodles is the perfect place to find a puppy, as their stringent family selection criteria ensure that only responsible and committed owners take one home. Furthermore, they nurture their puppies in a perfect atmosphere where they learn to socialize with other pups and kids.
If you are looking for the perfect Bernedoodle puppy in New Brunswick, Big Doodles has just what you need! With top-notch quality and an unbeatable selection, they have everything to make your dream pup a reality.
Big Doodles Details:
6. Wagging Tails Kennel
Wagging Tails Kennel is an esteemed Bernedoodle breeder in New Brunswick, Canada. They began operations in 2010 to create well-mannered, healthy, and beautiful Bernedoodles. With a commitment to quality standards, their kennel is a reliable source for loving canine companions.
This breeder prides itself on their top-notch F1 (first generation) Bernedoodles and Goldendoodles – the perfect combination of quality and pedigree. They ensure the highest quality of health for each pup with a one-year guarantee.
All puppies come vaccinated and dewormed to help keep them healthy from day one! As responsible Bernedoodle breeders, they ensure that both puppies and their parents receive ample care and attention. In addition, their ethical breeding practices set them apart from the rest.
If you're searching for a Bernoodle pup in New Brunswick, Nova Scotia, or Prince Edward Island, then you need to check out Wagging Tails Kennel!
Wagging Tails Kennel Details:
7. Better with a Bernedoodle
The renowned breeders of Better with a Bernedoodle specialize in F1 and F1b Bernedoodles. By rigorously testing their dogs for over 200 genetic diseases, the chance of hereditary illness in puppies from their breeding program is nearly nonexistent.
If you find yourself searching for F1 (first generation) or F1b (Bernedoodle X Poodle) Bernedoodle pups, Better with a Bernedoodle is the ideal choice. Their pups are not only socially apt and highly intelligent, but they're also easy to train!
Better with a Bernedoodle Details:
Frequently Asked Questions
What is the most sought after Bernedoodle?
The tri-colored Bernedoodle is the most popular. They are difficult to produce, and pet owners love their fun mix of colors!
Are F1 or F1B Bernedoodles more expensive?
The F1 or F1B Bernedoodle can be more expensive, depending on the breeder. Typically, an F1 Bernedoodle is more expensive because it has better breeding abilities and original breed parents (Bernese Mountain Dog x Poodle).
What is the average lifespan of a Bernedoodle?
A healthy Bernedoodle can live anywhere from 12-18 years.
Adopt From The Best Bernedoodle Breeders in Quebec
Finding quality Bernedoodle breeders in Quebec doesn't have to be complicated. All it takes is some research and knowledge! By following our guide above, you will soon be able to bring home your very own adorable Bernedoodle puppy! Good luck!
For more guides similar to this list of Bernedoodle breeders in Quebec, you can check out:
Before you bring home a Bernedoodle from a breeder in Quebec, you can learn more about the breed by watching "Bernedoodle Dog Breed Information – Are these Dogs High Maintenance | Bernedoddle Dogs 101" down below:
Garrett loves animals and is a huge advocate for all Doodle dog breeds. He owns his own Goldendoodle named Kona. In addition, he volunteers at the Humane Society of Silicon Valley, where he fosters dogs and helps animals. Garrett enjoys writing about Doodles and believes that dogs can teach humans more about how to live than humans can teach a dog.
Why Trust We Love Doodles?
At We Love Doodles, we're a team of writers, veterinarians, and puppy trainers that love dogs. Our team of qualified experts researches and provides reliable information on a wide range of dog topics. Our reviews are based on customer feedback, hands-on testing, and in-depth analysis. We are fully transparent and honest to our community of dog owners and future owners.