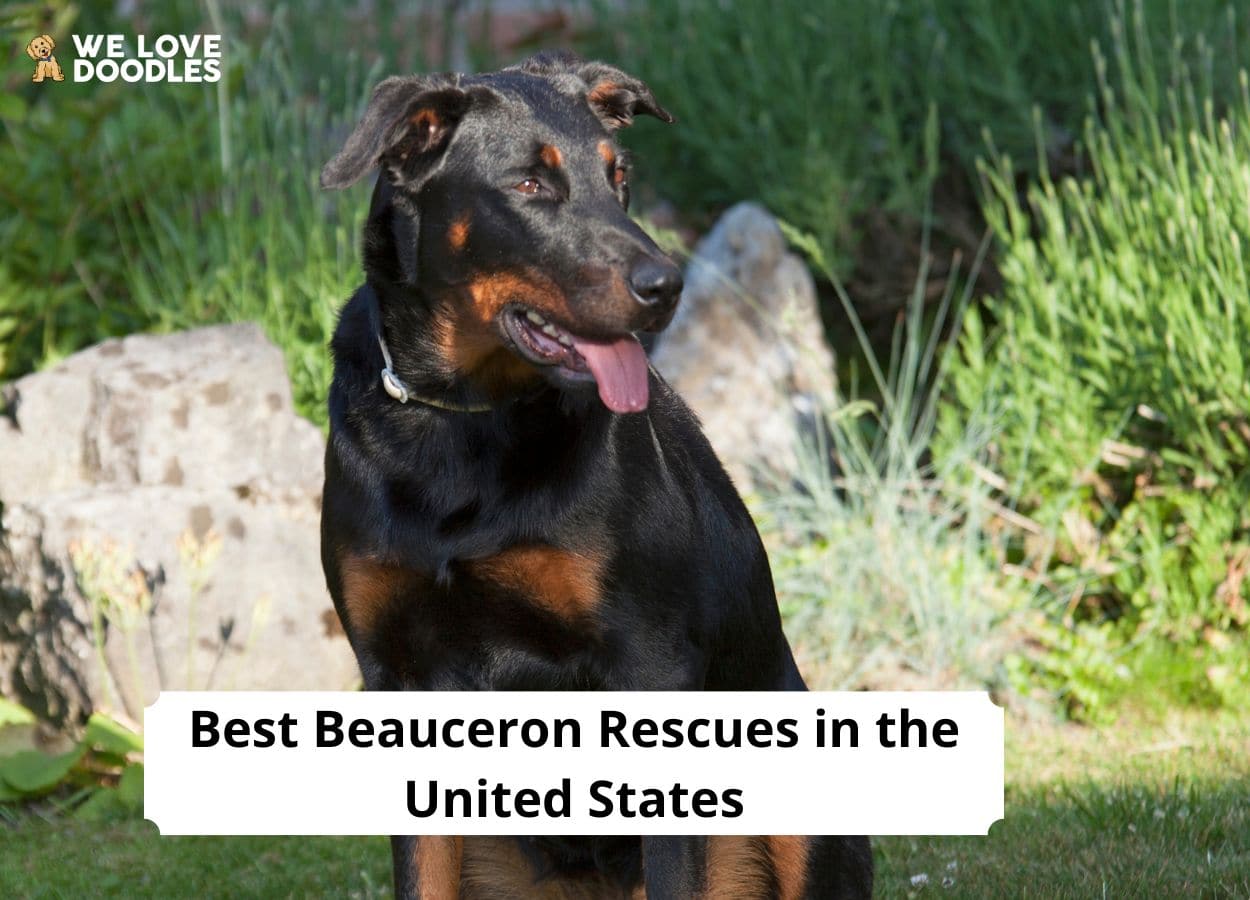 Finding authentic Beauceron rescues in the United States isn't easy, considering there aren't many rescues working specifically with Beauceron dogs. But don't be discouraged. This article lists two dedicated Beauceron rescues, 4 herding dog rescues likely to have Beaucerons, and 2 online adoption platforms that can help you find these dogs anywhere in the United States.
Beaucerons are the finest breed to adopt if you are looking for a pet. For starters, they're loyal, patient, and protective—they'll do whatever it takes to protect their family from harm. They're also intelligent and independent, which means you can trust them to work independently or in the company of other dogs without losing focus. Additionally, Beauceron dogs are very adaptable.
They're good for families with children and great for older adults who live alone or have special needs. And if you travel a lot, your Beauceron will be happy to join in on the fun. On top of that, Beauceron dogs are also highly trainable because they are eager to please their owners. Their intelligence makes them easy to teach new tricks or commands. Again: it's all about focusing their energy on what matters most — you.
Before you scroll further down this list of Beauceron rescues in the United States, you can check out these other dog-related recommendations from our team at We Love Doodles: Best Poochon Rescues in the United States and Best Aussiedoodle Rescues For Adoption in the United States.
Find a Beaucerons Rescue Shelter Near Me in the United States
So, if you are ready to start an exciting journey with a Beauceron, consider these rescue organizations listed below.
Beauceron Product Recommendations: Best Strongest Shock Collars For Dogs and Best Training Collars For Stubborn Dogs.
1. American Beauceron Club Rescue
The ABC is officially recognized as the parent club for Beaucerons in North America, and one of the Beauceron rescues in the United States by the French "Club des Amis Du Beauceron." Members of the American Beauceron Club are ardent Beauceron fans.
Its mission is to raise Beauceron awareness and understanding among the general public, protect the breed's purity, and provide a gathering place for dog lovers to talk about their canine companions.
If you and a dog in the care of the rescue appear to be a good match, your responses will help determine which dog is the best fit for you. Remember that an application for a dog adoption does not guarantee acceptance. ABC's dog adoption form has nine distinct parts.
You should be able to answer most of the questions without consulting any other sources, including those about your personal life and dog-related experience. It may, however, prompt you to look up phone numbers or addresses to answer some of the questions.
The rescue team advises you to gather the following items first:
Name and phone number of your veterinarian
The name and phone number of any shelters or rescue groups from which you have previously adopted.
You must provide three non-family references who have known you and your pets for at least two years and their names and contact information. Among these should be a pet expert (a veterinarian, trainer, or groomer).
American Beauceron Club Rescue Details
2. Beauceron Rescue (RescueMe)
Rescue Me. Beauceron Rescue is not necessarily one of the traditional Beauceron rescues in the United States. It is more of an online platform where individuals, breeders, and rescues post about adoptable Beauceron s in America.
The website's mission is to find loving, permanent homes for stray and abandoned pets of all shapes, sizes, and species, no matter where they are. A brainchild of Jeff Gold, a notorious dog lover, Rescue Me. has a profile for every type of dog in every state in the United States.
This website aims to connect people who want to adopt a dog with people who have dogs for adoption. While you'll still need to research the listing, this is a good starting point.
To adopt from Beauceron Rescue Me, Take the following steps:
Look through the available Beauceron listings.
If you click on the listing you want, it will lead you to a website devoted to that specific dog. The website will include the rescue organization's profile and contact information, as well as its age, personality, and medical history.
You may contact the rescue and perform your independent inquiry using this information.
Beauceron Rescue Me Details
3. All Herding Breed Dog Rescue
The All-Herding Breed Dog Rescue of Illinois is a 501(c)3 rescue organization with a state license. They save, rehabilitate, and rehome all herding dogs, even those with heartworm infections. They provide them with the medication, loving care, and rest they need to be adopted after they have healed.
This organization rescues dogs on the verge of being euthanized in high-kill shelters. They put the dogs in a safe environment, have vets evaluate them, provide nutritious food, train and exercise them, and continue these activities until they are placed with new families who will care for them permanently.
The veterinarian inspection includes spaying and neutering, current vaccines, heartworm prevention medicine, and flea and tick prevention medication. They will also rescue and rehome herding dog owner who surrenders if the owner has fallen under hard circumstances and can no longer care for their dog.
The All-Herding Breed Rescue animal sanctuary aims to educate people about the need for animal spaying and neutering and to help reduce the number of unwanted animals worldwide. Moreover, it is a vehement opponent of animal cruelty, including abuse, neglect, and suffering.
It educates people on the importance of proper dog care, education, and socialization in forming a more compassionate society. They are a rescue organization operated entirely by volunteers. Everyone involved is working toward the same goal: giving the rescue pets a second chance at life.
All Herding Breed Dog Rescue Details
4. Herding Rescue Dogs of Wyoming
Herding Rescue Dogs of Wyoming, Inc. is a 501(c)(3) nonprofit organization aiming to put dogs in permanent, loving homes where they will be valued and cared for. Herding Rescue Dogs of Wyoming was founded in 2008 because many herding breed dogs and mixtures "slip between the cracks" in Wyoming. Due to their high levels of energy, intellect, and sensitivity, herding dogs may struggle to acclimatize to the conditions of some families and shelters.
Adopters travel from all around North America to participate in the program, and Herding Rescue Dogs currently has foster homes and shelter partnerships in six states due to its popularity. All Herding Rescue Dogs of Wyoming positions are meant to be long-term.
Their first goal is the well-being of the dogs in their care. Thus, they try to avoid trial placements wherever possible to spare themselves from unnecessary stress. The rescue group invites potential adoptive parents to consider adoption carefully and to be open and honest with the rescue's point person about any concerns about the procedure.
On the other hand, herding Rescue Dogs of Wyoming will accept and ask that the dog be returned to Herding Rescue Dogs if the adoption does not work out for any reason. Consequently, it is prohibited to rehome or put any Herding Rescue Dogs alum outside the Herding Rescue Dogs of Wyoming.
The Herding Rescue Dogs of Wyoming officials' decision on refunding adoption costs for returned dogs will be determined by particular circumstances. Please remember that all Herding Rescue Dogs of Wyoming personnel are volunteers, and your application might be accepted in as long as two weeks.
The steps of their adoption procedure are as follows:
Application Form Submission
Evaluation of the application and follow-up with references
To guarantee that everyone is satisfied, discuss the dog(s) you wish to adopt with the foster home and rescue director.
Household Safety (if out-of-area, they will arrange to have a rescue or individual in that area complete the home visit).
Adopters may meet the dog(s) they wish to adopt and then make a final choice.
Adoption processes include the adoption contract, adoption money, and the return of the adopted dog.
If more support is necessary, they will offer it.
Herding Rescue Dogs of Wyoming Details
5. Ewenity Farm Herding Dog Haven
Ewenity Farm Herding Dog Heaven is a large rescue organization operating out of foster homes in Florida and the surrounding southeast United States. They have been saving lives since 2011 by placing each dog in the loving homes of volunteers, receiving the same care and attention as the volunteers' dogs.
When a dog is surrendered to a shelter, it is evaluated for behavioral and medical issues. They receive basic obedience training, socialization, and rehabilitation based on their needs. All the dogs for adoption have been microchipped, spayed, or neutered and have received all required vaccinations and heartworm and flea/tick preventatives.
Please review the following information before submitting your application and fees:
Ewenity Farm's herding dogs are rescued through a foster program. There is no shelter; the dogs all have homes. As a result, you will be able to meet the dog once your adoption application has been processed and approved.
Any dog marked "Available" can be adopted immediately, but any dog kept "Incoming" can be fostered first. Yes, you can have both versions.
They do not operate on a first-come, first-served basis, so plan ahead of time. Every decision they make is with the dog's best interests in mind.
To apply, you must be at least 25 years old. All applications are reviewed on an individual basis. Even if you are under 25, they will continue to consider your application if you meet all of their other criteria.
Select a dog or dogs of interest from the ones listed below. You may apply for up to three preferred options in your application.
Send in the necessary paperwork (for a straight adoption or a foster-to-adopt arrangement) and some photos of your home. A voluntary gift of $20 is appreciated in addition to the application.
They will contact you with the results after reviewing your application. They guarantee a prompt review of your application. They are all unpaid volunteers; getting an interview may take seven to ten days.
If your application is accepted, they will put you in touch with the dog's foster family so you can meet.
If everything goes as planned and the foster agrees, you will be able to bring your new family member home after signing the necessary paperwork and paying the adoption fee.
If you do not find a match at the adoption meeting, your application will be kept on file for six months, during which time you may express interest in other dogs from Ewenity Farm.
The adoption fees are as follows:
Puppies under the age of one year who have not been altered: $400 + $50 deposit. You will get a refund if you show a spay or neuter certificate when the puppy is six months old or the contract end date.
Young dogs and puppies who have been spayed/neutered: $400
The cost of an adult dog is $350. (1 to 8 years old).
Senior dogs eight years and older: $250
Retired Volunteer Program: The contribution for senior dogs is $150 for those 65 and older.
Ewenity Farm Herding Dog Haven Details
6.  Central Coast Herding Dog Rescue
A 501(c)(3) nonprofit, Central Coast Herding Dog Rescue, operates under Rescue Alliance. It is committed to helping excellent herding canines find suitable forever homes.
This is a no-kill shelter. Thus, all of the work done to prepare the dogs for adoption and throughout the adoption process is done by volunteers.
Please follow these instructions so that they can quickly and easily locate your dog:
Explore the Available Dogs page to find a potential companion.
Please contact the rescue at info@cchdrescue.org if you have any concerns regarding the dogs available for adoption or the adoption procedure in general.
Please submit your application by email to info@cchdrescue.org. Mention the name(s) of the dog(s) you are interested in adopting in your email and verify your application thoroughly to ensure no information has been left out.
The headquarters of CCBC Rescue may be found in the central California city of Paso Robles. Any human or canine members of your household who are interested in adopting a dog from CCHD Rescue will need to make the trip to Paso Robles (or wherever the dog is currently staying in foster care) to meet the dog in person. Unfortunately, they cannot provide transportation for adoptable pets.
They cannot keep pets; therefore, please do not apply to adopt a specific dog unless you are prepared to provide a permanent home.
Every dog that is saved comes at the expense of another. However, if you want to meet your chosen dog first, you may have a completed application on file with CCHD Rescue. Adoption and "meet and greets" will not be considered without a full application.
The adoption fee covers the cost of the rescue's services, including spaying/neutering, up-to-date vaccines, medical care, micro-chipping, feeding, and maintaining the dogs' requirements.
Your family will be invited to a "meet and greet" when your application has been processed and accepted. A dog may go home with you if your criteria are met. All adoptions from CCHD Rescue come with a 2-week trial period during which adopters may return the dog for a full refund if unsatisfied. The rescue will let you know if you and the dog match.
Central Coast Herding Dog Rescue Details
7. Save a Rescue
You can quickly find a Beauceron in need of a good home with the help of SaveARescue. Many dogs in need of homes are saved and eventually adopted through this online community. SaveARescue believes collaboration is essential in addressing the countrywide issues of pet overpopulation, abandonment, and dumping.
As a result, they have established themselves as a "Hub" and Coordinating Center for the Service, Partnership, and Coordination of all Rescues, Shelters (22,000+), pet rescues in the United States, and anyone who contacts them for assistance in rescuing any Dog or Cat in danger or distress.
They are the "Hub & Center" because of their "Hotline" and "Chat Line," which is a useful resource that leads to more "Saves" every day across the country. They assist you in saving money, getting things done, and developing personally as an "Inter-Active," action-based resource.
SaveARescue developed, piloted, and made available a 24/7 "HOTLINE" & "CHAT" line to provide the public with a much-needed Service & Resource for reporting animal cruelty and generating urgent remedies for any Dog or Cat in a life-threatening, suffering, or neglected situation.
Save a Rescue Details
8. AdoptAPet
Over 21,000 and many Beauceron rescues in the United States use this online platform to list dogs available for adoption. Humane organizations, SPCAs, pet rescue groups, and pet adoption agencies have to reach millions of potential adopters monthly, and listing their dogs on AdoptAPet helps immensely.
AdoptAPet is run by a group of businesses that have joined forces to improve the quality of pet care by pooling their resources and expertise. They use the internet's reach to introduce potential adopters to available animals to help lonely shelter animals find homes forever.
They want to help animal shelters and rescue organizations find permanent homes for abandoned animals. Rescues are run entirely by volunteers who house their animals in private boarding facilities or temporary foster homes.
Certain pet stores may hold adoption events on weekends. Prospective adopters should read the rescue's adoption process beneath the pet's profile if the pet's profile on Adopt-a-Pet.com specifies that it is located at a return.
Some people prefer that you fill out an application before asking a question about a pet (click the Ask About Me button on that pet's page), while others prefer that you send an email with your question (click the Ask About Me button on that pet's page).
Please be patient with rescue organizations, as they may take several days to respond. The steps involved in adopting from a rescue organization can vary greatly.
This is one possible scenario for a rescued adoption:
Adopt-a-Pet.com has an animal in need of a new home.
You've found and read the pet's Adoption Procedure. Click the link provided on the pet's profile page to complete their online application. The next day, one of the rescue volunteers contacts you to continue your conversation about the animal. It appears to be a perfect match, so you plan to attend the pet store's adoption event this weekend.
When you meet the pet, it's love at first sight. An event volunteer and a home check volunteer coordinate a house visit. After the house inspection, the volunteer informs you that your family has been chosen to adopt the pet. His sterilization and immunization records are emailed to you. You arrange for the delivery of your new pet.
Your new pet will be delivered to your home by a foster volunteer. You agree to their adoption terms and pay their fee (which could be up to $300).
Adopt A Pet Details
How to Find Beauceron Rescues in the United States
Finding the right pet, whether a dog to adopt or a puppy to buy, can be time-consuming and labor-intensive, especially if you have a specific breed in mind. This process could take several weeks or months, so be patient and realistic.
Instead of rushing into anything, take your time to find the right dog for you. One that will fit in with your surroundings and complement your way of life. Those who work in puppy rescues in the United States or as breeders will value your honesty and openness.
People who take this seriously care about both you and their pets. Just remember that it will all be worthwhile in the end. Second, perusing the many internet portals and forums that may be useful on your adoption journey is a good idea.
The general public frequently uses sites like the ones mentioned above to search for rescued beavers. If you can't find a rescue, consider donating them.
Conclusion For The "Best Beauceron Rescues in the United States"
Adopting your dog from a reputable organization is better than getting a dog from puppy mills and backyard breeders. Although extremely low prices should always raise red flags, even the most expensive puppies may come from unscrupulous vendors, so price alone is not indicative of quality. As a result, anyone thinking about adopting should exercise extreme caution. Good luck finding your Beauceron.
For more guides similar to this list of Beauceron rescues in the United States, you can check out these other dog-relation recommendations from our team:
Before you adopt a Beauceron from a rescue shelter in the United States, you can learn more about this dog breed by watching "All About Living with a Beauceron Dog" down below: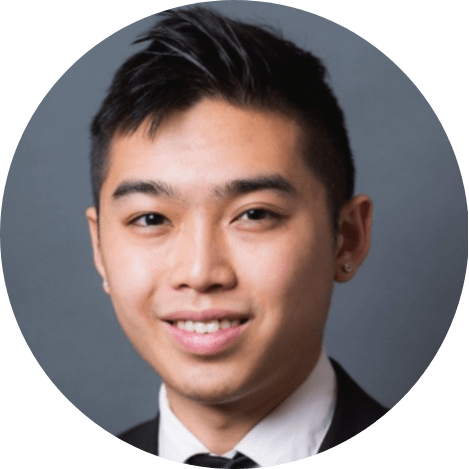 Andy is a full-time animal rescuer and owner of a toy doodle. When he's not saving dogs, Andy is one of our core writers and editors. He has been writing about dogs for over a decade. Andy joined our team because he believes that words are powerful tools that can change a dog's life for the better.
Why Trust We Love Doodles?
At We Love Doodles, we're a team of writers, veterinarians, and puppy trainers that love dogs. Our team of qualified experts researches and provides reliable information on a wide range of dog topics. Our reviews are based on customer feedback, hands-on testing, and in-depth analysis. We are fully transparent and honest to our community of dog owners and future owners.