If you're searching for the best Beagle rescues in New Jersey, you've come to the right place. Beagles are cute, curious, and loving companions. They make ideal family dogs and great hunting partners.
Unfortunately, thousands of Beagles die in shelters yearly due to owner surrender, being rescued from research facilities, or being displaced from their homes.
These beautiful and loving Beagles need to find their forever homes. So if you live in New Jersey and believe a Beagle is a right breed for you, check out our list of Beagle rescues in New Jersey.
Before you scroll down this list of Beagle rescues in New Jersey, you can check out these other dog rescue shelter recommendations from our team at We Love Doodles: Best Chihuahua Rescues in New Jersey and Best Poodle Rescues in New Jersey.
Why Do Beagles End Up in Rescue Shelters in New Jersey?
One reason Beagles end up in shelters is the same reason for every other dog breed: people don't do proper research on the breed before adopting. Each breed has unique benefits and drawbacks, and it's vital to be aware of those features before adopting them.
While Beagles are low-maintenance dogs, they have some features that won't fit everyone's lifestyle. For one, they're very stubborn, making training a challenge. This becomes even more problematic when they are a hunting breed, so their prey drive is strong.
Suppose you have a Beagle off-leash in the woods, and they spot a rabbit or fox in the distance. Even if the Beagle is trained, there's a strong chance it will take off after the animal. And since it's a hunting breed, it will chase the animal for miles.
This leads to many Beagles getting lost and potentially ending up in a shelter. Other problematic features of Beagles are active and one of the most vocal dog breeds. They can become destructive and quite noisy if they don't get adequate exercise and mental stimulation.
These traits will pose a significant challenge for those who work many hours or live in an apartment, where noise complaints will most likely ensue. Another reason you're likely to find so many Beagles in shelters is that, sadly, they are a preferred breed for scientific research.
This is because they are small and docile. Their size allows labs to keep more of them and spend less money keeping them, and their temperament means there's less chance of injury to the lab workers.
Once testing is done on the Beagles and they have survived, the lab has no more use for them. If the Beagles are lucky, they end up in shelters. On the more tragic side, they are euthanized by the labs.
4,000 Beagles Rescued From The Envigo
In 2022, 4,000 Beagles were rescued from the Envigo research facility in Cumberland, Virginia. These Beagles have been spread across adoption shelters throughout the country. The story is long and tragic; while we won't dive into the details, you can learn more about it online.
However, it's important to mention this story, as some rescues on this list don't specifically offer Beagles for rescue but are involved with the Envigo mission to rehome these puppies.
Find a Beagle Rescue Shelter Near Me in New Jersey
If this seems like the right breed for you, and you're considering Beagle adoption, here are the top five Beagle rescues in New Jersey (NJ) to find the newest addition to your family.
Beagle Product Recommendations: Best Car Vacuums For Dog Hair and Best Onesies For Dogs.
1. SOS Beagle Rescue, Inc.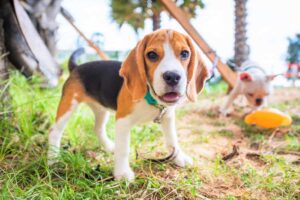 SOS Beagle Rescue, Inc. was founded in 1991. They have three shelters in the United States, one in New Jersey, one in Tennessee, and another in Alabama. Their mission is to find loving homes for Beagles rescued or surrendered.
They have an amazing track record, with over 4,500 successful Beagle adoptions. To keep the number of Beagles in shelters, they microchip and spay/neuter all dogs before adoption.
They also provide medical care to Beagles in need to ensure all dogs for adoption are in the best possible health. In addition, they spend a lot of time and effort training and socializing their dogs.
Each Beagle goes through a complete behavioral evaluation so that every dog is placed in a suitable home, giving them the best chance at finding their forever homes.
To raise awareness about Beagle adoption and funds, SOS Beagle Rescue also holds several events, including baseball games, meet-and-greets for adoptable dogs, and more. If you cannot commit to adopting a puppy, you can also foster dogs until they find their forever homes.
SOS Beagle Rescue, Inc. Details
2. Penny Angel's Beagle Rescue
Penny Angel's Beagle Rescue has a heartwarming backstory. The rescue is run by Joan Kerr, who rescued a stray Beagle named Penny in 1990. After taking Penny to the vet, she discovered she had heartworm and was pregnant.
A few weeks later, Penny gave birth to nine healthy puppies. Unfortunately, Penny died a couple of years later from kidney disease. It was Joan's promise to Penny that she would dedicate her life to giving rescued and surrendered Beagles a second chance at a happy life.
Due to Penny's health condition and pregnancy upon adoption, Joan, now working alongside her husband, ensures that all Beagles are spayed/neutered and tested for heartworm before adoption.
The Kerr's primary goal is to take Beagles from shelters or owners who are no longer able or willing to keep them and rehabilitate them and adopt them.
If, for any reason, the Beagles cannot stay with their adopted families, Penny Angel's Beagle Rescue will take them back, no questions asked. As a non-profit, all-volunteer organization, they accept donations of money or supplies and allow the chance to foster a Beagle if you cannot adopt.
Penny Angel's Beagle Rescue Details
3. Safe Hounds Beagle Rescue, Inc.
Safe Hounds Beagle Rescue, Inc. is dedicated to finding the best homes for their rescue Beagles. Before adopting, potential owners must fill out applications, provide references and proof of veterinary care, and schedule an in-home visit.
This Beagle rescue shelter is a non-profit, all-volunteer organization, and its Beagles can be adopted or fostered. They also offer educational resources and counseling for dog owners. When not taking in owner surrenders, they rescue Beagles from kill shelters and other negative environments.
Some dogs have extensive issues and require a long stay at Safe Hounds to be fully rehabilitated. So they do their best to care for each Beagle's medical, social, and emotional needs on a case-by-case basis to ensure they're ready for their forever home.
Safe Hounds Beagle Rescue, Inc. Details
4. Monmouth County SPCA
While not a Beagle-specific rescue, you can find rescue Beagles at the Monmouth County SPCA. They were one of the shelters across the United States to be given Beagles from the Envigo 4,000.
They are a non-profit and open-admission organization. They do not euthanize any of their adoptable animals, a policy put in place in 1999. With this policy, they've been able to save countless lives.
In 2010, they moved into a new facility that allows them to house over 100 dogs and 350 cats at any given time. While they're often at capacity, when they're not, they rescue dogs and cats from struggling shelters or shelters that practice euthanizing animals.
In addition to their adoption and fostering services, they offer veterinary care, cruelty investigations, dog training, pet-assisted therapy, pet bereavement counseling, and lost and found services.
If you're unable to adopt but still want to assist animals in need, they accept financial donations or in-kind gifts online, in person, and through the mail.
In times of economic hardship, pet owners often have to choose between paying bills or feeding their animals. So, to reduce the number of animal surrenders, the Monmouth County SPCA also partners with local food banks to reach more people and pets in need.
Monmouth County SPCA Details
5. Somerset Regional Animal Shelter
Somerset Regional Animal Shelter is another rescue shelter on this list that received Beagles from the Envigo 4,000. Aside from that, they often have Beagles, or Beagle mixes up for adoption from poor living conditions, abusive or neglectful homes, or those whose owners have surrendered them.
They are a highly active shelter, taking in over 1,000 dogs, cats, rabbits, and other animals annually. In addition to adoption services, they provide 24/7 animal control for Bridgewater and Manville, microchipping, training and behavioral advice, and lost pet services.
To raise awareness and funds for their services, they hold events year-round. These include events relating to dog care and adoption, golf days, and food fairs to raise money. Since they assist so many animals per year, donations are always welcome.
However, many volunteer opportunities are available if you can't afford to donate. You can visit their facility to help with shelter cleaning, dog walking, cat enrichment, and animal socialization.
Or, you can sign up to volunteer for their adoption and fundraising events. Somerset Regional Animal Shelter also partners with local vendors to raise funds. You can visit their SRAS Vendor Mall to browse vendors and products. With every purchase, 20% of the proceeds will support the shelter.
Somerset Regional Animal Shelter Details
Conclusion For The "Best Beagle Rescues in New Jersey"
Beagles are a loving, loyal, intelligent breed. If you don't fall in love immediately with their pleading expression and big, floppy ears, their quirky personalities will no doubt win you over in a heartbeat.
From Snoopy to Shiloh, Beagles have been a favorite breed in the United States for years. If you've researched the breed and are ready to adopt, visit or contact one of the five Beagle rescues in New Jersey (NJ) on this list to find your new best friend.
For more guides similar to this list of Beagle rescues in New Jersey, you can check out these other dog rescue shelter recommendations from our team:
Before you adopt a Beagle companion from a rescue shelter in New Jersey, you can learn more about this dog breed by watching "12 Reasons Why You Should Get a Beagle" down below: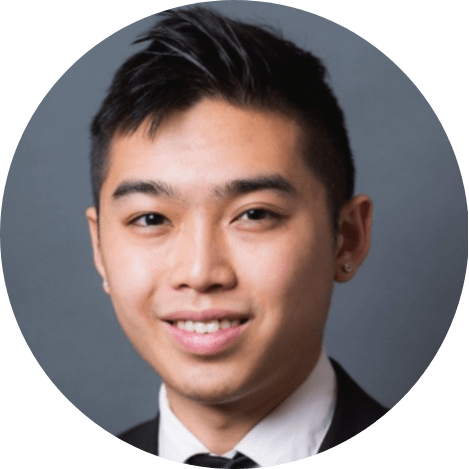 Andy is a full-time animal rescuer and owner of a toy doodle. When he's not saving dogs, Andy is one of our core writers and editors. He has been writing about dogs for over a decade. Andy joined our team because he believes that words are powerful tools that can change a dog's life for the better.
Why Trust We Love Doodles?
At We Love Doodles, we're a team of writers, veterinarians, and puppy trainers that love dogs. Our team of qualified experts researches and provides reliable information on a wide range of dog topics. Our reviews are based on customer feedback, hands-on testing, and in-depth analysis. We are fully transparent and honest to our community of dog owners and future owners.