Here's what you need to know if you're searching for the best Beagle rescues in Los Angeles, California. Beagles are the smallest breed of hound. Originally developed and bred as scent hounds used for hunting hares, Beagles are energetic and can be loud and barky. Because of this, they are not the best breed for every pet lover and do find themselves needing rehoming.
Beagles, however, are a loving, happy, intelligent, and even-tempered breed, making them a delightful pet and a good breed for those with children looking for a beloved family pet. If you live in or around Los Angeles and are looking for rescue Beagles in your area, keep reading for the best Beagle rescues in Los Angeles.
Before you scroll down this list of Beagle rescues in Los Angeles, California, you can check out these other dog rescue shelter recommendations from our team at We Love Doodles: Best Goldendoodle Rescues in Los Angeles, California, and Best Dog Rescues in Los Angeles, California.
Reason Why Beagles Are in Rescue Shelters in Los Angeles
Many reasons a Beagle might be surrendered or taken to a shelter or rescue. Sometimes pet owners don't research a breed before purchasing or adopting, and it turns out that the breed is unsuitable for them.
People who have to move or lose their jobs can no longer keep their Beagles. Organizations may also rescue Beagles from abusive or neglectful situations.
Because Beagles are small, cute, friendly dogs, because there is a market for them, they are unfortunately susceptible to being bred by puppy mills or unethical breeders. Unfortunately, their size and disposition make them a top choice for lab test animals.
Regardless of why Beagles end up in shelters, it is the next step for another chance at a beautiful, loving life. The shelters and rescues listed below are committed to taking the best care of their Beagles until they can place them in the best forever homes.
Is Raising a Beagle in Los Angeles Right For You?
Before finding a Beagle rescue in Los Angeles and beginning the search for Beagle adoption, it is essential to know what you're getting into and ensure you can provide the best home for a Beagle.
Rescues will also want to ensure that you are a good fit for a Beagle before approving the adoption. They must ensure the Beagles find a home and do not get back into the shelter. Beagles are small, smart, and friendly.
They tend to be healthy and don't have long coats that need maintenance. However, Beagles can be loud. Bred for hunting, they also like to dig and can tear up your yard or flower beds.
To top that off, Beagles can be stubborn, which makes them challenging to train, so they might not be the best choice for someone new to dogs. Beagles are energetic pack animals that require exercise and attention.
They are not good dogs if no one is home for twelve hours a day. Boredom and anxiety can lead to destructive habits like chewing and clawing up the furniture. Beagles are a delight but need patience, stimulation, and attention.
Find a Beagle Rescue Shelter Near Me in Los Angeles, California
Here are some of the best Beagle rescues in Los Angeles and Southern California.
Beagle Product Recommendations: Best Training Collars For Stubborn Dogs and Best Dog Scooting Treatments.
1. Beagle Freedom Project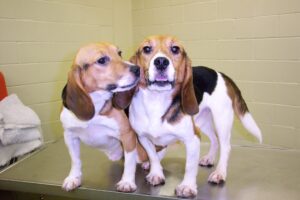 The Beagle Freedom Project is not just a shelter or rescue. They are dedicated and committed to saving animals from cruelty. The Beagles and other animals they save come from puppy mills, labs where they are tested, the Asian dog meat trade, dog races, or wherever they are exploited for entertainment.
The Beagle Freedom Project rescues, rehabilitates, and finds homes for the Beagles and other animals they save. They do not stop there, however. Part of their mission is advocacy.
They want to keep animals from being hurt and needing to be rescued in the first place and have been responsible for helping pass legislation such as the Beagle Freedom Bill and Lennon's Law.
Knowing that education is part of the battle for a world free from animal cruelty, The Beagle Freedom Project also hosts virtual classes on kindness to animals and living cruelty-free for school children and teens. They also have an app, Cruelty Cutter, designed to help people find and buy cruelty-free products.
The Beagle Freedom Project accepts donations, volunteers, and fosters for their animals. If you are interested in adopting a Beagle rescue from the Beagle Freedom Project, there are many requirements for the application process.
Prospective adoptees must:
Fill out an application
Have a phone interview
Pass an at-home check
Provide references which the rescue will contact
Currently, be cruelty-free or pledge to become cruelty-free
In most cases, have other Beagles/ dogs in the home
Recognize your dog as an ambassador and do what you can to support The Beagle Freedom Project
Because the Beagles rescued by the Beagle Freedom Project have come from traumatic situations, many of them caged, they often aren't housebroken or socialized and behave like puppies. They require patience, consistency, compassion, and other Beagles to socialize with and learn from.
Beagle Freedom Project Details
2. California Beagle Rescue
California Beagle Rescue is part of Rescue Me, an online animal rescue network that helps people find rescue animals in their area. California Beagle Rescue works as a classified ad for adoptable animals.
Pictures of the Beagles and extensive information about their history, personality, medical history, and other pertinent details are added from various shelters, rescues, and fosters.
There is contact information and a contact form you can fill out if you are interested in adopting any of the Beagles. California Beagle Rescue also shows a map of how many Beagles there are looking for homes in each state across the country.
California Beagle Rescue Details
3. Beagles and Buddies
Beagles and Buddies is a Beagle rescue that serves Beagle purebreds, Beagle mixes, other hound dogs, and other small dogs. They rescue their dogs from the pound, the humane society, off the street, and from owners who have surrendered their animals.
A no-kill shelter, Beagles and Buddies, works to find homes for all its animals, and those who aren't adopted are guaranteed a home at their sanctuary. Each animal receives a medical examination and any needed treatment. They are also spayed or neutered if they aren't already.
Those interested in adopting a rescue from Beagles and Buddies can visit the sanctuary every Friday, Saturday, and Sunday from 10 AM to 3 PM or by appointment.
If you're not sure you'll find the right Beagle for you on the first visit, you can still fill out an application, and they will keep it on file for up to three weeks.
Other than rescuing and rehoming Beagles and other dogs, Beagles and Buddies offer vaccinations, grooming services, mange, flea, tick treatments, and deworming. They do educational work in the schools and community and accept volunteers and donations.
Beagles and Buddies Details
4. Bean's Beagle Rescue
Bean's Beagle Rescue takes its name from the founder's beloved, late Beagle, Bean. Bean's is a small, two-person run rescue committed to rescuing, rehabilitating, and rehoming Beagles and Beagle mixes. Most of the Beagles they rescue have health issues and medical needs.
With no facilities and a lack of fosters, the Beagles stay at a kennel. Because of the cost of boarding and medical care, Bean's Beagles accept donations and fosters. If you're interested in adopting one of their rescues, contact them for information and an application.
Bean's Beagles Details
5. Priceless Pets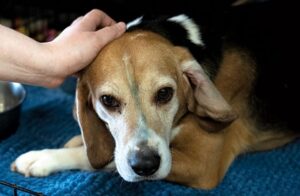 Priceless Pets is a nonprofit, no-kill rescue in Southern California. They have locations in Chino Hills, Claremont, and Costa Mesa. While rescuing, rehabilitating, and rehoming different kinds of dogs, they have a dedicated hound program, where they work tirelessly to transport homeless, neglected, abused, and at-risk hounds to their facilities.
They have helped over 3,000 hounds, and the number keeps growing. When the need arises, they participate in large-scale rescues. The Priceless Pets location in Chino helped rehabilitate and place over 150 Beagles from a puppy mill in VA that bred the dogs as laboratory test animals.
Priceless Pets holds a summer camp where children can learn about animals and how to be great pet owners. If you're interested in adopting a Beagle or other animal from Priceless Pets, they have a list of available animals on their website.
Each animal's picture is accompanied by basic information such as breed, age, gender, medical information, personality, and location. You can fill out the application online. Adoptions require a signed note from a landlord giving written permission to have an animal on rental property.
Because of the medical needs of their rescues and due to the support of donors and the community, Priceless Pets was able to open a vet clinic. They care for the medical needs of the animals currently in their care, but they also opened a clinic to treat animals adopted from them.
Priceless Pets Details
Conclusion For The "Best Beagle Rescues in Los Angeles, California"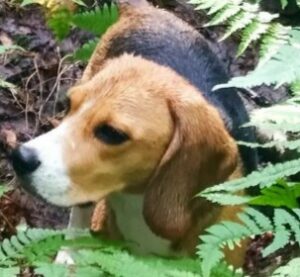 Beagles are an adorable and loveable, if also an excitable and stubborn breed of dog. They are a wonderful choice for so many people. When you're looking to adopt a Beagle from a rescue in Los Angeles, do your research before you show up to shelters. Not all rescues have facilities that are open to the public. Also, make sure a Beagle is right for you and your home.
Some Beagle rescues have more strict application processes than others. Knowing the requirements before applying helps you know what to expect, but it also saves you time and potential heartbreak in the long run. Luckily there are quite a few Beagle rescues in Los Angeles and the Los Angeles area. You're sure to find the right dog with some research and patience.
For more guides similar to this list of Beagle rescues in Los Angeles, California, you can check out these other dog rescue shelter recommendations from our team:
Before you adopt a Beagle companion from a rescue shelter in Los Angeles, California, you can learn more about this dog breed by watching "10 Things Only Beagle Dog Owners Understand" down below: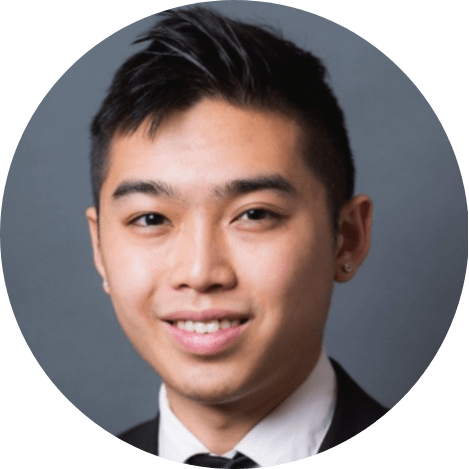 Andy is a full-time animal rescuer and owner of a toy doodle. When he's not saving dogs, Andy is one of our core writers and editors. He has been writing about dogs for over a decade. Andy joined our team because he believes that words are powerful tools that can change a dog's life for the better.
Why Trust We Love Doodles?
At We Love Doodles, we're a team of writers, veterinarians, and puppy trainers that love dogs. Our team of qualified experts researches and provides reliable information on a wide range of dog topics. Our reviews are based on customer feedback, hands-on testing, and in-depth analysis. We are fully transparent and honest to our community of dog owners and future owners.