If you're searching for the best Beagle rescues in Colorado, you've come to the right place. Beagles were originally bred as scent-hounds for stalking rabbits and small prey, and they're still used for this purpose in the United States and many other countries.
However, most Beagle puppies enjoy living as companion dogs in loving homes. Despite their distinctive long ears and large brown eyes, Beagles are best known for their amazing sense of smell and are happiest when following a new scent.
But remember that these dogs are exceptional escape artists, so ensure you have a fenced yard that is high enough to keep the Beagles from escaping! In character for hounds, Beagles are notorious for tunneling their way out of enclosures, so ensure that your fence is also deep into the ground to prevent your Beagle from getting away by tunneling underground.
Escaped and lost Beagles are only a smart portion of the Beagles that end up in rescues. Unfortunately, most of them are abandoned by their owners. Some are left out on the street because the owner cannot care for them anymore, while others are abandoned because the owner cannot afford their food or health bills.
Before scrolling down this list of Beagle rescues in Colorado, you can check out these other recommendations from our team at We Love Doodles: Best Yorkie Rescues in Colorado and Best Doberman Rescues in Colorado.
Best Beagle Puppy Rescues In Colorado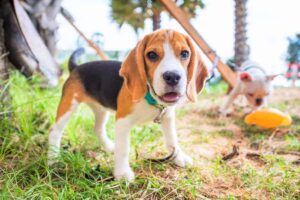 Whatever the reason, the dogs are blameless in each one. Now that you know about the Beagle, we're sure you'll want to adopt one of these aggressive balls of energy. And from this list, we're sure you'll find a Beagle puppy rescue in Colorado that can help you!
Product Recommendations For Your Rescue: Best Muscle Growth Supplements For Dogs and Best Harness For a Tie Out.
1. Colorado Beagle Rescue
We start our list of Beagle rescues in Colorado with Colorado Beagle Rescue, Inc. (CBR). This organization is nonprofit and tax-exempted and is operated solely by volunteers dedicated to the welfare of the Beagle breed, along with the donations of generous individuals who support their cause.
Colorado Beagle Rescue does not have a separate facility to house its rescue dogs. Instead, the canines are given to foster homes, kennels, or shelters until they are adopted. To meet one of their rescue dogs, you must visit their location. The rescue is also extremely protective of its dogs.
Before adoption, a CBR volunteer will conduct a home check of the prospective family to establish whether they can foster a pet. Colorado Beagle Rescue also has an adoption policy stating that dogs under two years of age will not be given to families with children under six years old.
However, dogs above two years of age can be placed in families with young children. These policies are to safeguard both the children and the dogs. The adoption policy includes a rescue tag with the CBR rescue phone number, spaying/ neutering (if required), and updated vaccinations. If the adoptive family wishes to return the Beagle within 14 days, CBR will provide a complete refund and take the dog back.
However, the family will be requested to keep the dog till they find a new home for it and will support the new family during this time. CBR is completely dependent on tax-deductible donations, so even if you're not interested in adopting a Beagle, feel free to donate generously to support them with basic expenses, veterinary care, spaying/neutering, foster placement, transportation, etc.
Colorado Beagle Rescue Details
2. Farfel's Farm & Rescue
Established in 2005, Farfel's Farm & Rescue is the only dog and cat boutique and rescue in Boulder, Colorado. It is based on the concept that every dog is worthy of a nurturing home and deserves the chance to live a happy life. Farfel's Farm & Rescue volunteers save dogs from critical situations in New Mexico, Texas, Mexico, and Cancun to help them find loving forever homes.
Farfel's also provides one-of-a-kind, superior-quality goods, and services for families and their pets, such as leashes, collars, harnesses, natural premium food, treats, and toys. Farfel's Farm & Rescue has a devoted team of volunteers that pull dogs from high-kill shelters and recognize their potential and capabilities.
The dogs are then transported in personally licensed vans to Colorado and brought to the rescue for a well-deserved second chance at life. At the rescue, they are treated for medical issues, undergo other evaluations, and are bathed and fed before transitioning to a loving and caring family.
The rescue is very stringent about the well-being of the dogs that arrive at the rescue and the families they are given to. They ensure they are vetted, vaccinated, spayed/neutered, and temperament tested with humans and other animals. If a dog isn't spayed/neutered, Farfel covers all the costs of their sterilization.
Lastly, Farfel's Farm & Rescue not only takes care of their animals but is also very considerate about all the fosters, volunteers, and individuals who donate to their rescue; 100 percent of the donations are used to provide the best care and facilities for the dogs and also critical medical care for dogs with special needs.
Farfel's Farm & Rescue Details
3. All Aboard Animal Rescue
Last on our list of Beagle rescue in Colorado is the All Aboard Animal Rescue. They collect neglected and discarded dogs and puppies from New Mexico, Texas, and Eastern Colorado and help them find a peaceful place at one of their loving foster homes. Its mission is to improve the quality of life of both the dogs and the families who will adopt them by carefully matching the animals with the perfect forever homes.
Moreover, All Aboard Animal Rescue aims to decrease the number of dogs unfairly put up to be euthanized at kill shelters in the United States. They welcome all kinds of dogs into their rescue, regardless of age, size, breed, temperament, or medical conditions. Their team also hosts regular adoption events to help dogs find loving and caring families and live their remaining years healthily and happily.
The highly trained and compassionate staff members, foster parents, and volunteers ensure that each dog receives the required love, care, and facilities to thrive. While their primary focus remains on helping dogs find their forever homes, they also provide educational resources to the adoptive families and the general community to further uphold the integrity and sustainability of their program.
They prioritize educating the general public about ethical ways to help rescue and nurture animals instead of putting them up to be euthanized. It requires a lot of effort and resources to keep a small pet rescue in Colorado, such as the All Aboard Animal Rescue, running; hence donor funding is extremely important to allow such rescues to continue saving the lives of these animals.
All Aboard Animal Rescue uses all the funding it generates to care for special-needs animals, replenish supplies, support their sponsor vet, staff, and volunteers, and most importantly, build long-lasting relationships with other rescues.
All Aboard Animal Rescue Details
More Information About Beagles in Colorado
Beagles have an approximate life span of about 10 to 15 years. In terms of size and weight, Beagles come in two varieties: small (13 inches or shorter, weighing less than 20 pounds) and larger (13 to 15 inches weighing between 20-30 pounds). Their double-dense coat gets very thick in winters and sheds heavily in spring. The coat color varies widely, but the most common ones are white, red, lemon, and tricolor.
Beagles experience frequent energetic spurts and love wrestling and playing around. They require weekly brushing sessions to loosen knots in the coat and promote new hair growth. Since the coat is soft and smooth, Beagles require minimal bathing.
Regarding health issues, vets suggest periodically checking this breed for Hip Dysplasia, eye diseases, Hypothyroidism, Epilepsy, and Luxating Patella (dislocated knee cap). Beagles are social dogs that respond well to lenient and playful training.
They're extremely reward-driven, so giving them good behavior and mannerisms is the perfect training strategy. While these canines are generally jolly and fun-loving, they are hounds, so their temperament also includes some stubbornness that needs to be dealt with patiently using innovative training techniques.
Conclusion for "Best Beagle Rescues in Colorado"
Reliable and reputable animal rescues operate with a professional mindset. It is not a hobby for them or a means to generate income. They empathize with the animals and genuinely believe they can be rescued, and their lives can be turned around.
Moreover, owners of effective rescues can assess the fears and incentives of people, and they know how to talk individuals out of euthanizing their pets and surrendering them to rescue programs. Successful animal rescue leaders acknowledge the importance of their role and are dedicated to making the best decision for their animals.
They campaign for obligatory spay/neuter laws, encourage potential families to educate themselves about the breeds they want to adopt, teach families about responsible pet ownership, and provide all-inclusive pet training and resources to families after adopting an animal.
We hope this list of Beagle rescues will help you find a puppy that needs a loving and caring family. Remember that these animals have already been deprived of basic needs and requirements, so shower them with all your love and care, and you will gain a furry friend that will always be by your side.
For more guides similar to this list of Beagle rescues in Colorado, you can check out:
If this guide for Beagle rescues in Colorado helped you, then you make also want to take a look at this "How To Prep For A Rescue Dog" video down below:
Garrett loves animals and is a huge advocate for all Doodle dog breeds. He owns his own Goldendoodle named Kona. In addition, he volunteers at the Humane Society of Silicon Valley, where he fosters dogs and helps animals. Garrett enjoys writing about Doodles and believes that dogs can teach humans more about how to live than humans can teach a dog.
Why Trust We Love Doodles?
At We Love Doodles, we're a team of writers, veterinarians, and puppy trainers that love dogs. Our team of qualified experts researches and provides reliable information on a wide range of dog topics. Our reviews are based on customer feedback, hands-on testing, and in-depth analysis. We are fully transparent and honest to our community of dog owners and future owners.