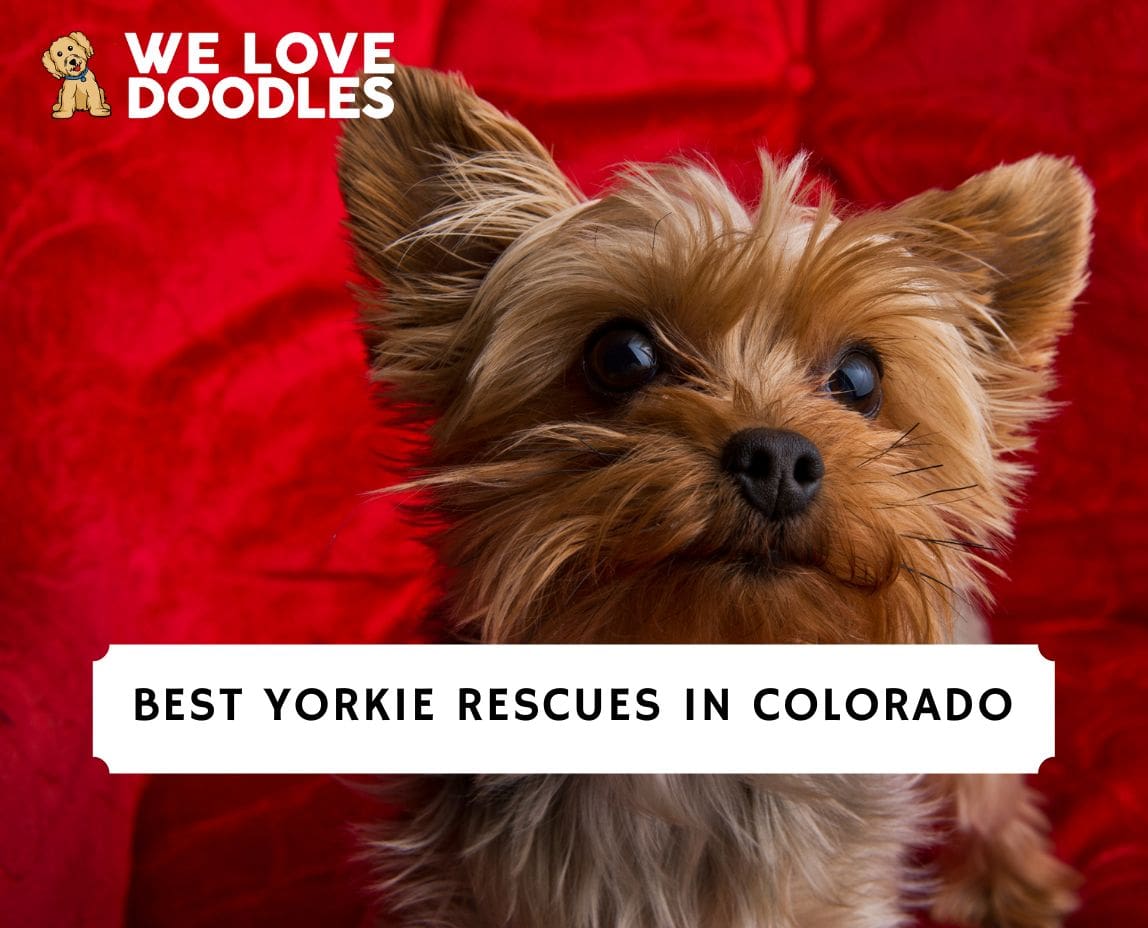 If you're searching for Yorkie rescues in Colorado, then here's what you need to know. Yorkies are affectionate and loving small breed dogs. Despite being small, this dog breed is huge in personality.
There are many Yorkie breeders in Colorado where you can easily buy this breed. Nevertheless, consider adoption over patronizing puppy breeders if you want to make a difference and help save a life.
Before scrolling down this list of Yorkie rescues in Colorado, you can check out these other recommendations from our team at We Love Doodles: Best Doberman Rescues in Colorado and Best Havanese Rescues in Colorado.
Find a Yorkie Rescue Near Me in Colorado
You will not only make a difference when you adopt a dog but will also save a lot of money. The cost of adopting a canine from pet rescues is a lot lesser than the cost of buying from breeders.
If you do not know how and where to adopt Yorkshires in Colorado, we are here to help you. We have compiled a list of the best Yorkie rescues in Colorado to adopt this dog breed.
Yorkie Product Recommendations: Best Luxury Dog Bowls and Best Tug Toys For Dogs.
1. United Yorkie Rescue
United Yorkie Rescue is a highly recognized pet rescue in the United States. This organization focuses on rescuing and providing shelter for only this dog breed. It is located outside Colorado, but they allow nationwide pet adoption. United Yorkies Rescues aims to take as many abandoned, surrendered, stray Yorkshires and Yorkshire mix as possible.
UYR is a foster-based rescue, so they save and send these pets to their different foster homes. They provide them with the foster care possible, ensuring they are always healthy and happy. UYR also provides behavioral screening, health care, and rehabilitation. They run several programs to help better the lives of these pets.
This pet rescue also helps to retrain and boost the dogs' socialization skills, ensuring they have a smooth and easy transition to their new home. While the dogs chill and have a great time in their foster homes, UYR helps find them loving homes forever. They have a standard adoption process that helps them place these dogs in the best homes possible.
The information you provide in the application form helps this organization find the perfect dog suitable for your lifestyle and home. United Yorkies Rescues have helped thousands of people who want to experience the joy of owning this dog breed as a canine companion. Furthermore, they educate the public regarding the behavior and nature of Yorkies.
They also teach pet owners and potential pet owners how to become responsible dog owners. United Yorkie Rescue also spays/neuters its dogs to help curb the issue of pet overpopulation. UYR is devoted to providing its rescued dogs nourishment, love, and socialization. Hence, rest assured you will adopt healthy, happy, and socialized Yorkies from this pet rescue.
United Yorkie Rescue Details
2. Rocky Mountain Yorkie Rescue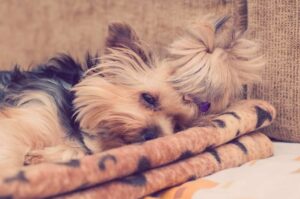 Rocky Mountain Yorkie Rescue has been the number one Yorkie adoption center for many pet lovers over the years. This Colorado-based pet organization rescues both Yorkies and Yorkie mixes. In addition to saving these pets, RMYR is committed to educating its adoptees, volunteers, and the public about this dog breed.
They rescue and provide a caring, loving environment for the puppies while giving them medical care and support. RMYR ensures the puppies are safe and well cared for until they find a forever home in Colorado. Their focus is not looking for the right dog for a home but looking for the right home for every dog.
They have strict adoption processes to ensure the dogs do not end up on the streets or animal shelters again. Rocky Mountain Yorkie Rescue also accepts surrendered pets. This organization understands that surrendering a dog can be an emotional and challenging experience for both the pet and the owner.
Hence, they have devised strategies to make the surrender process easy for you. So, if you can no longer take care of your canine friend due to health, financial, or any other reason, you can surrender your pet to this organization. They operate a foster-based system; they have different foster homes across the city that provide these puppies with care and love. Their adoption process is also straightforward, with adoption ranging from $100 to $500.
The cost varies depending on the vet care the puppy has received. The medical care for these dogs includes updated vaccinations, dental cleaning, surgery, blood work, etc. They also spay/neuter the dogs at the appropriate age or before giving them out for adoption. The medical need of each dog is unique, and RMYR pays close attention to every canine to ensure they get the care they need.
Rocky Mountain Yorkie Rescue Details
3. Colorado Puppy Rescue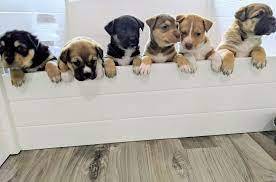 Colorado Puppy Rescue saves and finds new homes for different dog breeds, including Yorkies. They have many beautiful and well-trained dogs under their care. This pet rescue does in-person adoptions because they like to know who their adoptees are. They only release their canines to families they believe are capable of caring for their needs.
CPR does home inspection to ensure your home is pet-friendly and safe. They have a passion for rescuing and enhancing the lives of lost, abandoned, and rejected dogs. CPR has a no-kill policy, so even the dogs that do not find a forever home will leave the rest of their lives with them. Colorado Puppy Rescue loves and cares for its dogs deeply.
They provide the dogs with all they need, including medical and dental care. All the dogs receive age-appropriate, up-to-date vaccinations, deworming, heartworm protection, grooming, etc. CPR works with a professional vet that runs a full health exam before adoption. It is against their policy and ethics to knowingly adopt an ill dog. They also microchip their dogs before adoption. Interestingly, they have a one-week return policy.
If you adopt a puppy from this rescue and it does not work out for you both, you have up to seven days to return the puppy for a full refund. However, keep in mind that the dog needs some time to adjust to you and your home. CPR's adoption fee ranges from $350 to $450, including microchipping. However, the adoption fee does not include the spaying/neutering fee.
Colorado Puppy Rescue Details
4. Lifeline Puppy Rescue
Lifeline Puppy Rescue is a no-kill, non-profit pet rescue organization. This organization focuses on rescuing puppies and mum dogs in the Rocky Mountain Region. Their rescue services extend to various dog breeds, including Yorkies and Yorkie mixes.
LPR saves dogs from a network of 33 rescue groups and shelters to prevent euthanasia. Since 1993, Lifeline Puppy Rescue has saved more than 44,000 dogs. They have an important connection with rural areas and small towns, working with other rescue organizations to save lives.
In addition to saving the lives of these canines, Lifeline Puppy Rescue also promotes responsible pet ownership. They run complete vet checks for their puppies and treat any health condition they might be suffering from. Once the dogs are healthy, they place them for adoption and find caring, loving forever homes for them.
Lifeline Puppy Rescue Details
5. Life Is Better Rescue
Last on the list of the best Yorkie rescues in Colorado is "Life Is Better Rescue." Life Is Better Rescue is an all-breed rescue. However, it made it to our list of the best Yorkie rescues in Colorado because it saves, rehabilitates, and adopts this breed.
They are not in business for one species, breed, or animal; they rescue all pets. This organization focuses on creating a quality life for homeless, abandoned, lost, and abused pets. They also spay/neuter these pets to reduce the adoptable euthanasia population.
Life Is Better Rescue works with many volunteers who independently work to save the lives of these pets and find homes forever for them. These dogs receive adequate socialization and behavioral training that helps with permanent adoption. They provide quality medical care for the dogs, ensuring they are healthy and happy before adoption.
Life Is Better Rescue Details
Conclusion For The "Best Yorkie Rescues in Colorado"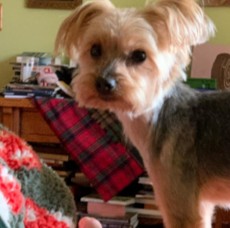 Yorkies are an exceptional dog breed, and they make a great addition to any family. Many Yorkshire rescues need your help to save and provide better homes for these dogs.
One of the ways you can assist is by adopting and providing a good home for these pets. You can adopt your new fur friend from the best Yorkie rescues in Colorado listed in this guide.
For more guides similar to this list of Yorkie rescues in Colorado, you can check out:
Before you adopt a Yorkshire Terrier from a rescue shelter in Colorado, you can learn more about this dog breed by watching "12 Things Only Yorkshire Terrier Dog Owners Understand" down below:
Garrett loves animals and is a huge advocate for all Doodle dog breeds. He owns his own Goldendoodle named Kona. In addition, he volunteers at the Humane Society of Silicon Valley, where he fosters dogs and helps animals. Garrett enjoys writing about Doodles and believes that dogs can teach humans more about how to live than humans can teach a dog.
Why Trust We Love Doodles?
At We Love Doodles, we're a team of writers, veterinarians, and puppy trainers that love dogs. Our team of qualified experts researches and provides reliable information on a wide range of dog topics. Our reviews are based on customer feedback, hands-on testing, and in-depth analysis. We are fully transparent and honest to our community of dog owners and future owners.