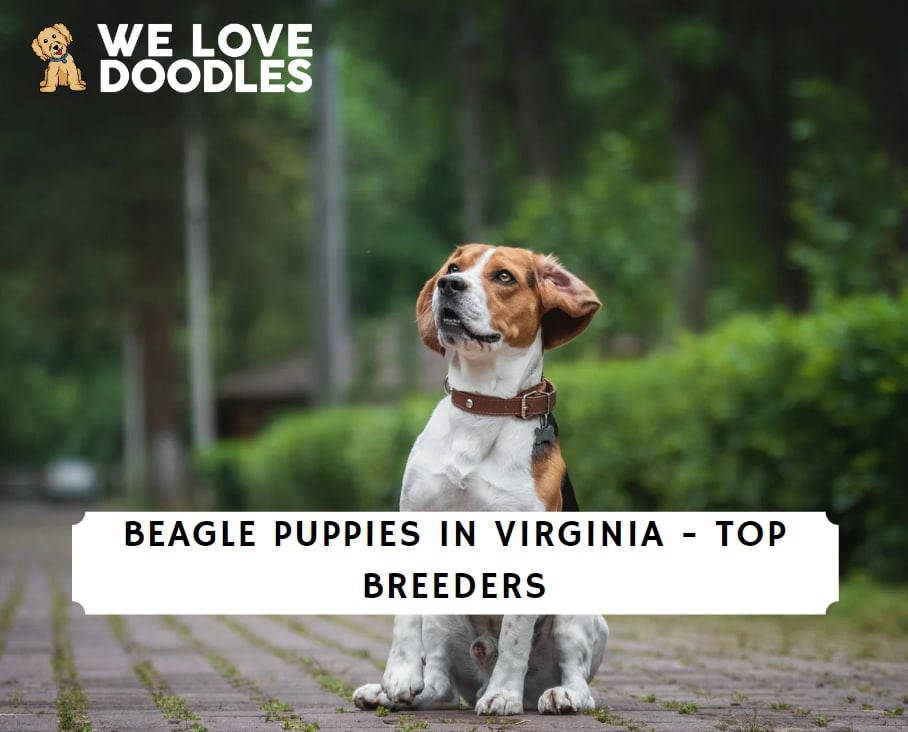 Beagles are wonderful dogs for many reasons. They make excellent companions for individuals or families, but they also are bred for hunting and agility. According to the American Kennel Club, or AKC for short, Beagles are best known for their exceptional hunting and tracking abilities. In addition to these hardworking qualities, Beagles are incredibly loving and loyal and always eager to please their owners.
Beagles are known for being low-tempered and loving, which is one of the reasons why they make the perfect dog for families with children. These dogs are devoted companions that can also act as guard dogs if trained for the task. If you're looking for Beagle puppies in Virginia, we have a list of breeders to help you.
Before you scroll down this list of breeders with Beagle puppies in Virginia for sale, you check out these other recommendations: Havanese Puppies in Virginia and Pug Puppies in Virginia.
Beagle Breeders in Virginia
It's a very exciting time when you decide to adopt a lovable Beagle puppy into your family. Sometimes, however, it can be a bit confusing to figure out where to look when choosing the right breeder. Finding a breeder you can trust with a good reputation is very important, as you never want to support a breeder with questionable practices or harm their dogs. Most excellent breeders will be able to provide you with comprehensive health and bloodline information for each of their Beagles.
It would be best if you were prepared for the breeder to ask you many questions about your lifestyle, personality, and background before they agree to sell a puppy. Breeders like to ensure they're only entrusting their precious puppies to trustworthy owners who will provide loving homes for them. To help make your search as easy as possible, we compiled a list of some of the best Beagle breeders in Virginia. Scroll to the bottom of the article to find more info about the Beagle breed.
Beagle Product Recommendations: Best Tug Toys For Dogs and Best Training Collars For Stubborn Dogs.
PuppySpot is on a mission to make lives better by placing healthy puppies in happy homes. They do so by connecting dog-loving families and individuals with the best Beagle breeders in the USA.
Further, their puppies come with an exciting surprise — a 10-year health guarantee to help you secure your puppy's future. In addition to this, they perform thorough health check-ups. They ensure your puppy does not inherit any medical or hereditary conditions and is overall healthy.
Moreover, they have partnered with AKC, American Humane, and Make-A-Wish Foundation to ensure the well-being of all dogs everywhere.
Further, if you cannot travel due to some constraints, they can pick your puppy from the breeder's kennel and bring it to your place. Their love for dogs and professionalism towards their customers has helped them stay on top. They have garnered over 10,000 5-star reviews from real customers.
PuppySpot Details
2. MacyBay Beagles
MacyBay Beagles is a small kennel and breeder in the Louisa area of Virginia. They proudly breed American Kennel Club Beagles for various purposes, including rabbit hunting, field trials, and human companionship. MacyBay Beagles currently breeds 15″ Beagles in a variety of colors, including black & tan, tri-colored (black, white, & tan), chocolate tri-colored (brown, tan, & white), and red & white. During the breeding process, MacyBay Beagels prioritizes personality and temperament in addition to hunting ability.
This excellent breeder has been breeding Beagles for over two decades, and the family raises all puppies. Because these puppies are immediately socialized at birth (and exposed to children and other pets), they adapt very easily to various home environments. MacyBay Beagles never confines their pups to a kennel or a box and instead always gives them access to a special, comfortable room in their home and a fenced-in yard. Check out MacyBay Beagles for Beagle puppies in Virginia.
MacyBay Beagles Details
3. Hall Mountain Rabbit Beagles
Hall Mountain Rabbit Beagles, a kennel and breeder in the Shenandoah Valley area of Virginia, has been operating since around 2010. This kennel is working towards developing its bloodlines, which is very exciting. All dogs from Hall Mountain Rabbit Beagles are AKC registered, and, according to their site, they have even competed in AKC, UKC, PKC, and ARHA over the years. Hall Mountain Rabbit Beagles prides themselves on all of their dogs.
Their site claims that these Beagles exhibit impressive speed when used for hunting, all while "maintaining superior check work and line control." Hall Mountain Rabbit Beagles is a great place to get your Beagle puppy in Virginia.
Hall Mountain Rabbit Beagles Details
4. Mountain Magic Beagles
Mountain Magic Beagles is also located in the Shenandoah Valley area of Virginia and is another wonderful family-operated Beagle breeder. They focus on breeding capable Beagles that excel in show and field competitions. They regularly compete with their dogs in AKC and UKC shows and sanctioned field trails. This breeder is truly a family affair. Everyone in their family is committed to helping raise each dog with love and care.
Each of them even has a personalized testimonial on the website that you can read under the "About Us" section. Check out their website to learn more about their adoptable Beagle puppies in Virginia.
Mountain Magic Beagles Details
5. Shiloh Little Beagles
This excellent Beagle breeder may not be in Virginia, but they're just a stone's throw away in Morganton, North Carolina. All their beautiful puppies are raised in a home environment on a stunning farm where they spend time playing with other dogs. In addition to exposure to other animals, these Beagle pups are also exposed to people, helping get them used to being around humans. Shiloh Little Beagles has been breeding dogs for over 25 years, helping them produce puppies with only the highest quality temperaments and personalities — not to mention appearances.
All their Beagle puppies for sale in Virginia also receive plenty of attention daily to keep them social and mentally stimulated during the crucial first weeks of development. All adoptable puppies come with certification papers ensuring their top quality. In addition to this certificate of quality, each puppy comes with a one-year health guarantee ensuring they will be free of any genetic health issues. Head to their site to check out Virginia's list of adoptable Beagle puppies.
Shiloh Little Beagles Details
6. Milroc Beagles
Milroc Beagles in North Carolina is a great place to check if you're looking for Beagle puppies for sale in Virginia. All of their dogs have an impressive pedigree and are of the finest stock. They all have excellent temperaments and appearances, making them fantastic dogs for companionship and hunting.
On their website, you can check out the list of their impressive parent dogs, many of which are award-winning. Their website also has a thorough list of their adoptable puppies. One of the things that Milroc Beagles ensures for all of their Beagles is top quality, which is clear to see on their website. Given that this breeder is so accomplished and these puppies are so popular be prepared for a long waitlist to adopt from them. To initiate the process of adoption, you can apply through their website.
Milroc Beagles Details
More Information About Beagle Puppies in Virginia
Beagles are incredible dogs for hunting and family companionship. They have sweet natures and easy-going personalities and are even the country's 6th most popular purebred dog breed. Beagles are typically bred to be one of two sizes: the larger, which can be about 15 inches tall and 20-30 pounds, and the smaller, which is no taller than 13 inches and typically weighs less than 20 pounds on average. Additionally, there are many color varieties to choose from as well. These include tri-color, red, white, tan, and many more options. Beagles are an active breed that needs plenty of exercise and plays time with their families. They love spending time with their owners and are easy to train.
Conclusion For "Beagle Puppies in Virginia For Sale"
Beagles are such wonderful dogs that it's no surprise they're such a popular breed in Virginia. These pups make great companions and hunting dogs and are excellent dogs for families with children and other animals. Once you've decided that you're interested in owning a Beagle of your own, the next step is finding the right breeder for your needs.
All of the breeders on this list are excellent choices, and you can't go wrong with any of them. Before applying for a puppy's adoption, we suggest you research the breed and what you can expect from Beagle ownership. Be prepared for the breeder to ask you many questions about your life, and feel free to ask them any questions you may have.
For more guides similar to this list of breeders with Beagle puppies in Virginia for sale, you can check out:
If you enjoyed our list of breeders with Beagle puppies in Virginia, we think you'll enjoy learning about Beagles more from "10 Things You Need to Know Before Getting a Beagle" down below:
Garrett loves animals and is a huge advocate for all Doodle dog breeds. He owns his own Goldendoodle named Kona. In addition, he volunteers at the Humane Society of Silicon Valley, where he fosters dogs and helps animals. Garrett enjoys writing about Doodles and believes that dogs can teach humans more about how to live than humans can teach a dog.
Why Trust We Love Doodles?
At We Love Doodles, we're a team of writers, veterinarians, and puppy trainers that love dogs. Our team of qualified experts researches and provides reliable information on a wide range of dog topics. Our reviews are based on customer feedback, hands-on testing, and in-depth analysis. We are fully transparent and honest to our community of dog owners and future owners.