If you're looking for breeders with Beagle puppies in Utah for sale, you've come to the right place! Beagles are one of the most popular dogs in the United States. Thanks to their loyalty and friendly dispositions, the American Kennel Club ranks them as the sixth most popular dog. Beagles were originally bred in the 16th century.
Here, they were used as hunting dogs, specifically for rabbits – a task they continue to excel at even today. They're friendly and gentle, and they come in various color patterns. The Beagle resembles many other hunting dog breeds, especially the foxhound, but they are much smaller.
Whether you're looking for a household companion or a hunting dog, Beagles are adaptable enough to make the perfect fit in any family willing to take the time to meet their high energy needs. However, to avoid poor temperament or health concerns, it's important to adopt from a reputable breeder when looking for a Beagle puppy.
Before you scroll down this list of breeders with Beagle puppies in Utah for sale, you check out these other recommendations from our team at We Love Doodles: Beagle Puppies For Sale in Massachusetts and Best Beagle Breeders in Missouri.
Beagle Breeders in Utah
Beagles are one of the most popular breeds in the United States. If you're looking to bring one into your own home, here are some of the best Beagle breeders in Utah.
Beagle Product Recommendations: Best No Spill Dog Water Bowls and Best Dog Soccer Balls.
1. PuppySpot's Beagles For Utah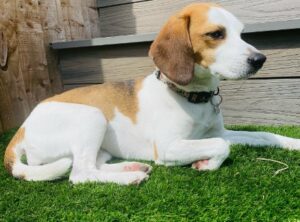 PuppySpot is a website that works as an online marketplace for puppies, perfect for anyone in Utah to search for a Beagle companion. They bring a unique option to the table. Instead of going out to town and going from breeder to breeder searching for a Beagle puppy, you can look for one from the comfort of your home.
PuppySpot offers both convenience and quality, working only with the very best breeders in the market. PuppySpot has one of the toughest partnership filters in the industry, with an acceptance rate of only 10% and a scrutinous process that involves over 100 different topics.
Mission
PuppySpots's main reason for being is a deep love for dogs. They love working with them and having the ability to share them with people all over the United States, including Utah. Their main goal is to breed happy and healthy puppies and help them find a home where they'll be appreciated and cared for.
History
PuppySpot was founded around ten years ago. They saw the opportunity to make getting a puppy much easier for millions. Since then, PuppySpot has achieved plenty of success and has changed how the industry works, offering the best of all worlds. They have given over 200,000 puppies out for adoption and have received over 10,000 5-star reviews. Making them one of the top sites in the industry.
Breeding Values
PuppySpot Details
2. Windkist Beagles
Windkist Beagles is one of the best Beagle breeders in Utah. Windkist was the home of BIS CH GCH Windkist A Walk In The Park "Parker," who was an award-winning Beagle in the 2000s. While Parker has since passed, his lineage continues through the Beagle puppies found at this top breeder.
Windkist Beagles is located in Ogden, Utah – a short half-hour drive from the capital, Salt Lake City. While Beagles are originally hunting dogs, Windkist Beagle puppies grow into award-winning show dogs. However, they also breed companion Beagles focusing on temperament and health.
The owners of this top Beagle breeder have been breeding Champion Beagles for over thirty years now, and over 75 champions come from their Beagles. Windkist's current stud dog is a standard tri-color Beagle by Windkist Wilderness Theme Park.
As a result, most of the puppies you'll find at this breeder sport this iconic white, brown, and black combination. You can find a portfolio of past and present studies and Windkist puppies on their website. Because of their experience and devotion to breeding the best of the breed, Windkist Beagles have landed on our list as the number one Beagle breeder in Utah.
Windkist Beagles Details
3. Majestic Beagles
Majestic Beagles is a small, family-owned Beagle breeder in Utah. Their sires and dames consist of AKC Champion Beagles with clear health and genetic history. This helps ensure that their puppies are AKC standard, but they're also healthy and fit to fill a variety of roles in the family. This includes as a companion pet!
Majestic Beagles have their Beagle puppies' dew claws removed at just a few days old. Because of their age, this is a relatively painless procedure. For many dogs, dewclaw removal isn't necessary, but it is seen more often in Beagles. They also provide deworming and several rounds of shots.
Majestic Beagles Details
4. Lazy G Kennels
At Lazy G Kennels, the Beagles grow up alongside a family on an acre of land with a cattle farm just a short drive away where they're allowed to run free. On their website, you can find an entire gallery with their past and present breeding dogs and the Lazy G Kennels Beagle puppies.
They also have recently implemented a Guardian program that allows a family to foster and later adopt one of the adult breeding dogs. This helps to ensure the happiness of their Beagles, who thrive on family time. As of writing, they will have a litter of Beagle puppies available in the middle of June.
Lazy G Kennels Details
5. 5 Star Beagles
While not in Utah itself, 5 Star Beagles is a reputable Beagle breeder in Mesa, Arizona – just a short drive away from many parts of Utah. 5 Star Beagles is run by Maureen, who has over 25 years of experience in animal husbandry and dog breeding. When you adopt a Beagle from 5 Star Beagles, you're adopting a dog certified either by the AKC or the ACA.
Each Beagle is purebred with the necessary health and genetic tests. It's important to note that 5 Star Beagles won't ship their puppies. Thankfully, Arizona is just a short day away from Utah, making this reputable breeder accessible.
This helps ensure that you're the right fit for the puppy you're considering while also helping prevent the Beagle from landing in a potentially unsafe situation due to shipping. You can find an entire portfolio of their current dames and sires and their puppies' past and present on their websites.
Thanks to their remembrance portion of the website, you'll also see the Beagles that have passed at 5 Star Beagles. Because many people will keep in touch with 5 Star Beagles and provide updates on their Beagle's health and wellbeing, you'll be able to get a good idea of what to expect with your own 5 Star Beagle puppy.
5 Star Beagles Details
6. Diamond Beagles
Last on the list of the best breeders with Beagle puppies for sale in Utah is "Diamond Beagles." While Diamond Beagles focus on breeding for the best temperaments, which Beagles already excel in, they also care about raising great Beagles. This means that they focus heavily on socialization and early training, even going to begin housebreaking and discouraging mouthing.
When you adopt one of their AKC Beagle puppies, aside from being a lifelong friend, you'll also receive a vaccinated puppy, certificate of health, an age-appropriate leash and collar, food starter bag, blanket with littermates scent, and AKC registration.
Diamond Beagles Details
How to Choose a Beagle Breeder in Utah
Just as with any dog breed, when it comes to choosing a Beagle breeder in Utah, you'll want to take time to make your decision. Remember, it's the right dog, not the right dog right away. It's important to develop a connection with a potential breeder and learn more about how they raise their puppies, from training to socialization to their living conditions.
It's also important to beware of Beagle breeders in Utah or the surrounding areas that focus on selling "pocket Beagles." Pocket Beagles are beloved for their tiny sizes. However, they come at a cost. The pocket Beagle isn't a different breed of the Beagle – it's a genetic defect. Their small size comes from dwarfism, which exposes them to various other disorders and conditions.
While it may be difficult to prevent a pocket Beagle in a litter completely, as it can occur randomly, it isn't ethical to breed two pocket Beagles to create an entire litter of Beagles with this condition. Besides, choosing a Beagle isn't much different from any other breed. This is especially true for high-energy breeds or hunting breeds like the Beagle.
More Information About Beagles From Utah
While there may be many good breeders in Utah and the surrounding areas, a few things set good apart from the absolute best Beagle breeders in Utah. Breeding is more than a career: it's a lifestyle. While that may sound cliche, it's true. Raising puppies to be their best selves is a full-time job, and while some breeders may do an adequate job at this, the best Beagle breeders go above and beyond.
First, the best breeders ensure that health is the top priority. This means that they'll conduct all the necessary and important testing to ensure that each breeding pair is healthy. They'll also do the same for their future puppies to make sure they're fit to become someone's forever pet. The first few weeks of a puppy's life are some of the most important.
This is when their caretakers should ensure that they are receiving proper training and socialization that is appropriate for their age. Finally, the right Beagle breeders in Utah won't let just anyone take any puppy. Because they seek to be home best friends for life, they'll often collaborate with you on the entire decision process to make sure you're getting a Beagle that'll work best with your lifestyle and vice versa.
Conclusion For The "Best Beagle Puppies in Utah"
Beagles can make a great addition to any home, so long as you can handle their relatively high prey drive and need for exercise. However, it's important to make sure that you're looking for a reputable breeder when you're looking to adopt a Beagle puppy.
We've used reviews and analysis of breeder certification and experience when vetting the best Beagle breeders in Utah. However, whatever breed you're looking for, or whatever state you're looking in, it pays to be patient and do your research.
For more guides similar to this list of breeders with Beagle puppies in Utah, you can check out:
If you enjoyed our list of breeders for Beagle puppies in Utah, we think you'll enjoy learning about Beagles more from "10 Things You Need to Know Before Getting a Beagle" down below:
Garrett loves animals and is a huge advocate for all Doodle dog breeds. He owns his own Goldendoodle named Kona. In addition, he volunteers at the Humane Society of Silicon Valley, where he fosters dogs and helps animals. Garrett enjoys writing about Doodles and believes that dogs can teach humans more about how to live than humans can teach a dog.
Why Trust We Love Doodles?
At We Love Doodles, we're a team of writers, veterinarians, and puppy trainers that love dogs. Our team of qualified experts researches and provides reliable information on a wide range of dog topics. Our reviews are based on customer feedback, hands-on testing, and in-depth analysis. We are fully transparent and honest to our community of dog owners and future owners.