If you're searching for the best Beagle breeders in the UK, then here's what you need to know. Snoopy changed the world for all Beagles. Everyone wanted to have their very own Beagle.
What's more, real-life Beagles are even kinder and more adorable than the cartoon version. Beagles love being around humans. This breed loves to be engaged in the activities of their human packs.
They bask in the attention of children and other pets. The demand for Beagles has steadily risen over the years, and you can't blame families for wanting to add a Beagle to their pack. They're small, affectionate, and with big, brown eyes. Beagles make the perfect pet.
Before scrolling down this list of Beagle breeders in the UK, check out these other breeder recommendations: Best Dachshund Breeders in the United Kingdom and Best Cocker Spaniel Breeders in the United Kingdom.
Beagle Puppies For Sale in the United Kingdom

If you live in the United Kingdom, a Beagle may be one of the ideal dogs for you. You can get in touch with one of many reputable breeders to kick start your journey of bringing home your very own Snoopy.
Beagle Product Recommendations: Best Dog Shampoos For Shedding and Best Dog Crate Alternatives.
1. Erlenbek Beagles
Erlenbek Beagles is a family-run Kennel Club Assured Breeder located in Suffolk, UK. In 2010, this family adopted their very first Beagle named Barnaby and what started as a family pet project flourished into a breeding program.
All Erlenbek Beagles are exposed to various kinds of activities, including trail leading and agility training. One of this kennel's objectives is to produce Beagles that are constantly mentally stimulated and physically excited.
From chasing squeaky balls to running after Frisbees, this kennel is keen on incorporating as much outdoor fun as possible into their dogs' lives. As part of this organization, Erlenbek is expected to adhere to a specific Code of Ethics.
They uphold the principle of finding their Beagle suitable human parents to provide a secure and forever home. They conduct interviews and ask questions about your lifestyle and home environment as part of their screening process.
Some may even be personal questions to identify if you are the best match for their Beagles. But, of course, the questioning goes both ways; interested adopters can ask all about the Erlenbek Beagles and how the puppies are raised. Yes, bringing out that classic Beagle look is a top priority in Erlenbek's breeding program.
They also ensure they produce physically healthy dogs with pleasant temperaments. Erlebek also doesn't forget that Beagles are scent hounds, so they make sure that their dogs indulge in activities that can hone these instincts.
Erlenbek Beagles Details
2. Anavar Beagles
Anavar puppies are born in a whelping area specifically designed for this purpose. The nursery is kept clean and safe for the puppies. The Annavah family handles the puppies and plays with them regularly.
This helps in the early socialization of the puppies and being comfortable around humans. Anavar believes that this practice contributes to their puppies having excellent temperaments and being well adjusted around humans.
Potential new human parents can check the litter in the whelping area. Visits are highly encouraged so future owners can understand the puppies' environment.
They can meet the puppy's parents and observe how to handle the puppy. All the available beagle puppies are announced on the Annavah website.
All successful families who pass the screening process are guaranteed puppies that are home-reared, Lafora, MLS, and NCCD cleared, dewormed, and vaccinated. Depending on the age, some are also microchipped.
Additionally, your puppy comes home with you with a health certificate and a puppy pack that includes a Kennel Club Registration, worming certificate, 5-generation pedigree certificate, 1-month insurance, and a few tips and treats so the puppy adjusts seamlessly to its new home.
Anavar Beagles Details
3. Charterwood Beagles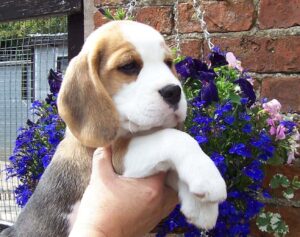 Charterwood is also a family-owned kennel run by Jill and Steve Philpott. They have been operating for more than thirty years. Jill is also a breeder and a Kennel Club-approved championship show judge of Beagles.
Her Beagles have won several titles in various shows. All Charterwood Beagles are released with a clean bill of health. They are Lafora, NCCD, and MLS cleared, so you know that all the puppies of this kennel are free of genetic disorders.
Charterwood Beagles Details
4. Silk Lake Beagles
The Beagles of Silk Lake are treated not as mere breeding dogs but as family companions. The happiness and welfare of their dogs are the #1 priority. The puppies are raised indoors and are well accustomed to human presence.
The puppies are socialized as early as possible to make it easier to adjust and thrive in their new homes. Silk Lake doesn't have Beagles all year round.
The breeding is carefully planned to ensure that the parents and puppies are in their best form. If your puppy comes from Silk Lake, you may be confident that you're bringing home a canine family member with a good temperament.
The kennel's partner veterinarian will check your puppy. All Beagles are Kennel Club Registered and have received their initial vaccination.
You will also receive documentation of its 5-generation pedigree, insurance, and worming protocol certificate. Silk Lake Beagles are raised on a raw, natural diet to keep them healthy and free of ailments throughout their lives.
Silk Lake Beagles Details
5. Tail Wise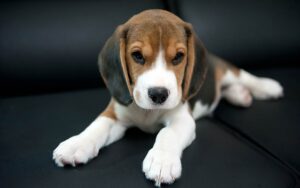 Last on the list of Beagle breeders in the UK is "Tail Wise." Tail Wise has a vast network of breeders that can cater to your specific Beagle needs. If you are interested in a Beagle, but there are no available litters, Tail Wise can check with all the Beagle breeders around and make arrangements for you.
Tail Wise is committed to providing a seamless and hassle-free experience for human adopters and the puppy. They also help with travel arrangements as part of their services.
Though Tail Wise acts as a mediator, you may be sure that all their breeders are screened. The breeders have to meet Tail Wise's set of standards just to be included in their directory.
All breeders who become part of Tail Wise must provide a fair and kind environment for their dogs. The breeders should love their dogs not as a revenue-making service but as family members and companions. Tail Wise is against puppy farms and does not tolerate unethical practices.
In line with their principles, they also want their puppies to have educated and responsible parents. Not all pet parents, especially first-time owners, understand the responsibilities of owning a dog.
Tail Wise offers support and counseling to all prospective new parents, so they understand what raising a dog feels like. In addition, tail Wise is a community that looks out for the overall welfare of all its dogs, so you are sure to find a healthy Beagle here.
Tail Wise Details
Conclusion For The "Best Beagle Breeders in the UK"
The UK Kennel Club discovered that most people don't know where they should get their Beagle puppies from. Some think they need to go to a puppy farm, while the majority—impulsive and overly excited—purchase from a rogue breeder.
So if you are in doubt, here are some things you can do or ask to calm your doubts concerning whether or not you are working with a reputable breeder.
A breeder may introduce a Beagle as the mum, but observe how the mother interacts with her puppies. Check if the mother is interested in the puppy to figure out if it is the real mum.
Kennel visits are seldom done now, but there are other virtual ways for you to check the current environment of the Beagle you are interested in. For example, ask the breeder to video call you during feeding or bath times or even when the puppies are playing.
Reputable breeders would ensure the paperwork is handy and readily available. It includes all medical records and test results of the puppy and its parents.
A puppy contract is also presented, along with the vaccination and immunization records of the puppy. A breeder that allows you to take home a puppy during the first visit and wants payment outright is a red flag.
Yes, breeders usually have a reservation fee, but all other expenses are discussed after you have passed the screening. This is an additional safety net for you and boosts confidence that you are working with a trusted breeder.
For more guides similar to this list of Beagle breeders in the UK, you can check out these articles:
Before you purchase a Beagle puppy from a breeder in the United Kingdom, you can learn more about the breed by watching "Facts About Beagle Dogs 101" down below: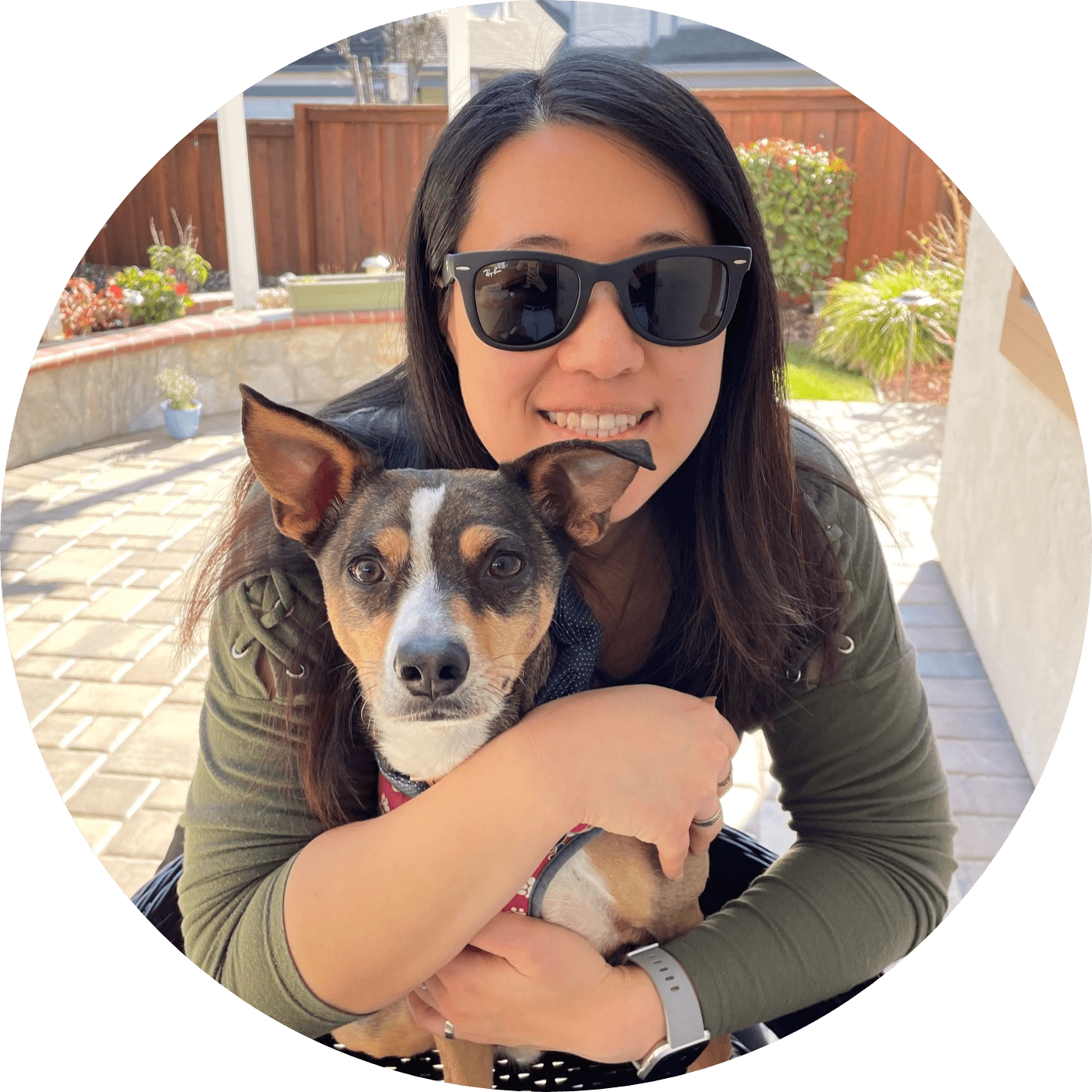 Dr. Sabrina Kong graduated from the Royal Veterinary College in England in 2016 and has been working at a small animal clinic in Northern California since then. She grew up in the Bay Area and got her bachelor's degree from Cal Poly San Luis Obispo. She also became a Certified Canine Rehabilitation Practitioner through a program at the University of Tennessee.
When she isn't in the clinic taking care of her four-legged patients, she enjoys traveling and trying new foods with her friends and her three-legged dog, Apollo. She adopted Apollo from her clinic when he was a puppy with numerous health issues. Dr. Kong truly cares about taking care of animals.