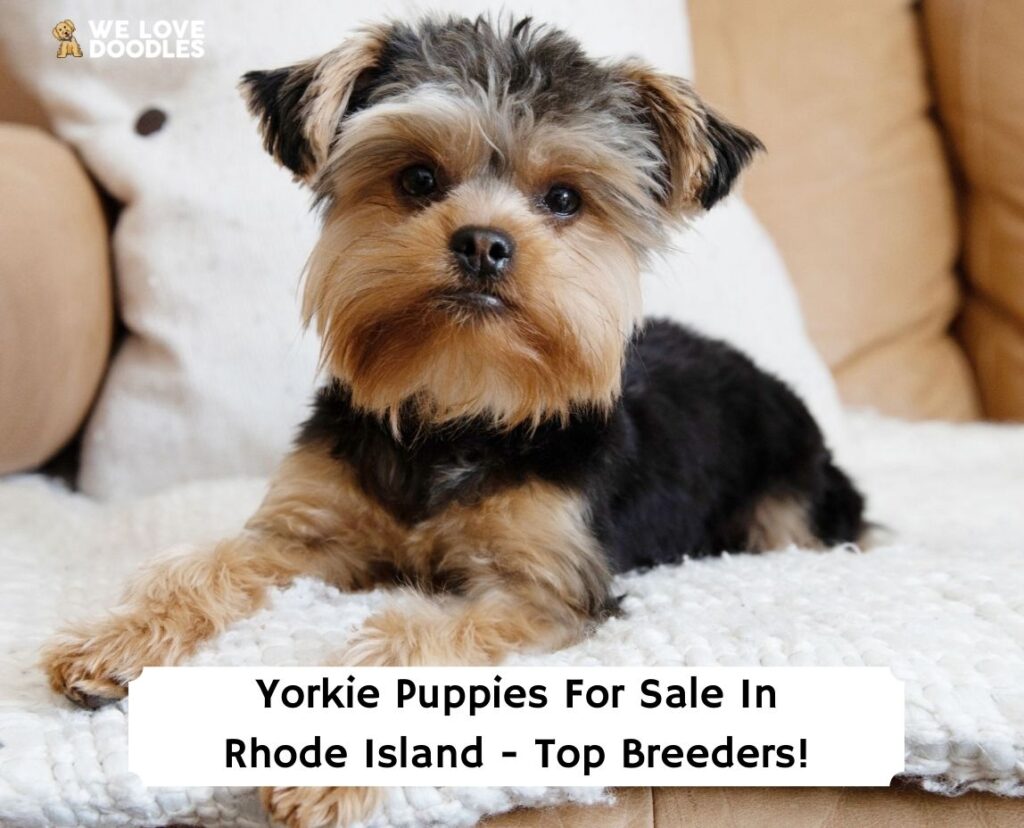 If you're having a hard time looking for breeders with Yorkie puppies for sale in Rhode Island, our team at We Love Doodles got your back. Yorkies are Yorkshire Terriers, a breed of dog that is both adorable and affectionate`. If you are looking for a cute little puppy that will grow into a terrific family pet, the Yorkie would be a good choice.
Finding a breeder who is honest and dependable may not be so easy. We know that there are a lot of scam artists around who are quick to take the money and then do not deliver a puppy. We wrote this article to give you a list of top Rhode Island breeders where you can start looking for a Yorkie.
Before you scroll down this list of breeders with Yorkie puppies for sale in Rhode Island, check out these other recommendations from our team at We Love Doodles: Boxer Puppies in Rhode Island and Labradoodle Puppies in Rhode Island.
Yorkie Breeders in Rhode Island
Yorkies are small dogs reaching a size of about 9 inches and 6 lbs. They are attractive dogs that can be very loving and don't need much space. If you are keen on buying a Yorkie puppy, you can start by looking at our list of top breeders in Rhode Island and neighboring states.
Yorkie Product Recommendations: Best Training Collars For Stubborn Dogs and Best Training Collars For Small Dogs.
1. PuppySpot's Yorkies For Rhode Island
The Yorkshire Terrier dog breeding industry has become so popular and profitable, making it difficult to find reputable dog breeders, as there are numerous options available throughout the country. Choosing a responsible Yorkie breeder versus a puppy mill, on the other hand, is still very critical for a variety of reasons, whether you're from Rhode Island or other places.
A Yorkie puppy mill is a term used to describe breeders whose major concern is the production of puppies for profit. They will produce as many pups as possible to maximize their earnings and profit margins. Typically, they have little or no prior expertise in the dog breeding industry.
Most of the time, they breed whatever breed is popular at the time or whatever breed they can get their hands on quickly and cheaply. On the other hand, a breeder is a person or business that takes great pride in breeding dogs. You expect that a breeder's canines will get registered with the American Kennel Club or other regulating organizations.
They will also have professional websites and health certifications to back up their dogs' health. You would believe that finding reliable breeders is simple, but not everyone has the luxury of time.
While searching on the internet may be effective in some circumstances, it may not be effective in others. If worse comes to worst, worry not, as PuppySpot can help. More than 200,000 puppies (including Yorkies) have gotten placed in loving homes by PuppySpot, a dog-loving community that connects the nation's finest breeders with trustworthy individuals and families.
With partnerships with the American Humane Society and the American Kennel Club, PuppySpot works with Yorkshire Terrier breeders who have undergone a stringent Breeder Screening Process, ensuring that the dogs come from healthy environments. Acquiring dogs from PuppySpot also comes with a lot of perks, such as:
A 10-year health warranty covers all dogs.
Healthy puppies that had undergone PuppySpot's Nose-to-Tail Health Check
Delivery service to any location in the United States through its own PuppySpot airlines
PuppySpot has a stellar reputation backed by 10,000 verifiable 5-star ratings and an A+ rating from the Better Business Bureau. Its user-friendly website makes it simple to find the right Yorkshire Terrier to acquire. Besides that, they only list puppies that have been born, allowing you to know what kind of puppy you are receiving based on gender, coat color, size, and other individual preferences. In your endeavor to spot your furry friend, trust that PuppySpot can help. 
PuppySpot Details
2. Cherished Little Ones
The breeder is Cherrish Webb, and she is listed on the AKC website as a registered breeder of Yorkies. Cherrish breed Teacup Yorkies; these are small, reaching only 5 to 7 inches. A Standard Yorkie is about 9 inches in size. A Teacup Yorkie weighs less than 4 lbs. A Standard Yorkie weighs up to 7 lbs.
This breeder does ensure that all their breeding dogs are registered with the AKC, and they also vaccinate all the puppies that they produce. They also give all puppies deworming medicine to prevent worm infections and microchip all the dogs. Microchipping is useful in case a puppy goes missing.
If a microchipped puppy is found, a vet can read the information and find the rightful owner, which is a big benefit. You do get a health warranty when you adopt one of these puppies. Still, you need to contact the breeder directly using the information below to find out exactly what the warranty covers and how it works if you find a problem with the new puppy you have adopted from them.
Cherished Little Ones Details
3. Pretty Lil Paw Yorkies
This breeder has AKC registered dogs, and they do also know and can give you the genetic pedigree of their animals. Furthermore, they provide their Yorkie puppy buyers with 30-day pet health insurance. Their puppies from each litter are all vaccinated and dewormed, and there is a health warranty. Vaccinations and deworming are essential to ensure the health of the dogs.
A carrier cage, food, and pee pads are also included in the price when buying one of their puppies. The price of their Yorkies is the same for a male or female puppy. This breeder has been rearing puppies since 2017, so they do have a couple of years of experience with rearing these dogs. You can find out more about this breeder and how to go about getting on their waiting list for a Yorkie puppy by visiting their website or phoning them. The contact information is given below.
Pretty Lil Paw Yorkies Details
4. Dottie's Lil Blessings
The owner and breeder of Dottie's Lil Blessings are Dotty James. She has been in the business of breeding Yorkies for 14 years and, therefore, has a great deal of experience in the Yorkshire Terrier breed. Chocolate and Teacup Yorkies are what this breeder tends to specialize in.
The chocolate color is less common than other colors because the genes producing this color are recessive. Both parent dogs have to be at least carrying the chocolate coat color for one of their puppies to inherit and have the chocolate color coat. This breeder also offers a health warranty, and she does ensure to microchip all the puppies, which is a benefit for the person adopting one of these dogs.
Dottie's Lil Blessings Details
5. Peace Puppies Yorkies
The last Yorkie puppy breeder serving Rhode Island is Peace Puppies Yorkies. They breed and sell Yorkies as pets only and not as breeding dogs. They require a non-refundable deposit to be placed if you want one of their puppies, so you need to be 100% sure that you want to purchase from Peace Puppies.
There is a contract you sign stating that you won't breed the puppy you are getting. They provide a lot of information on the website on recommended vaccinations for the Yorkies. You must read the details they give on what they do and don't cover concerning a health guarantee on their puppies.
There is also a replacement option if a dog you adopt is found to have a life-threatening genetic condition. In other words, they have possibly inherited a problem from the parent dogs. Contact Peace Puppies for details on how the health guarantee works and under what circumstances you may be able to receive a replacement puppy.
Peace Puppies Yorkies have a very active social media presence, so you can visit both their Facebook and Instagram pages to see photos of the puppies and also as a way to contact this breeder and find out more information.
Peace Puppies Yorkies Details
How to Choose a Yorkie Puppy Breeder in Rhode Island
Yorkies are adorable little dogs that do not need much space, which means you can have these as a pet in an apartment or small house. Of course, the dog should still be given exercise and taken outside for fresh air and walks. When deciding on a breeder, there are some things you need to take into account to avoid becoming the victim of a con artist.
There are some questions you should ask the breeder when you contact them. We have listed these below:
How long has the breeder been breeding Yorkies?
What size Yorkie do they have available? In other words, do they have or expect to breed Standard Yorkies, Toy Yorkies, and Teacup Yorkies?
What colors are the puppies they produce? Do they focus on breeding only one or two colors?
Does a vet check all puppies, and can they provide you with a health certificate?
Do they offer some health warranty or guarantee on their puppies, and what does this include?
Are puppies vaccinated and dewormed?
Are puppies microchipped, and is this a separate service or fee?
Are the parent dogs registered on the AKC?
Have the parent dogs been tested for genetic conditions that could be passed on to the puppies during breeding?
What is the best food they recommend for the Yorkies?
Choose a Yorkie Breeder in Rhode Island
Before choosing a puppy, you need to make sure you are prepared and know enough about the particular breed of dog. This is why we have listed some characteristics of Yorkies so that you can decide whether or not this is a breed of dog that you should choose.
Reasons to choose a Yorkie:
They are small, which means that they can live in an apartment.
Yorkies are easy to carry because they are small in size.
They do not require as much exercise as other dogs, but you need to let them run around.
The Yorkie does not shed to the same extent as other dogs, but they should still be groomed.
They do not get along with other dogs, so it is best if you keep them on their own.
Yorkies are not the best choice if you have young children who may be rough with the dog.
They have a big personality for such a small dog, but because of their size, they cannot fight off an intruder, only alert you that something is wrong.
More Information About Breeders With Yorkie Puppies in Rhode Island
Your first step with any Yorkie breeder is to contact them. The person should get back to you relatively quickly when you contact them regarding their dogs. Avoid breeders who appear to be deceptive and pushy.
Any reputable breeder would also ask you about your living situation to evaluate if the dog will have a decent home. Breeders who do not have a warranty or health guarantee may also not be reliable.
Conclusion For "Yorkie Puppies In Rhode Island For Sale"
Yorkies are wonderful little dogs that make great companions. Use our advice to decide if this dog is right for you, and use our list to help you find top breeders with Yorkie puppies in Rhode Island.
For more guides similar to this list of breeders with Yorkie puppies in Rhode Island for sale, you can check out:
If this guide helped you with looking for breeders with Yorkie puppies in Rhode Island for sale, we think you may want to check this "Should You Get a Yorkie?" video down below: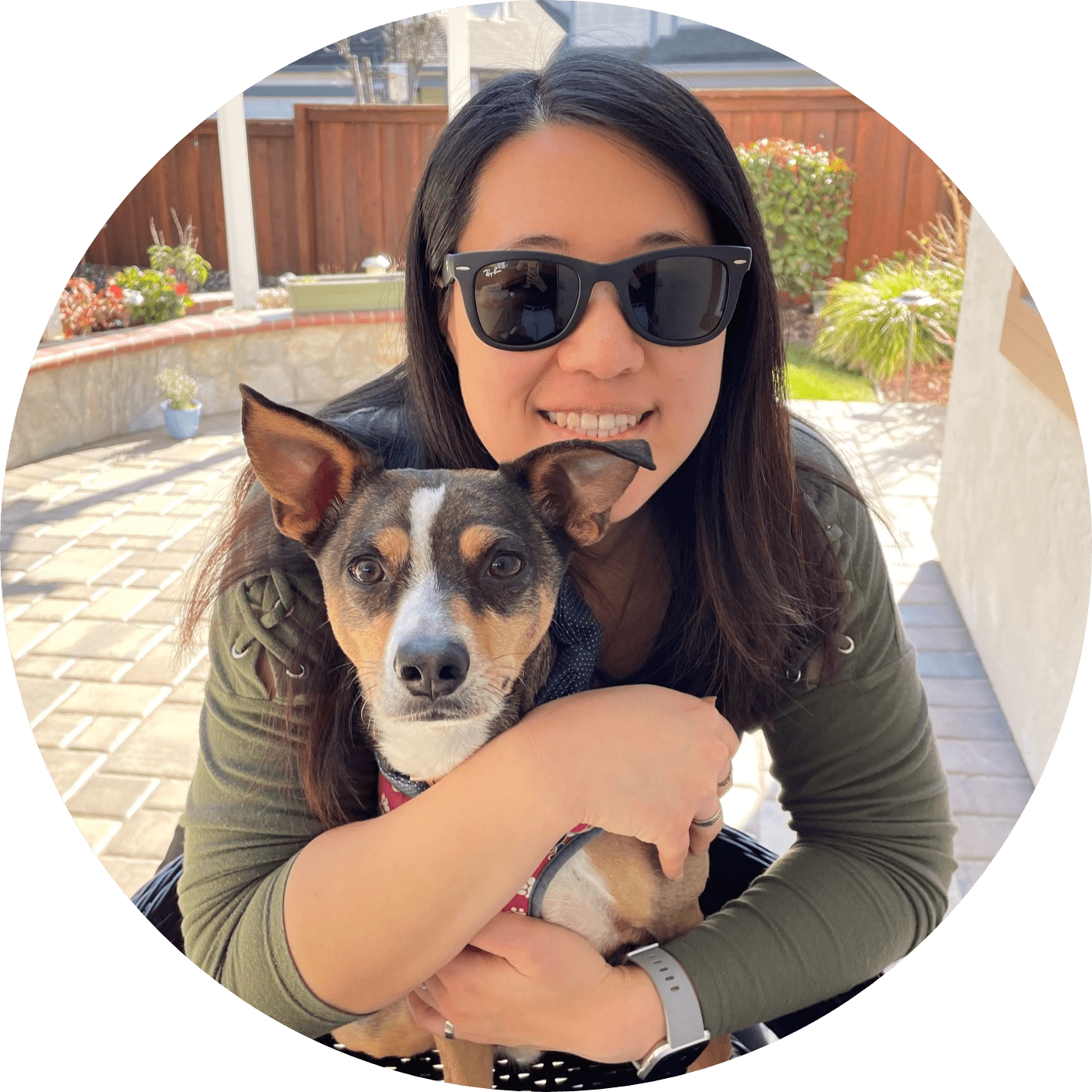 Dr. Sabrina Kong graduated from the Royal Veterinary College in England in 2016 and has been working at a small animal clinic in Northern California since then. She grew up in the Bay Area and got her bachelor's degree from Cal Poly San Luis Obispo. She also became a Certified Canine Rehabilitation Practitioner through a program at the University of Tennessee.
When she isn't in the clinic taking care of her four-legged patients, she enjoys traveling and trying new foods with her friends and her three-legged dog, Apollo. She adopted Apollo from her clinic when he was a puppy with numerous health issues. Dr. Kong truly cares about taking care of animals.