If you're searching for the best Yorkie breeders in Indiana, you've come to the right place. We are here to make this process a lot easier for you. We understand how difficult it is to find a reputable breeder you can trust.
Researching breeders in the vicinity and then visiting all the kennels can be a very physically and emotionally taxing process, especially when it is a fairly popular breed, like a Yorkie puppy, that you are looking for. A Yorkshire Terrier, also known as a Yorkie, is a very energetic, playful, and affectionate breed.
Their exceptionally friendly temperament and gorgeous looks have gained them significant popularity among many families in the States. This, however, also makes the breed susceptible to being exploited by various puppy mills.
Before scrolling down this list of Yorkie breeders in Indiana, you can check out these other recommendations from our team at We Love Doodles: Best Boston Terrier Breeders in Indiana and Best Schnauzer Breeders in Indiana.
Yorkie Puppies For Sale in Indiana
To avoid investing in the wrong place and being deceived by an unethical breeder, you must verify the authenticity and health standards before trusting them. Through extensive research, we were able to find breeders operating in the state of Indiana that is well known for upholding high breeding standards. Please go through the list mentioned below to know more about their services and puppy policies.
Yorkie Product Recommendations: Best Puppy Flea Shampoos and Best Dog Bells For Potty Training.
1. PuppySpot's Yorkies For Indiana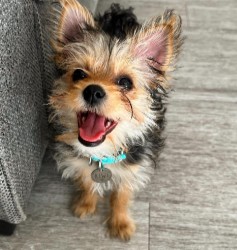 Since you're searching for Yorkie breeders in Indiana, we recommend checking out PuppySpot's platform. PuppySpot is an online dog marketplace where you can browse and find available Yorkie puppies from the comfort of your home in Indiana.
All Yorkie breeders with listed puppies must go through a strict screening process, so you can rest assured knowing that your companion will be safely shipped to you in Indiana. Before continuing on your journey for a Yorkie puppy for sale in Indiana, you can check out the link to the marketplace below.
PuppySpot Details
2. Yorkies Kisses
Yorkies Kisses is a small in-home Yorkie breeder in Indiana. They have been in this business for the past 20 years and are determined to improve their service quality continuously. Each puppy bought through Yorkies Kisses comes with up-to-date vaccination shots, complete deworming, and microchipping.
A health guarantee is also provided for each puppy. Yorkies Kisses are believed to have one of the best quality Yorkie puppies for sale in Indiana. They make special efforts to ensure that the puppies grow up to have the most wonderful temperaments and excellent quality of health.
They also incorporate Early Neurological Stimulation, which helps the puppies adjust to a new family setting when they are adopted. In addition, they only allow puppies to join their new homes after they are 12 weeks old, allowing the breeder to make sure that the puppy is well-socialized, fully weaned, and receives complete vaccination before being sent home.
Yorkie Kisses also carries out Volhart's testing on each puppy at seven weeks. This enables them to match the puppy with the most suitable family. A non-refundable holding fee of $500 is required for anyone who wishes to secure a puppy. You can apply online to purchase a puppy by filling out a puppy application form on the website. To learn more about this pet breeder, visit their website linked below.
Yorkie Kisses Details
3. Jackson Yorkies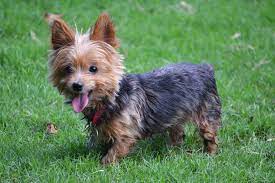 Jackson Yorkies is another reliable breeder for Yorkies in Indiana. They raise their puppies as part of their family, ensuring well-socialized puppies with friendly personalities. In addition, Jackson Yorkies have a top-of-the-line breeding program; they ensure that the dams and sires are in excellent health and of unblemished pedigree.
Through their careful breeding practices, each litter is better than the previous generation and remains true to the breed. Every puppy purchased through Jackson Yorkies is vaccinated, dewormed, microchipped, and examined thoroughly by a health professional. Their puppies also have their dew claws removed and tails docked.
They register all their puppies with the American Kennel Club (AKC). Copies of both the parents' pedigrees and registration papers are provided at the time of purchase. Each puppy comes with a one-year health guarantee on a non-breeding contract agreement. You can view the terms and conditions of their genetic health contract online. In case of further inquiries, reach out to them through the following details.
Jackson Yorkies Details
4. Teapup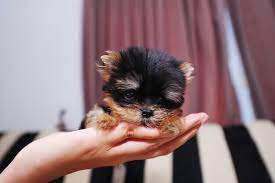 Teapup is a family-owned business striving to raise friendly, healthy puppies and match them with loving homes. They are registered with the American Kennel Club (AKC), and each of their puppies comes with a prepaid AKC registration. If you wish to adopt a puppy through Teapup, you must make a non-refundable yet transferable deposit of $500.
They offer a health guarantee against major genetic defects affecting the heart, kidneys, lungs, eyes, etc. This is valid up to one year after the purchase date. After receiving up-to-date, age-appropriate vaccinations, deworming treatment, and microchipping, each puppy is sent home.
Puppies also get examined by an experienced vet to clear all medical health issues. Certificates stating proof of vaccination and complete health records are also furnished on purchase. They send their puppies home with a puppy care package.
This includes a sample of Eukanuba Small Breed Puppy Food and Zuke's Natural Mini Treats. A toy, a blanket with the mother's scent, and a puppy toothbrush are also included in the package. A puppy guidebook is provided to every new family to aid them in taking better care of their puppy. To view their currently available and upcoming litter, visit their linked website.
Teapup Details
5. P and K Puppies
P and K Puppies breed and raise their puppies on an 8-acre farm outside Indiana. They are well-known for their dogs' excellent health and exceptionally good temperament. They have been breeding since 2005 and have mastered the art of professional breeding through all these years of experience.
Each puppy receives up-to-date, age-appropriate vaccinations, except a rabies shot. They are also dewormed several times and microchipped before being available for sale. Every puppy also receives a complete health examination by a vet to ensure free of any health issues.
In addition, a one-year health guarantee is provided for each puppy against major genetic health defects. They require a $200 deposit to be made by anyone who wants to purchase a puppy through them. This holding fee is non-refundable and non-negotiable.
Puppies are allowed to join their new homes when they are eight weeks of age. They also offer ground and air shipping for people who cannot come to pick up the puppy themselves. You can reach out to them, through the contact details mentioned below, in case of further inquiries regarding their breeding program.
P and K Puppies Contact Details
6. Shadowland Yorkies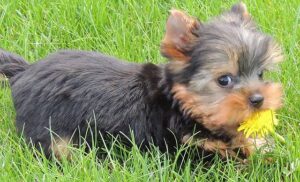 Last on the list of the best Yorkie breeders in Indiana is "Shadowland Yorkies." Shadowland Yorkies are one of the most highly regarded Yorkie breeders in Indiana due to the exceptional quality of their dogs. They breed their puppies and raise them until they are fully weaned in the beautiful rolling hills of Southern Iowa.
After that, they are kept in a foster home with a loving family in Northern Indiana, where they also begin their house training. You can expect their puppies to be fully vaccinated with up-to-date and age-appropriate immunization. Each puppy is also dewormed and microchipped before being made available for sale.
You can view the list of puppies currently available at the Shadowland Yorkies on the website. The adoptive family also provides a complete health record of all the shots administered and any health tests conducted on the puppy.
Every puppy is registered with the American Kennel Club (AKC). A puppy care package and a Puppy Baby book are given to new families to help them make the transition process easier for both the puppy and themself. You can learn more about their puppy purchase policy by visiting their website link below.
Shadowland Yorkies Details
How to Choose a Yorkie Breeder in Indiana
There are several ways to ensure that you choose the right breeder to get your new pet. The easiest thing you can do from the comfort of your own home is to get in touch with the breeder through either their phone number or email. Ask them questions about their knowledge of the breed, the upcoming litter, and breeding standards.
An ethical breeder who genuinely cares about their puppies will be well-informed about the breed. They would even understand the peculiar temperaments of each of the dogs in the litter. Their ability to answer questions about the breed and their litter proves that they spent a lot of time being close to the puppies and caring for them. So you can expect puppies of such a breeder to be well-socialized and healthy.
The next step involves visiting the kennels to see the living condition of the puppies and get to know them better. It would help if you also asked the breeder for proof of the puppies' health records and registration papers. If a breeder cannot prove the services they claim to have, they are most likely lying and must not be trusted.
Related: Yorkie vs. Yorkie Poo and How Much Does a Yorkshire Terrier Cost?
Conclusion For The "Best Yorkie Breeders in Indiana"
Many breeders in Indiana claim to have good-quality Yorkie puppies for sale. However, it requires more than just a breeder's word about the quality of their services to judge their authenticity accurately. Not all breeders breed puppies ethically, and there are several hidden puppy mills scattered around that you should stay clear of.
To aid you in searching for the best Yorkie puppy, we have mentioned the most reputable Yorkie breeders operating in Indiana. Though these breeders are registered and licensed to breed, they still differ in their purchase policies. Therefore, you should reach out to them using their contact details to see which one suits you the best.
For more guides similar to this list of Yorkie breeders in Indiana, you can check out:
Before you bring home a Yorkie puppy from a breeder in Indiana, you can learn more about the breed by watching "12 Things Only Yorkshire Terrier Dog Owners Understand" down below: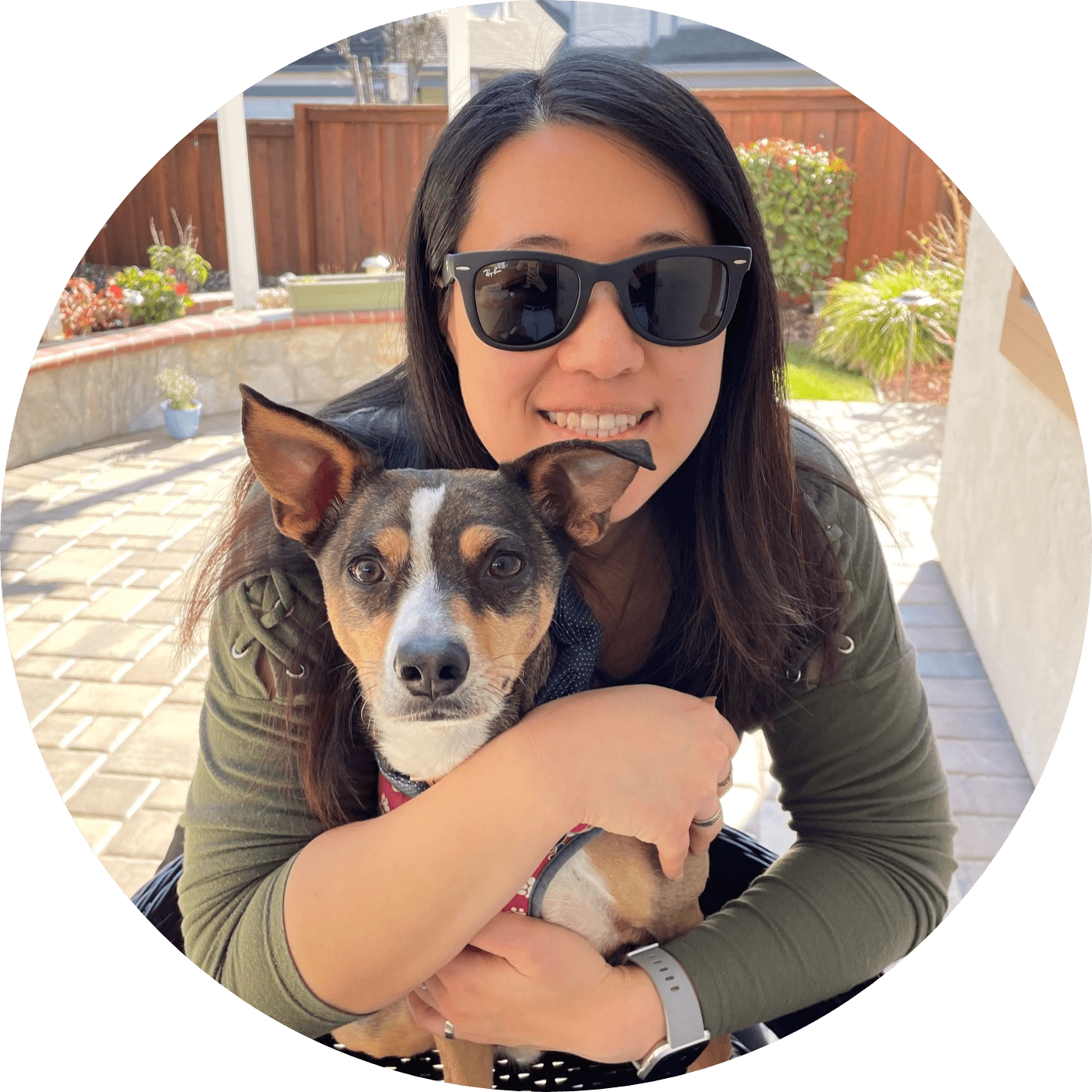 Dr. Sabrina Kong graduated from the Royal Veterinary College in England in 2016 and has been working at a small animal clinic in Northern California since then. She grew up in the Bay Area and got her bachelor's degree from Cal Poly San Luis Obispo. She also became a Certified Canine Rehabilitation Practitioner through a program at the University of Tennessee.
When she isn't in the clinic taking care of her four-legged patients, she enjoys traveling and trying new foods with her friends and her three-legged dog, Apollo. She adopted Apollo from her clinic when he was a puppy with numerous health issues. Dr. Kong truly cares about taking care of animals.