It's common for dogs to exhibit signs of distress, such as crying, when they open their mouths wide. There could be several reasons behind this behavior. So, why does your dog cry when opening its mouth wide?
Your dog might be experiencing discomfort or pain in its mouth or throat or feeling anxious or uneasy about opening its mouth. Sometimes, if your dog cries when opening its mouth wide for the first time, it might be due to fear or confusion.
Regardless of the cause, it is crucial to prioritize your dog's well-being and seek professional veterinary attention. A visit to the vet can help rule out any potential medical issues that might be causing your dog's distress and provide appropriate care and treatment.
Before you read to a more in-depth answer to this guide, "Why Does My Dog Cry When Opening Its Mouth Wide," check out: Why Does My Dog Roll Around After Eating? 8 Reasons! (2023) and Why Does My Dog Jump on Me? (2023).
What Causes Crying?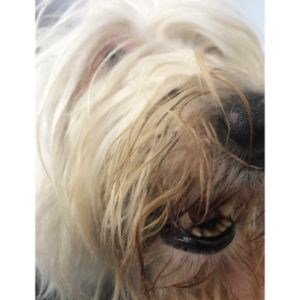 When dogs cry, it's often a form of communication indicating something might be amiss. One common reason for their crying is when they feel hungry, seeking to convey their need for food. If you suspect your dog is hungry, it's essential to nourish them.
However, if your dog cries and opens its mouth wide, it could be a sign of pain. In such cases, identifying the cause of the pain becomes crucial. If you're unsure about the source of the discomfort, it's advisable to take your dog to the veterinarian for a proper evaluation.
On the other hand, if you manage to pinpoint the reason behind your dog's pain, that's helpful information to share with the vet. It allows them to understand the issue and provide appropriate care quickly.
Jaw pain in dogs often arises from common reasons such as dental problems, infections, or oral injuries. Understanding these potential causes can aid you in dealing with them effectively.
Dental Issues
Among the various health issues affecting dogs, dental problems are one of the most prevalent concerns. These problems can result in pain and discomfort and potentially give rise to other health complications if not addressed promptly.
The three primary dental issues in dogs are plaque buildup, periodontal disease, and fractured teeth. Let's examine each of these dental problems individually.
Plaque
Plaque disease is a condition that can affect dogs of all ages, though it is more common in older dogs. This sticky film of bacteria forms on the teeth and gums, potentially leading to tooth decay and gum disease over time.
Regular brushing can help remove plaque, but if left untreated, it can harden into tartar, making it more challenging to eliminate. Failure to address plaque and tartar buildup may eventually lead to periodontal disease, a severe condition resulting in tooth loss and other health complications.
When periodontal disease sets in, dogs may experience pain while opening their mouths, leading them to cry for help as a sign of distress.
Periodontal Illness
Periodontal disease is a significant dental issue that could cause your dog's discomfort and crying when opening their mouth. This infection affects the gums and can lead to tooth loss.
The disease happens due to the accumulation of bacteria in plaque, a sticky film that continuously forms on the teeth. If left unremoved, plaque can harden into tartar, irritating and inflaming the gums.
As time progresses, the gums may recede, forming infected pockets. Moreover, this condition can also adversely affect the bones and tissues that support the teeth.
Tooth Fracture
Dogs who enjoy playing and habitually chew on objects may occasionally experience tooth fractures, especially when playing or gnawing on bones. Fortunately, this is not a significant cause for concern, and a vet can quickly address fractured teeth.
However, being vigilant about your dog's dental health is crucial. If a tooth fracture goes unnoticed and untreated, your dog may endure significant pain while eating or opening their mouth.
An untreated tooth fracture could also lead to oral infections, exacerbating the issue. Therefore, if you discover that your dog has fractured teeth, you must promptly contact your veterinarian and arrange the removal of the fractured teeth to ensure your pet's well-being.
Gingivitis
Mouth infections in dogs are a prevalent issue often seen by veterinarians and could be a potential cause of your dog's crying when opening its mouth. These infections can lead to severe pain and, if left untreated, may even be life-threatening for your dog.
The most common type of infection is gingivitis, an inflammation of the gums often triggered by plaque buildup on the teeth. Plaque, a sticky film of food and bacteria, forms on the teeth and, if not removed, can harden into tartar, irritating the gums and giving rise to gingivitis.
To prevent gingivitis caused by plaque buildup, regular cleaning and scaling of your dog's teeth with the assistance of a vet are crucial. Following the cleaning, frequently brushing your dog's teeth is essential to prevent further plaque accumulation.
If gingivitis is left untreated, it can progress to a more severe form of gum disease called periodontitis. This condition can damage the bone and connective tissue that support the teeth. Periodontitis is treated with professional cleaning, scaling, and root planing to preserve your dog's oral health.
Mouth-Related Injury
Mouth injuries are frequent in dogs and can vary from minor to severe. The most common types of mouth injuries are cuts or scrapes, often resulting from rough play with another dog or chewing on dangerous objects.
On the severe end, mouth injuries can arise from dog fights, car accidents, or other traumatic incidents, potentially leading to broken teeth or jaw fractures. These injuries inflict considerable pain upon dogs, making it challenging to eat or drink comfortably.
If your dog cries while opening its mouth wide, the primary cause is likely injury-related pain. In such cases, seeking immediate veterinary attention for proper treatment is crucial. The treatment plan will depend on the seriousness of the injury.
You can address minor injuries with antibiotics and pain medication prescribed by the vet, while significant injuries may necessitate surgery to ensure your dog's recovery.
How Can You Help Your Dog?
When dogs cry, it's often a way of communicating that something is amiss. They may call when hungry, stressed, afraid, or in pain, so it's essential to determine the reason for their crying.
If your dog cries because of hunger, providing enough food can address their needs and alleviate their distress.
For dogs crying due to stress and fear, offering comfort through gentle body rubs and hugs can help them feel more at ease and gradually acclimate to such situations.
However, showing love and care may not be sufficient for painful issues. The best action is promptly taking your dog to the vet for proper evaluation and treatment.
Before the vet visit, calm your dog with comforting gestures and affection. Scientifically, having a loved one nearby during pain can give comfort and strength to cope with the discomfort.
F

requently Asked Questions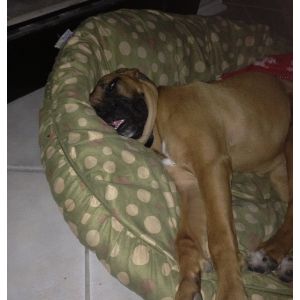 Why does it hurt my dog to open his mouth?
Possible reasons your dog experiences pain when opening its mouth include:

Dental problems
Dogs can suffer from various dental issues, such as gum disease, dental abscesses, fractured teeth, or foreign objects stuck in their mouths. These conditions can cause pain and discomfort, making it difficult for the dog to open its mouth.

Jaw injuries or fractures
Trauma or injuries to the jaw can lead to pain and difficulty opening the mouth. That could result from accidents, falls, or even rough play.

Temporomandibular joint (TMJ) issues
The TMJ is the joint that connects the jaw to the skull. Inflamed, injured, or dislocated can cause significant pain and restrict the dog's ability to open its mouth.

Oral infections or abscesses
Infections in the mouth, such as abscesses or inflammation, can cause pain and discomfort, making it challenging for the dog to open its mouth.

Oral tumors or growths
Growths or tumors in the mouth can obstruct movement and cause pain when your dog tries to open its mouth.

Foreign object ingestion
If a dog swallows a foreign object lodged in the mouth or throat, it can cause pain and difficulty opening the mouth.

Neurological issues
Rarely, certain neurological conditions may affect the dog's ability to control its jaw muscles, leading to difficulties in mouth opening.
Why is my dog unable to open his mouth wide?
Your dog may be unable to open its mouth wide for various reasons, including dental problems like broken or infected teeth, gum disease, or foreign objects stuck in the mouth. Jaw injuries, temporomandibular joint (TMJ) issues, oral tumors, muscle or nerve disorders, foreign object ingestion, infections, or neurological conditions can also cause difficulty in mouth opening.

It's essential to have your dog evaluated by a veterinarian for a proper diagnosis and appropriate treatment to alleviate pain or discomfort and improve mouth movement.
When my dog yawns, why does he yelp?
If your dog yelps when yawning, it may be due to dental issues, jaw problems, or throat discomfort. It's crucial to consult a veterinarian to identify and address the underlying cause of the yelping for your dog's well-being.
How do I know if my dog has mouth pain?
You can look for several signs and behaviors that may indicate your dog is experiencing mouth pain:

Difficulty eating or dropping food
If your dog seems to have trouble swallowing, chews on one side of the mouth, or drops food while eating, it could be a sign of mouth pain.

Reluctance to chew on toys
If your dog avoids playing with chew toys or shows discomfort while chewing, it may be due to mouth pain.

Drooling excessively
Unusual or excessive drooling can indicate oral discomfort or pain.

Pawing at the mouth
Your dog may paw at its mouth or face to alleviate the pain or discomfort.

Bad breath
Foul breath can be a sign of dental issues, which could be causing your dog's mouth pain.

Red or swollen gums
Check your dog's gums for any signs of redness, swelling, or bleeding, which may indicate gum disease or other problems.

Difficulty opening or closing the mouth
If your dog has trouble fully opening or closing its mouth, it may be due to pain in the jaw or mouth area.

Changes in eating habits
A dog in pain may show a decrease in appetite or eat more slowly than usual.

Changes in behavior
Your dog might become irritable, aggressive, or withdraw from usual activities if it is experiencing mouth pain.

Avoiding touch around the mouth
If your dog is sensitive to touch around the mouth area or resists you checking its teeth, it could be a sign of discomfort.
Conclusion for "

Why Does My Dog Cry When Opening Its Mouth Wide"
When dogs cry while opening their mouths wide, it can indicate various underlying issues. Hunger, stress, fear, and pain are all possible reasons behind this behavior.
Dog owners must pay close attention to their pets' cries and behavior to accurately determine the cause. If you suspect pain, seek prompt veterinary attention to identify and address potential medical problems.
Dental issues, such as plaque buildup, periodontal disease, fractured teeth, and oral infections, are familiar sources of mouth pain in dogs. Early detection and treatment of these problems are essential to ensure our canine companions' well-being and oral health.
A loving environment and professional veterinary care will help alleviate your dog's distress and ensure your beloved pet's happier, healthier life.
For questions similar to this guide, "Why Does My Dog Cry When Opening Its Mouth Wide," check out:
Learn more by watching "14 Critical Signs Your Dog Is Begging For Help" down below:
Garrett loves animals and is a huge advocate for all Doodle dog breeds. He owns his own Goldendoodle named Kona. In addition, he volunteers at the Humane Society of Silicon Valley, where he fosters dogs and helps animals. Garrett enjoys writing about Doodles and believes that dogs can teach humans more about how to live than humans can teach a dog.
Why Trust We Love Doodles?
At We Love Doodles, we're a team of writers, veterinarians, and puppy trainers that love dogs. Our team of qualified experts researches and provides reliable information on a wide range of dog topics. Our reviews are based on customer feedback, hands-on testing, and in-depth analysis. We are fully transparent and honest to our community of dog owners and future owners.