Dogs sometimes display a wide range of behaviors their owners can't tell. One question you're probably asking yourself is: "Why does my dog jump on me?" Having a dog comes with some behaviors you may either really enjoy or struggle to tolerate. From licking your toes to barking at the mail delivery person to following your every move as you fry up some bacon in the kitchen, dogs are undoubtedly full of fun and intriguing quirks.  Sometimes, you may find these quirks endearing. You may find it adorable when they snuggle up next to you or look at you with their tongue sticking out at you.
Other times, you may find their behavior annoying and troublesome, such as when they bark at strangers or growl at the vacuum. No matter the type of entertainment your dog's response may be, it's part of what makes dogs, so fun to have around. Most dog owners are bound to discover one typical behavior from them at one point or another is when your dog tries to jump on you. This act of jumping can range greatly, most often depending on the breed and size of the dog. While this jumping up on you may be harmless at times and something you may find endearing and cute, it can quickly spiral into a harmful habit that both you and your house guests no longer appreciate.
As it turns out, there is no one apparent reason why your dog may choose to jump up on you. Instead, their jumping response may be due to various reasons, all depending on their mental, emotional and physical state. It also is dependent on their personality and what kind of habits they have already established in your home. Dogs of all sizes can develop a habit of jumping up on you at any time, which means some dogs may be more adorable in their jumping than others.
If you find that your dog jumps up on you all too often, it may be time to address the underlying reasoning why your dog may be jumping. As there are several reasons for this behavior, it's essential to pay close attention to their behavior and other indicators that can help you identify exactly what is causing your dog to jump. To help get you started specifying their reasons, our team will share some key reasons your dog may be jumping up on you. We'll also share some practical tips you can use to get them to stop jumping up on you.
Before scrolling down this article "Why Does My Dog Jump On Me," here are similar questions you're probably curious about: Why Does My Dog Lick My Eyes and Why Does My Dog Sleep On Me?
Reasons Why Your Dog Jumps on You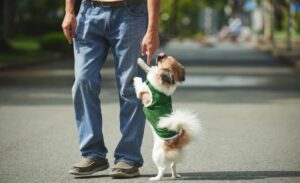 When your dog jumps on you, it may not bother you at all. It may be an annoying habit of theirs that you want to stop as soon as possible. To properly align their behavior, it's important to know why they are choosing to jump on you.
1. Excitement
Perhaps one of the most apparent reasons your dog may choose to jump on you is because of their excitement in seeing you. Maybe you know the scene well. You come in after a long day at work to greet your dog. They are so excited to see you and eager to spend time with you that they will jump up on your legs to say hello. Even after you push them down, they may continue to want to greet you, often accompanied by licks and sniffs. While this reason for your dog jumping up on you can be a fun way to be welcomed and appreciated by your dog, it can soon become annoying when your dog does not know when it's time to stop with the jumping.
They may not contain all of their energy and excitement and can't help but keep jumping on you to show their owners love and eagerness to see you. This excitement also extends out of their need for attention and affection in dogs. Depending on your dog, this can happen in greeting you whether you've been gone for just a couple of hours or several days. In either case, your dog is excited to see you and can't wait to spend more time with you. This also tends to be the case with dogs who have much more active and lively personalities. They may be carrying around a lot of energy and may often choose to jump up on you as a way to release that energy.
Related Dog Question: Why Does My Dog Follow Me And Not My Partner?
2. Stressed Out
Another strong emotion that may manifest itself in jumping up on you may be being stressed out or fearful of a particular situation. A dog jumping up signifies that they desire physical contact to help support them or provide them some comfort. If you are not often giving them attention, they may be feeling hurt, rejected, and stressed out. Similarly, suppose they find themselves in an uncomfortable situation in which they are not familiar with the environment or with their people. In that case, they may also choose to seek attention and affection from someone they know and trust. While it may not be the most beneficial way of showing it, the jumping up could indicate that your dog needs some care, compassion, and patience as they work through mental and emotional difficulty.
Related Dog Guides: What Should I Do If My Dog is Panting, Shaking, and Clingy and Nutracalm For Dogs.
3. Display of Dominance
Another reason for a dog jumping up on you may be their desire to exhibit their sense of dominance in the house. This reason is a behavior that should not be supported. A stubborn or authoritarian personality is not something to be tolerated by any family member. You can notice if this is the cause by paying attention to other side habits and responses, such as a stubborn attitude or putting themselves above their family. Proper training can be precious in addressing these negative behaviors and finding alternative ways to feel confident and safe inside the home.
Related: Why Does My Dog Slap Me in the Face?
How To Make Your Dog Stop Jumping On You
While your dog jumping on you can be seen as endearing at times, it may also soon become an annoying and frustrating habit that you're not sure of how to stop or prevent in the future. To get your dog to stop jumping up on you, it's essential to understand the real reason why your dog is choosing this outlet for their energy or emotion. Knowing the reason can help you address the situation and help your dog live happily and healthily. It can also help you to stop their behavior and create a better greeting and interaction experience for all who encounter your dog.
For example, for dogs who jump up on people out of a sense of excitement and energy, you may currently be unintentionally supporting their behavior. When you respond to your pet's jumping up with petting and hugging, you are telling your dog that you support that kind of behavior. Instead, you may want to stop them from jumping up on you by telling them to sit. When they respond appropriately, it's time to shower them with praise and love. You can use tactics like withholding attention from your dog until they listen to your command to stop jumping. As most dogs respond well to positive reinforcement, it's important to reward their positive behavior when they display it.
On the other hand, if their expression of jumping up on you results from their need to be dominant and aggressive in their approach to treating others, it's important to engage the dog in behavioral training. In training, you can turn these negative habits into a more positive response. This behavior change may also help in more areas than just them jumping up on you. If they have displayed other dominant behaviors, they may also be remedied with intentional training and care.
More Dog Questions: Why Does My Dog Lick My Arm and Why Does My Dog Stare Into Space?
Conclusion For "Why Does My Dog Jump On Me"
Care for your dog's physical and mental health by identifying what the underlying cause for their jumping on you is. While it can be seen as a way to express their affection and excitement to see you, it's also not behavior that needs to be tolerated.
For more dog questions and guides, you can check out:
If you want to stop this behavior, you can watch "Teach Your Dog To Stop Jumping Up in 4 Simple Steps" from McCann Dog Training down below: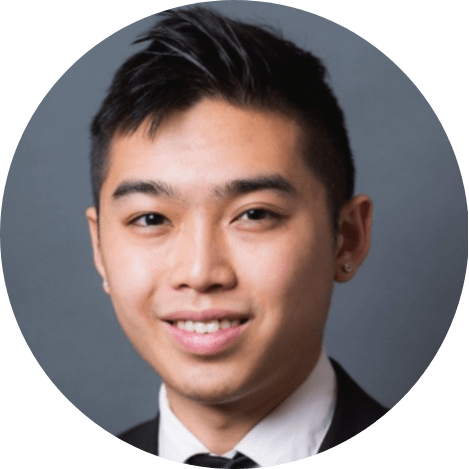 Andy is a full-time animal rescuer and owner of a toy doodle. When he's not saving dogs, Andy is one of our core writers and editors. He has been writing about dogs for over a decade. Andy joined our team because he believes that words are powerful tools that can change a dog's life for the better.
Why Trust We Love Doodles?
At We Love Doodles, we're a team of writers, veterinarians, and puppy trainers that love dogs. Our team of qualified experts researches and provides reliable information on a wide range of dog topics. Our reviews are based on customer feedback, hands-on testing, and in-depth analysis. We are fully transparent and honest to our community of dog owners and future owners.