A responsible owner's first priority is their dog's health and well-being. That's why when they see the skin of a sensitive region like the scrotum peeling, it's understandable for them to panic. So, why are your dog's balls peeling?
This could happen for a variety of reasons. Some are harmless, such as rejuvenation of the skin, or extremely dangerous, such as testicular infection. Either way, it's best to take your dog to the vet to determine the cause.
Keep reading to learn more about the causes of peeling and treatment options.
Before you read this guide, "Why Are My Dog's Balls Peeling," check out: Can a Neutered Dog Still Mate? (2023) and Why is My Female Puppy Humping? (2023).
What Healthy Dog Balls Look Like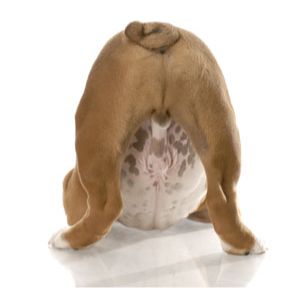 Before we talk about why a dog's balls might peel, let's discuss what normal dog testicles look like. There will inevitably be some variation because every dog is unique.
Generally, grayish testicles are the norm for canines. They could look more pink or brown on your dog, depending on his skin tone. The balls' skin tones, like those of the rest of the body, will vary from each dog. The fur on some dogs may also alter their appearance.
Dogs with black coats will almost certainly already have balls of the same color. However, even if this occurs, the color might become even darker, which might be cause for concern.
When they are very young, male puppies won't seem to have any balls at all, despite the fact that they do. They won't begin to "drop" until between the ages of two and six months. Pay attention to them from the moment they first appear. You need a standard against which to judge any changes in appearance.
Is Peeling Dog Balls Normal?
The dog's balls peeling is definitely not normal. In most cases, peeling is not an indicator of a life-threatening condition. To be more specific, the peeling can sometimes be a result of the skin being overly dry, and other times it can be an indication that the skin is healing and regenerating itself.
On the other hand, peeling can sometimes be a sign of a more serious health problem. It is crucial in such situations to pinpoint the root of the issue and develop an appropriate treatment plan.
In addition, peeling isn't the only possible pathology affecting the dog's balls. Some likely and frequent ball-related scenarios are listed below.
1. My Dog Has Peeling Balls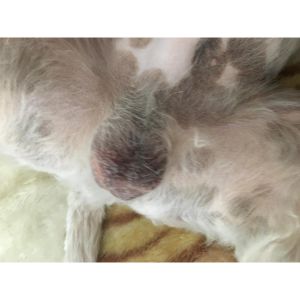 Dogs, like people, often experience peeling skin. On the other hand, due to the delicate nature of the affected area, owners may be more concerned when the peeling impacts the scrotal region.
Peeling can be caused by almost any condition affecting the skin. Peeling may indicate ongoing skin dryness and irritation, or it may indicate recovery, with the old layer of skin flaking off as new skin forms.
Let's examine the causes of peeling, which can spread to the balls over time:
Parasites
Parasites on the skin, especially those found on the surface, are a likely cause of peeling skin. Dogs with scabies or demodectic mange are more likely to experience this problem.
Dogs with this condition may experience peeling skin and other problems all over their bodies, but the balls may appear the worst. As luck would have it, these issues are easily resolved by merely removing the offending parasite from the surface. More serious cases may benefit from local treatment options.
Allergies
Food allergies, contact allergies, and environmental allergies are just a few of the allergens that can affect a dog. Dogs, unlike humans, don't experience itchy, watery eyes and noses when they're sick. Depending on the allergen, the itchiness may be widespread or localized.
During an allergic reaction, the groin and scrotum are particularly vulnerable and itchy. Supportive baths and local creams can help alleviate the dog's itching until the allergy seems to be under control.
Hormones
Skin problems and ulcers are common symptoms of many hormonal conditions. Hyperadrenocorticism (Cushing's disease) and hypothyroidism are the two most frequent issues. Both conditions cause a wide variety of symptoms, not just those related to the skin.
Hormonal disorders are challenging to treat and call for nuanced strategies.
2. My Dog Has Black, Peeling Balls
Skin that has been irritated for an extended period typically develops a darker appearance. When a dog lies down, the pressure and friction on its balls can cause irritation and damage to the skin of its scrotum.
The condition may be improving, and the skin of the scrotum may be beginning to heal if, in addition to being black, the balls are peeling. Once the balls have reached a darker color or even black, it is possible that they will remain that color permanently due to the high level of constant irritation that some dogs experience.
3. My Dog Has Red Balls
If your dog's scrotum is red without any other obvious changes, it likely has been irritated by something, most likely a chemical.
For instance, if you used a floor cleaner and your dog subsequently laid down on it, the chemical residues left behind could cause irritation. The irritation is most severe and noticeable on the scrotum because the rest of the dog's body is protected through the fur.
The dog's balls may turn red in the winter if he or she spends time outside in the cold weather and then warms up inside. The reason for this is that as the body's core temperature drops, blood flow also drops.
On the other hand, increased body temperature causes an increase in blood flow, which in turn causes a sudden rush of blood and, as a consequence, a reddening of the skin. The same thing happens in other parts of the body (ears, toes), but because they are hidden by fur, you can't see it.
4. My Dog Has Swollen, Red Balls
Redness and swelling of the dog's balls are also common symptoms. The following are some potentially life-threatening circumstances that could set off this scenario:
Orchitis
Orchitis, short for "testicular infection," is an infection of the testicles. It's possible for both testicles to be affected at once. A testicular infection is incredibly painful and also causes redness and swelling of the scrotum.
Some dogs may be unable to sit because the discomfort is too great. Long-term antibiotic treatment is usually effective for infections of any kind. The vet may suggest neutering as a permanent solution in extreme cases or for dogs with persistent testicular infections.
Testicular Torsion
Torsion of the testicles is yet another condition that can cause excruciating pain. Torsion of the testicles happens when the ball rotates and becomes twisted within its own canals and connective tissue structures. This is where the condition gets its name from.
It can affect either one or both testicles, just like an infection. Twisting reduces blood flow, which can result in lasting damage if not treated. A testicular torsion diagnosis is considered an emergency and necessitates prompt medical attention from a veterinarian and corrective surgery as soon as possible.
Sometimes redness and swelling in the scrotum are not caused by issues with the balls themselves but by a condition known as a scrotal hernia. This is because scrotal hernias can cause both symptoms.
Scrotal hernias occur when abdominal organs, such as the spleen or pancreas, migrate from the abdomen to the scrotal sac in dogs. Scrotal hernias require corrective surgery. Although scrotal hernias are typically unilateral, a widened inguinal canal on one side is often indicative of a widened canal on the other.
5. My Dog's Balls Have Sores
It's a different story when it comes to sores. The sight of sores on your dog's balls is even more terrifying than peeling, discoloration, or swelling.
Causes of scrotal sores could be any of the following:
Infections
Autoimmune disorders
Hormone imbalance
Neoplastic disorders
This cluster of health problems is a very complicated one. You will likely be referred to a veterinary specialist if your dog develops scrotal skin sores. Scrotal skin sores are always a sign of something more serious, so they should never be ignored.
How Can I Tell If My Dog Has a Ball Infection?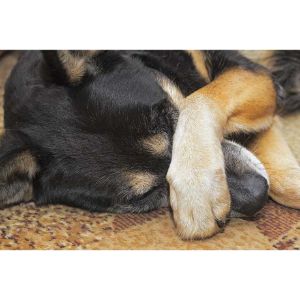 Having your dog examined by a vet is the best way to determine if his testicles are infected. Scrotal discomfort (pain, stiffness), failure to move freely (walking, sitting), and enlargement of the testicles are the most common symptoms of a scrotal infection in a dog.
In the absence of a prompt diagnosis and treatment from your veterinarian, it is highly probable that your dog will proceed to lick the scrotal region, which will exacerbate the underlying inflammatory reaction and irritation.
It would be helpful if you told the veterinarian about the symptoms that your dog is experiencing as well as any recent injuries that he may have had. If you are aware of any possible causes, it will be easier for you to help your dog, who will also experience less unnecessary suffering.
During the initial comprehensive physical examination, the veterinarian will palpate the scrotum to assess the level of swelling. The number of red blood cells, white blood cells, and platelets in the blood can all be tested with a total blood count. Your dog may have an infection in his testicles if his white blood cell count is high.
A chemical blood profile can check for abnormalities in glucose, protein, and electrolyte levels. A urinalysis is necessary because an overabundance of proteins in the urine, blood, or pus could indicate prostatitis or cystitis as the cause of the infected testicles.
An ultrasound of the testes, prostate, and epididymis can detect scrotal hernias, neoplasia, and granulomas.
If neoplasia is found, a biopsy will be necessary to determine if it is benign or malignant. Tests for bacteria and mycoplasma in cultured semen could aid in diagnosis.
Prevention of Peeling Dog Balls
There are some measures you can take to prevent the peeling of your dog's balls. The first thing you can do is give your dog a good bath. Regular grooming and clipping will keep his fur neat and clear of mats.
You should also keep an eye out for signs of irritation or inflammation in his balls. Take him to the vet immediately if you notice anything out of the ordinary. Finally, a dog's skin and coat can be kept healthy and problems like ball peeling avoided by feeding him a balanced diet.
Treatment for Peeling Dog Balls
When it comes to soothing the dog's scrotal skin problems, several options are available. Oatmeal baths, for instance, can be used to relieve itching caused by allergens and generally calm the skin.
Applying cold, whether in the form of a compress, or an old-fashioned bag of frozen peas, can help reduce swelling and pain. Antibiotic creams and ointments can be used in the event that they develop open wounds or severe inflammation. Coconut oil, or even CBD oil, can be used to prevent the skin from drying out and peeling.
However, these are only symptomatic, or temporary, solutions. Your dog will benefit in the long run from a professional diagnosis. Talk to your dog's trusted veterinarian first before applying anything to his scrotum. The vet will almost always advise scheduling an appointment.
You can do a few things to help your dog feel better while waiting for the vet appointment, but remember that anything you do must be done as directed and approved by the vet. Self-treatment for your dog, like self-treatment for anything else, can backfire.
Frequently Asked Questions
Why are my dog's balls red and crusty?
Your dog's testicles can develop an infection called epididymitis, which can appear red and crusty.
What are the signs of STDs in a male dog?
A dog suffering from brucellosis may have swollen testicles, be lethargic, or struggle to walk.
Why is the skin on my dog's balls turning black?
As male dogs age, they get more skin pigmentation, which can look like dark spots.
Conclusion for "Why Are My Dog's Balls Peeling"
Although it's natural for you to panic if you find that your dog's balls are peeling, there's usually nothing to worry about. Nevertheless, you should take your dog to the vet to rule out any underlying health complications.
If you find this guide, "Why Are My Dog's Balls Peeling," helpful, check out:
Learn more by watching "Dog Balls! – How to check your dog's testicles for lumps and bumps" down below:
Garrett loves animals and is a huge advocate for all Doodle dog breeds. He owns his own Goldendoodle named Kona. In addition, he volunteers at the Humane Society of Silicon Valley, where he fosters dogs and helps animals. Garrett enjoys writing about Doodles and believes that dogs can teach humans more about how to live than humans can teach a dog.
Why Trust We Love Doodles?
At We Love Doodles, we're a team of writers, veterinarians, and puppy trainers that love dogs. Our team of qualified experts researches and provides reliable information on a wide range of dog topics. Our reviews are based on customer feedback, hands-on testing, and in-depth analysis. We are fully transparent and honest to our community of dog owners and future owners.