You've likely heard of the Dalmatian dog breed… or not, considering that they are no longer as popular as they once used to be. But what are the real reasons why Dalmatians are not as popular?
Dalmatians are no longer popular because of their increased potential for health risks, their high levels of activity, their training difficulty, their high-maintenance grooming requirements, and other factors that give them a bad reputation.
Read below as we discuss these reasons in detail and whether there is any truth to them.
Before you scroll down to this guide, "Why Are Dalmatians Not Popular," check out: 8 Best Long-Haired Dalmatian Breeders in the USA! (2023) and Dalmadoodle Information, Facts, Images! (2023).
Reasons Why Dalmatians Are Not Popular
The following are some reasons why Dalmatians are not popular.
Health Risks
There are several diseases that are more common in Dalmatians than others. Deafness is one of the most common problems in Dalmatians, affecting about 30% of the breed. They also have an increased risk of urate stones, which are similar to kidney stones and caused by a genetic predisposition.
Unlimited Energy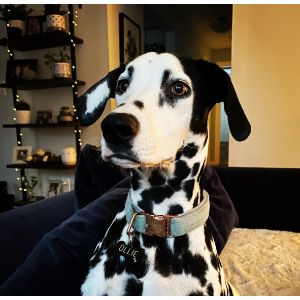 Due to their origins as carriage dogs, Dalmatians are high-energy pets who require regular playtime. This can be difficult for people who don't get much exercise or who don't have room to let them run around.
Difficult to Train
Training a Dalmatian can be more difficult than other dog breeds because of the breed's notorious tenacity. Training strategies that are persistent, patient, and based on positive reinforcement are often necessary.
Not Child-Friendly
Because of their high levels of energy and strength, Dalmatians may accidentally knock over children when they are playing. They have a strong need to hunt and may mistake the antics of young children at play for signs of prey.
High Grooming Requirements
Dalmatians' short coats may make them appear low-maintenance, but they actually shed heavily. For those who would rather not deal with dog hair, this may be a deal-breaker.
Problems in Socialization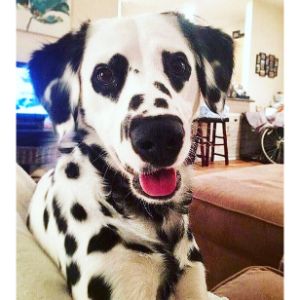 Dalmatians are known for their shyness and reluctance to open up to new people. While early and consistent socialization is essential for all dogs, some prospective pet parents may find comfort in selecting a breed that is more outgoing by nature.
Allergies
There is a higher prevalence of skin allergies in Dalmatians because of their special uric acid metabolism. It's not only inconvenient but also expensive to give them regular baths and take them to the vet.
Size
Dalmatians are huge dogs that require a large yard. They prefer houses with big yards since they can run around and play more freely there.
Small Life Expectancy
Dalmatians have a limited life expectancy, ranging between 10 and 13 years. A longer life expectancy is desirable for some people. Keep in mind that this in no way implies that Dalmatians are undesirable as pets. They need only an owner who is willing and able to provide for their unique requirements.
Are Dalmatian Difficult Dogs?
In spite of the fact that they have a distinct appearance and are devoted to their owners, Dalmatians have earned a reputation for being high-maintenance dogs who call for a great deal of time and physical activity. This makes them a breed that is challenging for new owners to bring up.
Dalmatians have been likened to a high-maintenance car that needs constant care and attention from a knowledgeable owner. It might be difficult to train a Dalmatian because of their strong will.
They need a lot of physical activity and mental challenges to keep their destructive tendencies in check. Because of their intense hunting drive and protective nature, Dalmatians can be challenging to manage around other pets and children.
Dalmatians are not a good choice for apartment life or hectic schedules because of their needs. Given their boundless enthusiasm for physical activity, they are better suited to a suburban or rural setting.
In addition, in order for Dalmatians to thrive, they require a strict yet caring training regimen. An inexperienced owner may have a tough time establishing limits with their Dalmatian. Disobedience is frequently the result of both the environment in which the dog is raised and the training it receives.
Because of the amount of care and attention they require, Dalmatians aren't the best choice for everyone, despite the fact that they make wonderful companions in the hands of the proper owner who is ready to put in the work and time spent on it.
Are Dalmatians the Rarest Dogs?
Do Dalmatians rank among the rarest of dog breeds? Absolutely not. An example of a rare dog would be the Norwegian Lundehund. In spite of this, it's undeniable that there are not a great number of Dalmatians.
The American Kennel Club compiled a list of the most popular dog breeds across the US in 2022. What about the Dalmatian? Dalmatians are the 49th most popular dog breed.
The rules of supply and demand are observed by dog breeders, just as they are by any other type of retail establishment. Dalmatians aren't as popular as, for example, Labrador Retrievers or even Golden Retrievers (which came in at a respectable second and third on the AKC's 2022 list).
As a result, there may soon be limited Dalmatians available from breeders. As a result, the breed will remain extremely rare.
Why You Should Adopt a Dalmatian
In order to help you determine if a Dalmatian is the ideal dog for you, let us also discuss some of the breed's best qualities.
Extra Attention
Most people would be surprised to see you out with a Dalmatian instead of a Frenchie or Golden Retriever. Dalmatians stand out from the crowd because of their white fur and black spots.
When you consider how uncommon they are, you can rest assured that you and your dog will always be the topic of conversation.
Devotion
While some choose a dog that gets along with everyone, others prefer one that will only show loyalty to its human family. The Dalmatian is more at home in the second group than the first. Dalmatians have an unwavering devotion to their human companions.
When it comes to unfamiliar people, the Dalmatian will keep a watchful eye out for them; the reasoning behind this decision will become clearer in just a bit. However, if a Dalmatian spends enough time with a person and comes to trust them, the dog may begin to warm up to them.
Sensitivity
What about a dog that has a soft side to them? If this is what you're after, the Dalmatian is an exceptionally sensitive dog. Due to the sensitive nature of the dog, it's essential for the Dalmatian's everyday routine to include the company and attention of their person.
There will be plenty of chances for you to pet your dog and give it lots of affection.
Playfulness
The Dalmatian is full of life and energy, guaranteeing that you will have a wonderful time together. Once you bring a Dalmatian into your home, you'll rediscover a part of yourself you may have forgotten about: your playful side.
Energetic
Because the Dalmatian is not a particularly laid-back breed of dog, you never need to worry about getting bored with them. Dalmatians have almost endless energy, which pairs well with their lively nature.
The best way to prevent the Dalmatian from being destructive is to provide it with regular opportunities to release its boundless supply of energy through vigorous indoor and outdoor play.
Protective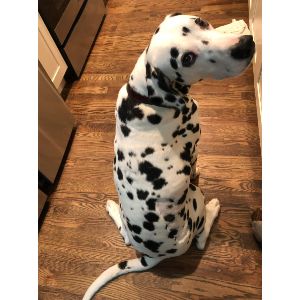 Are Dalmatians known for their protective nature? Dalmatians certainly have a reputation for being excellent guard dogs.
People often highlight their Dalmatian's protective nature while discussing the dog's personality. Dalmatians have a predisposition toward being vigilant watchdogs, meaning they enjoy keeping tabs on the events in and around the house.
This explains why Dalmatians can be wary of new people. Their guard is immediately up due to the fact that they are unfamiliar with that individual. Your Dalmatian will alert you to any potential danger, whether it's the pizza guy, the plumber, or someone more sinister.
Great for Older Children
This breed may not be the best if you have toddlers. Dalmatians are prone to becoming huge, active canines that may trip or accidentally step on a child.
However, Dalmatians are an excellent pet choice for slightly older children to add to the family. You will at long last have a buddy who is vivacious and energetic enough to keep up with your children.
It's possible that your dog and the kids will wear each other out, which is good news all around! However, it is still important to supervise playtimes and ensure that youngsters and the dog have adequate opportunities for socializing.
Able to Learn Quickly
Is there something special you'd like your Dalmatian to learn? Dalmatians are eager to pay attention, particularly when they know that they will be rewarded with tasty treats. Dalmatians have a high IQ and are very motivated by food. Compared to other breeds, they should be relatively simple to teach.
That means you'll have an easy-to-train dog partner. Your Dalmatian should be able to learn simple commands like "fetch" and "lie down" as well as more complex ones.
Naturally, you should make use of positive reinforcement in order to hammer home the lessons you've been trying to establish, such as offering vocal praise and perhaps some goodies every once in a while.
Frequently Asked Questions
Are Dalmatians aggressive?
Dalmatians should not be inherently aggressive, but they can be wary of other people.
Why don't Dalmatians make good pets?
Dalmatians are not good pets for everyone. In the wrong environment, they can be destructive when their physical and mental needs aren't being met.
Why don't Dalmatians smell?
Compared to other dog breeds, Dalmatians don't smell due to their sleek coat and heavy shedding.
Conclusion

for "Why Are Dalmatians Not Popular"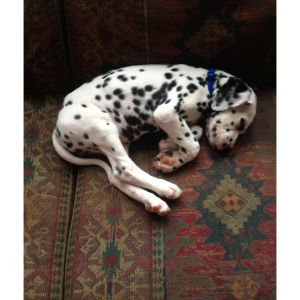 When properly socialized, Dalmatians make fantastic family pets. This adorable breed has won the hearts of many people all around the world.
It's a really big disparity when you think about how well-known Dalmatians are and compare that to how few new Dalmatians are registered every year. That said, it would be great to see this breed explode in popularity and quickly climb the rankings.
If you find this guide, "Why Are Dalmatians Not Popular," helpful, check out:
Learn more by watching "Top 7 SUPER COOL Dalmatian Facts – Dalmatian Dog Breed" down below:
Garrett loves animals and is a huge advocate for all Doodle dog breeds. He owns his own Goldendoodle named Kona. In addition, he volunteers at the Humane Society of Silicon Valley, where he fosters dogs and helps animals. Garrett enjoys writing about Doodles and believes that dogs can teach humans more about how to live than humans can teach a dog.
Why Trust We Love Doodles?
At We Love Doodles, we're a team of writers, veterinarians, and puppy trainers that love dogs. Our team of qualified experts researches and provides reliable information on a wide range of dog topics. Our reviews are based on customer feedback, hands-on testing, and in-depth analysis. We are fully transparent and honest to our community of dog owners and future owners.