Guessing the size of a hybrid dog breed can pose some challenges, mainly when the parents belong to different size groups. For example, do you want to know how big is a full-grown Bordoodle? Is this breed available in different sizes?
Thankfully, this comprehensive guide will break down the various size choices for this hybrid dog and how they measure up as full-grown Bordoodle adults. This way, as a potential dog owner, you can adequately prepare for your four-legged best friend.
Before scrolling down this guide, "When Is a Bordoodle Fully Grown," check out: 8 Best Bordoodle Breeders in the U.S. (2023) and 8 Best Bordoodle Rescues in the United States! (2023).
How Big Do Bordoodles Get?
Bordoodles, also known as Borderpoos, Bordpoos, and Borpoos, are the result of breeding a purebred Border Collie with a Poodle. Although the Bordoodle is not a recognized and registered breed by the American Kennel Club standards, that doesn't stop dog lovers from seeking it out as their pet of choice.
The average Border Collie will measure between 18 and 22 inches tall at maturity and weigh between 30 and 55 pounds. This medium-breed dog is a terrific choice to pair with other dogs of alternative sizes to create hybrid options.
Because this mixed breed includes a Poodle parent, many breeders will extend their genetic lines to have various sizes of Poodles. As a result, one Bordoodle litter can offer significantly larger puppies than another.
Breeders don't need to adhere to a Bordoodle standard, making the market open for various sizes and colors to suit any dog lover. Therefore, a full-grown Bordoodle dog can be 15 to 25 inches tall and weigh anywhere from 20 and 70 pounds.
Because of this wide range, potential dog owners should discuss their target litter sizes with the breeder and the factors influencing how big the puppies get. But, on average, a typical Bordoodle will measure around 18 inches tall and weigh 45 pounds.
Estimating the Size of a Bordoodle Full-Grown
There are several ways to estimate how big your Bordoodle will be when it reaches adulthood. Sometimes these methods will return an accurate prediction, while others may be misleading.
Use an Online Dog Sizing Calculator
The internet is an excellent resource for many new pet owners searching for helpful information about their pets. A free online dog sizing calculator is one tool that can sometimes give owners a prediction of how big full-grown Bordoodle puppies will be.
Users will input their pup's age by days, weeks, or months, along with their current weight in ounces, pounds, grams, or kilograms, to generate a result. Some calculators include an option to select a breed if you use one of your Bordoodle's parents as a point of reference. However, it isn't necessary and can skew the calculation.
Use a Manual Calculation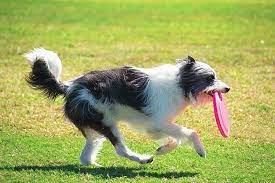 One simple manual calculation can often give results close to your pet's mature size. This formula is easy to do when your puppy is four months old. Just weigh your dog once they reach 16 weeks and double it to find out how big it will be as an adult.
While this manual calculation seems like the easiest way to determine the size, it isn't foolproof. Many factors can alter the accuracy, including mixed-breed dogs or parents' sizes since small dogs mature more quickly than large breeds.
A Bordoodle Growth Chart
Sometimes, referring to a growth chart can help pet owners estimate how big their Bordoodle will be when it is fully grown. Although you can't count on the values to be 100 percent accurate, they can indicate the average size of a full-grown Bordoodle.
| | | | | |
| --- | --- | --- | --- | --- |
| | 8 Weeks | 16 Weeks | 6 Months | 1 Year |
| Toy | 3.12 pounds | 9.75 pounds | 12.2 pounds | 15 pounds |
| Miniature | 6.89 pounds | 15.95 pounds | 24.37 pounds | 30.74 pounds |
| Standard | 9.63 pounds | 24.08 pounds | 33.3 pounds | 53.33 pounds |
Talk to Previous Clients
Talking to other Bordoodle owners from the same breeder can also help gauge how big your new puppy will be as an adult. Many reputable breeders allow potential clients to see photos and reviews and chat with individuals who adopted a puppy from them previously.
One essential caveat when exploring previous litter sizes is the breeding parents of each litter. When breeders alternate sires and dams, estimating the future size of a puppy can be challenging without a previous reference.
At What Age Is a Bordoodle Full-Grown?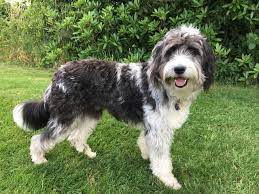 The timespan puppies need to be full-grown Bordoodles will differ, mainly due to their size. Generally, smaller dog breeds will mature faster and finish growing sooner than large and extra-large dogs. This is because bigger dogs require more time to develop their bones and growth plates than small dogs do.
Determining the age of a Bordoodle fully grown will depend on how big they will be due to their Poodle parent's genetics. So let's explore the many ages your Bordoodle will stop growing.
Bordooodles With a Toy Poodle Parent
Toy dog breeds often mature faster than larger dogs. Although you can expect a Toy Poodle to finish growing between six and eight months old, a Border Collie will need more time since it's a medium-sized dog.
Therefore, depending on how big the Border Collie parent is when paired with a Toy Poodle, the litter of puppies can be fully grown anytime after six months old and up to eight months.
Bordoodles With a Miniature Poodle Parent
Miniature Poodles fall under the medium-sized category, even though their descriptive size is mini. In addition, these Poodles are often more evenly matched with a Border Collie to provide offspring with less size variance than other parents.
Bordoodles that breed with Miniature Poodles will often reach their adult size at approximately 11 to 13 months.
Bordoodles With a Standard Poodle Parent
Bordoodles from Standard Poodle parents are the largest version of this hybrid breed. These full-grown Bordoodle puppies will generally be bigger than their Border Collie parent but not as large as the Poodle.
This size of dog tends to require more time to grow to adulthood. Pet owners with this Bordoodle can expect the animal to stop growing between 12 and 16 months.
What if My Dog Is Smaller Than Expected?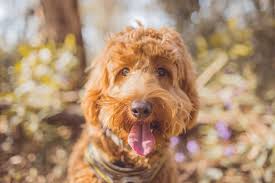 There can be situations where a Bordoodle puppy does not grow to the size its owner expects. Several other factors can impact your puppy's growth rate and how big it will be as an adult.
Therefore, if you are still waiting for your dog to reach its expected adult size but it is well past its age of maturity, something else could be affecting it.
The secondary elements that could cause your Bordoodle to be smaller include:
Sex
Recessive genetics
Sterilization
Health issues
Sex
Males and females will differ in size in many dog breeds, including the Poodle and Border Collie. So if you have a female Bordoodle, it's possible she won't be as big as her male littermates.
This variance is nothing to worry about and is completely normal for these dogs. However, it isn't always the case, as some males will be slightly smaller than females. So, your female Bordoodle may be just as large or bigger as her brother when mature.
Recessive Genetics
Although many reputable breeders will choose exceptional dams and sires for their breeding program, recessive genetics can contribute to litters of future generations. Even if both parents are identical in size, offspring can carry genes from previous generations that will cause a puppy to be smaller than expected.
As long as the puppy is otherwise healthy and active, these runts can be visibly smaller than their siblings and may remain smaller, even in adulthood.
Sterilization
Having a dog undergo sterilization can affect its overall growth rate. In some dog breeds, like Standard Poodles, having this procedure too early can interfere with how their growth plates and bones develop.
Neutered or spayed puppies may mature into smaller dogs than expected, causing concern for their owners. In addition, proper monitoring for hip dysplasia and other bone-related ailments is necessary for smaller-than-expected Bordoodles who receive sterilization early in life.
Consequently, this element is less common for small dog breeds, like the Toy Bordoodle. However, it's more apparent in larger dogs, like the Standard Bordoodle, and requires continuous veterinarian monitoring and care as they age.
Health Issues
Unfortunately, one significant factor affecting a Bordoodle's adult size is underlying health issues. A puppy can experience a slow growth rate, stunted growth, or irregular growing phases if it is unhealthy.
Several common factors that could cause a puppy not to grow appropriately include:
Congenital heart defects
Congenital hypothyroidism
Diabetes
Kidney issues
Intestinal worms
Liver problems
Nutritional deficiencies
Pituitary dwarfism
If you have any concerns about your Bordoodle's health and how it may be affecting its size, talk to your veterinarian. A professional can examine your pet and help determine if there are existing conditions that require treatment and care as your puppy grows.
Frequently Asked Questions
How big is a Standard Bordoodle?
A Standard Bordoodle can weigh anywhere from 45 to 60 pounds.
What is the personality of a Bordoodle?
Bordoodles are generally friendly, social, intelligent dogs.
How smart are Bordoodles?
Given that Poodles and Border Collies are some of the smartest dog breeds, Bordoodles are highly intelligent.
Conclusion for "When Is a Bordoodle Fully Grown?"
Finding the right answer to how big will a full-grown Bordoodle get and when they stop growing can involve many contributing factors. First, it's important to remember that every dog is unique, will not finish growing at the same time as others, and can vary in size as an adult.
Depending on the Bordoodle type you choose as your new pet, it can be fully grown as early as six months or as late as 14 months old. Consequently, the smaller your puppy's parents are, the less time your pet needs to grow since larger dogs take longer to reach maturity.
Therefore, examining the Bordoodle's parents, keeping regular measurements, and comparing littermates can all be excellent ways to help estimate when your dog is fully grown. However, if you have any serious concerns about your Bordoodle's size, you should contact your veterinarian for guidance.
For more guides related to this topic, check out:
You can learn more about this breed by watching "10 Things only Bordoole dog owners understand | Poodle Mixes World" down below:
Garrett loves animals and is a huge advocate for all Doodle dog breeds. He owns his own Goldendoodle named Kona. In addition, he volunteers at the Humane Society of Silicon Valley, where he fosters dogs and helps animals. Garrett enjoys writing about Doodles and believes that dogs can teach humans more about how to live than humans can teach a dog.
Why Trust We Love Doodles?
At We Love Doodles, we're a team of writers, veterinarians, and puppy trainers that love dogs. Our team of qualified experts researches and provides reliable information on a wide range of dog topics. Our reviews are based on customer feedback, hands-on testing, and in-depth analysis. We are fully transparent and honest to our community of dog owners and future owners.