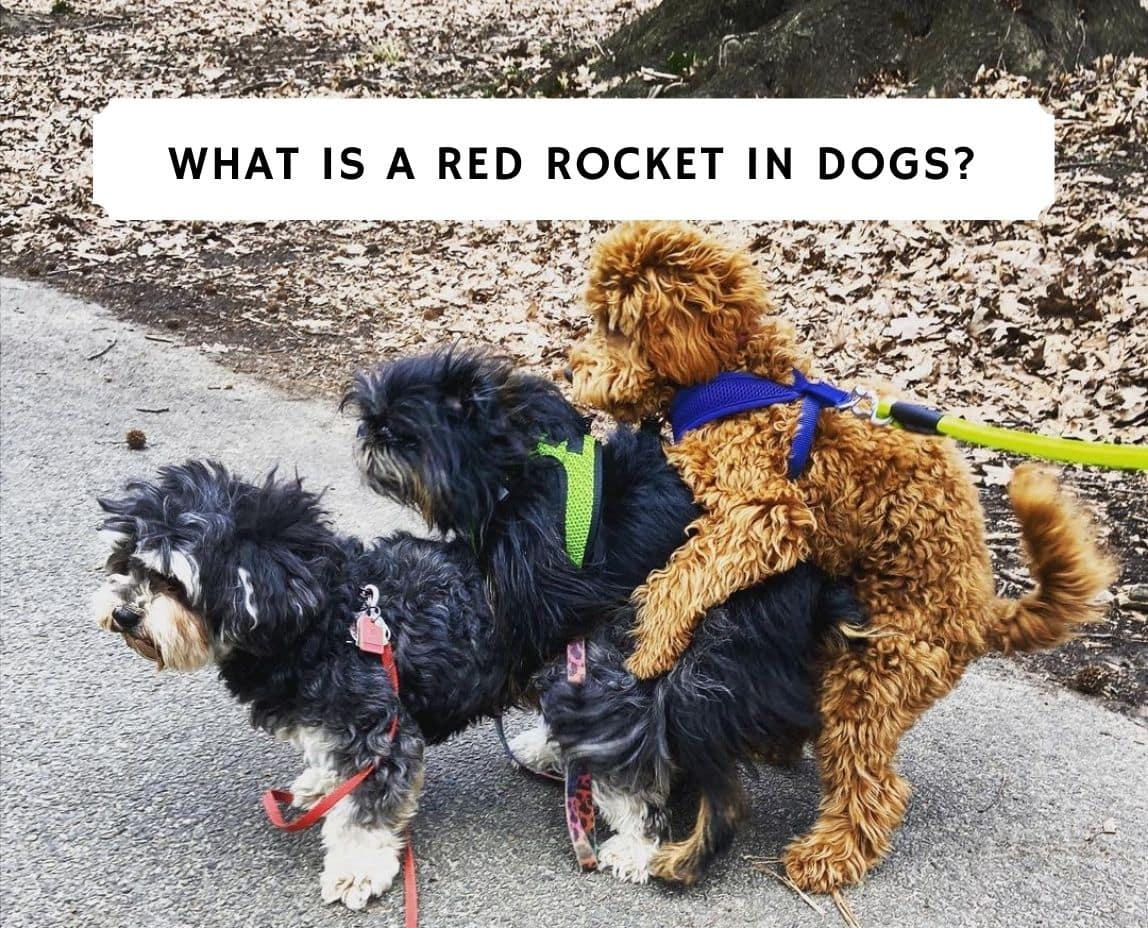 Being a dog owner brings many wonderful experiences to your life, but with the good comes the bad. Picking up poop, discovering your favorite shoes shredded to pieces, and dealing with doggy vomit are just a few of the less than fun aspects of dog ownership.
But if you have a male dog, you're likely to encounter another uncomfortable situation at some point. When you least expect it, your beloved dog will roll over onto his back, practically begging for a belly rub, and you'll get more than you bargained for: a glimpse of the dreaded red rocket.
If you've found yourself in this situation and wonder if it's something you should worry about, you've come to the right place. This article will guide you through everything you need to know about a red rocket in dogs.
So, What Is a Red Rocket in Dogs?
"Red rocket" is a colloquialism. It refers to the sudden–and often shocking–appearance of a dog's penis. Lots of people also refer to it as dog lipstick. Whatever name you prefer, a flash of the red rocket can cause embarrassment, especially in mixed company.
The term red rocket describes the dog's actual penis. Typically, we don't see the penis because it usually stays in the "prepuce." The prepuce is the furry, visible part of your dog covering the penis when it's not erect. (Though in some dogs, the prepuce is not furry.)
All things considered, the name is pretty apt. Dog erections are pinkish-red and stiff, and they look just like little rockets or tubes of lipstick.
Why Do Dogs Get Red Rockets?
You've probably already guessed, but one of the primary reasons is arousal. But what may surprise you is that this arousal can be sexual or not–in many cases, it has nothing to do with mating. Dogs get red rockets for both physical and behavioral reasons, too.
Behavioral
Most of the time, dog erections have to do with behavioral factors. Some of the behavioral reasons for dog lipstick include:
Excitement
Happiness
Fear
Anxiety
Excitement is a pretty significant factor. Think about times when your dog had a red rocket in decidedly non-sexual situations. They probably occurred when your pup was overexcited or overstimulated. All kinds of things can cause dog lipstick: your arrival home from work, a trip to the dog park, or even training can all do the trick.
Physical
There are also some physical reasons you might see your dog's penis. These include:
Hormone disruption
Sickness
Infection
Medical abnormalities
These reasons may cause a condition called paraphimosis, an issue that we'll go over below. You should also be aware that medical abnormalities may be to blame: some dogs have a penis that sags out of their prepuce for long times. Others have a size discrepancy that causes their penis to show, and they may have a dry penis as a result.
How Long Does a Red Rocket Last?
The good news is that dog lipstick sightings are short-lived, especially if you ignore them. And you'll probably want to. Most people don't enjoy seeing it, and some find that it actually turns them off petting or interacting with their dog.
What Should I Do About My Dog's Lipstick?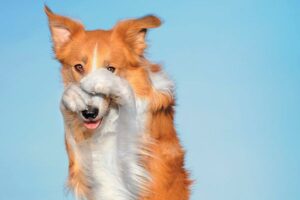 Many pet owners wonder if dog lipstick is something they need to actively manage. What should you do, if anything?
The answer is that you don't generally need to do anything. An erection is not harmful to the dog in most cases. Just let the moment pass, even though it might be embarrassing or uncomfortable. Further, if you pay too much attention to it, you might accidentally encourage or reward this reaction.
Having said that, male dog owners should be aware of one exception: paraphimosis.
What Is Paraphimosis?
Paraphimosis refers to a medical condition where the dog's penis won't pull back into its prepuce. A pup suffering from this condition will look like he's aroused, even though he's not. It's a painful thing for the dog and also constitutes a veterinary emergency.
When left untreated, paraphimosis may lead to potentially severe tissue damage. It can also cause infection and necrosis and impact your dog's ability to pee. The good news is that if caught early, the prognosis is good.
How To Identify Paraphimosis
How can you tell if your dog's lipstick has crossed into dangerous paraphimosis territory? Here are some clues that will help you identify if something is wrong.
First, how does your dog's penis look? Paraphimosis causes it to have a more extreme appearance than a typical red rocket. You'll be able to see a larger part of his penis than normal, and it's likely to be swollen and purplish. (Remember that a dog's penis is pink or red.) Your pup will also probably exhibit signs of discomfort, including excessive licking of the area.
Uncomfortable though it may be, it's helpful to be aware of what your dog's erections usually look like. That way, if something changes, you'll understand the difference. Not sure if something's up? When in doubt, a call to the vet can help put your mind at ease.
How To Treat Paraphimosis
Your vet will determine the cause and treat it accordingly. Sometimes hair gets stuck at the base of the glans and needs to be removed. Other times, surgery may be necessary to correct a medical issue, such as a deformity or a tumor.
Do Neutered Dogs Get Red Rockets?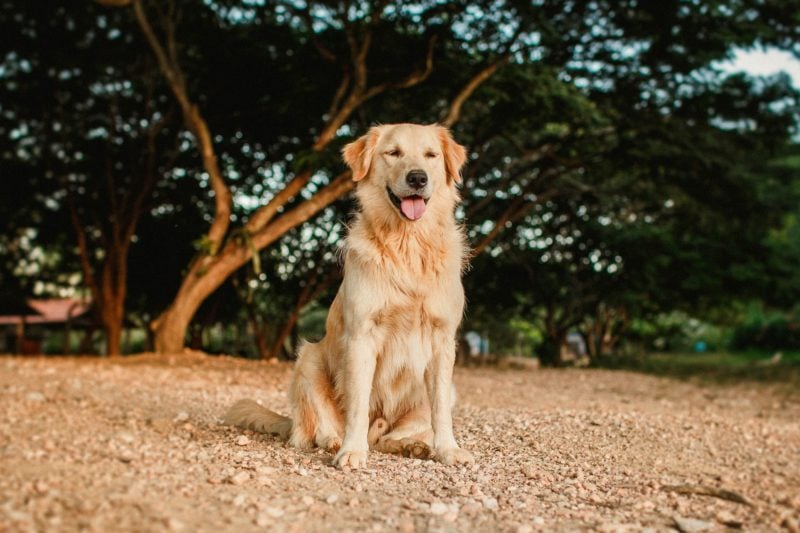 Neutered dogs can't get female dogs pregnant, but they can certainly still have erections. As we discussed above, sexual arousal is just one reason dogs get red rockets. Plenty of other things can cause an appearance, so it's not unusual to see a neutered dog get an erection.
The Bottom Line on Dog Red Rockets
In this article, we've provided you with all the key information to answer, "What is a red rocket in dogs?" Now you know that dog lipstick is perfectly normal and usually harmless. Still, keep in mind that in some rare cases, a red rocket that doesn't go away could indicate a problem. If your dog's penis is swollen and he seems to be in distress, a call to your vet is the best course of action.
Other articles you would like:
Garrett loves animals and is a huge advocate for all Doodle dog breeds. He owns his own Goldendoodle named Kona. In addition, he volunteers at the Humane Society of Silicon Valley, where he fosters dogs and helps animals. Garrett enjoys writing about Doodles and believes that dogs can teach humans more about how to live than humans can teach a dog.
Why Trust We Love Doodles?
At We Love Doodles, we're a team of writers, veterinarians, and puppy trainers that love dogs. Our team of qualified experts researches and provides reliable information on a wide range of dog topics. Our reviews are based on customer feedback, hands-on testing, and in-depth analysis. We are fully transparent and honest to our community of dog owners and future owners.