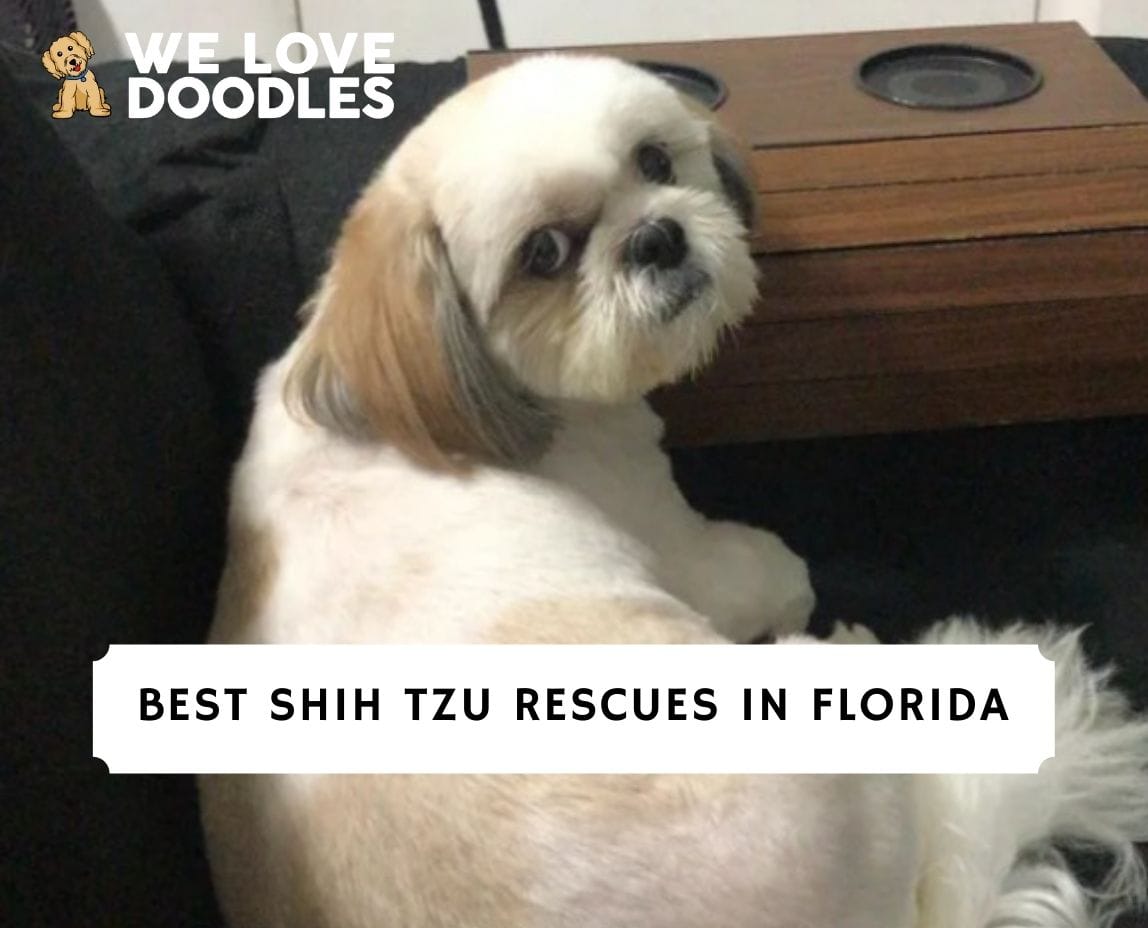 Here's what you need to know if you're searching for the best Shih Tzu rescues in Florida. In Mandarin, Shih Tzu may mean "little lion," but these adorable dogs are far from being aggressive.
They are lovers, not hunters. This may be the dog for you if you want a small best friend who can live in an apartment, join you on the couch for cuddles, and show unconditional love.
Before scrolling down this list of Shih Tzu rescues in Florida, check out these other recommendations from our team at We Love Doodles: Best English Bulldog Rescues in Florida and Best Yorkie Rescues in Florida.
Shih Tzu Rescues Near Me in Florida
What are you waiting for? Adopt a Shih Tzu if you want an intelligent, energetic, and adorable pet. It will always make you happy. Listed below are some of the best Shih Tzu rescues in Florida.
Shih Tzu Product Recommendations: Best Paw Cream For Dogs and Best Scissors For Grooming a Shih Tzu.
1. Shih Tzu Rescue
Shih Tzu Rescue, Inc. (also known as Shih Tzu and Lap Dog Rescue, Inc.) is dedicated to the rescue of Shih Tzus and other companion dogs and their placement in quality lifetime homes in south Florida.
Since 1995, Shih Tzu Rescue, Inc. has offered small, medium, and large companion dogs for adoption. Despite being based in South Florida, they accept dogs from anywhere. Their owners surrender the majority of rescued dogs.
Once dogs are neutered, given all necessary vaccinations, tested for parasites and heartworms, and receive any other medical attention they require, including dental care.
Once they are adopted, they are placed in foster homes or their kennel. If they are not adopted, they will remain in the shelter until they are adopted or for the rest of their lives.
Shih Tzu Rescue Details
2. Abandoned Pet Rescue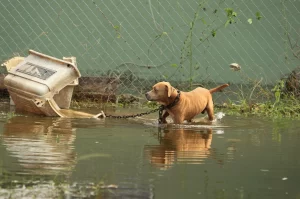 Founded in 2007, Abandoned Pet Rescue (A.P.R.) is a 501(C)(3) I.R.S. tax-exempt, qualified not-for-profit charitable organization that rescues and shelters abandoned, abused, and neglected dogs and cats. A.P.R. is one of the largest no-kill animal shelters in South Florida.
A.P.R. has cared for 6,800 cats and dogs that have come through the shelter over the past decade. As a result of COVID-19, A.P.R.'s adoption process has changed. First, you must fill out an online adoption application for the pet you wish to meet or adopt.
Then, an A.P.R. team member will contact you to schedule an appointment to meet the pet in person and see other pets that might be a great match. A.P.R. does not do same-day adoptions to best match pets with families and takes multiple applications on each pet.
You must be at least 22 years old and possess a valid driver's license or another form of identification. Adoption counselors will help you find a pet that fits your lifestyle, home, and family. It may be necessary to arrange a meet and greet if you have other animals living in your home.
The adoption fee includes an examination by a shelter veterinarian, spaying/neutering, vaccinations, microchipping, tests for common illnesses, and flea/tick prevention. A.P.R. reserves the right to conduct a home check. You will be given a date to pick up your new pet once your adoption application has been approved.
If necessary, they will provide medication and a checkup to animals who suffer from ongoing medical conditions. A puppy costs $175, a dog over a year old $150, and two puppies or dogs are $250. Veterans, service members, and first responders are offered a 10% discount.
Abandoned Pet Rescue Details
3. Elizabeth's Animal Rescue & Sanctuary/ E.A.R.S
Elizabeth's Animal Rescue & Sanctuary is also known as E.A.R.S. E.A.R.S. is a 501(c)(3) non-profit organization dedicated to rescuing dogs in central Florida. Their sweet residents never give up on rescuing, rehabbing, and rehoming. They find loving homes for every rescue dog they receive.
It is not just a shelter for animals but also for the people who love and care for them. Their volunteers open their hearts and homes to animals in need as long as necessary. They take pride in ensuring their animals are happy and well cared for until they find their forever homes.
Please be aware that all visits to E.A.R.S. are by appointment only. To schedule an appointment, please fill out the Adoption Application. The director needs the application information to know who is coming and going from the property.
To apply, follow these steps:
Fill out the Adoption Application online.
Attend a Meet-and-Greet with the dog you applied for at E.A.R.S. Bring any humans (including children) and dogs that the E.A.R.S. dog will interact with.
A Director will come to your home for a Home Visit. The E.A.R.S. dog will stay home with you if the home visit goes well.
Elizabeth's Animal Rescue & Sanctuary Details
4. Pet Pal Animal Shelter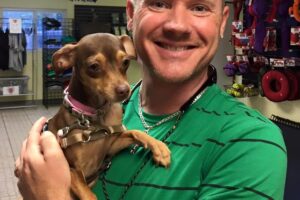 Last on the list of the best Shih Tzu rescues in Florida is "Pet Pal Animal Shelter." When two women realized how many pets were being euthanized due to overpopulation and neglect in the 1980s, they founded Pet Pal Animal Shelter, formerly known as Pet Pal Rescue.
They began rescuing animals from shelters and finding permanent homes to make a difference. They incorporated Pet Pal Rescue as a 501(c)(3) non-profit organization in 1988. Pet Pal Animal Shelter concentrates its resources on one segment of the animal problem: animals in shelters and at risk of euthanasia.
Their goal is to provide a second chance at life to as many of these pets as possible. Strays are not accepted at the shelter. Pet Pal Animal Shelter spends hundreds and sometimes thousands of dollars rehabilitating the animals they rescue. Their animals are spayed/neutered, microchipped, and vaccinated.
Heartworm testing is done on all dogs older than six months. They are all cleared for adoption by their veterinarian, but some may require follow-up visits due to booster vaccinations, heartworm treatments, etc.
You will receive a Complimentary Examination Certificate from Pet Pal Veterinary Clinic, copies of your signed paperwork, microchip information, a county license (for Pinellas County), several gift certificates, and freebies in your adoption folder.
Pet Pal Animal Shelter Details
Shih Tzu Rescue Shelters in Florida
Giving a dog a second chance at life is an enriching experience, but what is involved in selecting a rescue dog? Consider the environment and care you can provide for a rescue dog before searching for one. Find your perfect match by considering these factors.
For example, will you exercise your dog every day? Could you support your dog's medical care? Can you train it regularly? Don't compromise on these things. If you live a similar lifestyle to your new dog, it will adapt quickly to your home.
Don't adopt high-energy dogs if you can't provide them with physical or mental stimulation. Generally, it would help if you chose a breed that matches your energy level.
How to Choose a Shih Tzu Rescue in Florida
Purebred dog associations all have some rescue organizations attached to them. Breed rescue is an excellent option if you have your heart set on a particular breed and do not wish to wait for it to appear in a shelter or buy a puppy.
Usually, the volunteers know quite a bit about the breed and work hard to find the right match for a dog of that breed. In addition, a breed rescue should be willing to take the dog back during its life.
Be prepared for a lengthy interview process and a home visit. Some rescues, for instance, won't allow you to adopt a dog without a fenced-in yard.
Often, breed rescue organizations will not ship a dog to you, so you may have to travel to see other dogs. You must fill out an application, usually online. If you have any questions, be patient. There may be a long waiting list for some popular breeds.
Related: Dog Breeds That Look Like Ewoks.
Where Do You Find a Shih Tzu Rescue in Florida?
We are often asked how to determine if a rescue is reputable. You should see if the transparency is lacking. This can be applied in many ways. Here are some signs that should make you pause when considering a rescue. The first is in regards to money and tracking where it goes.
There should be transparency regarding the dogs in their care — you should be able to ask where the dog is and get an answer. See whether there are too many dogs or not. A lot depends on the size and capacity of the rescue, their foster network, etc.
A rescue with many dogs should raise a red flag, especially if the rescue is posting on social media about needing foster homes, needing money for boarding, or calling the situation urgent, particularly if the rescue continues to pull dogs.
Conclusion For The "Best Shih Tzu Rescues in Florida"
Owning a dog is super exciting, and Shih Tzus are the cutest. Please look at these dog rescues in Florida, and we hope you find this article helpful.
For more guides similar to this list of Shih Tzu rescues in Florida, you can check out:
Before you adopt a Shih Tzu from a rescue shelter in Florida, you can learn more about the breed by watching "Shih Tzu Dog Breed Guide" down below: