Are you looking for reputable Sheltie breeders in Ontario? You've come to the right place.
The Sheltie, also known as the Shetland Sheepdog, is a small herding dog known for its intelligence, loyalty, and trainability. Shelties are herding dogs with a long history of herding various livestock, such as sheep, chickens, and even ponies. Their natural instincts and trainable personalities make them well-suited for this type of work.
In the past, they played an important role in the daily operations of farms and ranches, and they are still valued herders in competitions and on working farms. Although the breed is small in stature compared to other herding dogs, Shelties have big personalities.
Shelties are also popular as companion animals because of their devotion to their human families. They offer genuine companionship and unwavering devotion.
Shelties also make excellent therapy animals because they are intelligent, affectionate, and easy to train. They want to succeed, so they put in the extra effort to learn what they need to know.
For these reasons and more, Shelties are popular pets. If you want to adopt this loyal and beautiful dog breed, check out our list of breeders with Sheltie puppies for sale in Ontario.
Before you scroll further down this list of Sheltie breeders in Ontario, check out: 7 Best Beagle Breeders in Ontario! (2023) and 5 Best Mini Bernedoodle Breeders in Ontario! (2023).
1. Laureate Shelties
Since their first Sheltie litter in 1989, Laureate has raised nearly 200 Champion Shelties, including seven Best of Breed winners in National Specialty events and several Best in Specialty and Best in Show winners.
The Laureate team also won the Herding Group at the 1995 Canadian Conformation Dog Championship. They won Best of Breed, Best of Opposite Sex, Select Dog, Best in Futurity, Runner-up to Best in Futurity, Best of Winners, and 14 Awards of Merit with 10 different dogs at the American Shetland Sheepdog Association (ASSA) National Specialty, the world's most competitive Sheltie event.
Regarding adoption from Laureate, there are waiting lists for show and companion pups, and they have many well-planned litters each year. All of their puppies are raised in their home and are vet checked and microchipped before being adopted. Their companion dogs are ready to join the new families around the age of eight or nine weeks.
They are active members of the following organizations:
Canine Association of Canada (Life Members)
American Shetland Sheepdog Association
Their Shelties are nurtured in a loving home environment, examined by a veterinarian, and given permanent identification chips before being sent to adopters. The puppies' genetic health and disposition are guaranteed for two years.
Call the given number if possible, but if you prefer to send an email, explain what you're looking for and whether or not you currently own any dogs or other pets. Remember to include your city or town. Laureate Shelties can ship to many major cities from Ottawa International Airport, but they prioritize families who can pick up their dogs in person.
Laureate Shelties Details:
2. High Ledge Shelties
High Ledge Shelties was founded in 1994 and was officially registered in April 1995.
Highland's rule is to keep the kennel small, with no more than six dogs at any given time. Puppies are born in their bedroom and stay there until they are about two weeks old.
This is done for the puppies' safety and the dam's privacy. The living room and kitchen are the next rooms they visit after birth, where they experience the sounds and sights of everyday life.
The entire property is walled off and divided into large and small ranges to protect their Shelties and any visiting dogs. Because of the seamless connection between the kennel and the kitchen, they can easily access the Shelties whenever possible.
There is always at least one Sheltie, and often two, lounging around the house. Even though they only sell a small number of show pups, those they have shared have done exceptionally well for their owners, winning several Best Puppy in Show, Best in Group, and Group Placing awards due to their stunning good looks, robust health, and calm demeanor.
Each adoption is a family affair, and you will have to contact the breeder via phone and email to get the process started.
High Ledge Shelties Details:
3. Athill Shetland Sheepdogs
Athill Shetland Sheepdogs can be found in scenic rural Northwestern Ontario, just outside Thunder Bay. The ultimate goal is to breed "The Versatile Sheltie" — a dog that can do it all. Moreover, they prioritize factors like overall health, working ability, ease of training, and type.
All their Shelties live inside the house, and stay active with walks and visits to their favorite parks. Their dogs have also been trained in agility, conformation, herding, obedience, and rally-o.
When selecting a Shetland Sheepdog puppy, health and temperament are the most important factors to consider. They only use Shelties in their breeding program who have passed health tests for hereditary conditions such as hip dysplasia and eye disease, thyroid disease, and Von Willebrand's disease.
Litters are scheduled months in advance because Athill Shelties' Breeding Plan prioritizes long-term planning. Breeders prefer quality over quantity, so only one or two litters are born yearly.
They prefer to stay involved in their puppies' lives and provide boarding, grooming, and lifelong breeder assistance. A good match is made by weighing each family's goals against each puppy's needs.
Applicants are chosen after an interview and home inspection. They advise new owners to visit their puppies as often as possible during the first nine to 12 weeks. All Athill puppies will be tattooed, dewormed, temperament-tested, and given the heartworm preventive Revolution, in addition to being vet-checked and vaccinated.
Crate training, leash training, and clicker training will have already begun. All new "parents" receive a free puppy package that includes the Athill Sheltie Text, newborn photographs on CD, a baby blanket, a buckle collar, a clicker, and one month of pet insurance.
Owners will be required to sign a CKC non-breeding agreement and a legally binding commitment requiring all of their Sheltie puppies to be spayed or neutered.
Athill Shetland Sheepdogs Details:
4. Sheltie Marvel
Sheltie Marvel is the last on our list of Sheltie breeders in Ontario. It is a tiny breeder of gorgeous Shetland Sheepdogs in the Ottawa/Gatineau region. The devoted family raises puppies in their home.
According to the owner, the most crucial components in establishing a dog are love and sociability. Their puppies are all used to a range of sights, noises, and other sensory inputs, indoors and outside.
Their litters are the result of meticulous preparation and a real concern for the well-being of this great breed. To ensure the dogs' safety and well-being, they do genetic testing on each one before mating, and they employ transcervical insemination for all pregnancies under the supervision of their reproductive veterinarian.
Puppies are placed after being microchipped, temperament tested, immunized, inspected by a veterinarian, and given a clean bill of health. They also get one month of free pet insurance. They have the right to refuse a sale if they believe it damages the puppies' health or happiness.
Get in touch with the breeder via phone, email, or their contact-us form to get the adoption started.
Sheltie Marvel Details:
How to Choose Sheltie Breeders in Ontario
If you're looking for Sheltie puppies for sale in Ontario, you must choose a reputable breeder. Ask lots of questions and pay a visit to the breeder's facility to ensure they provide excellent care for their dogs.
In addition, make sure to ask the following questions from Sheltie breeders in Ontario:
Is the breeder a member of the Canadian Kennel Club?
How many generations of Shelties have been bred? You're looking for someone with years of experience and a strong work ethic, right?
Do they screen their dogs for genetic problems?
Do they offer any type of health insurance? (At least two years of health insurance.)
How many Shelties are born each year? (The ideal amount would be ten to fifteen pups per year.)
Do they offer puppy training and socialization? (The pups' health is at stake here.)
Are the parents of the puppies CKC-approved?
What are the temperaments of the parents?
Will you be able to meet the puppy's parents?
Will they show you their kennel or whelping facility and their home?
How much exercise do the dogs get, and what food do they eat?
Can you obtain contact information for previous clients to use as references? (And how can you contact them?)
What is the average price for their Sheltie puppies?
Can puppies be shipped across Canada?
By covering these important topics, you can ensure that the breeder is reputable and that the puppy you're purchasing is healthy and well-socialized.
Frequently Asked Questions
What are the negatives of a Sheltie?
Shelties are incredibly active dogs, which means they need a lot of physical and mental attention to be on their best behavior. Some owners struggle to deal with their dogs' anxiety and barking, too.
What is the average life expectancy of a Sheltie?
A healthy Shetland Sheepdog should live for 12 to 14 years.
What two breeds make the Sheltie?
Shelties are descendants of King Charles Spaniels and Scottish Collies.
Conclusion for "Best Sheltie Breeders in Ontario"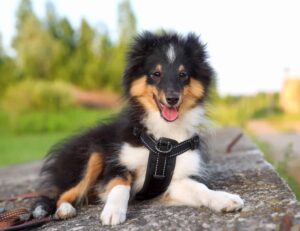 It's important to get a Sheltie from a responsible and authentic breeder. Why does a breeder play such an important role in getting you an ideal pet?
Overall, purchasing a Sheltie puppy from a reputable breeder has several advantages, including receiving a healthier puppy, a health guarantee for up to two years after purchase, and a more beautiful puppy than you would receive from a pet store.
A responsible breeder should provide documented evidence of a puppy's parents' health history and pedigree. They will also inform you if puppies have been diagnosed with a genetic disorder. This list above will help you find the ideal breeder for your next Sheltie puppy!
For more guides similar to this list of Sheltie breeders in Ontario, check out:
Before you adopt a Sheltie from a breeder in Ontario, learn more by watching "Shetland Sheepdog | Sheltie Dogs 101: Everything You Need To Know – Is It the Right Dog for You?" down below:
Garrett loves animals and is a huge advocate for all Doodle dog breeds. He owns his own Goldendoodle named Kona. In addition, he volunteers at the Humane Society of Silicon Valley, where he fosters dogs and helps animals. Garrett enjoys writing about Doodles and believes that dogs can teach humans more about how to live than humans can teach a dog.
Why Trust We Love Doodles?
At We Love Doodles, we're a team of writers, veterinarians, and puppy trainers that love dogs. Our team of qualified experts researches and provides reliable information on a wide range of dog topics. Our reviews are based on customer feedback, hands-on testing, and in-depth analysis. We are fully transparent and honest to our community of dog owners and future owners.