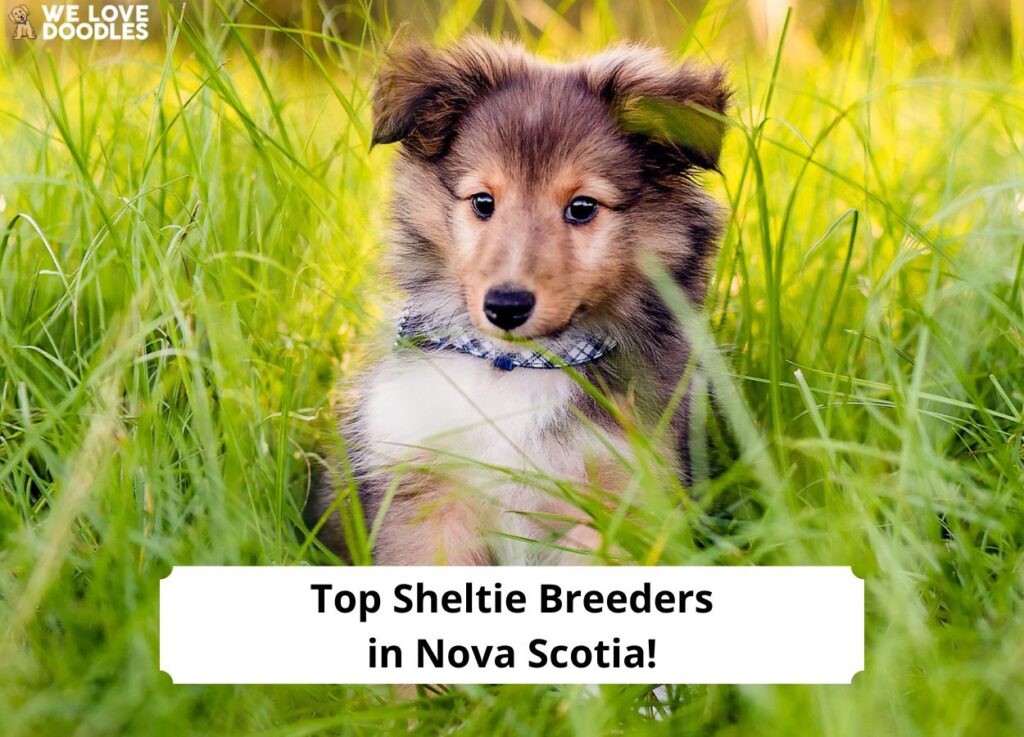 If you're trying to find the best Shetland Sheepdog (or Sheltie) breeders in Nova Scotia and you're not sure where to start, then this guide is for you.
Shetland Sheepdogs are gorgeous dogs that are loyal, loving, and intelligent. With proper training, they make excellent guard dogs, therapy dogs, watchdogs, service dogs, and household companions. No wonder Shelties are so popular in Nova Scotia!
However, finding the perfect Sheltie puppy can be challenging. That is why our team has done the research to bring you 10 of the best Sheltie breeders in Nova Scotia.
Before scrolling down this list of Sheltie breeders in Nova Scotia, check out: 5 Best Labrador Breeders in Nova Scotia! (2023) and 5 Best Poodle Breeders in Nova Scotia! (2023).
Where to Find the Best Sheltie Puppies for Sale in Nova Scotia?
Nova Scotia is a small place known for its sandy white beaches and stunning coastal scenery. However, because it is small, there are not too many Sheltie breeders here.
That is why we have also included some Sheltie Breeders from nearby areas. Many of these breeders are willing to ship your Sheltie puppy over to you.
R&H Shelties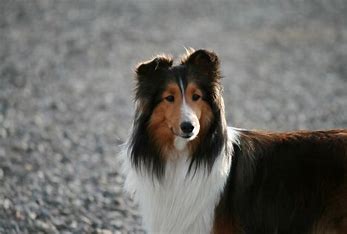 Visit R&H Shelties as a client and you will leave as a friend — that's the motto of this kind-hearted Sheltie breeder in Nova Scotia. They are dedicated to breeding healthy, CKC-registered Shelties in the region. They also have a grooming studio for dogs and cats as well as a boarding facility where you can board your fur babies when you travel.
All R&H Shelties are checked for Von Willebrand's disease, eyes, hips, and joints, and only bred if cleared for these conditions. Your puppy will also be vaccinated and dewormed before it comes home.
R&H Shelties Details:
Nikkilens Shelties
Nikkilens Shelties is located in Moncton NB, Canada. Len and Jean Cormier, the owners of Nikkilens Shelties, are trustworthy breeders of beautiful, CKC-registered Shelties and are reputed for their healthy and gorgeous puppies.
Check out their client testimonials page and it will be evident that Nikkilens put a lot of effort into their Sheltie pups. All Nikkilens Sheltie puppies are raised at home, so they are well-socialized with adults, kids, and other dogs. The result is a beautiful and confident Sheltie puppy that is easy to train.
Every Nikkilens Sheltie puppy is checked by a vet and goes to its forever home only after receiving its initial shots. The best part is that most Nikkilens Shelties are champions as well, so you are guaranteed to get the best bloodlines.
Nikkilens Shelties Details:
Shelhaven Shelties
The proprietors of Shelhaven Shelties, Karen and Robert Henley, have been breeding Shelties since the late 1990s. They are even members of the Canadian Kennel Club, the Canadian Shetland Sheepdog Association, the American Shetland Sheepdog Association, and the Halifax Kennel Club.
This means that they are reputed breeders who genuinely care about the Sheltie's welfare and strive for the breed's betterment.
All Shelhaven Shelties are tested for Von Willebrand's disease and eye abnormalities before they are bred. The puppies live in their homes and are very much a part of the Henley household. This means that they are socialized to loud noises like vacuum cleaners and doorbells, other dogs, adults, and kids. They grow up to be confident and bold adult dogs.
The Henleys ensure that all their Shelties have a happy disposition and are bred to proper conformation. They are open to obedience and make excellent companion pets.
Shelhaven Shelties Details:
Northumberland Shetland Sheepdogs
Located on the picturesque North Shore of Nova Scotia, Northumberland Shetland Sheepdogs is a reputed breeder who has been breeding Canadian Kennel Club Shelties since 1999.
They test their dogs for various joint and eye issues as well as Von Willebrand's disease. Their puppies are dewormed at four, six, and eight weeks. They are only sent home after getting their early vaccinations. All Northumberland Shetland Sheepdogs are desensitized and socialized so you get a pup that is healthy and cheerful. They even come with pet insurance for up to six weeks.
Northumberland Shetland Sheepdogs Details:
Candede Reg'd Kennels
Candide Registered Kennels breed three types of dogs: Shelties, Bichon Frise, and Chesapeake Bay Retrievers. All their pups are dewormed, vaccinated, and microchipped before they leave home. All Candede puppies are home-raised and love people from the start.
Candede Reg'd Kennels Details:
Brandamike Shelties
Unfortunately, there is no website for this breeder but they are very active and responsive on their Facebook page.
No phone number is listed for them, but you can contact them via their email, below.
Brandamike Shelties Details:
Talisker Shelties
Talisker Shelties play, play, play, and sleep, sleep, sleep! They are raised at home and are happy, healthy dogs that you will love to have as a companion.
It is evident from Taslisker Shelties' website that breeder Sharon Ayers is genuinely concerned about the breed's well-being. That is why she ensures testing her dogs and only breeds the ones cleared for eyes and joints.
Talisker Shelties Details:
Seafarer's Shelties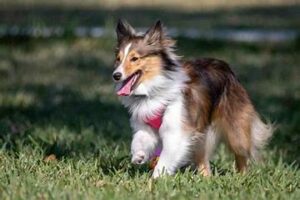 Gloria Pountney is a reputed Sheltie breeder and the owner of Seafarer's Shelties. Their kennels are situated in New Brunswick, Canada, around 360 km from Nova Scotia. Ms. Poutney strives to produce Shelties that capture the true essence of the Shetland Sheepdog breed: sweetness, beauty, and intelligence.
Seafarer's Shelties is also a member of the Canadian Kennel Club, the Canadian Shetland Sheepdog Association, and the New Brunswick Kennel Club.
Seafarer's Shelties Details:
Silverthaw
These Shetland Sheepdog breeders are in Newfoundland, CA. Located in St. John's which is the oldest and most easterly city in Canada, owners Len, Carolyn, and Liam Dooling are members of the CKC and the Canadian Shetland Sheepdog Club. They actively participate in shows, agility, and confirmation.
The Doolings strive for the breed's welfare and ensure that all their dogs are healthy before mating. The puppies are also raised lovingly at home and not in kennels.
Silverthaw Shetland Sheepdog breeder does not have any puppies available currently, but you can contact them regarding their future plans on the details below:
Silverthaw Details:
Sunnyseas Shetland Sheepdogs
If you check out Sunnseas Shetland Sheepdogs' website, you will find many photos of champions and show-winner Shelties.
Linda Schrader, the founder of Sunnyseas Shelties, bought her first Sheltie in 1983. There has been no turning back for her since.
All of her Shelties are tested for various genetic health issues and only bred if they clear them. The dogs are all CKC registered, and the pups are lovingly raised at home before being sent to their permanent homes.
Sunnyseas Shetland Sheepdogs Details:
How to Find Reputed Sheltie Breeders in Nova Scotia
There are several Shetland Sheepdog breeders in and around Nova Scotia. As such, finding one can be challenging, especially since the breed's popularity has triggered a rise in puppy mills.
Here are some tips to help you:
Talk to the breeder and ask them several questions. They should have a thorough knowledge of the breed.
They should be selective about whom they sell their puppies to.
Good breeders are forthcoming about the health checks they have conducted on their breeding stock.
All of their puppies should be raised at home and not kept outside in kennels.
Good breeders do not send their pups to their forever homes before they are eight weeks of age.
Where to Find Sheltie Puppies for Sale Near Nova Scotia?
The top-rated Sheltie breeders in Nova Scotia listed above are a good place to start your search for healthy Sheltie puppies near you. Some of these breeders are in nearby states but can ship the puppy to you.
There are several other top breeders of Shelties throughout Canada. Naturally, we have not included them all here, so please do your research. Use the tips given above for finding reliable Sheltie breeders.
Whatever you do, avoid buying your Sheltie from backyard breeders or puppy mills. Many of these even sell their pups in pet shops, so it is best to steer clear of those as well.
Frequently Asked Questions
What two breeds make the Sheltie?
Shetland Sheepdogs descend from Scottish Collies and King Charles Spaniels.
How long do Shelties live?
Shetland Sheepdogs have a life expectancy of 12 to 14 years.
Is a Sheltie a good house dog?
While hard-working, Shetland Sheepdogs are affectionate dogs who fit well into family life.
Conclusion for "Top Sheltie Breeders in Nova Scotia"
Shetland Sheepdogs are an amazing dog breed, and they make wonderful pets. There are several Sheltie breeders in Nova Scotia and its neighboring areas.
Make sure to seek reputed breeders who conduct health checks on their dogs and are genuinely interested in the breed's welfare. The above 10 breeders are a good place to begin your search.
For more guides similar to this list of Sheltie breeders in Nova Scotia, check out:
Before you bring home a Sheltie puppy from a breeder in Nova Scotia, learn more about the breed by watching "Shetland Sheepdog – Top 10 Facts (Sheltie)" down below:
Garrett loves animals and is a huge advocate for all Doodle dog breeds. He owns his own Goldendoodle named Kona. In addition, he volunteers at the Humane Society of Silicon Valley, where he fosters dogs and helps animals. Garrett enjoys writing about Doodles and believes that dogs can teach humans more about how to live than humans can teach a dog.
Why Trust We Love Doodles?
At We Love Doodles, we're a team of writers, veterinarians, and puppy trainers that love dogs. Our team of qualified experts researches and provides reliable information on a wide range of dog topics. Our reviews are based on customer feedback, hands-on testing, and in-depth analysis. We are fully transparent and honest to our community of dog owners and future owners.