The popular Schnauzer was originally developed in Germany in the seventeenth century. The word "Schnauzer" means "mustache," which refers to the most distinctive feature of the breed – the adorable bearded snout. There are three sizes of Schnauzers – standard, miniature, and giant.
Schnauzers are considered one of the oldest breeds of dogs, and they were originally used as ratters in stables and barns. Protective, energetic, and affectionate, they are now popular as family pets and show dogs. And as a bonus, their hypoallergenic coats make them suitable for folks with allergies.
Before scrolling down this list of Schnauzer breeders in Georgia, check out these other recommendations from our team at We Love Doodles: Best Dalmatian Breeders in Georgia and Best Yorkie Breeders in Georgia.
Schnauzer Puppies For Sale in Georgia
If you're looking for a Schnauzer in Georgia, some of our favorite breeders are here.
Schnauzer Product Recommendations: Best Shock Collars to Keep Dog in Yard and Best Muscle Growth Supplements For Dogs.
1. PuppySpot's Schnauzers For Georgia
Since you're searching for Schnauzer breeders in Georgia, we recommend checking out PuppySpot's website. PuppySpot is a marketplace where you can find available Schnauzer puppies from the comfort of your home in Georgia.
Wherever you are in Georgia, your Schnauzer puppy will be safely shipped to you, knowing that all breeders must undergo a strict screening process. Before you continue searching for a Schnauzer puppy for sale in Georgia, check out the link to the marketplace below.
PuppySpot Details
2. Miniature Schnauzers GA
Miniature Schnauzers' mission is to share this breed's magnificent personalities, kind natures,  intelligence, and hypoallergenic coats with others. All of their AKC-registered Miniature Schnauzer puppies are very well socialized, up-to-date on worm medications, 1st puppy shot, and come with dewclaws removed.
In addition, their puppies are microchipped and come with a health guarantee and a complete vet health check. They only sell their Schnauzers to responsible, compassionate pet caregivers and work hard every day to find them loving homes. Their website not only features their present canines but also provides a wealth of information on dog breeds, services, and the various things they sell.
Miniature Schnauzers GA Details
3. Tiny Tot Schnauzers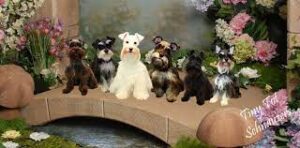 Located 45 minutes north of Atlanta, Georgia, Tiny Tot Schnauzers are among the most trustworthy breeders you will ever meet. They adore Miniature Schnauzers and are dedicated to creating the greatest quality toy, teacup, and Mini Schnauzer puppies. Their Schnauzer litters are all home-raised with love and affection.
All of their puppies have been indulged and cherished from the moment they are born until they join your home. Only qualified pet homes can get one of their puppies, and they do not ship their puppies. Their puppies are adopted face to face, either at their house or a pre-arranged meeting location if you cannot travel.
They can also arrange to fly to meet you, or you can fly into Atlanta International Airport, and the breeder will meet you there. They only have a few litters per year, so if you have a specific color, size, or gender in mind, please contact them, and they'll put you on the waiting list.
Tiny Tot Schnauzers Details
4. Black Beard's Kennel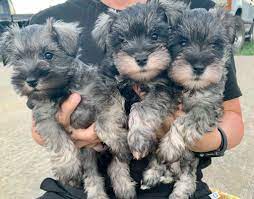 Since 2015, Black Beard Kennel has been breeding Schnauzers and recently expanding its offerings to include Miniature Poodles. Located in northeast Georgia, Black Beard Kennel is a state-licensed facility with a limited number of Mini Schnauzers, Mini Schnoodles, and Mini Poodles available. Domestic and international bloodlines are available, and all of their puppies are reared as family pets.
Black Beard's Kennel proprietors have other jobs and operate under a strict No Visitors Policy to keep their puppies safe and disease-free. They place a high value on puppies' personalities and health. All of their canines have undergone health imaging and genetic testing.
Black Beard's Kennel Details
5. Petland Kennesaw
Petland Kennesaw is a company serving Kennesaw for nearly 15 years. They specialize in finding the ideal individual for their puppies for adoption and addressing the needs of both humans and canines. They aren't a breed-specific breeder but often have Schnauzer puppies, so there is no harm in checking.
In addition, they have everything you'll need to care for and spoil your new family member, whether it's a puppy, kitten, or something a bit smaller, like a small animal or a bird. They sell top-of-the-line foods, snacks, toys, and accessories in addition to their dogs.
Their experienced and kind pet counselors can assist you in locating the items you require and a few items you didn't realize you required. At Petland Kennesaw, breeders work hard to raise the bar regarding animal husbandry and responsible breeding. Petland is a global pioneer in pushing the industry to new heights and encouraging communities to uphold the finest standards of pet care.
Petland Kennesaw Details
6. Almost Heaven Giant Schnauzers
Almost Heaven Kennel, based in the northeast of Georgia near the border with South Carolina, is dedicated to excellence and takes pride in breeding their dogs to improve their health and behavior.
All their AKC-registered Schnauzers are handpicked from the best breeders worldwide. They are an ethical breeding facility that guarantees happy, healthy puppies bred from champion bloodlines and satisfied new owners.
Almost Heaven Giant Schnauzers Details
7. Georgia Standard Schnauzers
This family-run breeding household has four children, four dogs, chickens, and rabbits. The family began raising Schnauzers many years ago and have infrequent litters. Puppies leave their homes when they are about eight weeks old, and puppy selection occurs when puppies are about six weeks old.
They do not ship puppies and are picky about the households that their litters go to. They raise their puppies in a home environment, socialize them well, and take a $200 deposit to book a puppy.
Georgia Standard Schnauzers Details
How to Choose a Schnauzer Breeder From Georgia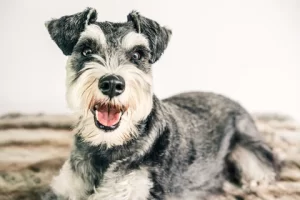 Selecting a breeder can be a daunting task, and you want to avoid backyard breeders and puppy mills. Getting an improperly bred Schnauzer can lead to further headaches down the road, costly vet bills associated with genetic defects, and potential heartache when your beloved puppy falls prey to some serious illnesses.
Here are a few key things to look out for in breeders:
They keep their puppies in an open, spacious facility or house and are happy to show you around.
They are happy to present the parents of the breeding pair, and you can see that they are happy, healthy dogs that indicate excellent care.
The breeding pair is registered, with several health checks and numerous certifications.
A good breeder might even ask you more questions than you ask them. They want their puppies to go to good homes and will ask you many deeply personal questions about your lifestyle and your life. Don't take offense. This means they care greatly about where their puppies go.
The breeder is happy to provide you with ongoing advice and information well after their puppy is sold to you. They might even ask to see photos and updates from time to time to ensure that their puppies are sold to good homes.
They are happy to provide you with tons of references and testimonials from other owners that have bought puppies from previous litters. Of course, you can also seek these references yourself from veterinarians and other doggy professionals.
They will have a sales contract with a health guarantee. Often, they also have a return-to-breeder clause that stipulates that if you have to give your puppy up for any reason, it goes back to them, ensuring that they get the first pick on whether to take your dog back.
They have infrequent litters, usually just once a year. Overbreeding causes health problems in the breeding pair and is often a trademark of unscrupulous or unethical breeders.
A good breeder will have numerous documents on health checks, DNA tests, vaccination records, and OFA certs and will be more than happy to share them with you.
Questions to Ask a Schnauzer Breeder From Georgia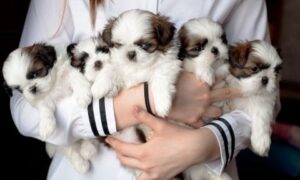 Now that you've done your homework and shortlisted many breeders, it's time to get in touch with them and, if you can, visit them and check out their dogs and facilities. If that is not possible, use as much video-calling as you can or ask for plenty of updates and photos to understand how their dogs are being cared for.
To start, ask a couple of questions that can quickly filter the unethical breeders that you really shouldn't be talking to, like:
Do you have DNA tests for your breeding pair? And the previous generation?
Are there any at-risk or carrier conditions that I should be aware of?
Do you have AKC registration papers, DNA certs, and health certs for the parent pair?
Can you provide OFA results?
If you have to give your dog up, do they want it back? The correct answer should always be to send the dog back to them.
How often do you have litters?
What is the health guarantee?
When can I take my new puppy home? Puppies typically leave their litter at about eight weeks of age. Any breeder wanting to sell six-month-old puppies should be treated with extreme caution.
What are you doing to socialize your puppies?
Conclusion For The "Best Schnauzer Breeders in Georgia"
Schnauzers are intelligent, loving dogs that make excellent family pets for everyone, even inexperienced dog owners. You can ensure the best addition to your family member with some proper research. Good luck to you and your hunt for the perfect Schnauzer.
For more guides similar to this list of Schnauzer breeders in Georgia, you can check out:
Before you bring home a Schnauzer from a breeder in Washington, you can learn more about the breed by watching "Standard Schnauzer – Top 10 Facts" down below: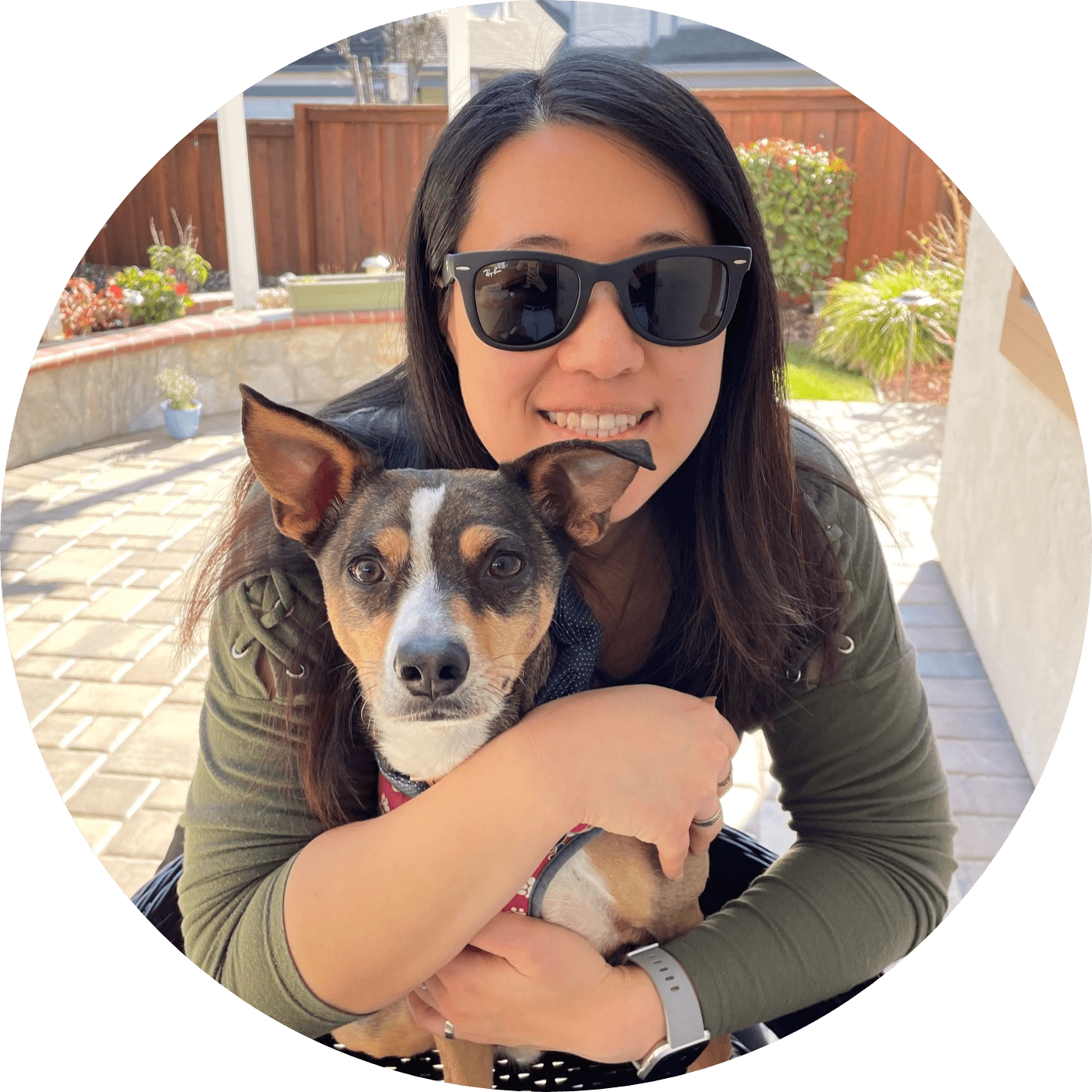 Dr. Sabrina Kong graduated from the Royal Veterinary College in England in 2016 and has been working at a small animal clinic in Northern California since then. She grew up in the Bay Area and got her bachelor's degree from Cal Poly San Luis Obispo. She also became a Certified Canine Rehabilitation Practitioner through a program at the University of Tennessee.
When she isn't in the clinic taking care of her four-legged patients, she enjoys traveling and trying new foods with her friends and her three-legged dog, Apollo. She adopted Apollo from her clinic when he was a puppy with numerous health issues. Dr. Kong truly cares about taking care of animals.