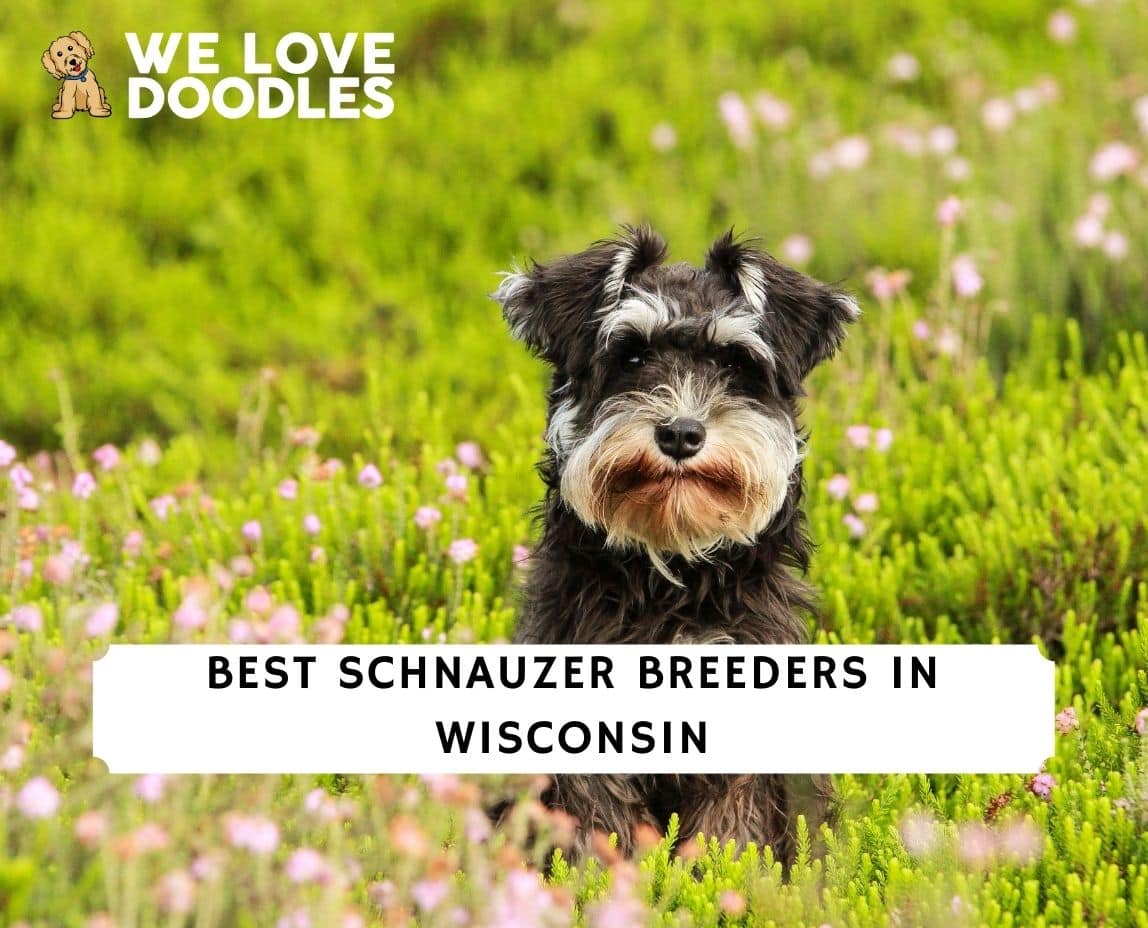 Here's a question we have for you if you're searching for Schnauzer breeders in Wisconsin. So, you've decided to adopt a Schnauzer puppy and live in the beautiful state of Wisconsin? Naturally, the first thing to do is find the best Schnauzer breeders in Wisconsin.
In this guide, we enlist the best Schnauzer dog breeders located in Wisconsin. We have based this list on several important factors such as the breeder's reputation, health checks they conduct, their experience in dog breeding, and so on.
Before scrolling down this list of Schnauzer breeders in Wisconsin, check out these recommendations from our team at We Love Doodles: Best Maltese Breeders in Wisconsin and Best Havanese Breeders in Wisconsin.
Schnauzer Puppies For Sale in Wisconsin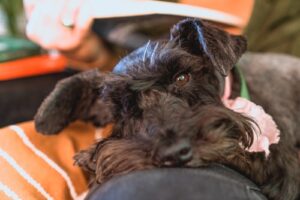 Finding reputed Schnauzer breeders is the only way to guarantee a healthy and temperamentally sound Schnauzer puppy that will enrich your life with love. Let us dive right into the list of the best Schnauzer breeders in Wisconsin.
Schnauzer Product Recommendations: Best Dog Grooming Kit and Best Ceramic Dog Bowls.
1. PuppySpot's Schnauzers For Wisconsin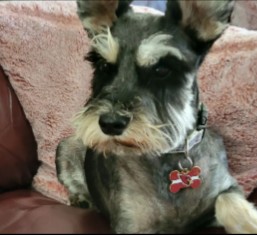 Since you're searching for Schnauzer breeders in Wisconsin, we recommend checking out PuppySpot's platform. PuppySpot is a marketplace where you can browse for available Schnauzer puppies from the comfort of your home in Wisconsin. You can browse Schnauzer puppies on your phone or your computer.
All Schnauzer breeders must go through a screening process, so you don't have to worry too much about your puppy arriving at your place via shipping. Before you continue searching for a Schnauzer puppy for sale in Wisconsin, check out the link to the marketplace below.
PuppySpot Details
2. Family Schnauzer Babies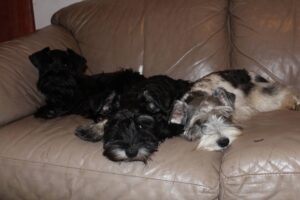 Based in Melrose, Wisconsin, Family Schnauzer Babies (founded by Mrs. Andrea M. Mikkelson) is one of the most reputed (miniature and toy) Schnauzer breeders in the state. All their Schnauzers are lovingly raised right at home, and they are committed to providing the best customer service. They are located close to Lacrosse and Black River Falls, WI, so if you're in the area, do check them out.
At Family Schnauzer Babies, Schnauzer puppy prices start from $1,800. Blue or Chocolate Merle puppies are priced higher. They also keep Teacup Schnauzer puppies with prices starting from $3,000. Please note that FSB charges separately for shipping and holding prices for confirmed litters.
The Schnauzer puppies in Wisconsin prices include spay/neuter costs, two vaccinations, tail docking, deworming, dewclaw removal, and microchipping. Every puppy also has a basic kit with health and vaccination records, a blanket with the dam's smell, some chew toys, vitamins for a week, and some food.
Their Schnauzer puppies for sale in Wisconsin are AKC and AMSC registered. These reputed breeders feed their dogs top-of-the-line nutrition and are particular about health checks. Their dogs undergo various genetic tests before breeding to ensure healthy puppies.
Family Schnauzer Babies Details
3. Ava's Miniature Schnauzers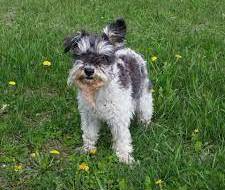 This breeder does not have a website, but they have a Facebook page. They are located in Wheeler, WI, 54772. Ava's Miniature Schnauzer puppies for sale in Wisconsin are lovingly raised at home, and her puppies and parents are loving, loyal, sweet, playful, and smart. Health, conformation, and disposition are top priorities for Ava's Miniature Schnauzers for sale in Wisconsin.
Ava's Miniature Schnauzers Details
Address: Wheeler, Wisconsin 54772
Social Media: @schnauzerwi on Messenger/Facebook
4. Fernweh Miniature Schnauzers
Located in northern Indiana, about 5 hours from Wisconsin by road, Fernweh Miniature Schnauzer is a reputed breeder you can trust. For owner Erica Wysong, adopting a Schnauzer is a family affair that she takes very seriously. The Wysong is committed to a lifelong breed study and believes in a proper socialization program.
Through stringent health records, Fernweh tract the genetic makeup of their dogs to prevent genetic issues within their bloodlines. The Wysong family is open, honest, and compassionate and is available to answer questions about their puppies 24/7/365.
All their Miniature Schnauzers puppies in Wisconsin undergo genetic testing, and their breeding program is committed to the breed's wellbeing. They also have a strict puppy matching protocol with a stringent interview process to ensure that each puppy is matched to the correct family.
Fernweh Miniature Schnauzers Details
5. Classic Giant Schnauzers
If you're interested in a Giant Schnauzer puppy, then contact the owner of Classic Giant Schnauzers, Mary E. Falls of Wisconsin. They are located in Baraboo, Wisconsin. Classic Giant Schnauzers started their breeding program in 1992 by importing two WSF champion dogs from Germany.
All of their Giant Schnauzers are OFA certified as good or excellent. The dogs also have normal thyroid at breeding, and their eyes are CERF cleared.
The owners also strictly follow the Code of Ethics as laid down by the Giant Schnauzer Club of America and the Working Reisenschnauzer Federation. In short: 40 years of breeding experience and excellent bloodlines are the hallmarks of Classic Giant Schnauzer breeding programs.
Classic Giant Schnauzers Details
6. Crivitz Standard Schnauzers
Crivitz Standard Schnauzer began their breeding program in 2001 with champion bloodlines. They are committed to preserving the salt and pepper appearance that Schnauzers are famous for. Crivitz Kennels are located in North East WI, one hour North of Green Bay.
Owner Amy Shaffer has even received the Breeder of Merit tag from the AKC. This shows her commitment to ensuring the best of health, conformation, and obedience. All her dogs are AKC registered, and they even spay and neuter the pet-quality puppies.
Crivitz Standard Schnauzers Details
7. Wisconsin Schnauzer Adoption
Adopting a rescued Schnauzer is the most satisfying thing you will do. After all, you will be saving a life. Adopted dogs often come with several advantages: they may be neutered/spayed, potty trained, and socialized with other dogs.
Wisconsin Schnauzer Adoption Details
How to Choose a Schnauzer Breeder in Wisconsin
Before deciding on a Schnauzer breeder in Wisconsin, ask them several questions. In return, be prepared to answer several questions from the breeder. After all, a good breeder will never hand over a Schnauzer puppy to a potential owner.
If they genuinely care about their dogs, they will make sure the puppy is a good match for your household. You must call several breeders and ask to see their facility. The kennels should appear clean and well-kept. Most importantly, they should have a friendly and healthy-looking pack of Schnauzers.
It is also important that the breeders are registered on the AKC website and the official website of the Schnauzer Club of America. Accordingly, you have the Standard Schnauzer Club, Miniature Schnauzer Club, and the Giant Schnauzer Club of America.
Good breeders spend a lot of time and effort ensuring that their puppies have the best temperament and genetic health possible. To ensure this, they conduct health checks on their Schnauzers before breeding. Post-birth, they also complete one or two rounds of vaccinations, deworming, and basic vet checks of their puppies.
They even socialize and train their young Schnauzers before sending them to their potential homes. Some of the important tests they conduct are PRA, OFA, and other genetic or DNA tests. PRA stands for Progressive Retinal Atrophy. It is a common genetic disorder in Schnauzers that could make the dog blind.
This condition is hereditary, which means it could be passed on from the parent to the progeny. Sometimes, a parent Schnauzer may carry the gene for PRA but might not develop the disease. That is why testing the dog's saliva or blood at any age is the best way to ensure that the condition is not passed on to the puppies. Good breeders also offer health and temperament guarantees.
This means that they will willingly take back the puppy should it develop some health issue or a behavioral problem within the first year. Reputed breeders will also have long wait times for a puppy – sometimes, this wait can even stretch up to a year. After all, their Schnauzer puppies will be in great demand, and you will need to be patient if you want a particular coat or eye color.
More Information About Schnauzers From Wisconsin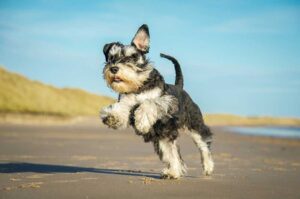 The Schnauzer breed is available in three different sizes: miniature, standard, and giant. The word 'schnauzer' is German for snout or moustache. This is a fitting name since all three varieties have adorable bushy beards and thick eyebrows.
The Miniature Schnauzer is 17th on AKC's most popular dog breeds list. The mini's accepted coat colors are salt-pepper, black silver, and solid black. Minis weigh around 15 lb. and stand about a foot tall.
The Standard Schnauzer is rated 85th in popularity and weighs between 30 to 50 lb. Its height is about 1.5 ft. their wiry coats are salt-pepper or solid black.
The Giant Schnauzer weighs up to 85 lb. This variety has a double coat that is either salt-pepper or solid black. It is 79th on AKC's popularity list.
All three varieties are smart, loving, intelligent, and loyal. They are fairly easy to train and make excellent guard dogs.
Conclusion For The "Best Schnauzer Breeders in Wisconsin"
Several breeders of the Miniature, Standard, and Giant Schnauzer breed in Wisconsin. Please talk to various breeders and only go ahead with the one you feel most comfortable with. The above list includes highly reputed breeders who follow the code of ethics as laid down by American Schnauzer Clubs.
They are committed to creating healthy bloodlines, and their puppies have good temperaments. They also treat all their dogs like family. We are sure you will find a healthy and loving Schnauzer from one of the above breeders. Good luck.
For more guides similar to this list of Schnauzer breeders in Wisconsin, you can check out:
Before you bring home a Schnauzer from a breeder in Wisconsin, you can learn more about the breed by watching the "Miniature Schnauzer Dog Breed Guide" down below: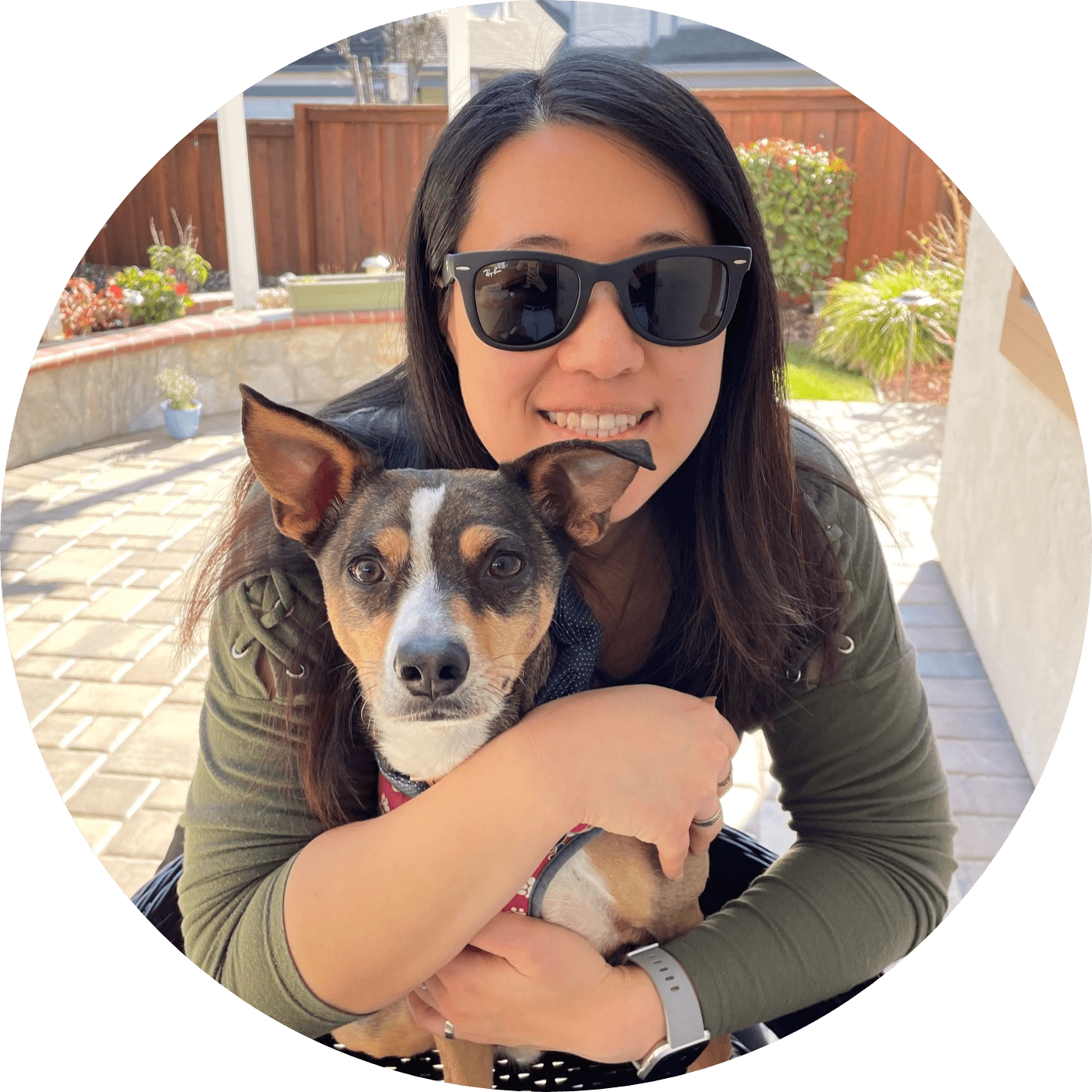 Dr. Sabrina Kong graduated from the Royal Veterinary College in England in 2016 and has been working at a small animal clinic in Northern California since then. She grew up in the Bay Area and got her bachelor's degree from Cal Poly San Luis Obispo. She also became a Certified Canine Rehabilitation Practitioner through a program at the University of Tennessee.
When she isn't in the clinic taking care of her four-legged patients, she enjoys traveling and trying new foods with her friends and her three-legged dog, Apollo. She adopted Apollo from her clinic when he was a puppy with numerous health issues. Dr. Kong truly cares about taking care of animals.