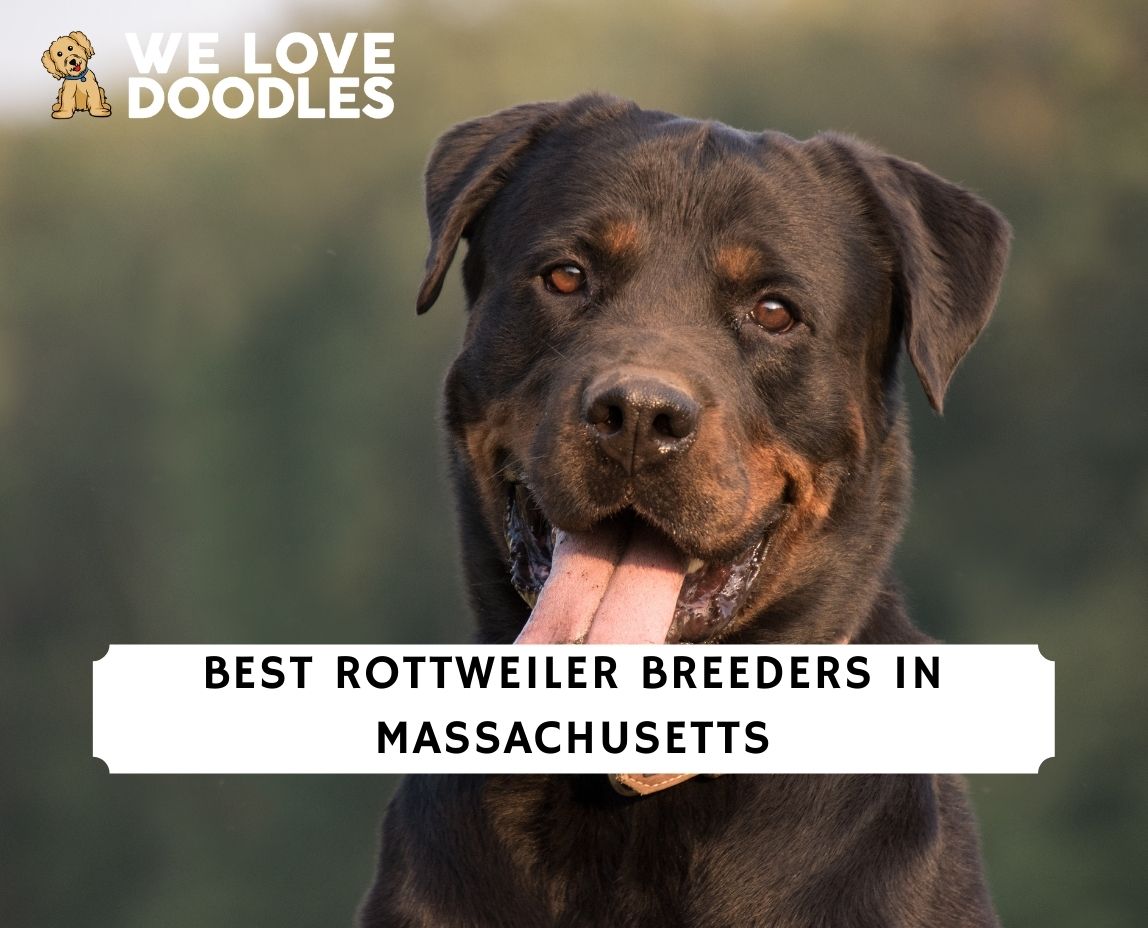 Here's what you need to know if you're searching for the best Rottweiler breeders in Massachusetts. Originally, Rottweilers were used for driving cattle to markets.
Later they were used as cart pullers in butcher shops. In addition to serving honorably in the military, these dogs were among the first police dogs. Additionally, they are well-liked and popular family guardians.
Novice pet parents need to be aware of these dogs' strength and intensity. Taking care of them correctly requires experience and training. The Rottie is a loyal, intelligent, and loving pet for life for pet parents who are committed, energetic, and persistent.
Before scrolling down this list of Rottweiler breeders in Massachusetts, check out these other breeder recommendations: Best Cockapoo Breeders in Massachusetts and Best Maltipoo Breeders in Massachusetts.
Rottweiler Puppies For Sale in Massachusetts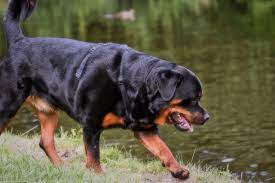 Our team at We Love Doodles did the research to compile this list of Rottweiler breeders in Massachusetts for you. So check it out, and hopefully, you'll find the right breeder for your home.
Rottweiler Mentions: How to Take Care of a Baby Rottweiler and Why is My Rottweiler Growling?
1. PuppySpot's Rottweilers For Massachusetts
Since you're searching for Rottweiler breeders in Massachusetts, we highly recommend checking out PuppySpot. PuppySpot is a reputable platform where you can browse for available Rottweiler puppies at the comfort of your home in Massachusetts.
Wherever you live in Massachusetts, you can rest assured knowing that your Rottweiler puppy will be safely shipped to your home after your order. Before you continue on your search for a Rottweiler puppy for sale in Massachusetts, check out the link below.
PuppySpot Details
2. Von Scosher Rottweilers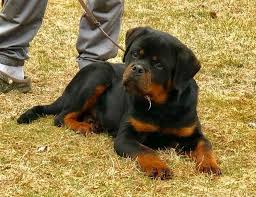 Von Scosher Rottweilers is owned by Scott Allen. In Seekonk, just 10 minutes from Providence, Rhode Island, he and his family started their dog kennel on the Massachusetts/Rhode Island border.
Scott has owned a Rottweiler since 1988 but began breeding them only in 2003. They imported a few dogs from Europe during the summer of 2003.
These dogs helped them begin their breeding program. They hope to continue improving the lines of their dogs and produce dogs they feel are capable of performing in the show ring and on the work field.
They are vocal opponents of puppy mills and care for all dogs they raise with the best intentions. However, they need to emphasize proper dog care to each puppy they raise.
Von Scosher Rottweilers Details
3. Crestwood Rottweiler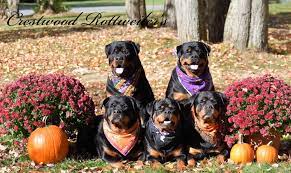 When Maureen was sixteen years old, she and her husband fell in love with Rottweilers.  She worked all summer to save every penny to purchase her first Rottweiler.
Rottweilers were bred to do a particular job, one that she loved and learned how to train.  Belle lived to be 14 years old.  Many years ago, Maureen decided to devote her life to helping animals, which she has done.
Nine out of ten Crestwood Rottweiler puppies receive passing ratings from the OFA during hip evaluations. Buyers are encouraged to keep in touch with them when needed. Once puppies reach eight weeks, clients have the option of shipping or picking up their puppies.
The temperament tests for each litter are completed after the puppies reach the age of seven weeks. Based on each puppy's personality, this method determines which home would be best for it.
Crestwood Rottweiler Details
4. Country Side Rotties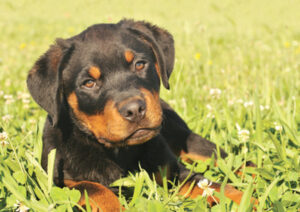 Over 35 years ago, the Country Side Rotties family began breeding top-quality Rottweilers. A small, family-oriented breeder that breeds high-quality German Rottweiler puppies. They guarantee hip and health with every contract & do not breed for volume.
Therefore, litters are not scheduled, and all puppies are based on a deposit for pick-up basis. Country Side Rotties are located in the small town of Hubbardston, which is located in the scenic New England region.
Country Side Rotties Details
5. Rabenbucht Rottweilers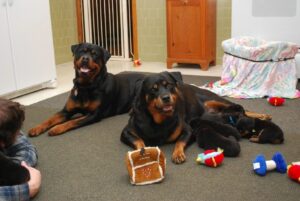 Last on the list of Rottweiler breeders in Massachusetts is "Rabenbucht Rottweilers." They strive to breed the ideal Rottweiler at Rabenbucht Rottweilers. Their goal is to produce Rottweilers with correct conformation, working ability, and proper Rottweiler temperament.
Dogs who would make exceptional family pets, show dogs, or working dogs. To maintain a high level of quality, they adhere to the ADRK/FCI standard for Rottweilers as closely as possible.
However, some of their older dogs are still docked, as has been custom here in the United States. They all have their natural tails in accordance with the ADRK/FCI Breed Standard.
A special diet, conditioning, and training regimen are part of their dogs' lifestyle. In addition, infections and parasites are monitored, and deworming is conducted every eight weeks.
Rabenbucht Rottweilers Details
Rottweiler Puppies in Massachusetts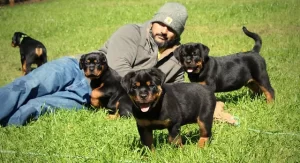 Rottweilers need to live with their owners in the home. They can become aggressive and bored if they're left alone all the time in the backyard. Rottweilers do not do much indoors despite their size.
Although Rottweilers are loyal and homebodies, they require a fenced yard for safety from traffic and because they can be aggressive toward other dogs and strangers. Your Rottie will still be able to escape if you have an underground electronic fence.
In addition, it does not prevent people or animals from entering your property. Post a sign asking strangers and non-family members not to enter your property without your permission.
Rottweilers range in energy levels from couch potatoes to whirlwinds. The breeder can help you choose the best puppy for your lifestyle if you tell her what kind of energy you need.
Rottweilers who are moderately active should take a couple of daily 10- to 20-minute walks. They also like to play with balls and go hiking. Rottweilers with more energy may need to exercise longer and participate in more structured activities.
The combination of their athleticism, intelligence, and trainability allows them to do well in agility and obedience competitions, tracking, therapy work, and pulling a cart or wagon, their traditional job. In addition, parades are a snap with them.
It would be best to keep in mind that Rottweilers thrive on mental stimulation when training them. The Rottweiler dog breed is eager to please you and loves to learn new things. Sometimes it might act willfully, asking to be shown why it should do something.
Fairness, consistency, and firmness will reward your Rottweiler with its fast learning ability. Housetraining your Rottweiler shouldn't be too difficult if you keep a consistent schedule, ensure there isn't any opportunity for accidents indoors, and positively reinforce it when it potties outdoors.
How to Choose a Rottweiler Breeder in Massachusetts
If you are a first-time Rottweiler owner, you should always follow some general tips when choosing a Rottweiler puppy. Selecting a puppy from a litter will be easier if you approach the puppy without shying away.
Choose a dog that lets you hold and handle it and is friendly. You should always ask to meet the parents before buying a puppy. Observing the parents' behavior will help you decide if you want the puppy.
Good behavior, friendliness, and ease of handling are all necessary. Breeders usually tell you how many times a mom has been bred. Her health and behavior could be affected if she has been bred over three times.
Make sure its back legs are straight. Large-breed dogs can be prone to hip dysplasia, which is a costly and heartbreaking condition for both you and the dog. Ask questions whenever you need to.
Your breeder should answer all questions regarding the litter, parents, and Rottweiler breed. It is the breeder's responsibility to care about who buys their dogs. Be prepared to have many questions to answer.
You should request a health certificate. Puppies should be appropriately documented with a health certificate. Make sure the puppies are well-fed and healthy. Clean and shiny coats are essential. Make sure their teeth and gums are white and pink.
Related: Are Rottweilers Good Dogs and Rottie-poo Dog Breed Guide.
Finding a Rottweiler Breeder in Massachusetts
We discussed some Rottweiler Breeders and offered tips for avoiding the bad ones. However, if you're interested in a breeder, you should conduct thorough research. Rottweiler puppies should not be purchased in the first place you find them.
Hopefully, our guide will assist you in finding the perfect puppy. Avoid puppy mills, pet shops, inexperienced online sellers, and backyard breeders at all costs. If you don't have enough money to buy a pet, consider adopting one.
If you're searching for Rottweiler breeders in Massachusetts, you've landed in the right place. We found the best Rottweiler breeders who are ethical, experienced, and breed quality puppies.
Related: Are Rottweilers Dangerous?
Conclusion For The Best "Rottweiler Breeders in Massachusetts"
Even though we have listed the most important points for each Rottweiler breeder, we highly recommend you speak to and visit each before selecting one. Take the time to check out their websites, but don't stop there.
You can also check out their Instagram accounts and see what comments they have left. You can read what their clients have to say about them on their Facebook page. Contact the veterinarians they use and previous adopters if you can.
Spaying or neutering this breed is often recommended since unneutered males are known to have aggressive behavior and more difficulty managing them. In contrast, unneutered females are known to be moody, more challenging to handle, and predisposed to uterine cancers.
It is important to continue training and socializing with your Rottweiler to ensure success. For someone who loves and cares for them, they are lovely pets. When you adopt a puppy, you make both a time and a financial commitment. Be sure to do some research before you decide to become a Rottweiler parent.
For more guides similar to this list of Rottweiler breeders in Massachusetts, you can check out:
Before you purchase a Rottweiler puppy from a breeder in Massachusetts, you can learn more about the breed by watching "Everything You Need to Know About Owning a Rottie Puppy" down below: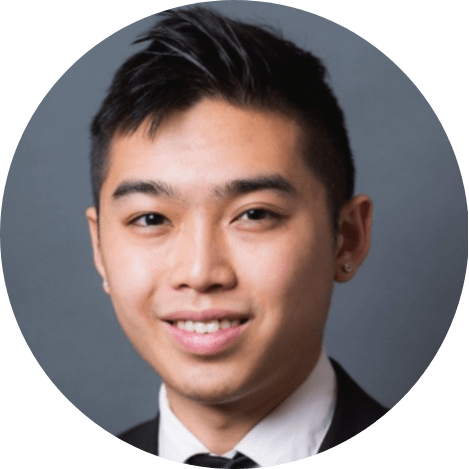 Andy is a full-time animal rescuer and owner of a toy doodle. When he's not saving dogs, Andy is one of our core writers and editors. He has been writing about dogs for over a decade. Andy joined our team because he believes that words are powerful tools that can change a dog's life for the better.
Why Trust We Love Doodles?
At We Love Doodles, we're a team of writers, veterinarians, and puppy trainers that love dogs. Our team of qualified experts researches and provides reliable information on a wide range of dog topics. Our reviews are based on customer feedback, hands-on testing, and in-depth analysis. We are fully transparent and honest to our community of dog owners and future owners.