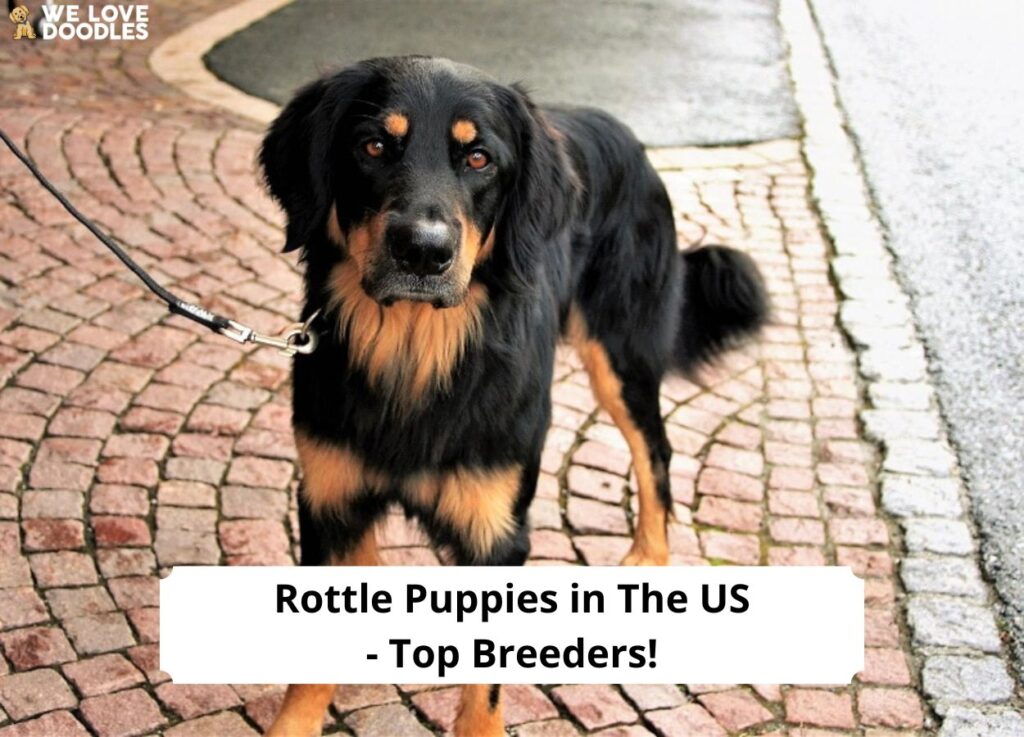 The Rottle is a cross between a Rottweiler and a Poodle. The result is an adorable, furry version of the parents with Rottweiler coloring and the Poodle's bottlebrush nose look. We've compiled a list of the top Rottle breeders in the US so you can begin your search for puppies.
These puppies were first known to be bred in Germany in the 1980s, so they're a fairly new breed. For that reason, it's important that would-be Rottle owners find a breeder that knows their stuff! The Rottle is a playful, loving, and loyal breed but they're a large dog.
It's important that your Rottle grows up in an appropriate environment to ensure his or her health and the safety of your family. When possible, visit the breeder in person to make certain that your Rottle's personality matches your lifestyle, and to check that your puppy was raised in healthy and safe conditions.
Before scrolling down this list of Rottle breeders in the US, check out: 15 Best Rottweiler Rescues in the United States! (2023) and 6 Best Rottweiler Breeders in the United States! (2023).
1. RottlePups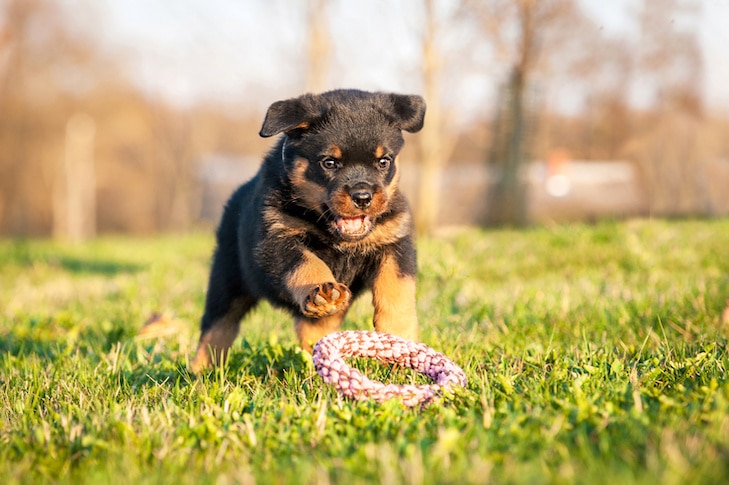 RottlePups is first on our list of the top Rottle breeders in the US. This kennel is a family-run business, and they've specialized in raising Rottle dogs for nine years. The team is available to answer any questions you may have about your dog or the breed in general.
There is a $500 deposit required to hold your Rottle puppy from this breeder and secure your place on the waiting list. Once your puppy is old enough to go home with you, you'll need to pay the remainder of the balance. In total, your pup will cost $2,700.
Available dogs will be pictured on the RottlePups website as they are born. RottlePups is a small-scale breeder so there are usually only one or two litters available each year. Check the website frequently for the most up-to-date information.
Shipment of dogs is available but you'll need to arrange this with the kennel directly. Based on the method of transport and on your location, the price will vary. Shipping cost is in addition to the purchase price of your dog.
RottlePups Details:
2. Mississippi Rottweilers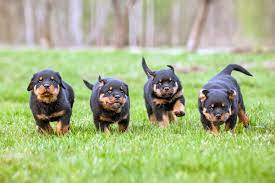 Next on our list of the top Rottle breeders in the US is Mississippi Rottweilers. As the name implies, this breeder produces Rottweiler puppies. In addition, however, they offer the occasional Rottle, or Rottiepoo, puppy for sale. Check with the website for updates on upcoming and available litters.
Your dog comes with a health guarantee, but you must be willing to sign a contract stating that you will care for your pup's veterinary needs and exercise requirements. A spay or neuter agreement may be required, so speak with the kennel about the opportunity to purchase breeding rights.
Your dog will have been nose-to-tail vet-checked and will also have been socialized with humans and other animals before arriving at your home. The goal of Mississippi Rottweilers is to produce puppies with charming temperaments that are ready to join a family environment when they're old enough. In fact, they require an application.
A deposit is required for your dog, and Mississippi Rottweilers doesn't make it a regular practice to ship or deliver dogs. This kennel is convenient for residents of Mississippi, Tennessee, Arkansas, Louisiana, or Alabama to pick up dogs.
Mississippi Rottweilers Details:
3. Greenfiel2d Puppies
Greenfield Puppies doesn't specialize in any one particular dog breed. However, Rottle puppies (called Rottie-poos on this website) are available from time to time. Bookmark the Greenfield website and check back frequently for updates, or enter your email address to be notified when new litters come available.
Greenfield Puppies operates out of Pennsylvania, but they utilize a large network of breeders that are responsible and safe. Your puppy will likely come from a home-based breeder and will be socialized and pre-spoiled in its earliest weeks. Whether you're an individual or have a family, your dog will fit right in.
The cost of your dog will vary depending upon the breeder, but the dog's biography will clearly state the price. Speak with the breeder about any required deposit. Dogs sold in Pennsylvania come with a 30-day health guarantee by law, but your breeder may offer additional protection. Read the terms of your adoption agreement before you sign.
Your dog will come from the mid-Atlantic area, so if you need shipping or delivery please contact Greenfield. The service will be arranged for a fee starting at $545 and your dog will be sent to the airport closest to your home.
Greenfiel2d Puppies Details:
4. Infinity Pups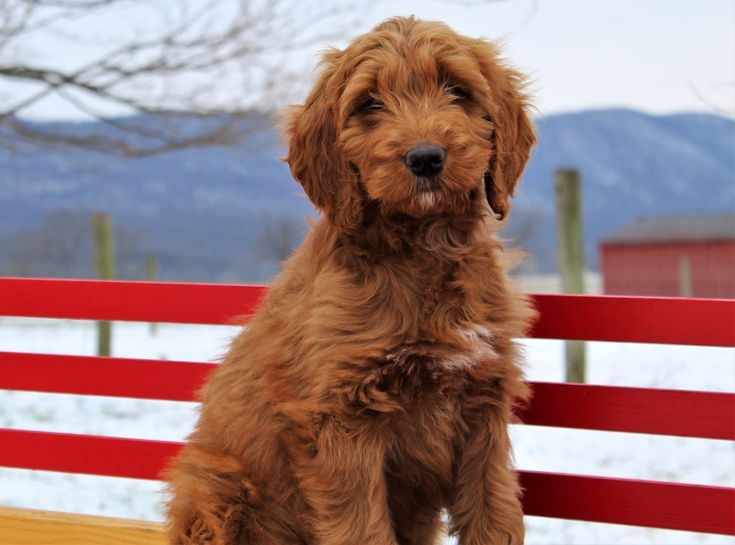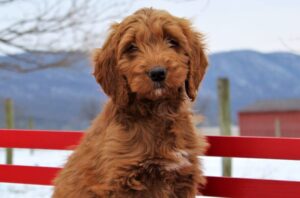 Infinity Pups is next on our list of the top rootlet breeders in the US. Like others on our list, they act as a broker between reputable breeders and customers who want to find a quality puppy. You can find your puppy using the website's search, then interview the breeder to determine whether it's a good match.
At the time this article was written, the total cost for Rottle puppies ranged from $1,500 to $1,800. The breeder sets the price, and you may need to place a deposit to hold your dog. Clicking on a pup's picture will give you a bit more information about the dog, his or her pedigree, socialization history, and more.
Most breeders that advertise through Infinity Pups are willing to ship or deliver your dog, so if you live outside of the area in which your pup is located you'll have this option available to you. You can obtain a quote by chatting with the Greenfield crew, or you can make arrangements directly with the breeder.
Your dog will be current on vaccinations and wormers when he or she arrives at your home. Ask the breeder directly about the dog's environment and, if possible, visit the kennel before bringing your dog home.
Infinity Pups Details:
5. Delovely Poodles
The next Rottle breeder on our list is Delovely Poodles. This small-scale breeder is located in Salisbury, North Carolina, and is a convenient drive for Charlotte residents. The kennel does have a website but also offers pups for adoption through the Good Dog platform.
When puppies are available, they'll be pictured on Good Dog. You can click a puppy's pic to view more photos and videos, then when you find a dog you love you'll be asked to contact the breeder. Delovely will want to speak with you about your puppy goals — your lifestyle and your preferences will play a part in matching a dog to your family.
Pups cost between $2,000 and $3,000 depending upon the sex and other characteristics of the dog. Each baby will be ready to go home with you at eight weeks of age. Contact the kennel directly about the shipping or delivery options available. Air and ground transport are offered and the price will be set based on your location and the method of travel.
Your dog will be vaccinated, dewormed, and vet-checked at eight weeks, and each dog comes with a limited two-year health guarantee. A spay or neuter contract may be required.
Delovely Poodles Details:
6. Lancaster Puppies
Lancaster Puppies is a Pennsylvania-based broker of dogs and, from time to time, they offer Rottle puppies for sale. The organization allows breeders from all over the country to list available puppies, and while Lancaster Puppies is not itself a breeder, the team has a strong no-puppy-mill policy. That said, it is ultimately your responsibility to vet your breeder. Interview them and visit in person when possible.
To find your Rottle puppy, first search by breed. You'll be given a list of available dogs with their picture, location, price, and any registration information. Clicking the puppy's picture will lead you to a brief biography as well as the breeder's information. You'll have access to the kennel's contact information; contacting the breeder is the next step.
A deposit may be required to hold your dog, but this will vary from breeder to breeder. Your puppy will come current on vaccinations and wormers, but you'll need to have a conversation with the breeder about any applicable health guarantees. Dogs sold in PA come with a 30-day guarantee, but an additional warranty may be offered.
Lancaster Puppies doesn't ship dogs, but transport may be available for your puppy. Arrangements for travel will be between you and the kennel and are generally offered at an additional cost.
Lancaster Puppies Details:
Frequently Asked Questions
Are Rottles hypoallergenic?
While Poodles are considered hypoallergenic, Rottweilers are not, so a Rottle's coat will not always be ideal for those with allergies.
How big do Rottles get?
Most Rottles will grow to be between 60 to 90 pounds, although this varies depending on the size of the Poodle parent.
How long do Rottles live?
The life expectancy of a Rottle is 10-plus years.
Conclusion for "Rottle Puppies in the US – Top Breeders"
Rottles are fairly new dogs and, as such, are the targets of puppy mills. Irresponsible breeders produce large quantities of dogs that are notoriously unhealthy and ill-tempered, selling them to pet stores and to the community. Not only do puppy mills have a negative impact on the integrity of the Rottle breed, but they also can put you and your family at risk.
You can avoid puppy mills by seeking out the best Rottle breeders in the US. These kennels give Rottiepoo puppies the love, medical care, and attention they need to grow up healthy and happy. The breeders on our list are known to be reputable and responsible; begin your search for your new Rottle puppy right here!
For more guides similar to this list of Rottle breeders in the US, check out:
Before you purchase a Rottle puppy from a breeder, learn more by watching "ROTTWEILER POODLE MIX / DOG TRAINING" down below:
Garrett loves animals and is a huge advocate for all Doodle dog breeds. He owns his own Goldendoodle named Kona. In addition, he volunteers at the Humane Society of Silicon Valley, where he fosters dogs and helps animals. Garrett enjoys writing about Doodles and believes that dogs can teach humans more about how to live than humans can teach a dog.
Why Trust We Love Doodles?
At We Love Doodles, we're a team of writers, veterinarians, and puppy trainers that love dogs. Our team of qualified experts researches and provides reliable information on a wide range of dog topics. Our reviews are based on customer feedback, hands-on testing, and in-depth analysis. We are fully transparent and honest to our community of dog owners and future owners.