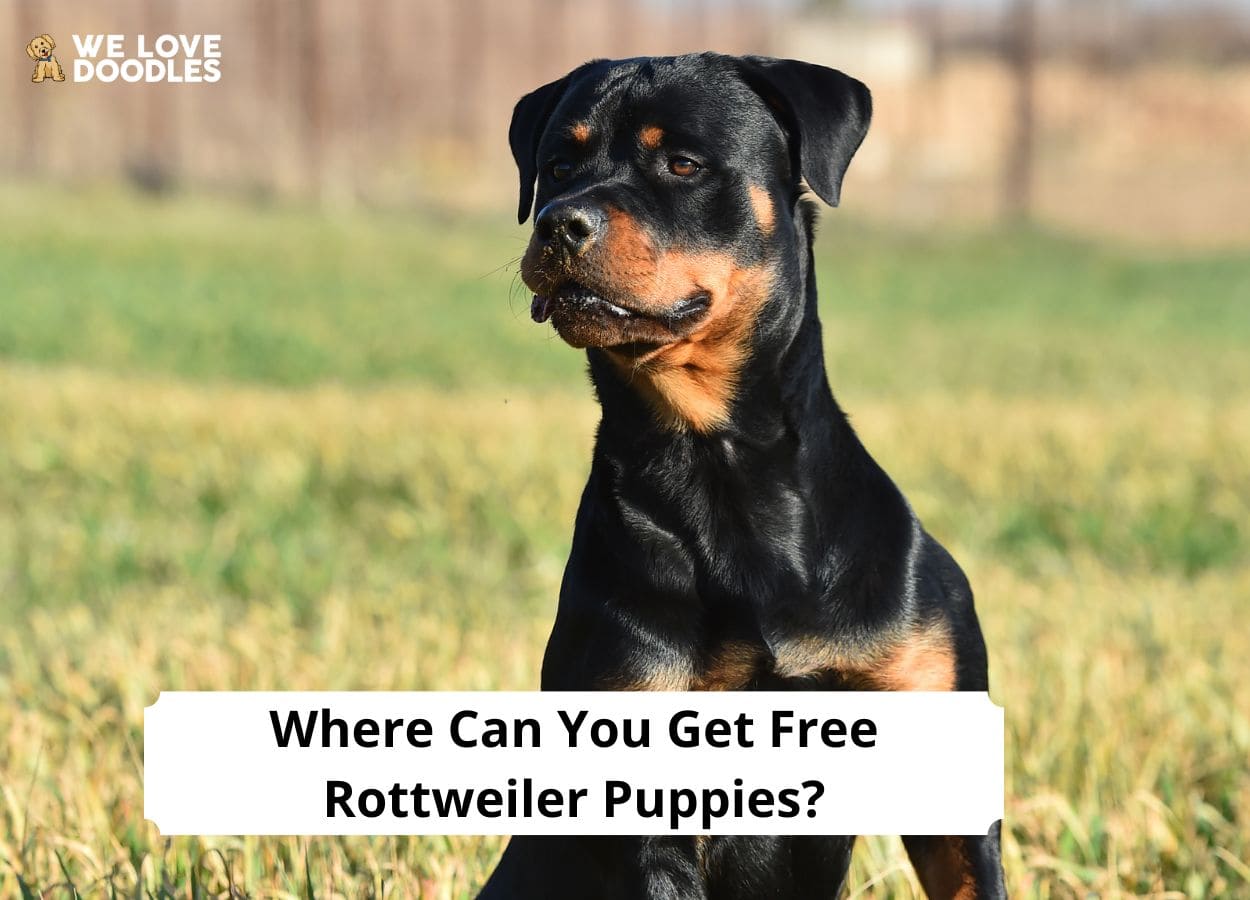 If you're searching for available free Rottweiler puppies, you've come to the right place. The Rottweiler is one of the most popular purebred dogs out there. Being a purebred dog, Rottweilers are on the higher end of the price spectrum when you want to buy one from a breeder.
The price of this dog breed ranges from $1,500 to $4,000, depending on the breeder. Due to the high cost of purchasing a Rottweiler puppy from a breeder, many potential owners have opted to adopt or find free options.
Fortunately, it is possible to get free Rottweiler puppies in the United States; you have to know where and how. In this article, we will share with you some proven methods of finding a free Rottweiler puppy in the United States.
Before you scroll further down this guide, "Where Can You Get Free Rottweiler Puppies," you can check out these other dog-related articles from our team at We Love Doodles: Dogs That Look Like Rottweilers and Best Rottweiler Rescues in the United States.
Before Beginning Your Search For Free Rottweiler Puppies
Before we venture into the various methods, you must know the dog breed you want to buy properly. Here are a few things you should know about this dog breed. Rottweilers are a large dog breed with strong jaws, broad heads, and wide-set eyes. They were originally bred as working dogs and have been recognized as a breed in the United States since 1931.
Rotties are one of the numerous dog breeds that require special care. You need extensive knowledge about their health issues, dietary needs, grooming needs, mental health care, and exercise needs to be able to care for them. Rotties are sweet, protective, and loyal dogs that would make a great addition to your family.
However, this dog breed is not for every individual or family. You should conduct an extensive compatibility test to ensure this is the right breed for you and your family. These slow-maturing dogs need at least one hour of exercise daily because of their genetic predisposition.
Rottweilers are highly intelligent, so they get bored easily and need regular stimulating activities to prevent unwanted behaviors. Routine vet checks are also essential to their overall health and well-being because they are susceptible to many health issues.
As a potential Rottweiler owner, one of the most important things you need to learn is how to feed your puppy. These dogs are highly vulnerable to obesity, so you should pay close attention to how you feed them. Feed your Rottie food that matches its life stage. Your puppy should strictly be on a puppy formula until it evolves into adulthood.
Choose a food specifically formulated for this dog breed or one approved by the AAFCO. Your vet can also help you choose the best food for your puppy. Rottweilers are predisposed to heart disease, so you should avoid feeding them grain-free formulas.
Because of their unstable blood sugar levels, Rottweiler puppies should feed at least four times daily. High-calorie food also helps with growth and metabolism maintenance. Rottweilers have been selected for protection and guarding work. A well-socialized Rottie can get along nicely with people and other pets.
Intelligent, active dogs, Rotties are fully confident to act on their owner, so they need proper guidance right from the start. When you get a free puppy, one of the most important things to invest in is their training and socialization. These dogs need proper training to be excellent family pets and companions.
You also need to socialize them properly by regularly introducing them to various environments, sounds, children, adults, and other dogs. These dogs require minimal coat care; quick, weekly grooming should be enough. You should also expect a little drooling from this breed, especially large males with loose lips.
More Rottweiler-Related Guides: Best Rottweiler Rescues in Ohio For Adoption and
Find Free Rottweiler Puppies Near Me
Rottweiler puppies are generally expensive when you want to buy one from a breeder. This has made many opt to adopt from pet rescue organizations and shelters. However, you can find free Rottweiler puppies with patience and the right information.
Here are some of the options to explore:
1. Contact Local Rescue Groups
We recommend you start your search from a rescue group or organization near you. Rescues are non-profit organizations or groups dedicated to rescuing, medically treating, rehabilitating, and rehoming pets.
In the United States, dozens of rescue groups focus on only the Rottweiler breed. Depending on where you are, you can find many local rescues that save Rotties and find the best homes for them. You can use the internet to find one close to you or ask family, friends, or neighbors.
As you may already know, these rescue groups are run by donations and adoption fees. They charge adoption fees to cover the cost of rescue, vet care, food, toys, and other expenses involved in saving, temporarily rehoming, and caring for these puppies and dogs.
While almost all rescues charge adoption fees, some occasionally organize free adoption events where they give away Rottweiler puppies and dogs for free. You can reach out to rescues close to you and ask if they organize such events. If they do, get the date of the events and requirements for getting a free puppy from them.
Some philanthropists, who do not have enough room to accommodate many dogs, often pay for the adoption fees of many dogs in some rescue facilities. When that happens, the organization will give out the puppies to qualified individuals and families for free. So, reaching out to a rescue group or organization is a safe way to get a free Rottweiler puppy.
Here are some reputable Rottweiler rescues in the United States:
More Rottweiler-Related Guides: Best Rottweiler Rescues in Florida For Adoption and Best Rottweiler Rescues in Texas For Adoption.
2. Contact Local breeders
Contacting a local breeder is one of the least plausible ways to find a free puppy, but it is not impossible. Breeders are the most expensive options for getting a puppy of any breed. However, you can occasionally get a puppy from a reputable breeder free of charge.
Some breeders usually have puppies left unsold from the previous litter and would want to give them out for a small fee or completely free. When people no longer show interest in the remaining puppies, the breeder would want to give them out to create room for the next litter.
Another possible way to get a free puppy from a breeder is when they are about to close down or relocate. When closing down, breeders usually give away their puppies and adult dogs for free or a symbolic fee. However, this method of finding a free puppy is not very popular, but you can't know until you try.
More Rottweiler-Related Guides: Rottweiler Chihuahua Mix Dog Breed Guide and How to Take Care of a Baby Rottweiler.
3. Ask Your Close Circle
One of the easiest ways to get a good recommendation for anything is by asking your close circle. Your close circle may include your family, friends, coworkers, or neighbors. You should ask your close circle if you are looking for a place to get a Rottweiler puppy without paying a dime.
Someone among your friends, family, neighbors, or coworkers might be expecting a litter of puppies and is willing to share them for free. Even if none of them is expecting a puppy, they might know someone who has puppies to share or is expecting a litter and want to rehome the puppies.
More Rottweiler-Related Guides: Do Rottweilers Shed a Lot and Are Rottweilers Good Dogs?
4. Online Forums
Social media platforms and other online forums can come in handy when looking for a free Rottweiler puppy. Facebook, Instagram, Twitter, Craigslist, Reddit, and more are helpful platforms in a situation like this.
You can search for local communities on those platforms with topics related to Rottweiler adoption. These adoption forums include volunteers, adopters, rescue organizations and shelters, professionals, fosters, and dog lovers who like sharing helpful information about these companions.
After joining a forum, you can ask about adopting a Rottweiler puppy for free or search for free adoption offers in the group. But, it would help if you were careful when dealing with strangers online, as not everyone on those platforms has the same intention.
More Rottweiler-Related Guides: Are Rottweilers Dangerous and Why is My Rottweiler Growling?
Conclusion For "Where Can You Get Free Rottweiler Puppies"
Rottweilers are a lovely dog breed that makes excellent companions and pets when properly socialized and trained. These dogs need continuous socialization to blend smoothly into your home and be friendly with other pets.
Regular vet visits and daily exercise are also essential to keep them in good shape and avoid obesity. You can explore the options here to find a Rottweiler puppy for free.
If you find this guide, "Where Can You Get Free Rottweiler Puppies," helpful, you can check out these other dog-related recommendations from our team:
Before you begin your journey for free Rottweiler puppies, you can learn more about this dog breed by watching "7 Things You Must Never Do to Your Rottweiler" down below: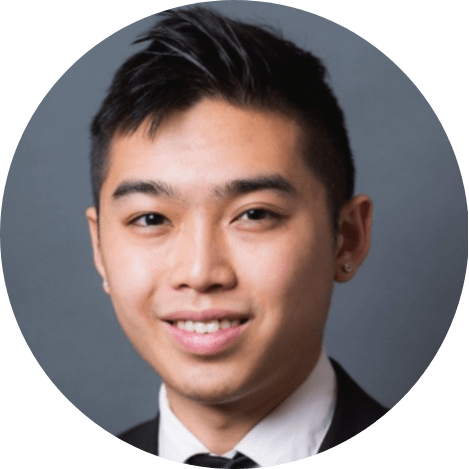 Andy is a full-time animal rescuer and owner of a toy doodle. When he's not saving dogs, Andy is one of our core writers and editors. He has been writing about dogs for over a decade. Andy joined our team because he believes that words are powerful tools that can change a dog's life for the better.
Why Trust We Love Doodles?
At We Love Doodles, we're a team of writers, veterinarians, and puppy trainers that love dogs. Our team of qualified experts researches and provides reliable information on a wide range of dog topics. Our reviews are based on customer feedback, hands-on testing, and in-depth analysis. We are fully transparent and honest to our community of dog owners and future owners.