Are you looking for puppies for sale in Indiana for under $300? You've come to the right place. Breeders are often the first option that comes to mind when looking for puppies for sale. However, getting a puppy from a breeder costs a few thousand dollars, so many prospective pet owners are looking for cheaper alternatives.
You can get a puppy in Indiana for less when you know the proper channels to look at. We've curated a list of some places and ideas for finding inexpensive puppies in Indiana.
Before trying the approaches listed here, we recommend doing some research and finding a breed or a few breeds that are most suitable for your family. Not every dog breed is ideal for everyone, so it is essential to buy one that suits your lifestyle, activity level, and more.
Knowing the breed you want would also help streamline your search process, as you'd know the channels to consider and the ones to skip. Without further ado, here are the best places to find puppies for under $300 in Indiana.
Before you scroll further down this guide, check out these other dog-related articles from our team at We Love Doodles: Best Dog Breeders in Indiana and Best Dog Rescues in Indiana.
1. Pet Rescue Organizations
Dog rescue organizations should be the first option to explore when looking for affordable puppies. These organizations save, rehabilitate, and rehome dogs and puppies of various breeds, sizes, and ages.
By adopting from a rescue group, you will not only save money but also save a life and create room for more pets to be saved. Here are the best rescue groups in Indiana to get a puppy for under $300.
Heaven After Hell Rescue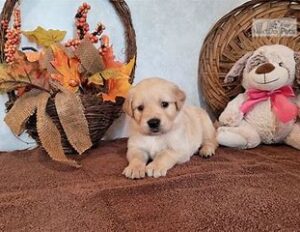 Based in Indianapolis, Heaven After Hell Rescue is a wonderful organization dedicated to rescuing and rehoming shelter puppies and dogs. It is an all-volunteer rescue organization that aims to help animals and give them a better life.
Heaven After Hell Rescue constantly rescues puppies, dogs, and cats from high-kill shelters in the area, paying more attention to those at risk of being euthanized. They also pull out nursing and pregnant dogs from shelters to give them the good life they deserve.
They nurse these dogs until they deliver and care for the puppies and mom. All their pets receive a thorough medical examination. Those diagnosed with medical issues are treated immediately and monitored closely until they are healthy and sound to be adopted.
While in foster care, the puppies and dogs are socialized or rehabilitated to prepare them for their forever homes. All adopters are required to meet and spend some time with the pets before completing the adoption. A home visit is also mandatory to determine if your home is safe, comfortable, and suitable for the breed you want to adopt.
Heaven After Hell Rescue Details:
Rosie's Southside Animal Shelter
Rosie's Southside Animal Shelter has a straightforward mission: to rescue at-risk animals and nurture, rehabilitate, and restore them to live happy, healthy lives in loving homes. RSAS is a reputable rescue team with many volunteers across the state. Since its emergence, this rescue team has saved thousands of dogs, puppies, and cats.
Rosie Ellis, the founder of RSAS, started rescuing homeless kittens in her home in 1987. She started this organization out of love for stray, abused, abandoned, and neglected pets, hoping to give them the best life they deserve.
Rosie works with many other rescues and shelters to help reduce the pain and suffering of at-risk dogs and cats in Indianapolis. RSAS is a non-profit organization, so they don't do this for profit but for their love and compassion for needy animals.
They also have adoption counselors who will work with you to find the most suitable puppy or dog for your family, lifestyle, and unique preferences. In addition, all adopters will enjoy a lifetime of support, guidance, and advice when they adopt a puppy or dog from this rescue organization.
Rosie's Southside Animal Shelter Details:
Ark Animal Rescue and Adoption
Ark Animal Rescue and Adoption is a non-profit, all-volunteer rescue organization dedicated to securing loving forever homes for companion animals. The rescue is on a mission to enhance the lives of companion animals by taking them off the streets and shelters and finding them loving, caring, and responsible forever homes.
However, the rescue organization does many things between rescuing and rehoming these pets. After the rescue, they do everything possible to ensure the dogs are healthy, happy, rehabilitated, and sound before placing them for adoption.
Education and sensitization are also part of their mission. They educate the public about responsible pet ownership, why people should adopt rather than buy pets, and the importance of spaying and neutering their pets.
To that note, AARA ensures all its pets are spayed or neutered to help curb the issue of pet overpopulation. AARA also assists pet owners in their community by working with them to resolve any issue that might cause them to surrender or abandon their pets.
Ark Animal Rescue and Adoption Details:
All 4 Animals Rescue
Located in South Bend, IN, All 4 Animals is a rescue organization that offers healthy yet affordable puppies and dogs for adoption. A4AR operated as a home-based foster rescue when it first started in 2007. However, the organization has grown and expanded significantly.
All 4 Animals Rescue is a registered non-profit organization with an extensive network of volunteers, foster homes, and animal transporters across the state. With less than $300, you can adopt a healthy, sound, and happy puppy from this rescue organization.
Adopting a puppy or dog from this rescue team has many benefits, including a lifetime of guidance, support, and advice. You won't be raising your puppy alone, as they will be with you every step of the way. Another benefit is that your pet will come fully vetted and up-to-date on vaccines.
All 4 Animals Rescue Details:
2. Marketplaces
We recommend extending your search to online marketplaces, as these platforms have listings for affordable puppies and dogs. These marketplaces are known for selling more than just clothing, furniture, and household appliances.
The internet is filled with dozens of online marketplaces, and many have active community members in Indiana. Facebook Marketplace, one of the most popular and largest online marketplaces, is one of the best options to explore. They allow trusted organizations to post adoptable pets. There are also many Facebook groups dedicated to animal adoption and rehoming.
You can buy virtually anything on this platform, including puppies and dogs. Search for the specific breed you want on the marketplace's search engine and filter the results by price and distance.
If you are willing to settle for any breed, you can search for "puppies for sale in Indiana" and sort the results by price. You can limit your search to a specific county or across Indiana.
Greenfield Puppies is another reliable marketplace for finding affordable puppies. You can buy a healthy, happy, and vet-checked purebred puppy on this platform for less than $300. The platform hosts puppies from various states in the US, but we recommend sticking with Indiana-based sellers.
AKC Marketplace and PuppySpot are other helpful platforms for finding cheap puppies in the United States. These platforms list puppies from reliable and registered sellers, so rest assured you will get a puppy bred with high standards.
3. Craigslist
Craigslist is the go-to platform for many people looking for cheap or free puppies in the United States. The platform features listings for jobs, services, housing, and more. You can also find hundreds of classifieds for cheap or free puppies.
Many people who want to rehome their puppies because they have more than expected or are relocating often use this platform to find a new home for their pets. You can be lucky to find such listings and get a puppy for free or pay a small fee to claim the puppy.
Like marketplaces, Craigslist also features listings from other parts of the country. To have the opportunity to meet and examine the puppy before paying, we recommend sticking with Indiana-based sellers.
When buying a puppy from Craigslist, always use safety strategies that are best for you and the puppy. Scammers try to take advantage of the excitement of bringing home a new family member.
4. Social Media
Besides keeping up to date with the latest trends and chatting with family and friends, social media can help you achieve many things. You can use social media to learn new things, market your products and services, and even find affordable puppies.
Platforms like Facebook have many online groups where pet owners share helpful, pet-related information. Some groups also deal specifically with pet adoption, sales, and rehoming. People who want to rehome or sell their puppies at affordable rates also announce it on these platforms.
Limit the search to your county or travelable distance so you can meet the puppy and seller before making any financial commitment. Be cautious when dealing with online sellers, and do not disclose any private or sensitive information.
FAQs
What is the safest way to buy a puppy online?
Most reputable rescues post pictures of their current adoptable puppies online, so start there. Next, search PuppySpot or Greenfield Puppies, which are online classifieds for puppies. Both websites do background checks on the breeders and are dedicated to keeping the sites free of puppy mills.

If you find a puppy on a general classifieds site, such as Craigslist or a Facebook group, request to communicate by phone, never pay in advance, and consider whether or not the price is too good to be true. Breeders who refuse to talk over the phone, require payment before meeting the puppy, showcase a fake breeder badge, and are not knowledgeable of at least the mother are most likely scams.
Is it okay to buy a puppy online?
Finding a puppy online is a great way to find your next companion. Use caution, especially when searching online classifieds, and do some research upfront on the best places to search for puppies online. Local animal rescues, Greenfield Puppies, and PuppySpot are some great, reputable marketplaces places to start your search. When buying a puppy online never pay before meeting the puppy and practice other online safety to avoid puppy scams.
What is the most popular dog breed in Indiana shelters?
Most shelter dogs in Indiana shelters are mixed breed dogs. The most popular are Pit Bull mixes, Labrador mixes, Shepherd mixes, Hound dog mixes, and Boxers.
Conclusion For "Where Can You Find Puppies for Sale in Indiana Under $300"
If you're looking for puppies for sale in Indiana under $300, can try one or more of the options listed here. It's hard to come by cheap puppies, especially purebred and perfectly healthy puppies. The various channels listed here, especially dog rescue organizations, are helpful when looking for cheap puppies.
Puppies and small dogs are the first to be adopted, especially when priced low. After deciding to get a new puppy be patient in your search and don't make any hasty decisions.
If you find this guide, "Where Can You Find Puppies for Sale in Indiana Under $300," informative and helpful, you can check out these other dog-related articles from our team:
Before you find a puppy for sale in Indiana under $300, you can learn more about puppies by watching "Raising a Puppy. Everything you Need to Know" down below:
Garrett loves animals and is a huge advocate for all Doodle dog breeds. He owns his own Goldendoodle named Kona. In addition, he volunteers at the Humane Society of Silicon Valley, where he fosters dogs and helps animals. Garrett enjoys writing about Doodles and believes that dogs can teach humans more about how to live than humans can teach a dog.
Why Trust We Love Doodles?
At We Love Doodles, we're a team of writers, veterinarians, and puppy trainers that love dogs. Our team of qualified experts researches and provides reliable information on a wide range of dog topics. Our reviews are based on customer feedback, hands-on testing, and in-depth analysis. We are fully transparent and honest to our community of dog owners and future owners.