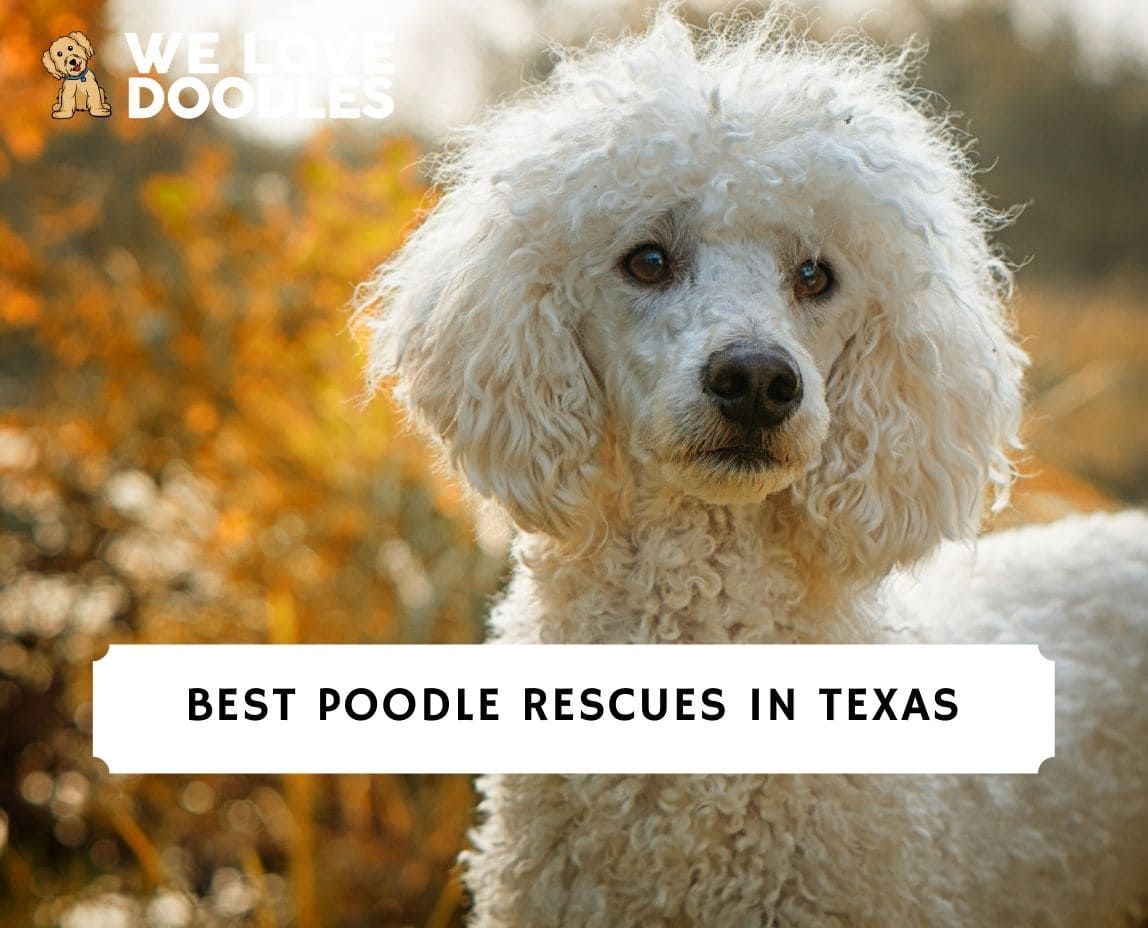 If you're searching for Poodle rescues in Texas, you've come to the right place. Poodles are one of the most intelligent breeds in the world. In addition, they're agile, energetic, hypoallergenic, great family dogs, and easy to be around. You can be spoilt for choice looking to buy a Poodle from a breeder, as you have three different types: standard, miniature, and toy.
That's not to mention doodles, the designer breeds produced when crossing poodles with other dog breeds. It's true – poodle breeders offer plenty of options! However, have you considered adopting a dog from one of the best poodle rescues in Texas? These deserving and, usually, well-behaved dogs are in need of a home like yours.
Before scrolling down this list of Poodle rescues in Texas, check out these other recommendations from our team at We Love Doodles: Best Shiba Rescues in Texas and Best Husky Rescues in Texas.
Find a Rescue Shelter Near Me in Texas
If you're looking to bring a poodle into your life, consider getting them from a rescue or shelter. If you live in Texas, keep reading – today we will share with you some of the best poodle rescues in your area. We'll also discuss what you should look for when choosing a rescue.
Poodle Product Recommendations: Best Conditioner For Poodles and Best Scissors For Poodles.
1. Poodle Rescue of Houston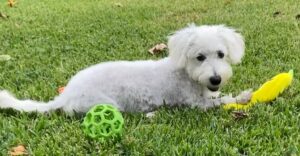 Poodle Rescue of Houston has been in operation since 1999. Founded by a husband and wife team, the shelter was created to address the urgency of care for abandoned and displaced poodles in Texas. Today, the once small-scale shelter can accommodate up to 50 dogs in their program.
Make no mistake – this is a popular shelter! Sometimes too popular, as the shelter can receive up to 50 dogs in a single day. Foster homes are a lifesaver for these dogs, who receive medical care and attention, socialization, and plenty of cuddles while they await a forever home. The shelter is funded through donations, and the staff is comprised of committed volunteers.
In over two decades of operation, Poodle Rescue of Houston has rescued thousands of dogs that have been abandoned, injured, and diagnosed with special needs. The rescue's physical facility boasts large indoor-outdoor kennels that allow pups to explore the world. In addition, there are smaller buildings on the premises that are maintained for administration as well as grooming and kenneling.
Contact the Poodle Rescue of Houston if you're looking for a pup in the Houston area. The adoption fee may vary based on your dog's health, age, and breed. This fee covers a portion of the costs incurred while spaying or neutering, vaccinating, and otherwise tending to your dog.
Poodle Rescue of Houston Details
2. Doodle Rock Rescue Dallas
Next on our list of the best poodle rescues in Texas is Doodle Rock Rescue. This nonprofit focuses on doodles, but the occasional poodle will come through its doors. Located in Dallas, Texas, the rescue is run by a team of dedicated volunteers who want nothing more than to find loving homes for these sweet fur babies! Puppies, dogs, and seniors come from all over the United States, but priority is placed on dogs from the immediate vicinity.
Many Doodle Rock Rescue dogs come straight from the shelter or streets, and often face euthanasia. Doodle Rock Rescue provides these dogs with a lot of medical care and behavioral training before placing them in a loving new home.
Since they first opened in 2017, Doodle Rock Rescue has managed to rescue, rehabilitate and rehome over 1,200 dogs who urgently need care. Because south Texas has the highest euthanasia rate in the country, the need to find caring families like yours is particularly urgent! Check out the available dogs today, and begin the application process to be matched with a dog that will fit in perfectly with your family.
Doodle Rock Rescue Dallas Details
3. The Enchanted Poodle Club, Inc
The Enchanted Poodle Club has been in operation for over 50 years. It's not a Texas poodle rescue, per se, but instead is situated in neighboring New Mexico. That said, they do adopt dogs to Texas families, so take a look at the available pups if you're within driving distance of Albuquerque!
Each dog that comes through the Enchanted Poodle Club will have a unique background. Some dogs have been rescued from high-kill shelters while others have simply been surrendered by their humans. Others are puppy mill dogs, and still others have been abused. Take your time to ask questions of the Enchanted Poodle Club volunteers. Knowing your dog's history is an important part of caring for your dog!
All dogs are spayed or neutered before going home with a new family. Your dog will have been vaccinated, wormed, and microchipped, and a volunteer is assigned to each dog. This volunteer will dedicate their efforts to matching dogs with humans in the best way possible.
Should you have any questions about your adopted dog, contact the Enchanted Poodle Club team. Staff will be more than happy to assist you in choosing food, training your dog, or just finding a groomer.
The Enchanted Poodle Club, Inc Details
4. Atlanta Humane Society
For 150 years, the Atlanta Humane Society has been rehoming and looking after dogs, particularly poodles. Members of this organization care strongly about the relationship between humans and dogs, taking action against neglect, cruelty, and displacement in Atlanta.
To adopt a dog through the Atlanta Humane Society, you'll first select "adopt a pet," then choose dogs. You can view the available animals, but you'll need to fill out an application before you're considered. Expect to answer questions about your history with pets, and to provide vet references. Tell the team about your physical space and yard, the ages of any children you may have, and a bit about your work schedule. This information will be used to match you with a pup that's right for you.
When you finalize your adoption, you'll be asked to pay an adoption fee. In most cases, this is tax-deductible so speak with a financial professional. Discounts are available to veterans and enlisted, healthcare workers, first responders, and even truckers! Ask for details before you adopt.
Atlanta Humane Society Details
5. Needy Paws Rescue Shelter
Needy Paws Rescue Shelter is not far from Texas; it's located in the adjacent state of Arkansas. The organization has been operating since 1997, helping provide sanctuary to homeless, sick, ill, and injured dogs like poodles. Needy Paws is another volunteer-run organization, so if you have a few spare hours each week, why not lend a helping hand?
Needy Paws Rescue relies on the support of donations from generous people like you. Dogs are only accepted by appointment; the shelter stays full to capacity so start your adoption process as soon as you're ready to bring a pup home! You'll be required to apply and may be asked to participate in a home visit or a phone interview. The Needy Paws team wants to make sure your pup will fit right in with your family, and getting to know you better is the best way to do this!
Adoption fees range from $100 to $125 and are set based on your dog's breed, age, health, and other characteristics. Speak to your financial adviser about the possibility of taking your adoption fee as a tax deduction.
Needy Paws Rescue Shelter Details
6. Creole Poodle Rescue
Creole Poodle Rescue is a Louisiana-based organization but they will consider families from Texas. The rescue has been in operation since 1956 as a poodle enthusiasts' club, but expanded their focus to include education and rescue. The organization relies on the help of volunteers, and poodles come primarily from high-kill shelters.
Of course, you'll need to let the Creole Poodle Rescue volunteers know a bit about yourself and your family. While you wait for approval, "like" and "follow" the CPR Facebook page. You'll find pictures of available dogs as well as information about adoption events and other happenings! Social media is a great way to get to know the volunteer team, too, so you can get a better feel of how your dog is being cared for.
Creole Poodle Rescue Details
7. PAWS Shelter of Central Texas
PAWS Shelter of Central Texas has saved countless canine lives through almost 60 years of dedication to rehoming poodles and other dogs in the state. The poodle rescue focuses on rehabilitating animals in an attempt to reduce the euthanasia rate in the Peach State. PAWS is governed by a board of directors, but their team is small, caring, and intimate.
The PAWS rescue facility consists of a small and a large dog area, isolation area, and animal intake zone. Your pup will enjoy a 3.5 acre outdoor space and walking trail, and shelter volunteers will give dogs plenty of time to play and explore outdoors. Speaking of volunteers, PAWS Atlanta relies heavily on the support of locals like yourself! If you can find some free time, consider helping out with walking, photography, transportation, or other tasks.
To be considered for adoption, you must be at least 21 years of age. Present valid ID when you show up at the shelter, and be prepared for the possibility of a home visit. Do you already have pets? Go ahead and ask if you can bring your pup along to the meet-and-greet! PAWS knows how important it is that everyone get along!
PAWS Shelter of Central Texas Details
8. Operation Kindness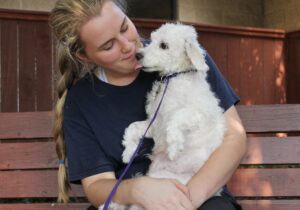 Last on the list of the best Poodle rescues in Texas is "Operation Kindness." Operation Kindness was first founded in 1976 by volunteers to help create a life-changing shelter for homeless dogs such as Poodles. Back then, they mainly operated from volunteers' homes; however, today, they're situated in a brick and mortar location in Carrolton, Texas.
Operation Kindness Details
Frequently Asked Questions
Do you still have questions about adopting from the best poodle rescues in Texas? Here are a few answers to the most commonly asked questions.
Why do so many poodles end up in shelters?
Poodles usually find themselves in shelters through no fault of their own. Maybe the dog was surrendered by an owner who was going through a divorce. Maybe the dog was found abandoned, roadside. Perhaps the pup was abused by another owner and was confiscated by the city.
No matter the reason for your dog's temporary displacement, you can be certain that volunteers will do everything in their power to make your dog suitable for family life. Medical and social rehabilitation are an important part of shelter work, and your dog will be accustomed to the friendly company of others before joining your household.
Why must I pay an adoption fee?
The best poodle rescues in Texas spare no expense to ensure that your puppy or dog is given a clean bill of health. The needs of your dog will depend on his background, but vaccinations, wormers, and spay/neuter surgeries cost money! In addition, your dog will be sheltered and fed while in the shelter's care. An adoption fee is required so that the shelter can recuperate a portion of the expenses incurred while your dog was in the rescue's care.
What are the requirements to adopt a poodle?
The requirements for adoption will vary from shelter to shelter! However, most non-profit organizations follow the same basic procedures. First, you'll fill out an application. Once your app is reviewed, the volunteers will contact you to conduct a phone interview or a home visit. In many instances, shelters will want to meet each member of your family before releasing a dog to your care.
Once you're approved, you'll pay the adoption fee and bring your dog home! Veterans, seniors, and othr populations may be eligible for discounts or even for free dogs, so check with your shelter for more information!
Conclusion For The Best Poodle Rescues in Texas
There are plenty of poodle rescues in Texas and the surrounding states. You certainly have the pick of the litter when it comes to choosing your shelter!
Take your time to get to know more about each rescue before you commit to adoption. Check them out online, read reviews, and meet the dogs and the staff! Once you've found the dog you'd like to call your own, the volunteer team of the poodle rescue you choose will help guide you through the remainder of the process.
For more guides similar to this list of Poodle rescues in Texas, you can check out:
Before you adopt a Poodle from a rescue shelter in Texas, you can learn more about the breed by watching "Poodle: The Pros & Cons of Owning One" down below: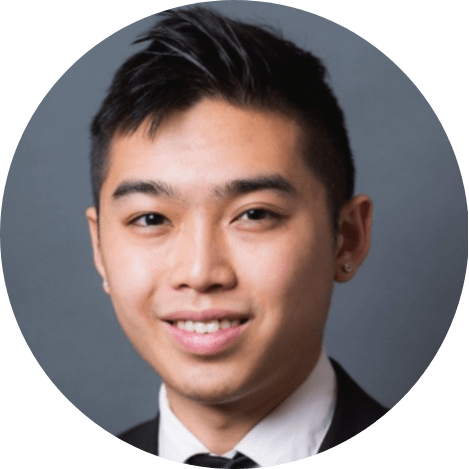 Andy is a full-time animal rescuer and owner of a toy doodle. When he's not saving dogs, Andy is one of our core writers and editors. He has been writing about dogs for over a decade. Andy joined our team because he believes that words are powerful tools that can change a dog's life for the better.
Why Trust We Love Doodles?
At We Love Doodles, we're a team of writers, veterinarians, and puppy trainers that love dogs. Our team of qualified experts researches and provides reliable information on a wide range of dog topics. Our reviews are based on customer feedback, hands-on testing, and in-depth analysis. We are fully transparent and honest to our community of dog owners and future owners.