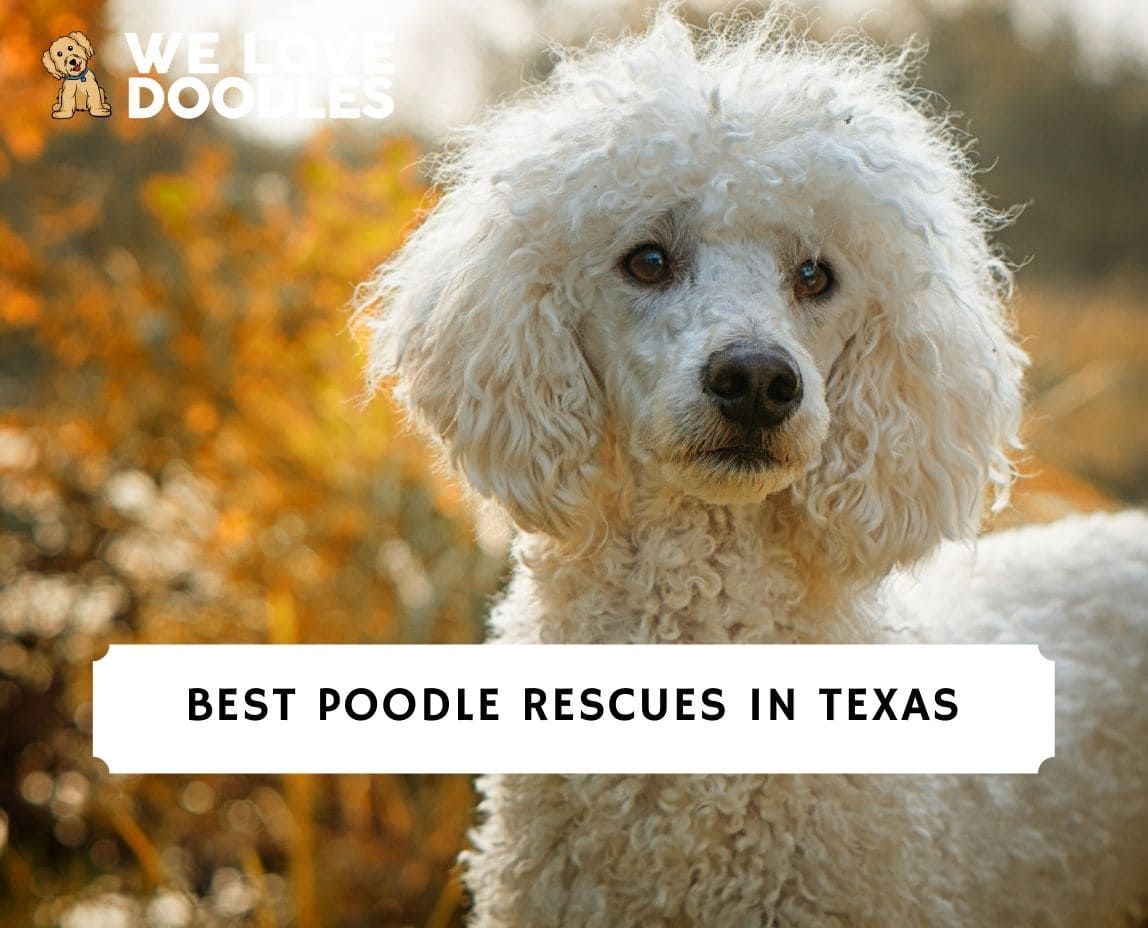 If you're searching for Poodle rescues in Texas, you need to know. Poodles are one of the most intelligent breeds in the world. They're agile, energetic, hypoallergenic, great family dogs, and easy to be around. You can be spoilt for choice looking to buy a Poodle from a breeder, as you have three different types Standard, Miniature, and Toy.
That's not to mention Doodles. But, while you might have options, it's important you also consider Poodles who need to be rehomed. Since they're a well-behaved and charming breed, they are a dog that can easily adapt to any home at any age.
Before scrolling down this list of Poodle rescues in Texas, check out these other recommendations from our team at We Love Doodles: Best Shiba Rescues in Texas and Best Husky Rescues in Texas.
Find a Rescue Shelter Near Me in Texas
If you're looking to bring a Poodle into your life, you should consider getting them from a rescue or shelter. If you're based in Texas, keep on reading, as today we will share with you some of the best Poodle rescues in your area and what to look for when choosing a rescue. Here are the following Poodle rescues in Texas.
Poodle Product Recommendations: Best Conditioner For Poodles and Best Scissors For Poodles.
1. Poodle Rescue of Houston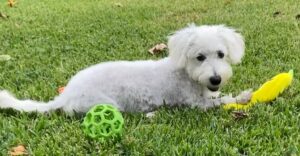 Poodle Rescue of Houston has been operating since 1999 by a husband and wife couple. It came to existence as Guinnette Peebles wanted to address the desperate urgency to offer stay Poodles, shelter, and surrender in the Texas area. Today the Poodle Rescue of Houston can have up to 50 dogs in their program for adoption and rehabilitation.
Sometimes they're so popular that they can get 50 new dogs alone in one day. The rescue has survived from 1999 till now from community donations, personal funds, and a strong commitment to looking after Poodles. They live by their mission of rescuing, rehabilitation, and finding long-term homes for distressed Poodles.
In their 17 years of operations, they've rescued thousands of dogs who have been abandoned, injured, and those who have had special needs. Their sight has large indoor/outdoor kennels that have doggie doors.
Moreover, they have small buildings strictly kept for administration, grooming, storage, and kenneling. They also regularly check the medical needs of their animals; they have an onsite veterinary clinic and surgical suite.
Poodle Rescue of Houston Details
2. Doodle Rock Rescue Dallas
Situated in Dallas, Texas, is a Doodle Rock Rescue. This nonprofit mainly rescues Doodles and sometimes Poodles. They are run by volunteers and only operate from donations. They mainly rescue, rehabilitate and help rehome Poodles from all over the United States.
Many of their dogs have come straight from the shelter or streets, often on their way to having euthanasia. Doodle Rock Rescue provides their dog with a lot of medical care and behavioral training to place them in a loving new home.
Since they first opened in 2017, they've managed to rescue, rehabilitate and rehome 1,200+ dogs who urgently need care. They welcome dogs from all over the United States but mainly prioritize those in South Texas. This is because South Texas has the highest euthanasia rate for all those in the United States.
Doodle Rock Rescue Dallas Details
3. The Enchanted Poodle Club, Inc
The Enchanted Poodle club has existed for over 50 years and is in one of Texas's adjacent states, New Mexico. They mainly take in Poodles for rescue purposes, grooming, and looking after them to give them a new home. It's not unusual for some of their Poodle rescues to have not received the proper training, been on a leash, or anything else.
All the Poodles they look after are spayed and neutered before getting a new home. They allocate a member of their team to fostering each Poodle until they have a proper place.
The Enchanted Poodle Club is also incredibly knowledgeable about this breed, providing you with good advice on crate and behavioral training. Before sending any of their Poodles to a new home, they conduct a thorough evaluation.
The Enchanted Poodle Club, Inc Details
4. Atlanta Humane Society
Over the last 149 years, the Atlanta Humane Society has been rehoming and looking after dogs, especially Poodles. They care strongly about the relationship between humans and dogs, taking action against neglect, cruelty, and displacement in Atlanta.
This rescue operates intending to help better their lives, incorporate compassion and change the whole community mindset of Atlanta. They typically have two adoption processes based on dogs in foster homes or shelters.
When adopting a Poodle from them, you will most likely pay an adoption fee and undergo a thorough check. They also provide a discount to people who are current servicemen/women, veterans, healthcare workers, first responders, and members of the national association of Independent Truckers.
Atlanta Humane Society Details
5. Needy Paws Rescue Shelter
Needy Paws Rescue Shelter is not far from Texas, located in the adjacent state of Arkansas. They've been operating since 1997, helping provide a sanctuary to homeless, sick, ill, and injured dogs like Poodles. All the team at Needy Paws try their hardest to save dogs from euthanasia and help rehome them.
They also operate entirely off donations and no government funding. Moreover, they only take in dogs by appointment. Unfortunately, they can't provide a lot of space for every dog and help existing Poodle owners who struggle to look after their pets.
Adopting a dog with them can cost between $100-and $125 and involves a strict evaluation. All potential adopters have to submit an application and undergo a conversation and inspection about their lifestyle to see if a Poodle is fit for their home.
Needy Paws Rescue Shelter Details
6. Creole Poodle Rescue
Creole Poodle Rescue fosters many dogs and rehomes them within South East Louisiana's neighboring state. They've been running their nonprofit organization since 1956, and it all began with a group of Poodle enthusiasts. Originally, their members were strictly involved in entering Poodles for shows; however, they turned to recuse and public education as time went on.
Today they mainly rely on volunteers. They mainly rescue Poodles and Doodles from kill shelters. Most of the Poodles thee rescues have been surrendered by their former owner or found as stray. Creole Poodle Rescue also accepts Poodles directly from surrender.
They're also very careful about their placement by matching the Poodle's personality to the owner's personality. This Poodle rescue also conducts vet reference checks and home visits before a dog is given a place. Moreover, they also ensure the dogs are spayed/neutered, given shots, tested for worms, and given worm prevention before going to their new homes.
Creole Poodle Rescue Details
7. Paws Atlanta
Paws Atlanta has saved lives, rehoming Poodles and other dogs in Georgia for over 58 years. They mainly try to rehabilitate animals and reduce the high euthanasia rate in Georgia. Mainly they're governed by a board of directors but have a small, intimate, and caring team.
Their rescue facility consists of a small and large dog area, isolation, and animal intake area. They also care about the health of their dogs by having a 3.5-acre walking trail and an off-leash area. Mainly they rely on their directors and donations from their supporters.
To adopt Poodles from them, you have to be 21 years or older and present a valid form of identification. The adoption process involves a meeting with a pet, a conversation, and sometimes a visit to your home. Their adoption fee covers the dog's animal care costs like vaccinations, spaying/neutering, microchipping food, etc.
Paws Atlanta Details
8. Operation Kindness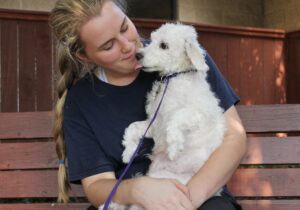 Last on the list of the best Poodle rescues in Texas is "Operation Kindness." Operation Kindness was first founded in 1976 by volunteers to help create a life-changing shelter for homeless dogs such as Poodles. Back then, they mainly operated from volunteers' homes; however, today, they're situated in a brick and mortar location in Carrolton, Texas.
Operation Kindness Details
Conclusion For The "Best Poodle Rescues in Texas"
Overall, there's one main dedicated Poodle rescue in Texas called Poodle Rescue of Houston. The other ones are Poodles, Doodles, and non breed rescues in Texas and neighboring states. Take your time to look at them online, read their reviews, and see if they have Poodles suited for you. Some of these may have adoption fees and undergo strict checks before buying.
For more guides similar to this list of Poodle rescues in Texas, you can check out:
Before you adopt a Poodle from a rescue shelter in Texas, you can learn more about the breed by watching "Everything You Need to Know About Owning a Poodle Puppy" down below: