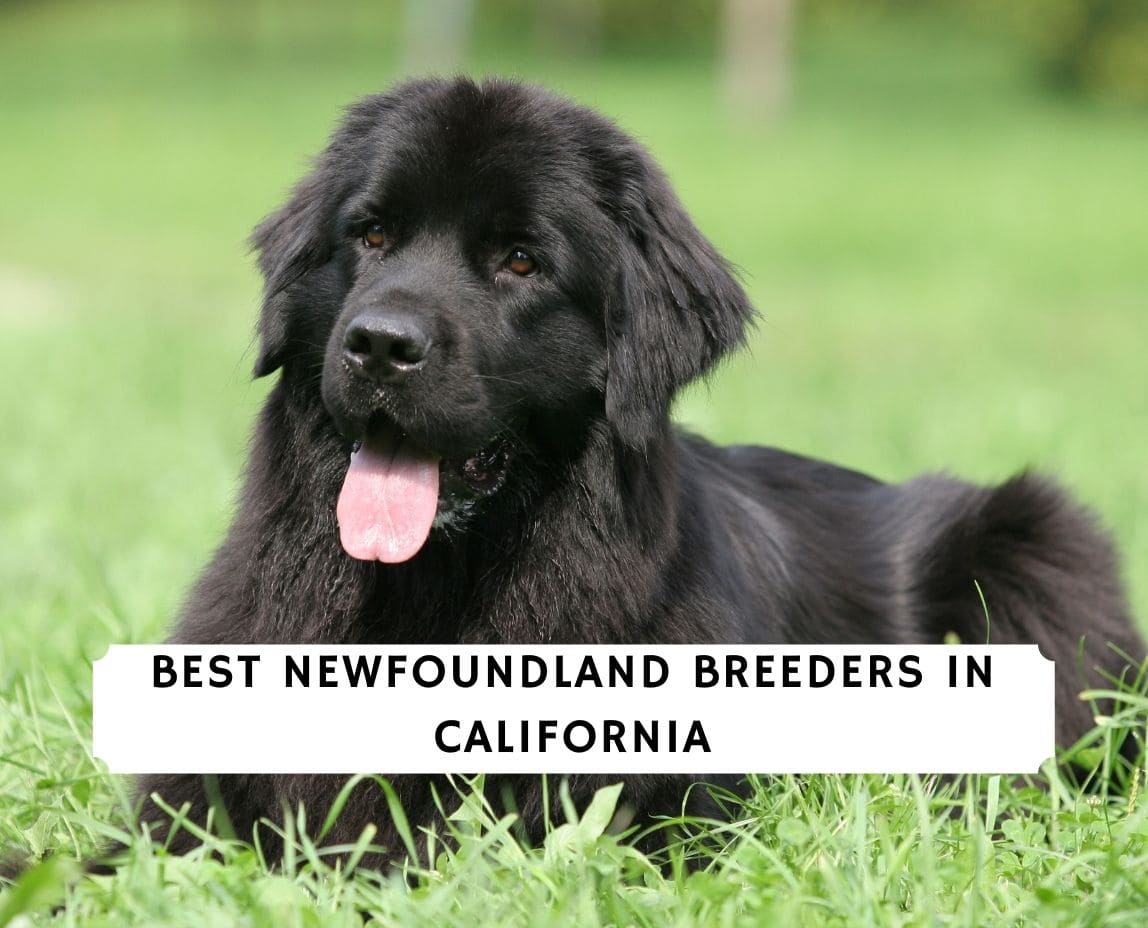 If you're searching for Newfoundland breeders in California, then you've come to the right place. The unique Newfoundland dog breed got its name from where it originated, Newfoundland Island in Canada.
It is categorized under the working group by AKC and is described as patient, sweet and devoted. Newfoundlands are sweet-natured; they are fantastic with children and other pets, plus they make an amazing family pet. Newfoundland is a hardworking and robust dog breed with a life expectancy of about 9 to 10 years.
Their beautiful thick and straight coat comes in colors like black, black-and-white, grey, and brown. This article highlights the names and contacts of reputable and intentional Newfoundland breeders in California.
Before scrolling down this list of Newfoundland breeders in California, check out these recommendations: Best Dalmatian Breeders in California and Best Cocker Spaniel Breeders in California.
Newfoundland Puppies For Sale in California
Choosing Newfoundland as a new family companion is good as you are getting a responsible and excellent pet. However, we recommend you contact a responsible breeder for a healthy puppy with a fantastic temperament and no health concerns. Below is the list of some breeders close to you in California.
Newfoundland Product Recommendations: Best Dog Dental Wipes and Best Luxury Dog Bowls.
1. PuppySpot's Newfoundlands For California
If you're searching for Newfoundland breeders in California, then it's worth giving PuppySpot a try. PuppySpot is an excellent platform where you can find countless dog breeds, including Newfoundland puppies, efficiently.
Every breeder on PuppySpot is screened, so you can rest assured knowing that your Newfoundland puppy will be safely shipped to your home in California. Before continuing on your search for a Newfoundland puppy in California, check out the link to the marketplace below.
PuppySpot Details
2. Trinity Cove Newfoundlands
Trinity Cove Newfoundlands is located in San Clemente, Southern California, operated and owned by CeCe Guyatt, a reputable and deliberate Newfoundland breeder.
CeCe Guyatt is a member and Breeder of Merit at the American Kennel Club, and she is also the president of the Newfoundland Club of San Diego. She also chairs for the San Diego Newfoundland Rescue, where she helps to place Newfoundlands in good homes.
Trinity Cove Newfoundlands started in 2005, and over a decade, their love for the Newfoundland dog breeds has not diminished. Their goal is to produce and raise healthy, intelligent, and beautiful Newfs that make fantastic family companions.
The 4 acre Trinity Cove farm is home to their Newfoundlands and other animals such as goat, alpaca, donkey, chicken, and duck. Before crossing, Trinity Cove parent breeds are thoroughly screened for inheritable diseases to erase all health concerns and produce healthier puppies.
Their puppies are produced and raised on their farmland and among family members to aid socialization and easy transition. All their litters are bred according to the AKC ethical standards for Newfoundland dog breeds.
All Trinity Cove Newfoundlands are current on all vaccination shots, dewormed, and vet examined before leaving for their new homes. Trinity Cove's adoption process is very transparent and trustworthy, with no stress whatsoever.
CeCe Guyatt will be glad to have you visit their farm for more information about their Newfoundland, and you can also visit their website today.
Trinity Cove Newfoundlands Details
3. Poseidon Newfoundlands
Kerry and Craig Dennis are intentional breeders and the brain behind the Poseidon Newfoundlands located in the amazing Encinitas, Southern California. This amazing couple has been breeding since 1981, and they are committed to producing Newfoundlands with sound health, gentle temperament, and beautiful conformation.
They are a proud member of the Southern California Newfoundland Club, the San Diego Newfoundland Club, and the Newfoundland Club of America. Kerry is a member of the San Diego Newfoundland Club and a board member of the club.
They are very intentional about their breeding programs, and they produced her litters following the club's standards for breeding Newfoundland. They breed majorly for good health, top-quality, exceptional temperament, and offer lifetime support to all their clients.
Poseidon is on top of their game when it comes to the health of their dogs as they are OFA cleared for hips and elbows dysplasia. In addition, their Parent breeds are carefully selected from certified pedigrees and are thoroughly screened for health and temperament before crossing to produce healthier litters.
Their Newfs are well-loved and taken care of as they are all members of their family, and they are well socialized. In addition, Poseidon puppies are up-to-date on age-appropriate vaccinations, dewormed, and vet checked before going to their new homes.
Their puppies are not ready to leave until ten weeks of age and are cleared of inheritable diseases. Poseidon looks to sell their puppies only to loving families that desire to get the Newfoundlands for a family companion.
Poseidon Newfoundlands Details
4. Wolf Creek Newfoundlands
The Wolf Creek Newfoundlands is located in Northern California on a beautiful and unique 250-acre campus. They are renowned for breeding top-quality and healthy dry mouth or drool-less Newfoundlands that are cute and smart.
Their primary focus is to produce sound, healthy, and beautiful family companion dogs and has remained dedicated to this course over the years. All their parent stocks are chosen from a healthy pedigree bloodline and are screened for sound health before crossing.
Their Newfoundland puppies are bred and raised on their facility; they are loved and handled daily right from birth. This facilitates excellent socialization skills as they are majorly companion dogs and an easy transition process into their forever homes.
Wolf Creek puppies are dewormed, vet checked, and up-to-date on vaccinations before leaving for their new homes. Also, they are covered with one year has written health warranty and are AKC or UKC registered.
The adoption process at Wolf Creek is hassle-free, straightforward, and transparent, with experienced hands available to help you with transition processes. Supporting a more excellent course is the center point for the Wolf Creek Newfoundlands as all the proceeds from dog sales go to the Together Freedom.
They are an organization launched to support and provide care for girls rescued from child sex slavery in America. Visit their website today to get one of their adorable Newfoundland and help a good course.
Wolf Creek Newfoundlands Details
5. CR Newfoundlands
CR Newfoundlands is a small family breeder located in Hesperia, Southern California, renowned for dedication and premium quality. CR has been producing and raising Newfoundlands since 2010 and has only three litters annually.
They breed primarily for sound health, fantastic temperament, and beautiful looks, and their Newfoundlands make the most adorable family companion around. CR Newfoundland puppies are bred and raised in their home among family members and are never kennelled.
All their dogs are raised with love and affection and are well socialized as they are handled daily right after birth. Their parent stocks are carefully chosen and screened for health and beauty before crossing to produce an exceptional litter.
CR Newfoundlands dogs are members of their family and are spoiled and nurtured with affection. Hence, they look to place them with loving families that will love them much more. They offer lifelong support to all their customers as they become an automatic member of the CR Newfoundlands family.
The eyes, heart, hips, and elbows of all CR's dogs are routine check-ups and health cleared by their trusted Veterinarian. They are dewormed and up-to-date on all age-appropriate vaccination shorts before leaving for their forever homes.
CR Newfoundlands is a great advocate for the NuVet Vitamin Supplements that help the dog a great deal. NuVet vitamins are renowned for aiding, maintaining, and treating numerous conditions in dogs; hence they recommend its usage for all their clients.
The adoption process at the CR Newfoundlands is very transparent, hassle-free, professionally driven, and customer-focused. You can send them a message today or visit their website to get on the waiting list for their upcoming litter.
CR Newfoundlands Details
6. Ardeur Newfoundlands
Last on the list of Newfoundland breeders in California is "Ardeur Newfoundlands." Ann Cramer Brown is the operator, and reputable breeder behind the Ardeur Newfoundlands is renowned for her adorable Black and Landseer Newfoundlands.
Ardeur Newfoundlands is a registered member of the Newfoundland Club of Northern California, and they are located in Nevada City. They are dedicated to breeding nothing but the best quality Newfoundland in Northern California and beyond.
Their goal is to breed a well-balanced Newfoundland that is healthy and beautiful with outstanding temperament. Over the years, Ardeur has achieved its goal by be being intentional about its breeding programs following the club's ethical standard for the Newfoundland breed.
Their dedication has earned them a good name and has brought them on our list of trusted breeders you can contact for your new family addition. Their parent breeds are thoroughly screened for health and beauty before crossing to produce healthier and adorable puppies.
All puppies are well-loved, cherished, and handled daily to facilitate good socialization skills and easy transitioning. Their dogs are family members, and they offer lifelong support to all clients to stay connected with their puppies.
Ardeur Newfoundland's dogs are current on all vaccination shots, dewormed, and vet examined before leaving for their forever homes. The adoption process at Ardeur is very transparent and fun-filled, plus they are customer-oriented. To get one of their lovely Newfoundland, send a message to them today or visit their website.
Ardeur Newfoundlands Details
Conclusion For The "Best Newfoundland Breeders in California"
Newfoundland is a fun-loving, gentle, brilliant, and devoted friend that makes an outstanding companion, especially for families with kids. They are very muscular and make a great swimmer, plus they are a fantastic lifesaver.
The search for a reputable Newfoundland breeder around you in California is made easy with the contacts highlighted in this article. Getting a healthy pet is worth its weight in gold as it saves you from stressing about any health concerns.
For more articles with mentions of the Newfoundland dog breed, you can check out:
You can learn more about the Newfoundland dog breed by watching "The Newfoundland Dog" from Animal Watch down below: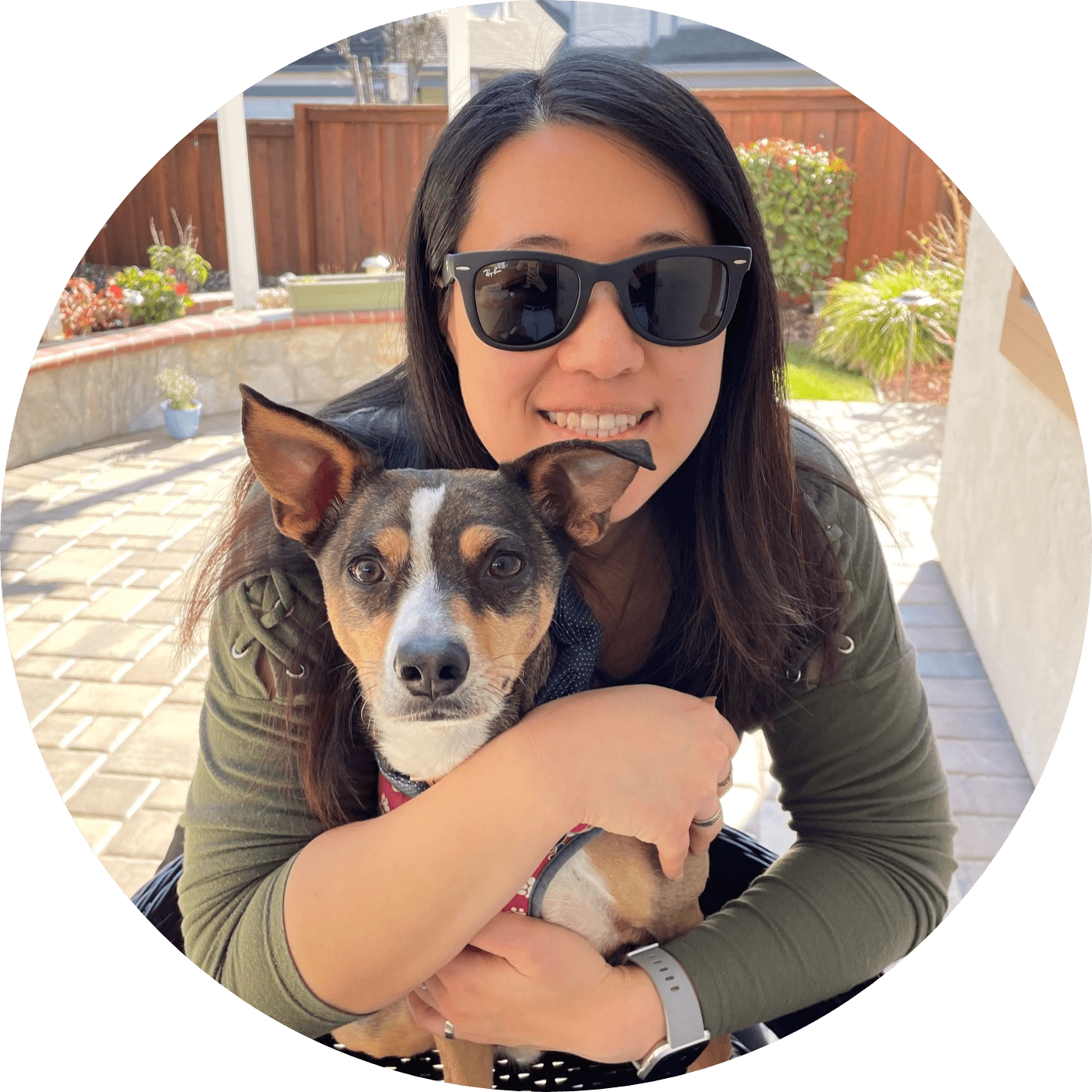 Dr. Sabrina Kong graduated from the Royal Veterinary College in England in 2016 and has been working at a small animal clinic in Northern California since then. She grew up in the Bay Area and got her bachelor's degree from Cal Poly San Luis Obispo. She also became a Certified Canine Rehabilitation Practitioner through a program at the University of Tennessee.
When she isn't in the clinic taking care of her four-legged patients, she enjoys traveling and trying new foods with her friends and her three-legged dog, Apollo. She adopted Apollo from her clinic when he was a puppy with numerous health issues. Dr. Kong truly cares about taking care of animals.