Does your dog seem to have trouble opening or closing his mouth,? He may be suffering from a condition that can be incredibly painful for dogs. So, you may be wondering what exactly a "locked jaw" in dogs is, and what to do about it.
Lockjaw is a condition in which the jaw muscles tighten, making it challenging for your pet to open its mouth. As it's typically a sign of a number of ailments, particularly tetanus, an infection that may spread via open wounds, it's crucial to take your pet to a veterinarian if they've recently had an injury.
Before you scroll down to this guide, "Locked Jaw in Dogs: What You Need to Know," check out: The 8 Best Indestructible Dog Toys! (2023) and My Dog Ate A Pork Bone. What Should I Do? (2023).
What Exactly is Lockjaw?
Dogs with a locked jaw will clearly look uncomfortable. There might be pain and swelling, depending on the cause. Some pets experience muscle atrophy and difficulty eating, which can lead to further problems.
Many dogs won't exhibit any symptoms of the numerous lockjaw conditions until there is an issue, such as obvious pain, a shift in the bones, or jaw paralysis.
The underlying cause of the lockjaw will be important for the diagnosis. Age, the severity of the condition, and your pet's current health status are crucial factors in determining whether the lockjaw can be treated.
Although adult dogs appear to be more frequently affected, there isn't any age, sex, or breed predisposition.
Canines with lockjaw are unable to fully open or close their mouths. A few causes of this illness in dogs include sickness, arthritis, tetanus, and neurological conditions.
Lockjaw Symptoms in Dogs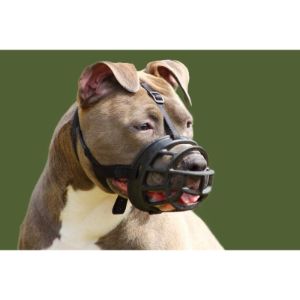 There are several lockjaw symptoms, some of which might be secondary in nature. Consult your veterinarian right away if you notice any of the following symptoms:
Strange face expression
Face expression paralysis
Swelling
Pain
Dehydration
Salivation
Inability or trouble opening the jaw
Difficulty closing the jaw
Muscle atrophy in the mouth, which may show as a weakness when chewing or biting
Fever
Reduced appetite
Jawbone shift, which might only be noticeable upon veterinarian evaluation
Causes of Canine Lockjaw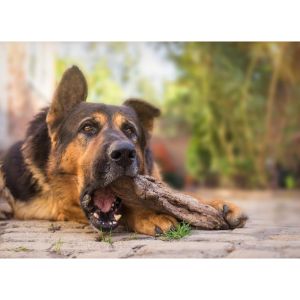 Lockjaw is a condition that occasionally becomes crippling. The inability to open or close the jaw may develop gradually and worsen with time. Certain illnesses can have some sort of remission; however, relapse is fairly prevalent.
Temporomandibular Joint Luxation and Dysplasia
The temporal and mandibular bones combine to form the temporomandibular joint, which is the jaw's movable point. The abbreviation TMJ is also frequently used to refer to the temporomandibular joint.
Each side of the face has a temporomandibular joint, and they coordinate their movements with one another. The TMJ is crucial for appropriate chewing and plays a key role in this process; any dysfunction of this joint impairs the ability to produce regular jaw motions and chew food.
An afflicted dog will experience discomfort while opening or closing its mouth. Temporomandibular joint disorders involve diseases and conditions affecting the TMJ.
TMJ issues may affect any dog, although some breeds, like Basset Hounds, are especially prone. Irish Setters and Bassets have both been linked to open-mouth mandibular locking.
Trigeminal Nerve Paralysis
Dogs seem to be affected by idiopathic trigeminal neuritis more frequently than cats. Trigeminal neuritis manifests mostly as a loss of mouth movement, specifically the capacity to open and close the mouth. The lower jaw of your dog can start to hang loosely. Also, he or she may stop blinking.
Most of the time, especially in the early stages of the disease, dogs do not completely lose their ability to move their facial muscles. Affected dogs also have trouble drinking and eating.
There is also a chance of developing Horner syndrome, facial paresis, and diminished face sensibility. To rule out other explanations, a brain MRI may be advised, particularly if additional neurologic symptoms are present. There is no clear cause.
Masticatory Muscle Myositis
Masticatory muscle myositis (MMM) is an immune system condition in which the canine's body attacks its own muscle tissue because it perceives it as foreign. The muscles used for chewing are called masticatory muscles. These muscles hurt and swell as a result of MMM.
Neoplasia
The word "neoplasia" refers to a variety of abnormal growths. Neoplasms come in both benign and malignant varieties. Neoplasia, tumor, and cancer can be utilized synonymously to describe a variety of growths — even non-cancerous or benign growths.
Osteoarthritis
Osteoarthritis, commonly known as Degenerative Joint Disease (DJD), is an inflammation of the joint that worsens with time and is brought on by the degeneration of cartilage. A healthy joint uses cartilage as a buffer to easily slide over its whole range of motion.
This cartilage cushion degenerates in osteoarthritis patients as a result of age, trauma, stress, or illness.
As this cushion of protection is lost, there is discomfort, swelling, a reduction in range of motion, and the formation of bone spurs. While osteoarthritis may affect every joint in the body, it most frequently impacts the lower spine and limbs.
Tetanus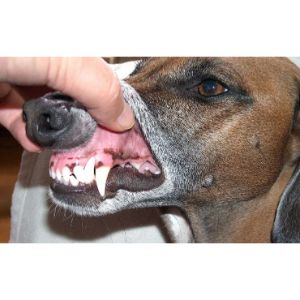 Stiffness of the neck, jaw, and rear legs is typically the first indication your dog has tetanus. This escalates to cause muscular spasms, discomfort when touched, and stiffness of the entire body.
Considering dogs often have a tolerance to the Clostridium tetani bacterium, any negative effects may take longer than normal to manifest. And even when they do, they might not spread throughout the body.
If you don't treat your dog straight away, the poison may gradually spread to other muscles. While there is an antitoxin, the faster you can get your pet to a veterinarian, the more effective the therapy will be.
Hypoadrenocorticism
Hypoadrenocorticism, or Addison's disease, is a condition marked by diminished hormone synthesis from the cortex or outside region of the adrenal gland.
Horner's Syndrome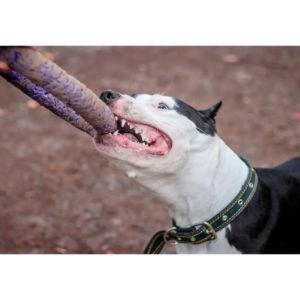 When the nerves that govern particular eye components are damaged, it is known as Horner's syndrome. The eye is not operating correctly because the autonomic processes that formerly connected the eye and the brain have become disconnected.
Retrobulbar Abscess
An infection that develops in the region behind or close to the eye is known as a retrobulbar abscess. Inflammatory debris, or "pus," accumulates, the swelling moves the eye out of position, and the eye swells and turns red.
Swelling can occasionally occur without infection or debris due to an inflammatory process or the movement of a foreign object.
Retrobulbar cellulitis — which the condition is known as when there is no infection — has comparable symptoms and is also treated similarly. Although a retrobulbar abscess may seem to be an eye issue, the eye is typically unaffected.
Trauma to the Mandibular Bones
Fractures of the mandible in otherwise healthy cats and dogs need significant trauma to the lower jaw. The degree of a fracture, which is a break in the bone, can vary from a greenstick (partial crack) fracture to serious comminution (many pieces).
Mandibular fractures are most frequently caused by vehicle impact. Due to the severe stress involved in mandibular (lower jaw), maxillary (upper jaw), or skull fractures, dogs may need care for additional wounds before the fracture is finally addressed.
Diagnosing Lockjaw
A physical examination is the first step in your veterinarian's diagnostic procedure. Despite the best efforts, your dog may experience discomfort if the jaw is physically moved. Naturally, no force will be used, but it could be necessary to analyze movement to ascertain the degree and kind of lockjaw.
You might not be aware that your pet is hurting in other places, such as the tongue, ears, teeth, or oral mucosa. In order to carry out an accurate physical examination, certain dogs may require anesthesia.
Blood tests will be performed; these results may reveal elevated levels of muscle enzymes, the presence of autoantibodies that can alter muscle fibers or even a tetanus indication. After a blood study, underlying diseases or malignant diseases may also become apparent.
Radiographs of the head and jaw, a CT scan, and an MRI are further diagnostic techniques. Another test that may be used to assess how well the muscles of the jaw and face are carrying out their typical duties is electromyography. The degree of fibrosis and muscle atrophy can be determined via a biopsy.
Treating Lockjaw in Dogs
Depending on the underlying reason, the condition may or may not be curable. Examples include temporomandibular ankylosis, which typically requires surgical intervention in the form of bone resection. Antitoxins and antibiotics are used in tetanus therapy.
Since the response to immunosuppressive doses of corticosteroids for masticatory muscle myositis varies, you should know that your dog may require lifetime treatment.
A serious ear condition, for example, can be treated to speed the healing of the lockjaw. A systemic disease would require ongoing treatment and monitoring; therefore, medicine for a condition like hypoadrenocorticism may also help with recovery.
The prognosis may be gloomy if your dog has trouble eating and drinking because of severe muscular atrophy (caused by issues like fibrous muscle). Moreover, there may be a less favorable result from factors like a tumor or a serious injury.
Lockjaw Recovery
Your dog's therapy for mandibular muscle myositis may include a technique that progressively opens the mouth. The treatment for trigeminal nerve paralysis may focus on getting the mouth to shut correctly because of the opposite issue.
In either scenario, your dog will struggle to meet his basic needs of nourishment and hydration while he recovers from or copes with this distressing condition.
As a result, you'll probably need to alter your feeding strategy, whether it's temporary or long-term. It might be necessary to feed him something like gruel so he won't have to chew it.
Frequently Asked Questions
Can a dog's dislocated jaw heal on its own?
While a dog's dislocated jaw can somewhat heal on its own, it's all for nothing if it doesn't heal in the appropriate position. As such, you will want to consult with your veterinarian.
Can you pry open a dog's jaw?
In situations where your dog has something it shouldn't — say, a harmful piece of food — you should not try to pry open the mouth to retrieve it. Doing so will likely make your dog resist more.
How painful is lockjaw?
Lockjaw can feel like an uncontrollable muscle spasm — like the jaw is cramping.
Conclusion for "Locked Jaw in Dogs: What You Need to Know"
Our fur babies' health is our top priority. So, even though a locked jaw may or may not be something to worry about in dogs, we recommend you visit a veterinarian to rule out dangerous underlying health issues.
If you find this guide, "Locked Jaw in Dogs: What You Need to Know," helpful, check out:
Learn more by watching "Pitbull Dog Lock Jaw? Is it Real?" down below:
Garrett loves animals and is a huge advocate for all Doodle dog breeds. He owns his own Goldendoodle named Kona. In addition, he volunteers at the Humane Society of Silicon Valley, where he fosters dogs and helps animals. Garrett enjoys writing about Doodles and believes that dogs can teach humans more about how to live than humans can teach a dog.
Why Trust We Love Doodles?
At We Love Doodles, we're a team of writers, veterinarians, and puppy trainers that love dogs. Our team of qualified experts researches and provides reliable information on a wide range of dog topics. Our reviews are based on customer feedback, hands-on testing, and in-depth analysis. We are fully transparent and honest to our community of dog owners and future owners.