The Labradoodle breeding business is still very much in its infancy in the state of Alabama, so we've gotten a bit creative, exposing you to a wide range of spectacular doodles including Labradoodle, Australian Labradoodles, and Goldendoodles. If you're in love with the doodle breed due to their hypoallergenic and nonshedding genetic features, we will help you find a breeder in Alabama. There are several Labradoodles puppies for sale in Alabama, and it's important that you know how to select a breeder who health checks their dogs.
Since there aren't many Labradoodle breeders in Alabama, we've also thrown in one from neighboring Mississippi state for good measure. The two major breeders were can Labradoodle puppies in Alabama are Southern Meadows and White Sand.  These two operations are proud to offer some of the highest quality doodles from the Australian Labradoodle (ALD) bloodlines. They raise their Labradoodles puppies with the most sensitive health testing, genetic testing, and training programs. The cost of a Labradoodle adoption ranges from as low as $1800 to as high as $2950. We also have a few other reputable breeders you can find Labradoodle puppies from.
Other articles you might like: Goldendoodle breeders in Alabama.
1. Southern Meadows Australian Labradoodles Alabama
Located in the heart of North Alabama's section of the Tennessee Valley, the Tyrka family specializes in miniature and medium multi-generational Labradoodles. Many new pet owners like multi-generational Labradoodles because they are typically backcrossed with the Poodle multiple times making them truly nonshedding and hypoallergenic. This is great if you don't like vacuuming or someone in your family has a pet allergy.
With four home-schooled children, both big and little dogs are spoiled here! The Trykas rave about the empathetic and easygoing nature of the Labradoodle, especially true when it comes to their children as they seem to know when one of them wants to cuddle.  Training is also very important for raising their Labradoodles puppies in Alabama. They have a lot of built-in trainers who are all very proud when they achieve their Canine Good Citizen certificate.  As a complete part of an adventure-loving family, their lucky Labradoodle puppies will often tag along on swimming trips. 
They are currently accepting reservations for their planned litters, but you'd better act fast because their Labradoodle puppies sell out quickly.  To inquire about the price and the current status of the waitlist, contact Danielle Tyrka with the information below. 
Labradoodle Puppy Information
Generation: Multi-generational Australian Labradoodle puppies
Size: Miniature and Medium Labradoodle puppies
Labradoodle Breeder Information
2. White Sand Australian Labradoodles Alabama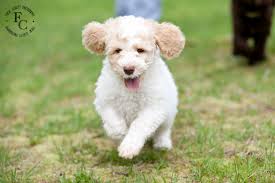 Susannah and Kelly Spivey hold their Labradoodle breeding program to the highest of standards, so they have carefully cultivated relationships with other breeders from across the country in order to obtain the best quality dams and sires.  When they lost their first Labradoodle puppy, they were devastated. Wanting to prevent that pain as long as possible for other families drives them to select only the healthiest Labradoodle bloodlines They extensively test all their parent Labradoodles for problems with hips, elbows, and the heart. You can rest assured that you will be getting a healthy Labradoodle puppy in Alabama.
They also emphasize the difference that Labradoodles can make in the life of someone with special needs or otherwise isolating factors. White Sands has strong ties to many such organizations and places their puppies as therapy dogs.
In addition, White Sand has joined many other breeders across the south in partnering with BAXTER & Bella's online training school to provide their Labradoodle parents with 25% off a wide range of professional courses, tips, and videos. You'll never have to worry about remedial lessons for your puppy! They also hold their adopters to the highest of standards and expect you to feed your little one the nutritious diet to which they've become accustomed to and treat them with the respect they deserve. 
They begin to take reservations for their Labradoodle puppies in Alabama up to a year in advance. The cost of a Labradoodle is $2800. If you're coming from outside of Alabama, they will safely ship your Labradoodle puppy to you for $475.  Your puppy will come to you with a 2-year genetic health guarantee, age-appropriate vaccinations, and well on their way to being potty-trained. This is one of the most reputable Labradoodle breeders in Alabama.
Labradoodle Puppy Information
Generation: Multi-generational Australian Labradoodle puppies
Size: Miniature, Medium, and Standard Labradoodle puppies
Labradoodle Breeder Information
3. Mountain Spring Farm Doodles AL
These breeders have been breeding Labradoodles and Goldendoodles on their sprawling family farm for 17 years. Their practices and protocols speak to this experience and they are one of the oldest Labradoodle breeders in Alabama that we could find. It is certainly echoed with their focus on the health and reputation of repeat customers. They only breed dogs with excellent hips, elbows, and temperaments which are the first and foremost traits that they look for in their Labradoodle puppies.
Since hip dysplasia is a condition commonly found among larger breeds like Standard Poodles, Golden Retrievers, and Labradors, you won't find anything less than a "normal" hip score on any of their dogs. Environmental factors also play a significant role in this debilitating disease, so they are careful in their training protocol not to put excess pressure on these developing muscles.
Their doodles litters are mainly composed of Goldendoodles, but they're expecting adorable double doodles in creams and golds. Doodle doubles are a mix between the Labradoodle and Goldendoodle. One cost of one of their puppies for sale in Alabama can still be yours for $1800. Visit their website to get a glimpse of the beautiful parents. If you're as confused as I once was about the myriad types of doodles (F1b, F2. F3, etc.), check out our articles on the best Labradoodle Generations.
Labradoodle Puppy Information
Generation: Multi-generational Labradoodles and Goldendoodles
Size: Standard and Mini puppies
Labradoodle Breeder Information
4. Ace Farms Doodles Alabama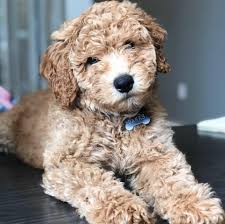 It's all about diversity here at Ace Farms – of the Poodle and Doodle variety!  Ace Farms Doodles has a stud named Barkley and the company of seven female standard poodles! This up-and-coming Poodle and Labradoodle breeder began when Dempsey and Chelsea Isom adopted a Labradoodle named Max, and wanted others to experience the blessing of the selfless love he gives.  Having breeding experience for both the Poodle and Labradoodle, they had an idea: Why not breed for the best of both?
While most of their mom Poodles are AKC and CKC registered standard Poodles, there's a good chance that Max's genes will triumph soon, producing wonderful standard Labradoodles. With partis and solids of beige, black, red, and white, you can just imagine how beautiful your future Labradoodle puppy in Alabama will be! 
They are only breeding Poodles and Goldendoodles at the moment, but keep checking back as they are currently in the planning stages for 2021 and as we know from its predecessor, anything can happen!
Labradoodle Puppy Information
Labradoodle Breeder Information
Address: 36 Belair Dr, Arab, AL 35016, United States
Phone:  256-558-8346
5. Dawson Creek Mississippi
This small and family-owned breeder believes that good dogs come in small packages.  Brenda Dawson lives with her husband, son, and eight Labradoodle moms in the historic town of Luka, Mississippi which is known for its restorative mineral springs.  Health, happiness, and a calm demeanor are a major staple of their Labradoodle breeding program.
The adult dogs and Labradoodle puppies all live as family members inside their home and the homes of guardian friends. They are given the same respect and rules as their human children. Visiting Dawson Creek will have you seeing red in a good way! With stunning coat colors of golden, auburn, and copper red, you'll be sure to get a beautiful Labradoodle.
If you are interested in adopting a Dawson Creek Labradoodle puppy then you should know that every mom is the next generation of Barksdale's premium line of red Australian Labradoodles. While all current and upcoming litters are already spoken for, they encourage you to keep checking back on their waitlist. Each one of their Labradoodle puppies in Alabama costs $2950, including a $500 deposit, and comes with age-appropriate vaccinations, a 2-year health guarantee, and a blanket with mom's scent to ease the transition. 
Labradoodle Puppy Information
Labradoodle Breeder Information
Conclusion for Labradoodle Breeders in Alabama
There aren't that many Labradoodle breeders in Alabama that are reputable. We've done our own independent research to only find breeders that were not puppy mills or backyard breeders. In general, you want to find a Labradoodle puppy in Alabama that will be happy and healthy.
In order to get a healthy Labradoodle, you need to verify all health and genetic testing to make sure they don't inherit a disease. Next, you'll want to ask the breeder several questions about the dog's personality and temperament. Lastly, if possible, always view their breeding facility and build a sense of trust with the Labradoodle breeder. We hope that you found a puppy and were able to connect with a reputable breeder!
Garrett loves animals and is a huge advocate for all Doodle dog breeds. He owns his own Goldendoodle named Kona. In addition, he volunteers at the Humane Society of Silicon Valley, where he fosters dogs and helps animals. Garrett enjoys writing about Doodles and believes that dogs can teach humans more about how to live than humans can teach a dog.
Why Trust We Love Doodles?
At We Love Doodles, we're a team of writers, veterinarians, and puppy trainers that love dogs. Our team of qualified experts researches and provides reliable information on a wide range of dog topics. Our reviews are based on customer feedback, hands-on testing, and in-depth analysis. We are fully transparent and honest to our community of dog owners and future owners.