If you're looking to get a Havanese puppy, you're probably on the hunt for reputable breeders in Quebec. These dogs are highly intelligent, affectionate, and quickly learn new tricks. In addition, they come in a variety of colors, like white, black, and even tri-colored coats.
Health-wise they are particularly sturdy, with longevity to boot! These breeds also adapt easily to small spaces, which makes them perfect for apartments or small homes. On top of all these traits, the Havanese is also very easy to take care of and doesn't require large amounts of grooming.
In Quebec, there are several Havanese breeders that have been raising puppies ethically and responsibly — and we've got the scoop.
Read on to learn more about some of the best Havanese breeders in Quebec.
Before scrolling down this list of Havanese breeders in Quebec, check out these articles: 4 Best Havanese Breeders in Ontario! (2023) and 6 Best Maltipoo Breeders in Ottawa! (2023).
1. Amistosa Havanese
Terri Fudge, the owner of Amistosa Havanese in Durham, made a decision to become a breeder after several unfortunate experiences with other breeders who sold her genetically ill Havanese. As such, she is now passionate about providing healthy and happy puppies to potential pet owners.
She puts a premium on the health of her puppies and will do whatever it takes to guarantee they are genetically diverse in order for them to stay healthy. Her puppies are all raised at home with loving care, and she maintains their environment meticulously.
To guarantee that the puppies are physically fit and strong, their parent undergo a rigorous health assessment. This includes patella (knees), CERF (eyes), and BAER (hearing) exams, as well as blood tests, heart scans, elbow evaluations, hip screenings, and thyroid testing.
Every puppy is registered with the distinguished Canadian Kennel Club, of which the owners hold a premium membership. Moreover, she also maintains memberships in the Provincial Breed Club, National Breed Club, Havanese Owners & Lovers Association, and Havanese Fanciers of Canada.
As Treasurer and Secretary of the Ontario County Kennel Club, she is devoted to her cause. When puppies reach eight weeks, they are immunized against distemper, parvovirus, Parainfluenza, and hepatitis — ensuring their safety as well as that of other pets in the area.
If you decide to bring a pup home prior to 12 weeks of age, experts suggest that their second booster vaccine is administered before they reach the third month, with an additional booster by 16 weeks.
If any health issues are determined by a certified veterinarian within three days of receiving your puppy, you can return them for an unconditional refund. Simply provide the vet report and receipt to receive all that you paid. Moreover, each puppy is microchipped and dewormed before arriving at your door.
At Amistosa Haven, they have a satisfaction guarantee. So if your puppy develops any genetic disorder in its first two years, don't worry! They'll take the pup back and provide you with a new one. So if you're interested in connecting with them today, use their contact details provided below.
Amistosa Havanese Details:
2. Rockhurst Havanese
Elizabeth Obrecht, a Canadian National Breed Club founding member, ensures that Rockhurst Havanese is a reliable source for acquiring exceptional dogs.
Elizabeth's curiosity to produce a miniature version of the Golden Retriever led her to establish a kennel in an out-of-the-way hamlet near the National Capital Region. Her answer? The Havanese!
As a Canadian Kennel Club member, Obrecht won the prestigious Master Breeder certification. She regularly puts her furry friends on display at events around North America, and they particularly shine in competitions that span across Canada and the US alike.
If you're searching for an excellent canine companion, look no further than Rockhurst Havanese. Their dogs have outstanding personalities that make them perfect family members.
Elizabeth Obrecht firmly stands for ethical breeding practices and shows immense compassion to both the parent canines and their puppies. In addition, she has a wide selection of senior Havanese dogs available for adoption.
To guarantee that all the parent dogs are healthy and able to breed robust puppies, they strictly follow CKC standards for health screenings. Furthermore, each pup is registered, microchipped, vaccinated, and dewormed in order to provide you with only the best quality companion animal.
Rockhurst Havanese Details:
3. Heart's Delite Havanese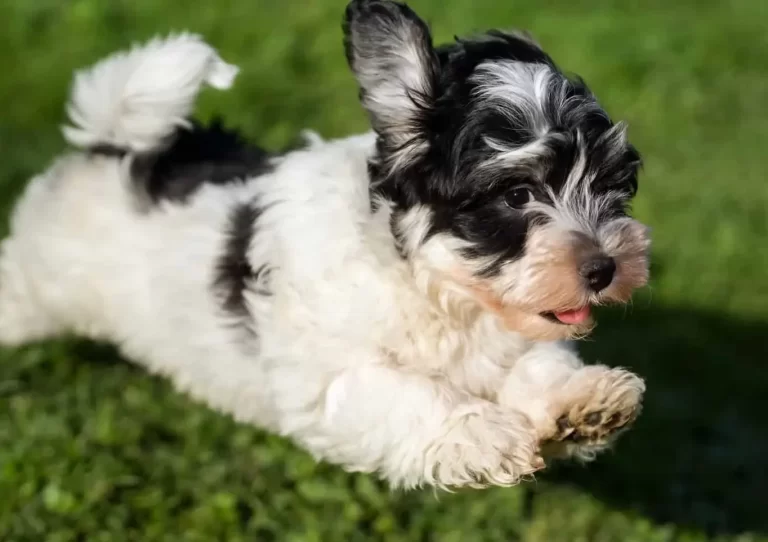 Heart's Delite Havanese is a unique breeder. Healthcare workers who were in search of small emotional support dogs to aid those suffering from depression and PTSD founded the kennel.
Having bred Newfoundlands and Golden Retrievers prior, they stumbled across the Havanese's incredible potential to be excellent therapy dogs. This discovery prompted them to start a kennel so that they could provide their clients with these amazing puppies.
Now, they carefully select homes for the puppies by assessing potential buyers to guarantee a loving and secure environment.
With the utmost attention and love, they raise their dogs from home. They are very selective in choosing which dogs to breed so that various healthy puppies with desirable qualities can be born. All of their dogs have either already won championships or are currently competing for a championship title.
With distinction, they have been awarded the CKC's Top Dogs. Since 1987, the kennel owners have proudly been loyal members of the CKC, and all puppies are officially registered with them.
At Heart's Delite Havanese, their devotion to pup training is unparalleled. Not only do the puppies become comfortable and social in the presence of adults, kids, and other pets, but they are also learn how to go potty outdoors or indoors on special potty patches.
With a plethora of enthusiastic customer reviews, Heart's Delite Havanese is known for its exemplary service. And before going to their forever homes, the puppies are vaccinated and microchipped in addition to undergoing three deworming treatments.
At Heart's Delite Havanese, they understand how important it is for a puppy to be healthy and happy. That is why their puppies get rigorous vet examinations before going home with their new family. They guarantee that all of the puppies are well taken care of, loved, and given lots of attention to make sure they will have long and fulfilling lives once adopted.
Heart's Delite Havanese Details:
4. Weylin Marsh
Are you seeking a Havanese of superior quality? Look no further than Weylin Marsh, a family-run kennel in Innisfil that breeds exquisite champion Havanese dogs. Most recognizable for their awards, you can trust this establishment to provide impeccable service and an unbeatable experience every time.
Boasting multiple wins at various dog shows, their dogs are of the utmost quality. Not only are all their canine friends registered with Canada's Kennel Club, some even have American Kennel Club registration too! So this is your chance to get a champion pup from experienced breeders who know what they're doing.
With three of their parent dogs holding Champion status and two with Grand Champion titles, you can feel confident that your pup will possess the highest-quality purebred features.
Weylin Marsh takes the utmost care to ensure that their puppies have a great disposition and are in excellent health, going so far as to routinely examine parent dogs with BAER testing for quality of hearing, CERF testing for clear vision, as well as evaluating liver, kidney, kneecaps, and heart function.
Rest assured, the puppy you take home will be in excellent health and free of any infectious or genetic diseases. However, suppose within the first five days after taking your pup home, a veterinarian confirms that it has developed an infectious disease. In that case, they'll allow for its return and issue a complete refund.
Should your canine companion develop a genetic disorder within their first five years, you'll receive a new Havanese puppy as a replacement. Before they come to live with you, all their puppies are dewormed, vaccinated, and closely inspected by one of their certified veterinarians. So rest assured that the puppy will arrive healthy and ready for love.
Adopters must sign a non-breeding contract. If any questions or concerns arise during the buying process, they are more than willing to provide answers. Drop-ins will not be accepted to ensure everyone's safety and comfort within the facility; don't hesitate to get in touch with them ahead of time if you wish to view their dogs in person.
Weylin Marsh Details:
Frequently Asked Questions
How much does a Havanese cost?
For a quality Havanese puppy, you can expect to pay anywhere from $1,500 to $3,500 from a reputable breeder.
Can Havanese live to be 20 years old?
While it's not unheard of, the life expectancy for a Havanese is typically 14 to 16 years.
Do Havanese like to be left alone?
Havanese are affable companion dogs who enjoy human interaction, so they do best when they have company.
Conclusion for "Best Havanese Breeders in Quebec"
Finding the right Havanese breeder doesn't have to be difficult — there are plenty of great options out there. The key is doing your research beforehand so that you can find the perfect fit for your family's needs.
We hope this list has given you an idea of where to start when looking for a reputable Havanese breeder in Quebec — good luck!
For more guides similar to this list of Havanese breeders in Quebec, check out these guides:
Before you bring home a Havanese puppy from a breeder in Quebec, you can learn more about the breed by watching "Havanese Pros And Cons | The Good AND The Bad!!" down below:
Garrett loves animals and is a huge advocate for all Doodle dog breeds. He owns his own Goldendoodle named Kona. In addition, he volunteers at the Humane Society of Silicon Valley, where he fosters dogs and helps animals. Garrett enjoys writing about Doodles and believes that dogs can teach humans more about how to live than humans can teach a dog.
Why Trust We Love Doodles?
At We Love Doodles, we're a team of writers, veterinarians, and puppy trainers that love dogs. Our team of qualified experts researches and provides reliable information on a wide range of dog topics. Our reviews are based on customer feedback, hands-on testing, and in-depth analysis. We are fully transparent and honest to our community of dog owners and future owners.