There are many dog food brands on the market today, so it's understandable if you're a little confused about which one to give to your dog. When it comes to our furry friend's diet, it's really important for you to do your research. As we'll cover in this review, Harringtons is one dog food brand we can get behind.
It offers our dogs great nutrition with high-quality ingredients and no other unnecessary ingredients. Harringtons also has largely positive reviews on most forums and websites.
Before reading this guide, "Harringtons Dog Food Review," check out: Chippin Review: Dog Treat & Food Benefits! (2023) and Spot and Tango Review: Healthy Dog Food! (2023).
About Harringtons
The Harringtons pet food company began in the 1980s in the English county of Yorkshire. They have significantly expanded since then and are now among the biggest pet food manufacturers in the UK.
IPN, or Inspired Pet Nutrition, is their corporate parent and owner. The pet food line Wagg, which should not be confused with Amazon's Wag, is also produced by this company. The United Kingdom's IPN-owned factories are where Harrington's recipes are made.
In the UK, you may find Harrington's pet food in numerous pet stores and major supermarkets. Asda, Tesco, Morrisons, and Sainsbury's are a few examples. Several of the most well-known pet food websites in the UK, like Pets at Home and Amazon, also sell their recipes online.
Product Line of Harrington
There are several different dog food recipes available from Harringtons. Both dry dog food and wet/canned dog food are included. They have recipes in their selection designed for dogs of all ages, including puppies, adults, and senior dogs.
Also, they cover canine recipes for both large and tiny breeds. Last but not least, they also offer certain grain-free recipes and a line of products called Just 6 that only calls for six ingredients.
Harringtons Nutrition
The recipes from the Harringtons vary in their nutritional value, which is generally average. Protein and fat content are around normal, whereas carbohydrate content is somewhat high.
This dietary profile is frequently not the best choice for a dog, especially one that is highly active. These dogs would benefit more from a diet rich in fat and protein.
Harringtons Ingredients
These are the high-quality meat and fish ingredients in Harrington's recipes:
Chicken
Turkey
Duck
Beef
Lamb
Salmon
In their recipes, Harringtons employs a standard selection of meat and fish products. The majority of these ingredients are staples in the market and are used by most manufacturers. Chicken, turkey, beef, and salmon are a few examples.
These ingredients are quite popular since they are reasonably priced, offer great nutrition, and are rich in fat and protein derived from animals.
Other Notable Ingredients
Harringtons employs a range of grain ingredients in their products, such as maize, rice, and barley. Many pet owners refuse to give their animals food that contains grains, making the addition of grains to pet food recipes a contentious matter.
But there are just as many ardent proponents of grains who would contend that they are a wholesome component that can include fiber, plant-based protein, and carbohydrates.
Sweet potatoes and potatoes are sometimes substituted for grains in Harrington's grain-free recipes. These starch ingredients are common in pet food but are concentrated sources of carbohydrates. This means that in order to avoid an inadequate nutritional profile, portion size must be strictly regulated.
Peas are a minor ingredient in a few of Harrington's recipes. Because they are inexpensive and rich in plant-based protein, peas have become the most widely used legume ingredient in dog food. Yet, there have been connections made in recent years between the high consumption of legumes, such as peas, and a rise in canine heart disease.
Another common ingredient in the formulations of many pet food companies is chicken fat. It's added to recipes to enhance flavor and raise the overall percentage of animal-based fat. Since it is accessible and reasonably priced, chicken fat is preferred to alternatives.
One of the two major fiber-supplying substances that are frequently included in pet food recipes is beet pulp. Certain dogs may need soluble fiber, like the kind in beet pulp, to maintain regular bowel movements and digestion.
Although sunflower oil isn't utilized in the majority of dog food recipes, some companies add it. It is added as a cheap supply of fat and occasionally as a binding substance to create a uniform texture.
Harringtons Animal Testing
There is no information available about whether Harringtons uses animal testing for its goods. We firmly maintain that using animals for invasive or laboratory testing is an unethical activity. We hope that, in the future, it will be eradicated.
Are There Any Recalls for Harringtons?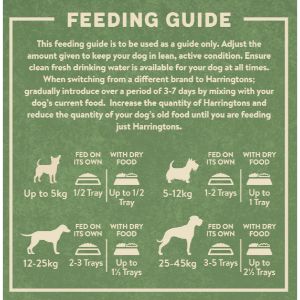 Our investigation through FDA, AVMA, and DogFoodAdvisor has revealed no evidence that Harringtons has ever been a part of a recall. However, buyers should constantly be on the lookout for any upcoming Harrington or other brand recalls.
Best of Harringtons
Harringtons Lamb and Rice
Many pet owners choose this dry food for their dogs. A reasonable amount of protein is provided by lamb, which accounts for 26% of the food. About 14% is made up of rice, with maize and barley making up the other two main elements.
After taking into account the primary ingredients, there are a variety of additional ingredients that have been included to help your pet thrive.
These dog foods have undergone a lot of consideration. Omega 3 and omega 6 have been included, for instance, because they provide a number of advantages, such as a glossy coat and anti-inflammatory properties.
Generally speaking, all of the components selected are great for your dog's stomach, should be easily digestible, and are among the best options for dogs who have digestive issues or are picky eaters.
Citrus extracts have also been included. Due to the natural vitamin C concentration, these will build and support your dog's immune system.
These are just a few points we wanted to make about the composition of the food and the advantages associated with each of the ingredients. We've just covered a few of the ingredients and advantages, but there are undoubtedly more.
The general quality of the food is our final point about this food. Everything included is natural, and the advantages that come along with it are also the result of things that occur naturally.
Harringtons Potato and Salmon
Another popular dish from this brand is salmon and potatoes. There are a lot of similarities between its components, and the lamb and rice combo might serve as a kind of inspiration dish. As you might have guessed, the key distinction with this recipe is its ingredients. Salmon with potatoes, of course.
About 14% of the dish is made up of salmon, and another 14% is made up of potatoes. We personally like this combination better than lamb and rice.
The rationale is that nutritionally speaking, salmon and potatoes are both more nutrient-dense than lamb and rice. These will provide your dog with incredible nutrition, especially the salmon, which contains naturally occurring omega-3 fatty acids.
We truly enjoy the food composition and the way the ingredients have been balanced because the remaining ingredients are the same as the lamb and rice choice we mentioned earlier.
Harringtons Puppy Food (Turkey & Rice)
This food can be a wonderful option for you if you have a puppy less than a year old.
The nutritional profile of this puppy food is similar to other Harrington dog foods. Rice and turkey are the two main components of this dish. About 20% is made up of turkey, while 15% is made up of rice.
The food has been designed for efficient and simple digestion and contains no additives, much like the other dog foods from Harrington.
It is highly advised that you switch your dogs to this meal if they have experienced digestive issues with other dog foods. It has been shown to typically address all of those issues, making it one of the best options for both pups and even adult dogs.
Customer Reviews
"Harringtons is one of the top 4 dog food manufacturers. My German Shepard loves this food, even turning her nose up at the top-rated food by Forthglade. I used to feed my dog Bakers dog food, but after finding out they put propylene glycol in their food I stopped buying it and any product from Purina.
I did so much research and Harringtons was one of the best. They have a high protein content which makes the dog feel full and most importantly they list what the meat content is and the percentage of it, not as most do and list the meat content as a meat derivative."
Christopher D Morgan
"My 8-year-old cocker has some issues with dried food, some sort of intolerance has built up. After a bout of sickness etc she had a week of chicken and rice, and scrambled eggs. After that I chose Harringtons as it is lower in fat than premium types and the kibble is a nice small size. I am pleasantly surprised to report she has taken to it straight away and as I couldn't feed her old food as it made her sick, she had this from the off. Recommended if your dog has a delicate stomach."
Martin
"Sorry cannot give a flavor star, never tasted them, but my dog likes them. My dog has had tummy probs in the past and I find this is the only dried food which has combated this. Found this sack cheaper than local supermarkets and delivered it to my door, so no huffing and puffing of getting it out of the boot of the car. Definitely recommended."
Shelley
Frequently Asked Questions
Who is Harringtons made by?
Inspired Pet Nutrition makes Harringtons and other pet food brands.
Is Harringtons dog food good for sensitive stomachs?
Harringtons' natural grain-free food is recommended for dogs with sensitive stomach issues.
What dog food is similar to Harringtons?
While more expensive, Taste of the Wild is comparable to Harringtons dog food.
Conclusion for "Harringtons Dog Food Review"
So, is Harringtons a good dog food? In a nutshell, it absolutely is! We have no trouble recommending Harrington's dog food on a broad scale.
They offer exceptionally high-quality ingredients that have been carefully selected to promote your dog's health, coupled with no additives or undesirable ingredients that you might occasionally find in other dog foods.
It's simple to understand why we suggest that you try out this dog food for yourself because you get all this thoughtfully crafted food for a very affordable price point.
If you find this guide, "Harringtons Dog Food Review," helpful, check out:
Learn more by watching "Harringtons Dry Dog Food Review | The Dog Nutritionist" down below:
Garrett loves animals and is a huge advocate for all Doodle dog breeds. He owns his own Goldendoodle named Kona. In addition, he volunteers at the Humane Society of Silicon Valley, where he fosters dogs and helps animals. Garrett enjoys writing about Doodles and believes that dogs can teach humans more about how to live than humans can teach a dog.
Why Trust We Love Doodles?
At We Love Doodles, we're a team of writers, veterinarians, and puppy trainers that love dogs. Our team of qualified experts researches and provides reliable information on a wide range of dog topics. Our reviews are based on customer feedback, hands-on testing, and in-depth analysis. We are fully transparent and honest to our community of dog owners and future owners.