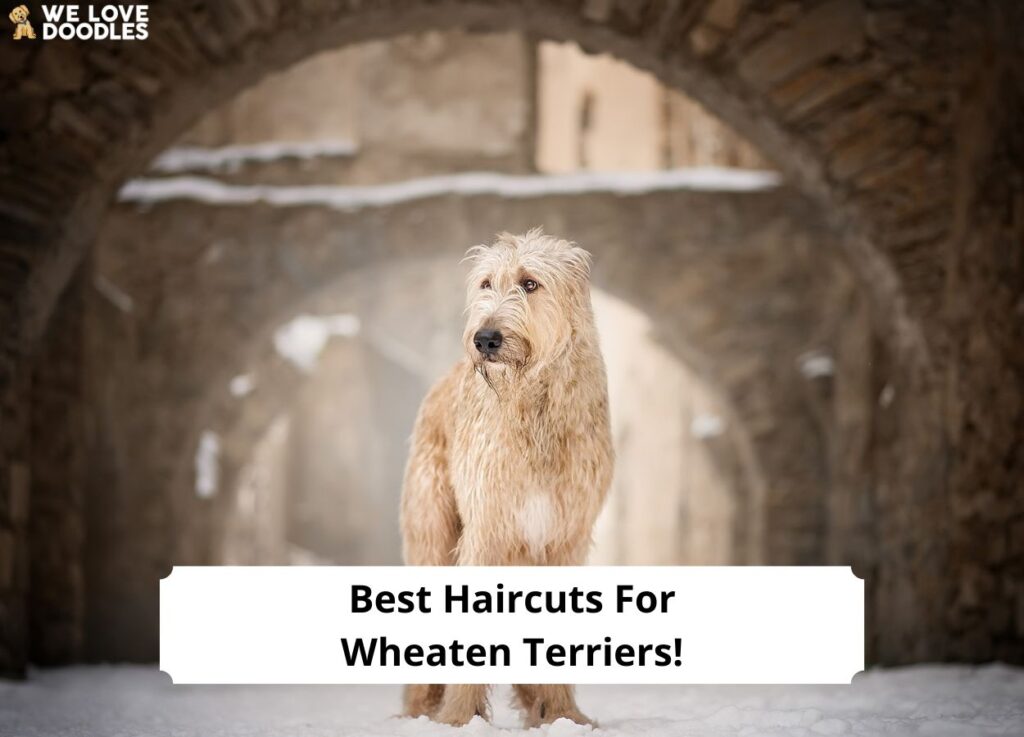 Soft-Coated Wheaten Terriers are friendly, happy dogs with deep-seated loyalty and oh so many possibilities for haircuts. These dogs love spending time with others and will be most satisfied with a big yard to roam. They are medium-sized, making them perfect candidates for any family home. Wheaten Terriers won't grow taller than 20 inches and weigh no more than 40 pounds, so they won't cause any harm with their rambunctiousness.
However, these dogs need plenty of grooming. Wheaten Terriers have a long, luxurious coat of hair that requires trimming every few weeks to prevent injury or obstructed vision.
Read on to learn about the best haircuts for Wheaten Terriers.
Before scrolling down this guide "Best Haircuts For Wheaten Terriers," check out these other dog grooming guides: Do You Tip Dog Groomers? (2023) and How to Build a DIY Dog Grooming Table! (2023).
1. Puppy Cut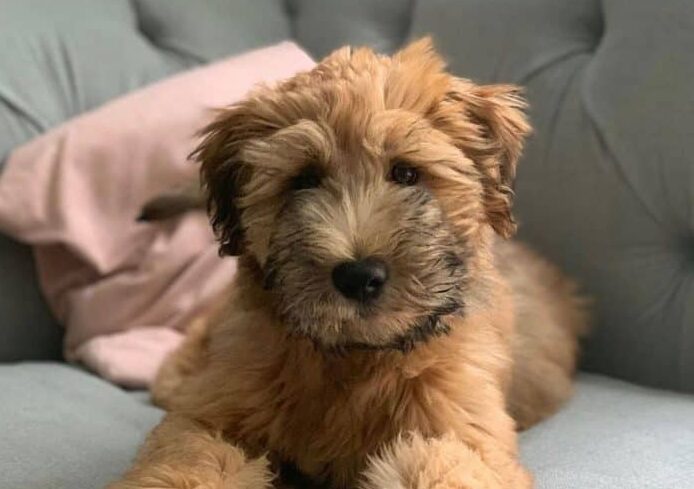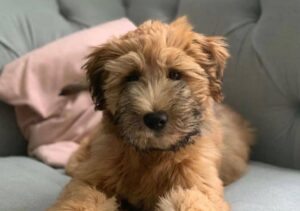 The puppy cut is the most popular Wheaten haircut and can make your dog look innocent, precious, and young. A puppy cut can be perfect for your dog regardless of its age. This haircut can also make them comfortable and more hygienic.
A puppy cut will keep the hair around your dog's body uniform and even. However, the hair on your Wheaten Terrier's underbelly and back legs will be shorter to prevent messes during potty training.
Puppy cuts are ideal for dogs who need more time with potty training or make frequent messes of themselves. Not only is this haircut short, but it's also easy to clean and dry because there isn't as much hair to manage.
2. Traditional Cut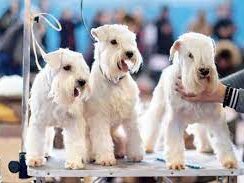 The traditional Wheaten Terrier cut is perfect because it's crafted with this dog beard in mind. A traditional cut will accentuate the natural features of your Wheaten Terrier. For example, this cut will leave the snout beard hair rather long and keep a lot of hair around the eyes extended.
You may also notice the coat is a few inches long, allowing the strands to curl at the ends. This haircut also keeps the tail trimmed and sleek without much pomp.
Of all the Wheaten Terrier haircut styles, this haircut is the best for showing off how your dog's beard, body, and legs can look without too much care.
3. Teddy Bear Cut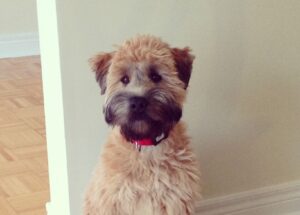 The teddy bear cut is another popular Wheaten Terrier haircut because it will make your dog look more like a stuffed animal than a living creature. This haircut is perfect for Wheaten Terrier owners who want to have a photo shoot for their precious pup and lay them in a pile of stuffed animals.
Your Wheaten Terrier will blend in easily and have you taking dozens of snapshots. This haircut is similar to the puppy cut but has one significant difference: the amount of facial hair. A teddy bear cut will have more hair around the neck, head, and eyes.
This added hair won't interfere with your dog's ability to see and navigate, however. Instead, your dog will have a rounded look.
4. Show Cut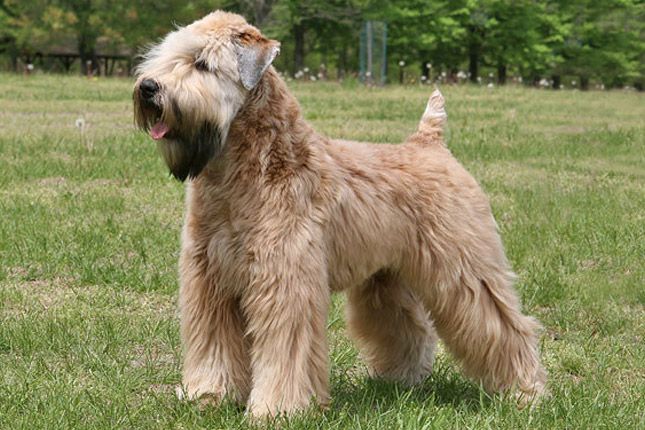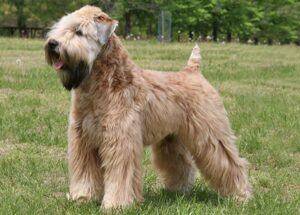 A show cut is perfect for Wheaten Terriers who are going to be in a competition or show. This haircut will show off the best features a Wheaten Terrier has to offer and can make your dog easy to clean. It's elegant, too.
A show cut is a little different from a traditional cut because it will have shorter body hair. With a show cut, you can expect your dog to have a sleek, manicured tail and long beard hair that can extend as long as you want. However, most owners don't like to keep the beard hair past the neck or shoulder area.
This haircut is easy to do at home and may only require some minor shaving and trimming to accomplish.
5. Summer Cut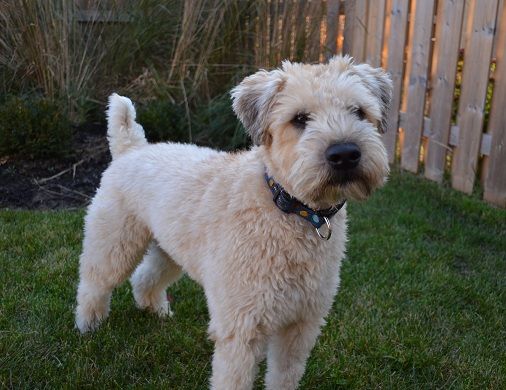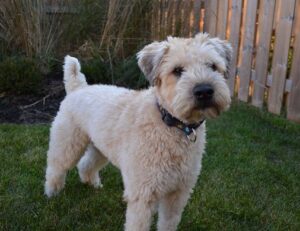 One of the benefits of a summer cut is hygiene. This Soft-Coated Wheaten Terrier haircut can help prevent infestations from ticks, lice, and fleas that come to bother your dog.
This haircut is best in the summer because it can keep your dog cool without making them uncomfortable. Consider using this haircut during peak summer months to keep your dog cozy all summer long, especially if you're worried about pests.
6. Short Haircut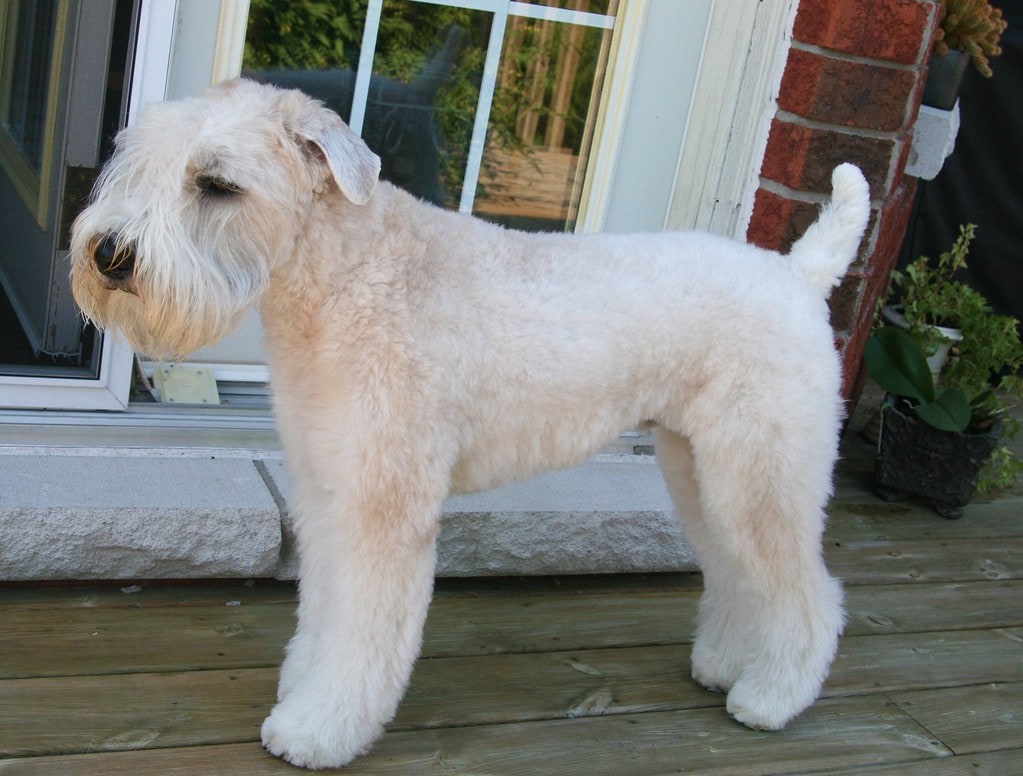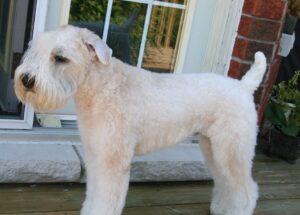 A short haircut is one of the best Wheaten Terrier haircuts because it can showcase some of your dog's best traits without making your dog unrecognizable. Your dog's hair will be longer than expected, likely a few inches, and allow you to run your fingers through the coat easily.
However, a short haircut will need routine maintenance to prevent small tangles, knots, and matting that can occur after daily play. Short haircuts work best for grown dogs who are already potty-trained and house-trained.
7. Schnauzer Cut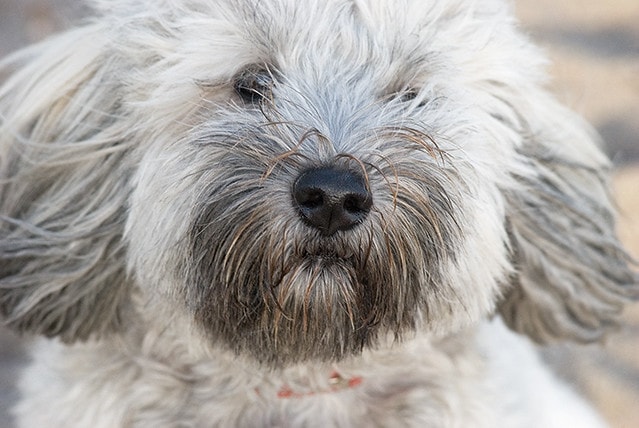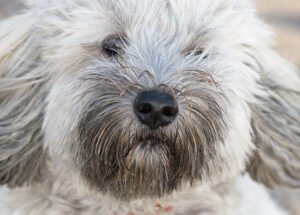 A Schnauzer cut will make your Wheaten Terrier look like a Schnauzer, which can be a stunning look for your dog. A Wheaten Terrier looks similar to a Schnauzer, aside from minor differences. This haircut can make a fun game out of others guessing your dog's breed. Additionally, a Schnauzer cut will ensure your dog remains clean and hygienic.
A Schnauzer cut requires trimming almost all your dog's hair shorter and leaving a small patch of hair on the beard longer than the rest. You may also want to leave some head hair longer than the body hair and allow the leg hair to grow a little longer.
8. Mohawk Cut
A mohawk cut is one of the most fun and spunky cuts you can give your Wheaten Terrier. This haircut is perfect for costume parties, the holidays, or Halloween. The mohawk cut is easy to do on a Wheaten Terrier and can make your precious pup look stunning.
Simply trim the body and head hair short, but leave a line from the top of the head that extends down the back of your dog's body. This mohawk can extend as long or as short as you want. This haircut can continue down the tail, but you can modify this trim to keep the tail hair short.
You can keep the beard hair long or short, too.
9. Poodle Cut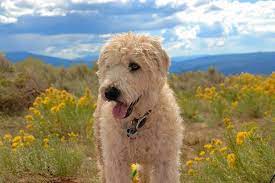 A Poodle cut is a perfect haircut for a Wheaten Terrier since they have similar hair. But instead of curly locks like a Poodle, your Wheaten Terrier has straight hair — and it can be manicured in many ways. A Poodle cut will leave the hair on your dog's legs a little longer than the hair on the rest of the body. However, this body hair won't be too short. Leave your Wheaten Terrier's body hair grown at least an inch or two long.
You can modify a Poodle cut to include puffy balls around the bottom of the legs or at the end of the tail for added flare. You may also want to shave the beard hair and facial hair shorter to make them look more Poodle-like.
10. Lion Cut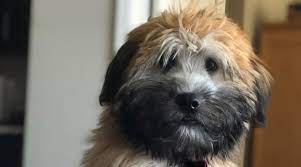 A lion cut is a good option for your Wheaten Terrier because your dog has plenty of hair to make them look like a lion. This haircut is ideal for those looking for an unusual haircut for a costume party or other event.
A lion cut is easy to do on your Wheaten Terrier since this dog breed has plenty of hair in all the right places. Simply leave the chest and head hair longer than the body hair to create a stunning display to rival the king of the jungle.
Leave a little hair at the end of your dog's tail to make them look even more like a lion. The rest of the body hair should be shaved short to ensure the look is cohesive.
Frequently Asked Questions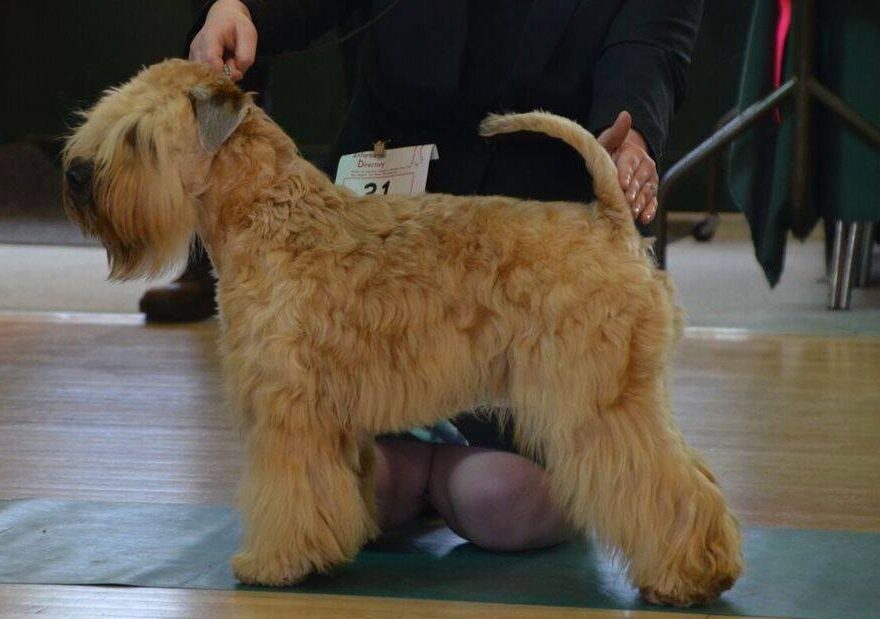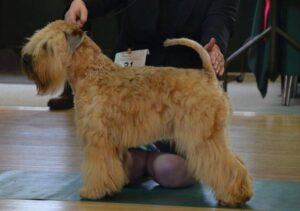 Choosing the right haircuts for Wheaten Terriers can be challenging, but these answers can help you make the best choice for your precious pup.
Do Wheaten Terriers need haircuts?
Wheaten Terriers need haircuts every four to six weeks to ensure they don't have their vision obstructed. Forgoing a haircut may mean their hair can get tangled, knotted, or matted, which can be painful for your dog.
How should a Wheaten Terrier be groomed?
A Wheaten Terrier can be groomed in many ways. You can choose from a variety of styles to make your precious pup look exactly the way you desire.
How do you cut a Wheaten Terrier's face?
You can cut a Wheaten Terrier's face by using a pair of scissors and gently removing small portions of your dog's facial hair. Be mindful to take the facial grooming process slowly to avoid injury.
Should Wheaten Terriers have hair over their eyes?
A Wheaten Terrier can have some hair over its eyes, but its vision should never be fully obstructed. Too much hair over the eyes can cause your dog to cause property damage or get injured.
Do Wheaten Terriers shed?
Wheaten Terriers don't shed much, although you may find some hair around the home every so often. Typically, your Wheaten Terrier won't shed and will likely need a haircut every few weeks to manage its locks.
Conclusion for "Best Haircuts for Wheaten Terriers"
Wheaten Terriers are devoted dogs who love their owners and will be friendly with nearly anyone they meet. These dogs can be manicured in many ways. You may want to make your dog look like a Poodle, Schnauzer, or lion. Additionally, you can choose fun and spunky haircuts like a lion cut or a mohawk cut.
The best haircut for your Wheaten Terrier is one that makes sure they can see and is easy to clean. Puppy cuts and teddy bear cuts are the most popular haircuts for Wheaten Terriers.
Your Wheaten Terrier will need a haircut every four to six weeks to ensure maximum comfort.
For more guides similar to this list showing Wheaten Terriers haircuts, you can check out these other articles:
If you want to learn more about Wheaten Terriers grooming, you can, by watching "Wheaten Terrier Grooming Guide (FULL GROOM STEP-BY-STEP)" down below:
Garrett loves animals and is a huge advocate for all Doodle dog breeds. He owns his own Goldendoodle named Kona. In addition, he volunteers at the Humane Society of Silicon Valley, where he fosters dogs and helps animals. Garrett enjoys writing about Doodles and believes that dogs can teach humans more about how to live than humans can teach a dog.
Why Trust We Love Doodles?
At We Love Doodles, we're a team of writers, veterinarians, and puppy trainers that love dogs. Our team of qualified experts researches and provides reliable information on a wide range of dog topics. Our reviews are based on customer feedback, hands-on testing, and in-depth analysis. We are fully transparent and honest to our community of dog owners and future owners.